"Ten years, man. Ten years. I've been wrestling for a decade at this level and this is my third (World) Team in a row. I have been in the loop and I'm ready for what has to happen."
It's true. Ellis Coleman (67 kg, Army/WCAP, world no. 15) has been around for a while, though it doesn't seem so long ago when he was coming off of his second-straight Junior World bronze and the birth of "The Flying Squirrel" that was spectacular enough to be looped ad nauseam on ESPN's SportsCenter. But, here we are. Coleman, now 28, is in the midst of his third consecutive summer spent training for a World Championships, and has altogether made five Senior-level Teams throughout his remarkable career.
There are differences this time around, however, aside from the fact that each Team and collection of guys is automatically at least a little different. Instead of just focusing on that one big event at the end of the rainbow, which in 2019 comes with the added stipulation of qualifying his weight class for the Tokyo Olympic Games, Coleman also has something else occupying his mind: the Pan American Games set to begin August 7 in Lima, Peru. It is there where Coleman — similar to his five US Teammates in Lima — will be duly tested prior to the all-important World Championships. And in more ways than one.


For starters, one of the consensus best wrestlers in the sport, 2015/'16 Olympic Champion Ismael Borrero Molina (CUB, world no. 14), is expected to present an obstacle. Coleman and Borrero first met at the Pan Am Championships in April in what was a suitably competitive affair until the Cuban star closed the show with a four-point bodylock to prevail via tech fall. It's a loss Coleman doesn't hang his head about, though he certainly desires another showdown that will definitively prove he's on the same elite wavelength.
Just as vital is the Pan American Games' status as a banner event in the eyes of the US Olympic & Paralympic Committee. While Coleman plans on using the tournament as an opportunity to sharpen up prior to the Worlds a month later, he also understands that it is a time and place to represent the flag in front of a wide audience. World and Olympic medals might appear first in the pecking order; but the responsibility that comes with wearing the letters "USA" on one's singlet never ceases in its ability to enact a requisite degree of motivation.
The prelude to the Pan Ams and the Worlds is not based on words alone. A lot of work goes into all of it, which includes the just-wrapped Pan Am Games camp held at the Olympic Training Center. Coleman has been grinding it out like he always does, and in between, has sought balance in his talent behind the mic. Last week, he performed original music on three separate nights, his body and brain more than lively enough to entertain eyes and ears in a whole new way.
For now, we're sticking with on the mat concerns whilst honing in on another summer that sees the nation's most prolific Greco athlete preparing for World glory with fervor — and opening up about the process such an endeavor requires.
Ellis Coleman — 67 kg, Army/WCAP
5PM: Pan Am Games camp, this was the first pseudo joint training camp with members of the 2019 World Team. Did this camp at all serve as a kind of preliminary unifying experience for you guys?
Ellis Coleman: Kind of (laughs). It's just difficult given the setting, because you have all the National Team members there, too. I feel like it is easier to unify the Team when it's just us by ourselves. When you have the National Team members there, they hang out with their teams or clubs, their people. One thing I don't like about those camps: it's like a big dick fest for the people who didn't make the Team to prove themselves to the World Team members. It is the World Team members who are getting all the attention, so then this person will go out and say, Fuck this, I can beat this dude. It's like, The year is already over. It already happened, you didn't make the Team. But when we have these camps, guys who didn't make the Team try to prove themselves — which makes it difficult for the World Team athlete to focus on getting better. Sometimes. It depends on the situation.
I was talking to Ryan (Mango) about it because he had some matches with X (Xavier Johnson), and he was much bigger than Ryan. Ryan is walking around at like 63, 64 kilos and he got crushed by him. At these camps, that's what it is, you know? You take it for what it is. You either don't wrestle that match if it's not going to help you mentally; or you do wrestle it and decide the beat the fuck out of him regardless. But I told him, that's just how it is. I've been on the Team for three years running now and have been at these camps all the time. You have to find a way to balance it out and deal with it.
I don't really think this particular camp helped unify anything, but for this Team, it helped us annotate what it is we will focus on to bring the Team together as far as leadership qualities, areas of improvement, and just Greco in general. But outside of that, I don't really think it unified us too much.
5PM: This was advertised as a very intense camp, the schedule laid it out that way. A lot of live wrestling. Was it as intense as it sounded like it was going to be?
EC: Yes, it was. It was definitely as intense as advertised. 100%.
5PM: At this stage of the summer, how did the intensity of the camp affect you physiologically? Was it a positive or a negative?
EC: It was a positive. We kind of prepped for it with our coaches at WCAP, we were ready to get the ball rolling. We just talked about it relating to how boxers train — Floyd Mayweather, (Muhammad) Ali, (Joe) Frazier, (Mike) Tyson, people like that. They don't train two months out or three months out for no reason. They start really going when it is five weeks out, six weeks out leading up to the biggest fights of their lives. We had a week off beforehand and our coaches basically said, When it's time to get the ball rolling, get ready to get the ball rolling.
It was good intensity. I had this camp before, when we went to the Pan Ams (Championships) the first time. Personally, I thought that was a good camp. This time, it was different. Earlier in the year, we didn't know who was going to be #1. We didn't know how the year was going to play out, we just knew who was going to the Pan Ams. That changed it, you know? Once we got all of these guys who didn't make the Team, and all of these National Team dudes there, it is at the end of the year and they missed their mark. Their year is over, they missed what they had to do, what they had to get.
So we have all these guys trying to prove themselves or measuring themselves against you, the World Team member. It changes the focus a little bit, because now, you have to step back. You are the World Team member and you have to focus on yourself, but sometimes you get caught up with, Now I have to beat this dude's ass, or, I have to show this dude he can't beat me. So then it turns into one of those things, one of those types of camps. But this camp definitely felt different than the first Pan Ams camp, although it was arranged the same exact way with the lifting and all the other stuff.
5PM: I haven't seen the exact training plan for the actual World Team Camp at the end of next month, but won't that be the case again? Won't it be another situation with National Team members coming at the World Team guys hardcore?
Ellis Coleman: It can be a little similar, but not really because we are supposed to have foreigners coming in. That changes it up a lot, when you have someone to really monitor you and measure yourself up against. You can pick what you need to do and what you need to work on with the foreigners in camp. We are supposed to have Egypt coming, and they have a really good guy at 67. So I will have that guy to focus on training with, as opposed to someone I wrestled during the domestic season.
I just think it is better all around, 100%. Who do we need to train with? We need to train with foreigners. I don't care about wrestling guys I had already beat throughout the year. Even for training purposes. I don't want to train with them to prepare for the guys who I will be wrestling at the World Championships. I want to prepare with some foreigners. They are who I want to be training with and wrestling against. I want to get my ass whooped by foreigners and working on my par terre with foreigners. Not with these guys I've been wrestling against the whole entire year.
You wrestle with these guys sometimes three or four times a year at tournaments, be it at Armed Forces, the Open, Dave Schultz, World Team Trials or what have you. You already wrestle these guys throughout the year. This year, I wrestled overseas once, the Pan Ams. So I have wrestled these guys more than I have foreigners. I only had the chance to wrestle foreigners one time, and essentially, not even. They're on this side of the world, the Pan Ams. It's not all of the European and Asian countries. I get to wrestle those guys like, what, once a year? And that is at a big event like the Pan Ams or the World Championships. So it would be nice to wrestle against those guys while training.
I did go to one camp this year and trained with the Germans, and it was really good. I got a lot of good feedback and I picked up some things in par terre for when I came back home. There was a lot of stuff I was able to work on with those guys that helped me out when I got back. I lost a little of it along the way, but there is still some stuff that I have kept with me since then.
5PM: The Pan Am Games is important. It's not quite the World Championships, but at the same time, it is important for our country's program as well as the USOC. With that being said, there are a couple of tough guys at 67, but the main guy is Borrero. You had what I thought was a good match against him in April until he got that bodylock. Are you going into this thing zeroing in on Borrero?
EC: Yeah, I mean, I like to think that in general there are a couple others who are tough and they have Cuban coaches, too. I lost to the Brazilian guy (Joilson De Brito Ramos) before and he just had a close match with Mexico (Manuel Lopez). I know there are a bunch of others. I have been trying to zero in on him (Borrero) and train for him with the connotation in my mind that I am not going to walk over anyone. I still have to wrestle whoever it is first, there are other guys who are good and put me on the ropes before. I am definitely going to have to take care of business if I have to wrestle one of those guys before I wrestle him.
5PM: This is a different year and the training plan for the Worlds is certainly different than it was in 2018. Where you're at now, coming out of Final X almost two months ago and comparing it to the same stage leading up to Budapest, do you feel like this workload is working for you?
Ellis Coleman: I feel good, I feel good. As far as the workload, I feel fresher now than I did last year and the year before. Physically, I feel like camp has targeted the right type of training that we need to do. It's hard to gauge now, considering. I don't know the exact time frame when we left (in 2018) and trained with the foreigners. We did train for a long time, it was about a month. But maybe two weeks this time would be good, just to train with those guys and be able to tell. This competition will be a good reminder, too, but the foreigners are the only way to really gauge myself. Honestly.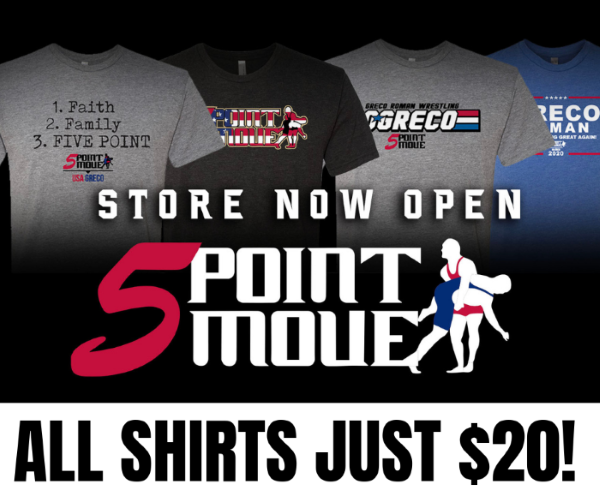 Listen to "5PM26: Princeton's Lenny Merkin and new USOTPC Greco-Roman athlete Nolan Baker" on Spreaker.
SUBSCRIBE TO THE FIVE POINT MOVE PODCAST
iTunes | Stitcher | Spreaker | Google Play Music | RSS
Notice
: Trying to get property 'term_id' of non-object in
/home/fivepointwp/webapps/fivepointwp/wp-content/themes/flex-mag/functions.php
on line
999