Four out of the five Team USA Cadets who took the mat this morning at the 2017 Cadet Greco-Roman World Championships in Athens, Greece are, as of now, potentially still in the hunt. All five Americans saw themselves matched-up with skilled opponents and though the wins weren't rattled off quite the same way they were on Monday, the collective performance of the group represented further indication that the US age group programs are on the rise.
The four athletes awaiting their fates — Dylan Ragusin (46 kg), Mason Reiniche (69 kg), Jake Hendricks (76 kg) and Ashton Sharp (85 kg) — can get pulled back into tomorrow's repechage round if their vanquishers prevail in this evening's semifinals. ALSO: don't forget — Team USA's Cohlton Schultz (100 kg) goes for gold following today's semifinal contests.
Ragusin
All eyes were fixed on Ragusin, the wonderfully tough and talented Illinois representative who was making his first appearance at the Worlds. He didn't disappoint. Facing off with Mohammadho Abolhassanidaro (IRI), Ragusin needed a minute to get his sea legs underneath him. Abolhassanidaro busied things up in the ties and Ragusin patiently stalked for openings. A nifty slide-by from an overhook provided Ragusin with a takedown. A subsequent gutwrench attempt came loose, allowing Abolhassanidaro to step over and expose for his own pair of points. The hand-fighting was fierce but with a purpose. Both athletes weren't keen on unloading the kitchen sink, but each wanted to assert control. Ragusin had enough of the histrionics as the first period wound down and snatched a two-point arm throw that was reviewed and confirmed. 4-2, Ragusin heading into the second.
:20 into the conclusive frame, Ragusin shucked Abolhassanidaro from a front headlock to double up his margin. Then, with thirty seconds remaining in the bout, Ragusin expertly baited in Abolhassanidaro using counterpressure and turned it into an inverted arm throw at the edge for four more points. Iran challenged the call, and lost, and Ragusin moved into the quarterfinals on the strength of a dazzling 11-2 technical fall.
The quarterfinals saw Ragusin battle it out with one of the 46 kilogram class's medal favorites, 2016 Cadet European Championships runner-up Anvar Allakhiarov (RUS). As has been the case all tournament long for the US, Ragusin was not at all timid when it came to locking horns with a more seasoned and decorated foreign opponent, although he did find himself behind the bellwether quickly when Allakhiarov arched him back for four. But Ragusin reversed position in a hurry, locking around the Russian's body and exposing him once before gutting him over for another pair of points. In just the blink of an eye, Ragusin went from being down 4-0 to being up 5-4, and the match wasn't even a minute old.
A correct hold by Allakhiarov put him out in front 6-5 but the second period is when the rain started pouring. Ragusin tried an overhook to crack his way inside off of an exchange when Allakhiarov clambered into a wide open bodylock. He hoisted Ragusin up and it looked for a second that this could be a big one, but the Illinois native abruptly got his weight down and adjusted, yielding only two. Following the restart, Allakhiarov uncorked an arm throw that put Ragusin on his back. There was little he could do, as Allakhiarov pressured down on the position until the signal for the fall arrived. Allakhiarov will meet up with 2017 Cadet Euro bronze Nihat Mammadli (AZE) in the semis. Should he win, Ragusin returns tomorrow morning for the repechage.
Reiniche
Mason Reiniche might have benefitted from much more from a six-minute match. Vladyslav Kravchenko (UKR) undoubtedly held the technical edge, but the American was in the fight the entire time. Kravchenko was not necessarily more active than Reiniche, but he was controlling the positions and as such, jumped ahead 1-0 via passivity. He then was able to get behind Reiniche for a takedown. From there, the Tennessee native did an excellent job defending Kravchenko's lift and gut attempts, and back up they were with Hendricks down 3-0.
It was a different story for Reiniche in the second. Kravchenko was no longer operating at full capacity and his work-rate had begun to falter. Reiniche, the fresher of the two, was now finding success nudging his way inside and a passivity point in his favor rang out midway through the period. He was trying to clash in and grab onto a limb or get to the body, but the Ukrainian deflected Reiniche's attempts to stay out of danger and advance over the American via a 3-1 score. Kravchenko advanced to the semifinals, where he will face Duran Tosun (TUR).
Hendricks
Hendricks came out hard against Istvan Takacs (HUN) but just couldn't clear the Hungarian's tie-ups to find his own positions. Takacs assumed command at the outset and was the recipient of a passivity point before he unfurled an arm throw for two. Hendricks immediately rose from his stomach and as he stepped up, locked around Takacs's head from the side. Takacs, with his right arm reaching over and across onto Hendricks's head, hipped the American down and out for two more. The US challenged the sequence and lost, giving Takacs a 6-0 cushion he'd hold onto the rest of the way. Takacs's opponent in the 76 kilogram semifinals is Georgia's Giorgi Tsopurashvili.
Sharp
It was going to be interesting to see how Sharp responded to World competition. Against domestic foes, he has been a fun watch whenever he has been able to get into position to throw. An aggressively offensive wrestler, he is usually unafraid to take risks, which obviously lends itself well to this style, particularly overseas. Bagrati Iobidze (ISR) helped Sharp become acclimated to the World stage early on in their bout, as the two wrestlers engaged in a feeling-out process to start off. Both were a little heavy in terms of pushing off of one another coming out of tie-ups, and that would factor in eventually. Sharp was awarded a passivity point early on in the first, though it didn't last all that long. That's because soon after, Sharp coaxed Iobidze to the boundary where he attempted to hip him out. Instead, it was he who wound up off the line, knotting the score and providing Iobidze with a criteria advantage.
Sharp really began clicking in the second period. He'd get himself another passivity point to take a 2-1 lead only to add on plenty more soon enough. An exchange at the edge saw Sharp come in on Iobidze, who lost his balance and went feet-to-back. That made the score 6-1. Upon the reset, Sharp clamped on a front headlock and beautifully dumped it over the shoulder for another four and 10-1 tech to move onto the quarterfinals.
One thing was readily apparent in the quarterfinals — Sharp and Juho Matia Pahikainen (FIN) wanted to go at each other. At the whistle, Sharp reared in with a shoulder block to begin wrangling for tie-ups. He was moving well, but Pahikainen presented good posture and worked position. After creating a little counterpressure, Pahikainen tossed Sharp with a four-point arm throw. Sharp didn't relent — the same eagerness he displayed in the round of 16 was still there. Later on in the second stanza, he lowered his level and got to Pahikainen's body at the edge, taking him to his back. No points were originally awarded but after the sequence was reviewed, Sharp was given two. 4-2, Pahikainen. A comeback certainly seemed within his reach, he was coming forward and trying to score. Back on their feet, Sharp lowered in for another high dive but when he came up, he came loose, and Pahikainen used the momentum to usher Sharp to the mat for a takedown, which is how the scoring ended up. Pahikainen is pitted against Muhammed Dursun (TUR) in the 85 kilo semifinals.
Mauger
Mauger did his very best to bring a physical game but the advantage in experience 2017 Cadet Asian Championships silver Yerassyl Mamyrbekov (KAZ) possessed proved too much to overcome. Mauger pressured forward at the whistle looking to gain wrist control while using his leverage to open up a lane to the body. Mamyrbekov scampered behind for two and nailed a gutwrench to dart ahead 4-0. Undaunted, Mauger got back to his feet and plugged along, scanning for openings and trying to negotiate the tie-ups. It was tough sledding in there; Mamyrbekov owned a good two-on-one that he brandished to keep the Idahoan in his clutches, a position the American had trouble with clearing. But still he remained, hungrily hunting for his own opportunities as the first period came to a close.
Unfortunately for Mauger, the end came quickly in the second period. Going towards the boundary, Mamyrbekov had his left arm around Mauger's waist and then hip tossed him over for four points and an 8-0 tech. Mamyrbekov lost in the semifinals to Hennadii Zavertailo (UKR), knocking Mauger out of medal contention.
Reminder — the semifinals are scheduled for 5:30pm Athens time (10:30am EST) with the finals from yesterday's weight classes set for 6:30pm (11:30EST). Live streaming is available in the United States on Trackwrestling.com. 
2017 Cadet Greco-Roman World Championships — Athens, Greece
Day 2 Team USA Results
42 kg: Kase Mauger
LOSS Yerassyl Mamyrbekov (KAZ) 8-0, TF
46 kg: Dylan Ragusin
WIN Mohammadho Abolhassanidaro (IRI) 11-2, TF
LOSS Anvar Allakhiarov (RUS) via fall (3:27)
69 kg: Mason Reiniche
LOSS Vladyslav Kravchenko (UKR)
76 kg: Jake Hendricks
LOSS Istvan Takacs (HUN) 6-0
85 kg: Ashton Sharp
WON Bagrati Iobidze (ISR) 10-1, TF
LOSS Juho Matia Pahikainen (FIN) 6-2
SUBSCRIBE TO THE FIVE POINT MOVE PODCAST
iTunes | Stitcher | Spreaker | Google Play Music | RSS
Comments
comments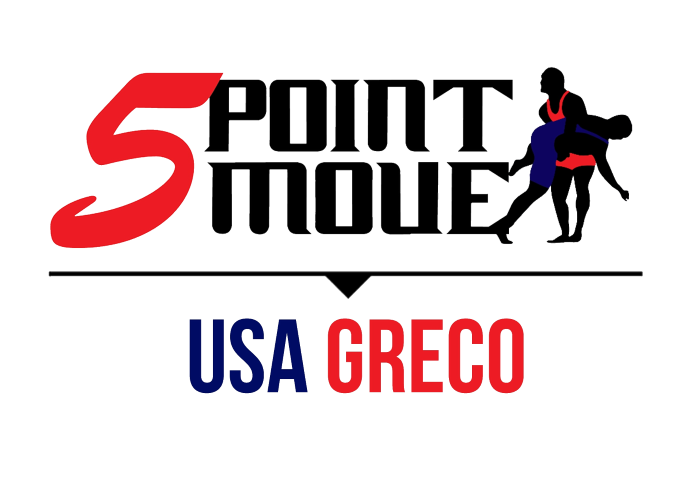 Notice
: Trying to get property 'term_id' of non-object in
/home/fivepointwp/webapps/fivepointwp/wp-content/themes/flex-mag/functions.php
on line
999