G'Angelo Hancock (97 kg, Sunkist, 5PM #1) had willfully carried the burden, listening to and reading and thinking many of the same things as the outsiders who have spoken his name. Success at home helped make him a star, but of insular proportions. It wasn't why he was here. And when disappointment struck at each World-level tournament dating back to his Senior debut on such a stage in '17, all he focused on was returning to work in search of refining both his skill-set and attitude to meet the lofty expectations held by others. He believed what they did, too, that World-medal ability resided within his marrow. 
Except that is precisely what made defeat hurt all the more. 
But natural feelings of frustration never truly threatened his resolve — which is why Hancock went to bed Saturday night as a World bronze medalist.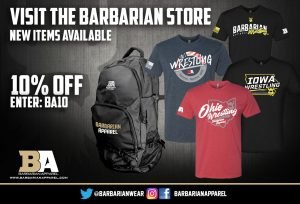 The medal round on the third and final day of the 2021 World Championships began at 6:00pm Saturday evening from Oslo, Norway (12:00pm ET) and aired live in the US on FLOWrestling. 
Hancock, 24, was not once in danger of watching the opportunity for a piece of global hardware slip through his fingers. Operating against Peter Oehler (GER), the American found his footing in the early stages by checking in the ties and gaming quick looks inside. They weren't going to become embroiled in prolonged pummeling, for Hancock seemed to prefer dictating shorter movement that might better complement potential attempts in and around the waist. The pace was brisk, but not frantic. Oehler gamely tried to stay in lockstep, though he also struggled to maintain his posture whenever Hancock decided to switch to different ties. 
Passivity on Oehler represented Hancock's first chance for a meaningful score. He had tried to elevate his lock, which if successful would have made a sizable dent. But Oehler defended nicely, and a reset was ordered. The opening period was winding down when, in a flash, Hancock reached around and got behind Oehler near the edge for a takedown. A potential game-changer it was, for instead of holding a near-imaginary 1-0 lead, Hancock walked into intermission up 3-0. 
Then, floodgates-city. 
After that, jubilation for one. Agony, the other. 
The second period had just begun when Hancock pounced around Oehler's body, with the subsequent deep-stepped motion immediately resulting in what was supposed to offer a four-point yield. Upon landing, Oehler had somehow injured his right ankle. Hancock — unaware of the occurrence, and even if he had known it was immaterial — held Oehler in place for a fall ahead of eagerly cranking a gutwrench. Points-wise, the net should have been six: four on the body attack, two more for the turn. Or, a pin prior to the gut. 
The points, they never counted them. Instead, a break in the action so that the trainers could care for Oehler. It was found that he would not be able to continue. Hancock was declared the winner, having earned World bronze for United States Greco-Roman, the program's first medal of the new Olympic cycle. 
Hancock had effectively defeated Oehler in three separate fashions: the points that were not awarded after the second-period sequence would have added six points to go along with the three Hancock received in the first period (9-0 VSU). In addition, on replay Oehler appeared to have been pinned following the body attack. The books have it down as an injury default. Ultimately, it was a victory that delivered Hancock and the US their second Greco medal since '18 (Adam Coon, silver) as well as their third bronze dating back to '14 (Andrew Bisek, '14 & '15).  
"I'm so happy, I'm so happy right now," Hancock told the press pool afterwards. "For the country, with the Team I had behind me, the friends I had behind me…it took a village. It took so many people. I just thank God."
Historically, the United States is not unfamiliar with World/Olympic success in the sport's second heaviest weight category. Counting Hancock, there are now six American medalists between 96 and 100 kilograms.
Brad Rheingans — 1979 World bronze
Dennis Kosolowski — 1987 World silver, '88 Olympic bronze, '92 Olympic silver
Garrett Lowney — '00 Olympic bronze
Justin Ruiz — '05 World bronze
Adam Wheeler — '08 Olympic bronze
G'Angelo Hancock — '21 World bronze
2021 World Championships
October 7-9 — Oslo, NOR
TEAM USA FINAL RESULTS
97 kg: G'Angelo Hancock — bronze
WON Ibrahim Tigci (TUR) 5-0
WON Kiril Milov (BUL) 6-0
LOSS Alex Szoeke (HUN) 4-4 (criteria)
WON Peter Oehler (GER) via inj. default
55 kg: Max Nowry (Army/WCAP) — 9th
WON Sajjad Abbaspourragani (IRI) 9-0, TF
LOSS Norayr Hakhoyan (ARM) 9-0, TF
60 kg: Dalton Roberts (Army/WCAP) — 12th
LOSS Gevorg Gharibyan (ARM) 8-4
63 kg: Sammy Jones (NYAC) — 17th
LOSS Deniz Menekse (GER) via fall 
67 kg: Peyton Omania (NYAC/CYC) — 26th
LOSS Hasrat Jafarov (AZE) 10-0, TF
72 kg: Patrick Smith (Minnesota Storm) — 19th
LOSS Valentin Petic (MDA) 4-3
77 kg: Jesse Porter (NYAC) — 23rd
LOSS Bogdan Kourinnoi (SWE) 3-1
82 kg: Ben Provisor (NYAC) — 14th
WON Satoki Mukai (JPN) 2-1
LOSS Burhan Akbudak (TUR) 10-0, TF
LOSS Laszlo Szabo (HUN) 2-1
87 kg: Alan Vera (NYAC) — 23rd
LOSS Turpal Bisultanov (DEN) 8-0, TF
130 kg: Cohlton Schultz (Sunkist) — 14th
LOSS Ioakobi Kajai (GEO) 5-3




Listen to "5PM50: Mr. Fantastic Benji Peak" on Spreaker.
Listen to "5PM49: Robby Smith on coaching, fatherhood and mentors" on Spreaker.
Listen to "5PM48: Austin Morrow and Gary Mayabb" on Spreaker.
SUBSCRIBE TO THE FIVE POINT MOVE PODCAST
iTunes | Stitcher | Spreaker | Google Play Music
Notice
: Trying to get property 'term_id' of non-object in
/home/fivepointwp/webapps/fivepointwp/wp-content/themes/flex-mag/functions.php
on line
999