One of the most intense Greco athletes in the United States is Corey Hope (NYAC), but that intensity also carries a degree of self-introspection everyone seems to relate with. It is one of Hope's gifts. He is not only unafraid to reveal his inner-dialogue and how he feels following competition, but he does so articulately — and it grabs your attention because in virtually every sentence is a pearl of wisdom from which wrestlers and even "normal" people alike can learn.
Maybe that's why his full-length interview last season was such a big hit.


The latest example is Friday's Bill Farrell Memorial in New York, where Hope placed third in the stacked field of 77 kilograms after taking a close loss to rising star Spencer Woods (NYAC/OTS) in the semis before notching his last win of the day over Jesse Porter (NYAC/OTS). With the result in NYC, Hope was unable to qualify for the 2020 US Olympic Trials but will have another shot to do so next month at the Nationals/Trials Qualifier in Fort Worth.
But when the event wrapped last night, his mind, while still on his performance, was also zeroing on an early-morning flight. That's because today, Hope — along with a large delegation of other US Seniors — took off for Tbilisi, Georgia ahead of a two-week training camp followed by an appearance in Sweden's Haparanda Cup.
Corey Hope — 77 kg, NYAC
5PM: What was your principal objective entering this tournament, especially knowing you're going away to Georgia afterwards?
Corey Hope: Just from the base of it, mostly knocking some of the competition dust off. It has been since Raleigh (2019 World Team Trials), didn't get to wrestle a ton at Raleigh, had to pull out of the tournament early, and I wasn't able to get overseas over the summer. So, getting that knocked off and priming yourself before Nationals and going overseas. Obviously, you're coming into every tournament trying to win, but I think it's just a good primer to now go into this training camp having some things to work on, a few things to critique, and keep the momentum pushing forward.
5PM: Was the idea also getting qualifying out of the way here? Or was that something that was not like, a preset focus?
Hope: I mean, theoretically, you can do that. But after discussing it with my brother — and going over it myself, and discussing things with some of my coaches and the strength staff — it was a 'qualify or not' kind of thing.
5PM: Spenser Woods is a new opponent for you. He is a really athletic guy.
Hope: Funky would be a good way to say it.
5PM: Okay. What did you feel in there with him, and what did you struggle with?
Hope: I just wrestled soft. Wrestled real hesitant, didn't stick to my game plan, which is something I talked about with Robby (Smith) afterwards. I didn't wrestle hard. That's one of those things where it's good to make those mistakes at a tournament like this and figure out where you need to get yourself physically, mentally, and technically. That was just a mental lapse of mine. I came out soft, didn't push the pace, didn't wrestle my match. I wrestled his match and it showed.
5PM: Following a match like that, are you extremely hard on yourself or are you regrouping pretty quickly?
Hope: It's hard to not be hard on yourself when you put so much time and effort towards it. But a big focus of mine is to actually refocus and get yourself back on the path. I say it all the time, Negative self-talk isn't allowed. It's like this: some of the shit you say to yourself, if you were to verbalize it to your friends, your significant other, or your family, then you probably wouldn't have a lot of fucking friends or family hanging around you. If it's not okay to say it them, then it's not okay to say it to yourself. You just have to snap out of it, refocus, and get right back on the right path.
5PM: Now you're going overseas. When you put the timing of the Nationals in the mix, did that make this trip more of an attraction?
Hope: Getting your feel right, putting stuff back in your tool belt, reorganizing the shop, so to speak. Definitely. As soon as it became an option, I jumped right on it. My brother and I already discussed how before this trip was even logged, we already had a few overseas tournaments planned for what we were going to do. Just looking at how we were going to fund it and everything. So it was like, Yeah, I'm going to be spending a lot of time overseas. It was looking like it was going to be a solid two and a quarter months looking at it that way. But once this trip came to be, financially-speaking and in terms of availability, it matched up a little bit better. It's like, yeah, I would like to spend a lot longer time overseas — but you get what you get.
5PM: The most important thing right now is the domestic competition because you have to beat the domestic competition if you want to make the Olympic Team. Are you going to measure yourself against the foreigners? And I ask because they have a different style than we do here. 
Hope: Yeah, oh yeah.
5PM: Then how do you separate the two? You're getting all of this foreign stuff in right now, but you're major concern is making the Team and getting past domestic guys who wrestle a different style.
Corey Hope: I look at as "wrestling is wrestling" at the end of the day. Different partners, different room, and yeah, you have to beat Americans to make the Team, but I am tired of people looking at it as, I just have to make the Team, I just got to make the Team, just got to make the Team. It's like, No. Because, once you've made the Team and met your "goal", guys make the Team and do nothing at Worlds. There are guys who make the Team, do nothing at Worlds, and fall short of it. There is nothing wrong with working hard and pressing ahead, but never set your goals too short.
So yeah, it is going to be one of those things where I am going to be wrestling foreigners, getting a lot of foreign looks, and having to come back and wrestle US guys — and having to win the Trials and make the Team. But I just look at it as I'm not measuring myself up against anyone, I'm just measuring myself up against myself, and just going out there and getting better. Get better, improve, and do my job. You have an objective? Do your job, and it shows.
When you don't meet your objective and stray away from your plan, you start toying with risky business. Get out there, do your job, and do what it takes to get it done. Whatever that means. If you have to fucking sit in a corner and cry for 20 minutes before a tournament to get yourself ready, or vomit… Not that I do any of that stuff, but if you have to sit in a corner and read a book, or read a few affirmations or mental queues to yourself so you can refocus? Then that's what you have to do. Sometimes you just have to slap yourself in the face and go, This is what I have to do. 
Sometimes, for me, I read stuff that motivates me, even if it's not in the athletic realm. Sometimes it is a text message from a friend, or an article. Whatever. Whatever motivates you and puts you in the right state of mind.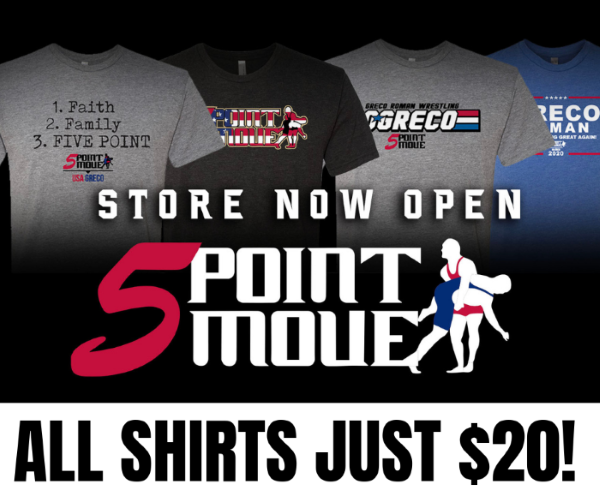 Listen to "5PM30: Jon Anderson returns at the Bill Farrell and Dennis Hall's always fiery position on U.S. Greco-Roman" on Spreaker.
SUBSCRIBE TO THE FIVE POINT MOVE PODCAST
iTunes | Stitcher | Spreaker | Google Play Music | RSS
Notice
: Trying to get property 'term_id' of non-object in
/home/fivepointwp/webapps/fivepointwp/wp-content/themes/flex-mag/functions.php
on line
999