On Friday, we released a brief Q&A with Patrick Smith (77 kg, Minnesota Storm) just as "January Camp 2020" in Colorado Springs was drawing to a close. The story with Smith centered around training. The 29-year-old had spent most of the fall locked in a training cycle in preparation for the season. There is no secret what the directive is — not just for Smith, but also for five others from the '19 World Team: qualify their weights at the Pan Am Olympic Qualifier in early March.
Part of that preparation process is overseas activity, which for US Seniors in '20 kicks off this week in Rome, Italy at the Matteo Pellicone Memorial, United World Wrestling's first "Ranking Series" event of the current campaign. That is where Smith is making his season debut, as is the case for Joe Rau (87 kg, TMWC/Chicago RTC).


Rau was originally scheduled to appear in November's Bill Farrell Memorial in New York until a soft tissue injury in his shoulder forced a last-minute withdrawal. As such, Rau — who like Smith was on the '19 US World Team that competed in Kazakhstan — rested, did some physical therapy, and should be ready to go bright and early Wednesday morning.
Smith answered questions from Springs calm and collected. Rau didn't enjoy the same luxury. He was at the gate waiting to take off across the Atlantic when he became available; but as always, more than delivered in both honesty and introspection.
Joe Rau — 87 kg, TMWC/Chicago RTC
5PM: You were originally coming back for New York and then you got injured, forcing you have to wait until Rome to compete again. The injury is a negative, but what has been the most positive thing about having to wait until January to compete?
Joe Rau: Hurting my shoulder was a very negative thing at first. And I'd be lying if I said I took it well. When I hurt it, I knew it was torn right away, but I didn't know what that meant as far as surgery and wait time, not until a month after it happened. When I first hurt it, I was pretty dramatic. It was like my career flashed before my eyes. And again, I was all alone. Just like my knee, like my jaw. I was hurt. I was thinking at the time that I might be done for the year and it made me feel so out of control as to whether or not my goals could become a reality
You are well aware of what happened to me in 2016. Not qualifying the weight was a tragic end to a very good year. I tore my knee winning (Olympic) Trials and I want to take full responsibility for not qualifying the weight; but I also want to acknowledge I wasn't at my best for the two Last Chance Qualifiers. That's a wrong in my career and life that I have been wanting to correct since 2016. When I tore this shoulder, I thought I might not get that chance.
When I first tore my shoulder, it put me in a deep depression momentarily and I was feeling sorry for myself. I thought that it might be all over for me. But after coming out of that emotional pit and getting back on the mats, it has been the best feeling of my career. It's not over. Qualifying the weight is still in my hands. And I have the opportunity to put in the work, use my experience, and accomplish my dream of becoming an Olympian. I have also hit a new spot in my life where I don't need it to happen, which I think is powerful. But dammit, I want it as bad as you can imagine.
5PM: How nervous were you when you first got injured in November, and conversely, when did you start realizing that it was beginning to heal?
Rau: I got word about a month after it happened that I wouldn't need surgery, and that if I rehabbed correctly, I could still do the camp in January and wrestle in Rome. That news was all I needed for Christmas. Talk about my mood going from 0 to 100, just like that. Coming back from the shoulder I have a new lease on life this year. I am going to do more things right than ever before. I realize that there are people all over the place willing to help me as long as I don't shut them out. It's not me against the world, which I've felt like it is at times. It is me plus everyone who helps me try to figure out how we are going to get this done.
I talked to Sebastian Rivera about this, how if this year was smooth sailing and there were no injuries and problems, then I wouldn't really be slaying the beast that 2016 is in my mind. I want the opportunity to handle that situation over and I'm twistedly happy to say I have a lot going on in my life and I am overcoming injury. And I think I got what it takes to do it. And if not, then so what? I've never felt that way before In my career. Maybe once and it was a resurrections of sorts. When I was 18 and completely done with wrestling and life, I won Fargo Nationals. That was seemingly impossible then. And I think lightning can strike twice. I think I can do something that no one else thinks I can. I'm dangerous.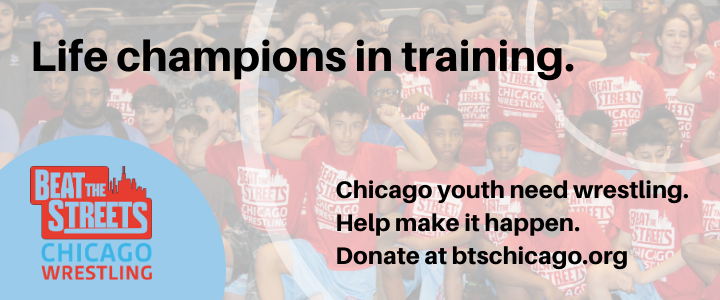 I am getting on a strict routine and basically changing who I am for the sake of the year. I made a drastic change in 2017-18 and it really was like I was a different person. I was in the best shape and mindset of my life. Unfortunately, we didn't see the reward from that because Malcolm Allen broke my jaw before (World Team) Trials. I'm getting back on that level of routine and discipline. I'm excited to see how it works out. I wake up every morning, I meditate, I journal, and I set daily goals and all sorts of things. I eat healthier, sleep better, and I am more productive than I've ever been, which isn't easy for me. I just want to start every day where I set myself up for success and has been working so far. Let's string the next couple of months together like this and see what happens.
It's fun and I am excited to compete again. And no matter what happens, I am going to leave this year proud of my work, I can guarantee you that. I'm done trying to define in my own head what success and failure is. I am not trying to be anything for anyone else. I am just going to be at my best given the situation. And then after this year, who knows? I might go on to enjoy my life away from wrestling entirely. But there is no way to forecast what will happen and how I'll feel. All I know is that I'm excited for this year of wrestling, and excited for my life after wrestling, whenever that comes.
5PM: How was camp insofar as protecting the injury and, has it affected any of your movement, especially from par terre?
Rau: Camp was awesome. I was excited to be back. I surprisingly felt like I was still in great shape despite me goofing around in China and Indonesia with my girlfriend. But maybe mentally it was what I needed. When I'm mentally right it doesn't matter what shape I'm in, I can win any tournament. I'm not mentally always in the right place. But who knows, maybe if I wouldn't have gotten hurt, then I wouldn't have been forced to take time off, which could have been bad for this year. I'm refreshed.
Coach (Matt) Lindland talked to me on the phone about it (the injury) maybe being a blessing in disguise, and how he went through something similar with an injury during his Olympic Year, when he obviously wound up medaling. But at camp, I had a lot of people helping me, which was awesome. Post-practice par terre work with Coach (Shon) Lewis; late-night film and technique with Gary Mayabb; Coach Lindland and Coach (Dremiel) Byers showing me stuff and walking me through things. Jim Gruenwald was there mentoring me as well as showing me some technique. It was good. I worked hard and got a lot of help. I also got to do great recovery and rehab for the shoulder.
5PM: You have done this before obviously, getting your first tournament of the year in overseas. Is there an advantage to doing that as opposed to opening up a season against domestic opponents?
Joe Rau: Competing is competing. I love competing either stateside or internationally. I think it helps. But — in opening up with a big international tournament, I am skipping the warm-up of a domestic one. I'm not intimidated by it. I am very excited. Even though it's a factor with seeding and all that, I'm not putting unnecessary pressure on it. I'm going to go do what I love — traveling the planet wrestling with my friends? Isn't that great?


Listen to "5PM32: Previewing Senior Nationals with Dennis Hall" on Spreaker.
SUBSCRIBE TO THE FIVE POINT MOVE PODCAST
iTunes | Stitcher | Spreaker | Google Play Music | RSS
Notice
: Trying to get property 'term_id' of non-object in
/home/fivepointwp/webapps/fivepointwp/wp-content/themes/flex-mag/functions.php
on line
999