Five Point Move is proud to host USA Greco-Roman National Team head coach Matt Lindland each week for Coach Lindland's Report. Here is where you will find detailed perspectives from Coach Lindland pertaining to recent results, upcoming events, training plans, and other Greco-related news that isn't available anywhere else. ALSO — if you would like to donate directly to the US Greco-Roman program, just click here. Your support is appreciated!
The pieces are in place.
Last month, the 2019 US Greco-Roman World Team took shape at the pair of Final X events. First, it was Rutgers; a week later, Lincoln, Nebraska. A few individual performances are highlighted, as well as Coach Lindland's perspective on Greco's debut in the Final X Series. Then the discussion shifts to what lies ahead. The '19 World Team members occupying the six Olympic weight classes will be called upon to compete at the Pan Am Games in August. But before that, a training camp unfolds in Colorado Springs. To close out, the concept of team chemistry makes its way into the conversation.
5PM: What did you think of the presentation of Greco-Roman at both dates of the Final X this year?
Coach Matt Lindland: I thought the presentations in both New Jersey and Lincoln were phenomenal. It's a great way to present our sport. It's such a wonderful sport that it does need a presentation like that. I don't know what it's going to take to sell out arenas but they did a pretty darn good job of filling the stands. It would have been nice if there were people who couldn't have gotten tickets, though, because it is a great event. It was well done. I'm super excited that Greco-Roman was a part of it. We made the decision this year to jump into it and that is something we're going to continue to do. For sure.
5PM: This isn't a slight to the AWL or any other upstart pro wrestling leagues from the past or those which may pop up in the future, but Final X has it all figured out. Why do you think that is? Especially since two years ago, you pointed out how other leagues have used different rules, and that doesn't tend to work out so hot?
ML: You of course need to present the sport with the rules by which it is competed. There was also the fact that the Final X carried significance. The individuals who win the event get the opportunity to represent the United States this year at the World Championships. And also, it was If you didn't do it this year, well, see you next year and good luck at the Olympic Trials. It had a real finality to it. It had a real significance to me and the real wrestling fans.
I don't watch the NFL. I don't watch the NBA unless I'm in Portland and someone gives me tickets to a 'Blazers game and I want to go out for an evening. I'm not a fan of most sports other than combat sports, whitewater (rafting), and equestrian eventing. Those aren't televised too often, either (laughs). I think it's a great way to start building an audience, and if we can continue to do this year-in and year-out, I suspect that the stands will be entirely full in the future, although there wasn't a bad crowd at all. 


I would love to see a professional wrestling league but I don't think it needs to be done on a national stage. They need to be a regional event. You do them in smaller regions. It works out good in Germany and Sweden, and some other countries that have Bundesliga. But you build an audience from your local fanbase. That is when they will come out to support. It was smart to have Lincoln with Jordan Burroughs and James Green. I think that was great because it brought the local fans in there. And since it was a great event, you're building new fans that way.
It is a slow process. It is not going to happen overnight. You're not going to live stream wrestling and think you're going to reach hundreds of thousands of people, though I don't know what FLO's numbers were. I hope they got hundreds of thousands of people. You have to build an audience, start local, and expand regionally before you ever start thinking about taking on a national professional wrestling league in the United States.
5PM: Do you think the Greco athletes at Final X represented the style well in front of a more mainstream type of audience?
ML: I think the Greco athletes made a lot of new fans. It was an exciting event. Unfortunately, the matinee sessions had most of our athletes in them. Only one match was in both evening sessions. But the way these athletes competed, one thing was obvious: we got the right guys on the Team. The guy who went out there and took it to his opponent. No series went three matches except for Kamal (Bey) and Patrick (Smith). Even in that series, we've got the right guy right now. He is hungry, he wants to win, and he's willing to do what it takes to prepare himself to compete at the highest level.
Across the board, I think we got the right guys on the Team and they did an outstanding job of presenting our sport to the mainstream wrestling fans.
5PM: There were a few series, a few moments that really stood out. At 87 (kilos), Joe Rau won against Ben Provisor on two offensive actions, step-out in Match 1 and the gut in Match 2. Considering how close they usually are in terms of scoring, does it make a difference optically when one guy wins like Rau did? Does it change the way his earning of the spot is perceived?
ML: I think perception is everything. No one wants to watch a match where the only person who scores a point is the official. I think it is very significant. Like I was saying, our athletes went out there and proved that they wanted their spots and that they deserved their spots going by their actions. That's what it takes. I would not have been nearly as excited had it been the referees doing all the scoring in their match(es). Joe had to dig deep and score that point in the first match, and then he had incredible par terre offense in the second match, using two gutwrenches to turn Ben over.
They do know each other, they wrestle each other a lot, and they have similar styles, so it's probably not going to be a high-scoring match when you wrestle someone so often. It's like that river you paddle every time. It's going to be a little different, but you kind of know where the lines are. There might be a little adjustment to make but it's not going to be anything really exciting. These guys know each other so well and that makes it hard in that situation.
5PM: Heavyweight was interesting. It was encouraging for both athletes. Adam (Coon) really impressed with his par terre, virtually all of his points came from gutwrenches, so that was important. Then there was Cohlton Schultz, who in my opinion, actually had certain advantages on the feet. How did you see their two matches?
Coach Matt Lindland: For me, that was a very intriguing matchup, period. You had a Cadet World champ and a returning Junior World bronze medalist, someone who is fully dedicated to Greco-Roman wrestling, and then you had a guy who is just coming off of a World silver medal and who just won the Pan Am Championships by pinning everybody in his path. Two guys, one who is up and coming and the other who has proven himself on the international stage at the Senior level. So you look at that matchup and you say, Okay, I know what Adam Coon is going to do, he is going to bodylock you. But if you can stay out of that bodylock situation, maybe you have a chance to beat him. And if anybody in our country has a chance to beat him, it's Cohlton Schultz. And who knows? He might only be a year away from doing that, but it wasn't his day.
Adam Coon has made some incredible adjustments. He is a brilliant guy. You can listen to his interviews, he believes that he might have had an easy draw at the World Championships? Who knows? I don't know if there is such a thing as an easy draw at the Worlds. He did have a good path, but he still had to wrestle those matches — and he went out and took those matches to his opponents in the same manner.
But he also realized that he needed to make some adjustments because people aren't going to just let him bodylock. He started to work on some other skills on the feet but the most impressive thing he improved on is his par terre offense. He and his coaches from Michigan are doing an incredible job preparing him and getting him ready. I've only had one camp with Adam (this year) and we worked on that gutwrench for three practices. I didn't get a chance to see him use it. He actually tried a few lifts at the Pan Ams so you can tell he's trying to add some new skills to his repertoire. He is going to come into this World Championships as hungry as a guy who has never medaled because he feels like he has something to prove.
5PM: No one can say he had an easy draw unless they believed he was going to beat Eduard Popp from Germany, which I did not. If people have a brain, they would know that was a match he probably wasn't supposed to win and then he dumped Popp and pinned him. 
ML: Yes, but I think that's what makes him so hungry to keep making adjustments and improvements, changing up things, and adding. You know, he's not making big, gross changes. Adam still has a build for a bodylock. He has those long, long arms and knows how to move his opponent, get their feet moving. He has four or five different attacks from the bodylock position, as well. He can twist, he can suplex, run guys over, break them down. He has many versatile attacks from there. But — he might not get to that bodylock this year because people are going to stay away from him, so he's adding other scoring opportunities and I have some things in mind for camp that I want to share with him.
But I am really excited to have Adam Coon on our Team again this year. The fact that he wasn't in Final X for freestyle allowed him to prepare superbly and he did an outstanding job. And so did Cohlton.
Personally, I didn't know what to expect. There were people who were predicting hard one way and there were people predicting hard the other way. The majority of the average fans probably picked Adam because of his accolades in the NCAA. The hardcore Greco fans were really leaning more towards Man, I think Cohlton Schultz can take this guy. But the size was a huge factor and the strength was a huge factor. Coon said it himself, that Cohlton would have tech'ed the 18-year-old version of Adam (laughs). And I believe that to be true. But he's not wrestling the 18-year-old version of Adam Coon, he is wrestling a returning silver medalist from the World Championships who is hungry to go out and get us another medal for the United States. So I am really excited about Adam's prospects this year.
5PM: I've said this, that if you would have told most people Ray Bunker was going to be a World Team member this year, they would have laughed. No one is laughing anymore. And he didn't just win his spot, he did so fairly decisively over an excellent opponent. What do you see about Bunker that jumps out the most?
ML: The first thing that comes to mind when it comes to mind with Ray Bunker is consistency. He is consistently improving, he is consistently a professional on and off the mat. Everything he does is with purpose and intent. He is very cognitive of what he is doing. I've seen him at camp and he makes so many sacrifices. So, it's not a surprise to me. He has beaten some great guys. He beat RaVaughn Perkins, who has been an outstanding representative at the World level, has won many medals for us overseas, and has done a great job. There are some other talented guys in there. (Alex) Mossing is no joke, he is on his way up.
I've seen Ray Bunker get himself overseas, get himself to camps, and the past two years he has offered to be a training partner at the World Championships. This won't be his first time at the Worlds, it will be his third time. He has seen what to do, what not to do as a World Team member, and he is going to go out there to compete to his highest abilities at the World Championships. I am looking forward to helping Ray get ready for that. He and his coaching staff do a great job of putting together game plans.
You notice Ray and you think, He's got this one style. He is just going to stay in your face and grind you out, but in the match against Mossing he was very patient. He was moving him and keeping a good pace but he wasn't taking unnecessary risks because he understands that Alex is a seriously dangerous athlete.
When you attack Alex, you're also leaving yourself open to attack. Alex is an incredible counter-wrestler. He has to work on his offense a little more and getting to his best positions, and figure out those positions he can score from. But he is very explosive. We have seen it multiple times. When people attack Alex without a purpose and plan, they end up getting scored on.
And I think Ray did a good job of coming up with a game plan and sticking to it consistently in both matches. He (Bunker) didn't make a huge adjustment between matches. It was like, Hey, my game plan worked, so I am going to stick with it. It worked, it worked superbly. I am looking forward to having Ray on our Team. He is an incredible leader, he is part of the Marine Corps team, and we are excited to have them be a part of the World Championships. They have been coming as training partners for the past few years and now they have two guys on the World Team. We're thrilled.
5PM: The mission at the Worlds this year will be to qualify the six Olympic weight classes. That being said, there is the real possibility of this particular Team, all ten guys, having incredible chemistry. There are longstanding relationships between multiple athletes, even from different clubs. Four from Army, two from the Marines, and the rest all like each other. They seem to gel naturally. Since team-building has been a big bulletpoint training these World Teams for you, how much does this matter, especially with someone like Max Nowry who is a prankster?
Coach Matt Lindland: Yeah, but Max Nowry is a consummate professional when it's time to do work. He is a prankster. He's a funny guy, he keeps things light, and everyone needs those guys on the Team, as well. But yeah, I think you're absolutely right. This year, we did not schedule a base camp due to the compressed schedule. Most guys were recovering the week after Final X, and then there was a Final X the next week. And then there was a week off. But I know how it is, too. When you're an athlete who just made the Team, you're like, Well, I can't rest now. This isn't time to rest, it's time to work (laughs). But knowing the work ahead that has to be done, and with the intensity and volume that is going to be thrown at them in the near future, hopefully they did rest, recover, and get healed up.
The base camp we normally do in Oregon, there just wasn't time for it this year with the two different weeks. There was Final X one week, and then the next week you're selecting the other half of your Team. Scheduling was just a lot more difficult. Plans were sent out to athletes with two weeks of strength training. There was even an opportunity to fit in three weeks of strength training if you were in that first week (at Final X). But guys should be back on the mats this week, and on the 10th, everyone is coming to the Olympic Training Center for our first camp, which is the Pan American Games preparation camp.
But yes, I think everyone is really excited about the chemistry with this Team in general. And it's not contrived, it's real. You do have those four guys at the top from Army and they are not guys who are going to keep to themselves. They are team men, they are team guys who will work with the whole group. They are not going to pull away and just do WCAP stuff on the side. They're going to do National Team stuff, World Team stuff, and prepare. They have great leaders. Ellis Coleman knows what it takes to win at the highest levels and he is certainly capable of it.
We also have a couple of other savvy veterans. This isn't Pat Smith's first World Team. It's his first one at 77 (kilograms) and I think that was an outstanding move for him. It was a big risk that he took this year, saying, You know what? This weight class is going away (72 kilos), so I am going to move up and grow into this weight class right now. I think he is very comfortable. He has the opportunity to learn, to grow, and improve because he is not focused on losing weight. He is just focused on adding strength, conditioning, and building skills. We saw it at the Trials. He has added a lot of skills to his repertoire, so we are thrilled to have him in our program.
We've got great leaders. The Marine Corps produces incredible leaders. The Army produces incredible leaders. Just with those guys alone, over half of the Team is from the Armed Forces. They train these guys to be leaders. We are really blessed to have this group representing the United States and I am looking forward to helping prepare them, guide them, and putting the camp plans together. I know that these guys are going to do the work and they are going to be the leaders throughout this World Championships.
I don't see any knuckleheads on this Team. In the past, we've had some knuckleheads, guys who just want to do it their way and not contribute to the Team. We have really worked hard to grow our areas. We spent a lot of time the last two years going out to Oregon and doing a lot of team bonding. Doing things like shooting, aviating, whitewater, and paddleboarding. We had a lot of fun while we were doing it, but at the same time, we worked on those five areas with communication and professionalism — and it showed at the Final X. Our guys were professional, they were competitors, they were warriors out there. They hold themselves accountable and they hold one another accountable.
The trust and respect are being built. It is always being built. If you're not building it, you're losing it. The trust and respect is there for one another between the athletes and the coaching staff. And let me tell you, the relationships with the club coaches from WCAP and the Marines just keeps getting stronger. I am really happy about those relationships working with all of those coaches and the personal coaches.
Ultimately, I really think this year it is going to come down to that sense of urgency, because you're right, the mission is to qualify six weight classes. We'd love to see multiple medals while we're qualifying those weights. We're not looking to settle for fifth and sixth, we want medals. We want our guys on the podium.
I am thrilled and excited about this group of men, and chomping at the bit to get these guys out here to start working with them and training with them.
Follow Coach Matt Lindland on Facebook and Twitter for updates on the USA Greco-Roman Wrestling program.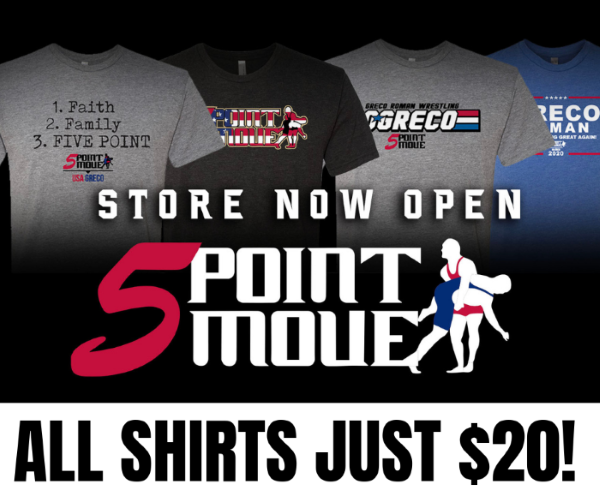 Listen to "5PM24: World Teamers Joe Rau, Pat Smith and Max Nowry discuss Final X" on Spreaker.
SUBSCRIBE TO THE FIVE POINT MOVE PODCAST
iTunes | Stitcher | Spreaker | Google Play Music | RSS
Notice
: Trying to get property 'term_id' of non-object in
/home/fivepointwp/webapps/fivepointwp/wp-content/themes/flex-mag/functions.php
on line
999