Five Point Move is proud to host USA Greco-Roman National Team head coach Matt Lindland each week for Coach Lindland's Report. Here is where you will find detailed perspectives from Coach Lindland pertaining to recent results, upcoming events, training plans, and other Greco-related news that isn't available anywhere else. ALSO — if you would like to donate directly to the US Greco-Roman program, just click here. Your support is appreciated!
It has been a quick turnaround for the athletes between the 2019 US Open and this week's World Team Trials Challenge Tournament, and it's also a quick turnaround between Coach Lindland's Reports. With the most important domestic event of the year at the doorstep, Cohlton Schultz's (130 kg, Sunkist) participation opens up the conversation, which we then use to relate to Lindland's own first appearance at a Senior Trials event.


The discussion next involves the potential impact of Greco being on display in North Carolina, and we finish up with which weight class the National Team head coach thinks might offer the most uncertainty.
5PM: Cohlton Schultz is entering the tournament, which is huge although he's not supposed to win this thing yet. Doesn't mean he can't or won't, but that's not what most are anticipating. What do you think the approach is for an athlete like him who is clearly the future of the weight class, or at least seems to be?
Coach Matt Lindland: Well, I think you're pretty accurate in your assessment. It's not that he can't win, I just don't think people are expecting him to. His personal approach is to just go out there and enjoy the fight, to have fun and and get this experience. You're already on our Junior World Team and that should be your focus, but go out and just wrestle up to your abilities. If he does that, anything is possible for him, because he has some pretty impressive abilities.
5PM: You might have to dig back a little, but at your first Senior Trials event did you have high expectations going in, were you nervous?
ML: Absolutely. I mean, if we're talking about Cohlton Schultz, his maturity level and experience level is so much higher than mine was for my first Trials. I qualified by the skin of my teeth, placing top-seven in the Open. I was a little like, These are the big boys I'm wrestling against.
I remember the year, it was 1994. It was my first year on National Team and my first year at Senior Trials. I was just happy to be able to perform as well as I did and take top-three and make National Team that year. I remember wrestling Travis West for that third spot. Travis was someone I grew up with in Portland, Oregon who was very skilled and had been on the 1992 Olympic Team two years prior. For me to beat someone like that, it felt like I was starting to get to the level I wanted to get to.

But still, it was only for the third placement match, it wasn't to make the actual World Team. I was just really thrilled at the time to be one year out of college and on the National Team so I could have the opportunity to start traveling overseas, competing, and getting the experience I obviously needed to accomplish the goals I set for myself.
5PM: North Carolina is not a Greco hotbed at the moment. Last year, we talked about how it can go both ways in that putting Greco in those states where the style is already popular might bring more of a turnout, but that there is also an inherent value in expanding the market, so to speak. In this case, there's no choice really, but I imagine you like the fact that perhaps a new audience may be exposed to what the top Seniors have to offer.
ML: I'm excited to see what kind of fans turn out in North Carolina to watch this Challenge Tournament. When you move events around it gives people in other parts of the country an opportunity to be exposed to the sport. That is my hope, that they see international style wrestling in Raleigh and go, Okay, this is what wrestling is, that way when they see college or high school wrestling they're disappointed because it wasn't as fun or exciting as what they saw at the World Team Challenge Tournament.
5PM: Which weight class heading into this tournament do you see as the most up in the air?
Coach Matt Lindland: I don't really know if I want to answer that, probably because I haven't thought about it too much. It really comes down to the athletes, who is prepared that day, who is going to shine, who is going to step up when the time is right. Other than at 130 (kilograms), this is an opportunity for pretty much everyone who didn't get it done at the US Open to show what they're capable of and what kind of competitor they are. I really hadn't thought about which weight will be the most competitive, though there certainly are some weight classes in which we are building a lot more depth.
It always makes it more interesting when there are a lot of competitors who are capable of getting on a Team and putting themselves in position to grab that Final X spot. So, I don't know, and it's not because I am avoiding this question, I just really haven't put too much thought into it. There are some great match-ups here, though. We have multiple guys who have been on World Teams and are yet to give themselves a chance to do it again at the Final X. I'm just looking forward to the competition. It's one of those nice events where I get to sit back, observe, watch what's going on, and enjoy the excitement of the competition.
Follow Coach Matt Lindland on Facebook and Twitter for updates on the USA Greco-Roman Wrestling program.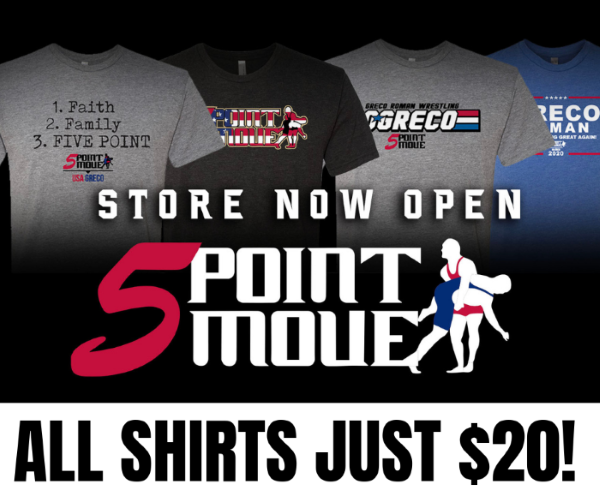 Listen to "5PM22: Sammy Jones guest co-hosts as Five Point Move visits with Lucas Sheridan and Sam Hazewinkel" on Spreaker.
SUBSCRIBE TO THE FIVE POINT MOVE PODCAST
iTunes | Stitcher | Spreaker | Google Play Music | RSS
Notice
: Trying to get property 'term_id' of non-object in
/home/fivepointwp/webapps/fivepointwp/wp-content/themes/flex-mag/functions.php
on line
999