Greco-Roman, forever recognized as the oldest and most brutal style of wrestling in the world, boasts of a lengthy history dating back to Ancient Rome and the very first Olympic Games. It is a discipline that has seen many changes throughout the past millennia, but the essence for which it is celebrated has never altered: at its core, Greco-Roman is defined by roughly-contested man-to-man combat.
Nowhere in the United States is this style more prevalent and revered than the confines of a small town in the suburbs of Minnesota known as Anoka.


Anoka, Minnesota has produced more Greco-Roman athletes who later became World Team members and Olympians than any other location in the country. To emphasize this point even further, Anoka has seen five athletes make US Olympic Teams, a run that began in the 1960's.
In 1968, a pair of brothers, Jim and Dave Hazewinkel, made the Mexico City squad, and four years later in Munich they were at it again. Another interesting fact few may be aware of is that the 1972 US Olympic Team Trials were actually held in Anoka's brand new fieldhouse, as its construction had been completed in the summer of '72.
Following the Hazewinkels' Olympic Team berths, another Anoka native, Dan Chandler, went on to make three Olympic Teams in 1976, 1980, and 1984. Of course, Chandler himself requires little in the way of an introduction. When his legendary competitive career reached its conclusion, he assumed the reins of the Minnesota Wrestling Club, now known as the Minnesota Storm, where he continues to make a resounding impact on all who cross his path. Thanks in large part to Chandler, the Storm's success is practically unparalleled both domestically and on the international level, and it has been this way for decades.
A new cornerstone of that success revealed itself in 1996 when another Anoka native made the Olympic Team for the Atlanta Games: Brandon Paulson. Paulson, then just 22 years of age, surged to a silver medal that electrified the American audience. Five years later, the University of Minnesota alum earned another silver, this time at the World Championships. In the time since, Paulson hasn't strayed too far from where it all began. Today, his influence lives on in the form of a prominent coaching role for the Minnesota Storm, as well as for helping found one of the nation's most decorated youth wrestling programs, PINnacle Wrestling Club.
Anoka's reach doesn't end with Paulson, however. But a few years went by before another patch was woven into its fabric. And when the stitches were sewn together, the result caught many by surprise.
The year was 2008. Coming off of its first Greco-Roman World title in history, the US Team was in the midst of taking shape in advance of the Beijing Olympics. At 66 kilograms resided Harry Lester, fresh off of back-to-back World bronze medals. Even with US National champ Mark Rial in the bracket, Lester was seen as one of the biggest favorites out of every weight class in the entire tournament.
But there was an 18-year-old entering the fray who couldn't have cared less about any of that.
The Phenom Who Bridged the Gap
Under the mentorship of Paulson and Chandler, Jake Deitchler, fresh out of high school at the time of the 2008 US Olympic Trials, stunned the wrestling world by first ousting Lester in the semifinals ahead of sweeping Faruk Sahin in the best-of-three finals to becoming the youngest Greco-Roman Olympian in American history.
At the Olympics in Beijing two months later, Deitchler went 0-2, though his draw was a difficult one. In his first bout he faced Kanabet Begaliev of Kyrgyzstan, and in his second, Ukrainian Armen Vardanyan. Begaliev eventually wound up with silver and Vardanyan took home bronze.
Passing the Torch
Following Deitchler, I like to think of myself as the next one to have carried the Anoka torch. And though my own run ended without an Olympic appearance, our careers paralleled one another's in eerily similar fashion just the same. He was an enormous influence. Jake and I shared a drive to push each other beyond what we thought was possible, nevermind expected of us. We once challenged ourselves to a 24-hour hike in the rustic North Woods of Minnesota, a mentally and physically grueling task, as well as doing 500 pull ups, sit ups and push ups per day for a year. The inspiration was always our Greco-Roman roots, but the intensity and the passion we shared was manifested between us pushing each other to be the best.
Like Jake, I was directly influenced by the duo of Chandler and Paulson. They were it for me. They were who I looked to, looked up to, and at least tried to obey beginning in high school. They coached me throughout the scope of my formative competitive life, and then even more so after that. From Cadet to Junior to Senior, I proudly carried on the Anoka-Minnesota Storm tradition, amassing seven international medals, a University National title, a US Open runner-up finish, and two appearances on the Senior National Team.
And also like Jake, concussions were responsible for the untimely conclusion of my career. With the brutality of the sport comes inevitable injuries and subsequent symptoms of said injuries; it is all the nature of the beast that is Greco-Roman wrestling. Concussion protocol is getting a much more serious look now and much more awareness has been raised as to the severity of these head injuries.
In either case, Jake and I both started coaching at various levels and eventually came in contact with two very talented and driven young men from Anoka, Tyler Eischens and Calvin Germinaro
They are the future. It's coming up on their turn to carry the torch.
Tyler is currently a student athlete at Stanford University and competes for the California RTC (regional training center). In reflecting upon his Anoka's Greco-Roman roots recently, Eischens said, "Watching Jake Deitchler make the Olympics in 2008 really inspired me, as well as looking up to all the other athletes from Anoka. I always knew I wanted to wrestle in the Olympics."
The most fascinating part about Eischens' Junior World Team berth is that his opponent in the finals of the Junior World Team Trials was Germinaro. They grew up wrestling together, both at different weights in high school, and were training partners and best friends, as well as co-captains while wrestling for Anoka. They had only met two times previously at the Junior State Championships in Rochester with Germinaro winning both titles after having defeated Eischens in the finals of both international styles.
"Looking at the wall of Anoka Olympians in the wrestling room was always inspiring to me, and that's just what you did — you wrestled all three styles, especially Greco," Germinaro said.
I had the privilege of coaching Eischens and Germinaro during their time as Cadets and Juniors. Doing so made an impact on me, and when that's your role, you at least hope it makes an impact on the guys you're coaching. But just sitting back and enjoying some Anoka talk with Eischens, I felt compelled to ask him, if not for old time's sake. "Being coached by you was awesome and fun and I always knew it was a super comfortable place to get better," Eischens assured me.
As for Germinaro, coincidentally (or not), he is Paulson's nephew, and recent Minnesota Wrestling Hall of Fame Inductee Doug Paulson's grandson. Germinaro's own full-time career has gotten off to an extremely strong start. After graduating from high school in 2017, he enrolled at Northern Michigan University, home of the US Olympic Training Site (formerly the US Olympic Education Center) where I had also trained and attended school. But he's back in Minnesota now, back to his roots, back to where it all began. Germinaro is fast becoming a fixture for the Storm while studying at the University of Minnesota.
You can't help but compare the coaching styles available with Paulson and Chandler. I've done it myself, but while each wrestler's own perception of what a coach has to offer may differ, when it comes to the Storm's staff you know what you're getting.
"Paulson's coaching style is more explosive, big throws and lifts," began Germinaro. "Chandler coaches mostly takedowns, slide by's, and bringing the fight to the pummel on the feet as well as endless gut wrenches. We live and die by the gutwrench in that room. Dave Zuniga (1996 Olympian, Minnesota Storm) is an amazing coach to help with par terre. All three of them put together makes you feel like you're being coached by the very best."
Understanding What Is Precious
The years go by, no matter how much you try to slow them down. Careers begin, careers end, and then transform into something else. That's wrestling. You can't account for all of it. The names, faces, and ages of athletes change. What you hope to find, somehow, some way, and if you're lucky enough, is a constant. You want to continually be pulled back into a community where familiar passions are passed down from one generation to the next. And when that happens enough, it's called tradition. And when it happens successfully, and great men are able to achieve great things because they dared to sacrifice for something bigger, it's called a legacy.
These words carry pride, but there is also a humility that comes with understanding the power of a dream. Is Anoka the best Greco-Roman wrestling community in the United States? It is, and there is more than ample enough evidence to back it up. I'm proud of the fact I am a part of the Anoka Greco tradition. But I'm even prouder that it continues to live on in the dreams of our next generation, and that they recognize how special what we have truly is.
"It's a pretty sweet feeling," admitted Eischens. "I knew I wanted to carry on that legacy. Hopefully I can inspire the younger generation of Anoka wrestlers who want to pursue the Olympic styles."
See what I mean?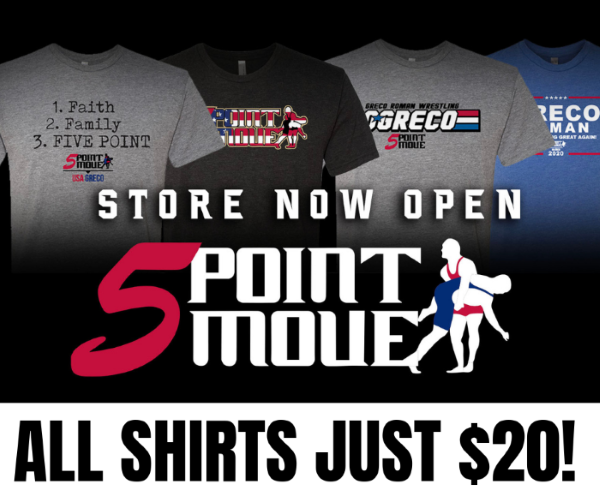 Listen to "5PM22: Sammy Jones guest co-hosts as Five Point Move visits with Lucas Sheridan and Sam Hazewinkel" on Spreaker.
SUBSCRIBE TO THE FIVE POINT MOVE PODCAST
iTunes | Stitcher | Spreaker | Google Play Music | RSS
Notice
: Trying to get property 'term_id' of non-object in
/home/fivepointwp/webapps/fivepointwp/wp-content/themes/flex-mag/functions.php
on line
999