United States National Team head coach Matt Lindland does not hate folkstyle wrestling. It is a mischaracterization to say otherwise. Lindland, like every other American wrestler, practically, was reared in folkstyle.
And he was a rather excellent folkstyle competitor. Lindland won the junior college (NJCAA) nationals in 1991 for Clackamas Community College in his native Oregon, and soon after jetted for the University of Nebraska. An NCAA Division I title eluded him, though Lindland still managed to put together a glittering final season. He entered the top-level collegiate national tournament in '93 undefeated at 36-0, was upset in the first round, and then quickly shifted his focus to international competition. Less than a decade later, Lindland had collected an Olympic silver ('00) followed by a World silver in '01, and eventually went on to become an MMA pioneer.
All of these are factoids with which most are indeed familiar, and ultimately not the point.


As the head Greco-Roman coach for Team USA, and the subject of this platform's Coach Lindland's Report, Lindland has no choice but to try and compartmentalize the uniqueness of his occupation. The tired refrain of "wrestling is wrestling" might be true; though if so, it was truer two decades ago than it is today. The sport has changed, only slightly. What has changed the most, however, is athlete development.
Around the globe, wrestlers are competing — and developing — at younger and younger ages, similar to how they are in the US. The difference is that in just about every other nation, youths are being brought up in the Olympic disciplines — with "just about" being applied as a determiner due to several countries boasting their own native folkstyles, despite these styles holding only a marginal degree of participation by comparison, to put it plainly.
Therefore, the way Lindland observes the phenomena of American scholastic folkstyle's perceived disruption of Greco-Roman development is systemic. Cultural. Wrestlers practice and compete in folkstyle because it is ubiquitous. The result is easy to decipher. Virtually each and every child's introduction to wrestling involves top, bottom, neutral or defer, not throws and par terre. Habits, position, instincts, awareness — all become geared towards the scholastic style, elevating the incline one must overcome to gain the kind of Greco-Roman skills needed to best foreigners who hold an unmistakable developmental advantage.
Then there is college wrestling itself, which for most young athletes stands as the primary objective for both competitive and academic purposes. The Olympics might be The Olympics, but in the US, NCAA Division I wrestling is the real king. Resources — be them in terms of coaches, scholarships, and facilities — are suitably attractive. Influence from family and peers would also seem to nudge wrestlers towards pursuing collegiate folkstyle success instead of taking a gamble on international pursuits. It is understandable why the overwhelming majority of wrestlers prefer to postpone World-class competition — but for Greco in the USA, every time they do, certainly in Lindland's mind, they decrease their odds of attaining World or Olympic success.
None of this is to say that Lindland blames folkstyle for Greco's plight. It is more that he finds little trouble verbalizing a situation that directly affects the development of the youth base, and in large part, Senior athletes, as well. For what it's worth, Lindland is hardly alone in his estimation that folkstyle's grip on American wrestling has grown too tight. Others feel the same, but are perhaps not in the type of position to where their voices can be heard and understood.
Which is why we have these Lindland quotes.
Since April of '16, there have been 80 editions of the Coach Lindland's Report on 5PM. A large number of them contain discussions about folkstyle, or as Lindland likes to say, "the folkstyle system".
Context is key. Each quote below includes a link to the original article for further reference.
The goal for this content is one part educational, one part entertainment.
For those who are folkstyle/freestyle fans first, the hope is that at least some of what Lindland says shines a light on what is actually considered a legitimate issue in American Greco; for Greco die-hards, this material is well-known but won't stop everyone from high-five'ing each other over it.
Top 10 Lindland Quotes About Folkstyle
*List not chronological. 
"I think what I've always thought, which is that Greco-Roman athletes are just different. They are a different breed of athlete and we need to focus on our Greco-Roman guys, and stop putting so much of an emphasis on catering to the folkstyle system and the folkstyle wrestlers. Instead, we need to focus on our guys who are really passionate about Greco-Roman, love the sport, and want to compete in it."
From Time to A.T.T.A.C.K.
"The earlier we get going down this path, the earlier our guys will experience success, rather than waiting for their college careers to end. It's just a much more efficient system to create those opportunities for them. They will get their educations. We have athletes taking their college courses online, as I said. Same for our high school athletes who are full-time, they can do their coursework online while they are traveling the world and getting a real education and real-life experiences. There are a lot of opportunities for our guys, they just have to get out of this folkstyle mindset. But as we head into the fall, everyone kind of has folkstyle on the brain."
From Back to Baku
"We want to have our own style that is uniquely American. There are some things about European wrestlers, sure, they influence our style of wrestling, they do. But we come from a very different system and we have to transition athletes from the different system. Because let's be honest — there are not a lot of athletes exclusively training Greco-Roman wrestling in our country. We're getting guys from folkstyle and freestyle and sometimes converting them. Some of our guys have been exposed to Greco-Roman, but it's maybe not at the level we want to be at, so we have to develop these guys. Andy (Bisek) is going to get up there (to Northern Michigan) and bring in the right athletes, develop them, put them in positions to be on Junior World teams and hopefully take that next step on the Senior level."
From Post-1st OG World Qualifier
"It's totally a cultural pressure. The college coaches aren't comfortable with the style of Greco Roman, the high school coaches teach them folkstyle, so they're not comfortable with it, either. They're pressuring them from every angle that they need to continue down that path. That's something we've got to handle individually with each of these athletes."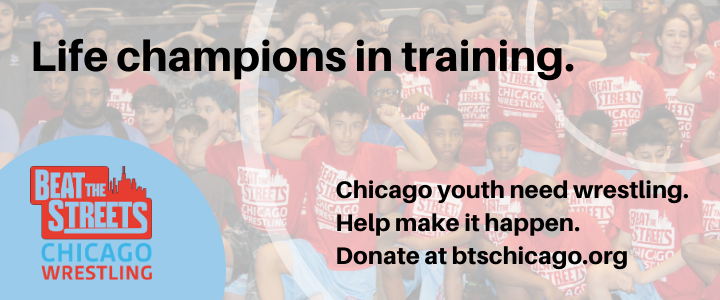 From Age-Group Madness
"The key is getting more athletes overseas so they can understand that they are capable of doing that, but they are getting left behind because they are not focusing on the international styles. At that age, and it's probably somewhere around their freshman and sophomore years in high school, if they are going to continue to split their time, say doing three months of Greco while mixing it with freestyle but spending the rest of the year doing folkstyle, they will get left behind. What these kids who are going overseas are seeing now is that they are and can be competitive with all of these European guys, right? They're seeing, Wow, we're competing with Russians, Serbians, Croatians, and Bulgarians — and they were having tons of success. Just look at the medal count and it shows the kind of success these athletes were having. But when they stop doing that and go back to their respective folkstyle programs, they will be getting passed up by their international counterparts. That is going to cost medals for Americans."
From Post-1st OG World Qualifier
"In reality, I think some of these guys are much more suited to wrestle Greco in the first place. They're forcing themselves out of tradition and comfort to go stay with folkstyle. That's where the pressure is, 'Oh, go wrestle in college and get a degree.' Well, you can still get a degree and wrestle Greco, believe it or not. Nobody on my staff is telling these guys not to go to school and not to get degrees. We're all about developing the individual and not just the athlete."
From Progress Through Opportunity
"I've been saying it forever, I know we have the best athletes, we just compete in the wrong style in our country and then we think we're going to go over and perform internationally in Greco-Roman. That's just not the case. We need to have guys who are training and consistently competing in Greco-Roman to get that kind of performance. You're right about us not getting headlines in Austria. There were major folkstyle tournaments going on, college and high school state tournaments. This is a folkstyle nation.
"I remember when I was a young athlete in high school, which was when I pretty much started wrestling, the minute the state tournament was over there were no more folkstyle events. Now? I don't think there is ever a break in folkstyle in our country. You would think that at least after the NCAA tournament there would be no more folkstyle, but there will still plenty of guys doing it. Again, I don't care about every athlete in our country. I just want the guys who truly love and want to wrestle Greco-Roman to get an opportunity to do so without being forced to participate in a style that doesn't fit them."
"I think we need to do a better job as parents of encouraging our kids to go out and pursue their passions and what they enjoy and quit saying, "We're going to this national tournament", or this college. We need to just focus on what our athletes want. And I think if we expose enough of these young athletes to Greco Roman, I'm confident they would enjoy the sport, appreciate the art form of it and we could find our 3%. Right now, we don't have that. You look at all of the focus in this country is pushing the athletes towards a folkstyle system, which is completely down the wrong path if your goals are to actually win Olympic and World medals. So, it is unfortunate that's what we're seeing."
From Pre-Pan Am Championships 2019
"As I was saying to the attendees at the camp, I told them, You are all just coming off of folkstyle so your position might not be there yet, and if we can just get you into the proper position…. The rest of the world does not have better arm throws, gutwrenches, and bodylocks than we do in the US. They just have a more disciplined position, more integrity in their stance, their centers are lower, they drive with their legs more. They don't lean and push or get their chests over their toes.
"If we stay in proper positions longer, we are going to develop a lot faster. But when we are switching styles back and forth — and the positions in folk and freestyle just aren't the same for Greco, they are different arts — it is more challenging. The first thing I am doing is just trying to get athletes' bodies into proper position, getting them set and centered, and helping them get their weight balanced. And then I don't even need to show much technique! They already know most of the techniques, but that's the job of their club coaches anyway for when they go back and train. My job is to get them excited about wrestling Greco-Roman while helping them understand the science of it, and then just letting them go out and play with the art and techniques."
From Summer's Beginning
"We're in this little fishbowl in the United States where we think the NCAA tournament is the biggest tournament in the world, and it's just not. It's not even a style anyone else in the world competes in. Wow, we're the best in our own style. It's kind of cute. But actually getting our Cadets, and that is the age to capture these guys, and I love the language you used, to "indoctrinate" them into international Greco-Roman wrestling. You know, maybe we lose a couple of these guys to the folkstyle system but frankly, maybe they aren't the ones we want anyway. We want the guys who are passionate about it, who love to be able to challenge themselves at the international level, love the art of Greco-Roman wrestling and want to excel at it."


Listen to "5PM37: The wildman Sammy Jones" on Spreaker.
SUBSCRIBE TO THE FIVE POINT MOVE PODCAST
iTunes | Stitcher | Spreaker | Google Play Music
Notice
: Trying to get property 'term_id' of non-object in
/home/fivepointwp/webapps/fivepointwp/wp-content/themes/flex-mag/functions.php
on line
999