Most saw this coming from a mile away.
Even when Logan Hatch (WI) had just barely escaped adolescence, he appeared destined to become a full-time Greco-Roman athlete at his first available opportunity. Which is really just another way of saying that Hatch, now 18, was going to diss traditional folkstyle wrestling the moment his high school career finally ended.
A skillful grappler growing up, the Wisconsinite attended camps and tournaments overseas where he found himself enamoured with what international wrestling looked and felt like. It was strange and challenging; it was also extremely competitive and emblematic of the artful intensity Greco-Roman, at its core, is supposed to envelope when left uncorrupted.


Hatch jumped at these chances to receive an authentic Greco education whenever he found the downtime to do so. But then something happened that derailed the train. Two years ago, his back was mangled during high school season. The problem was not some ruptured disc or pinging sciatica. Instead, a piece of his spine had literally broken in half. Repair and rehab followed, and then just as Hatch was beginning to round back into form the next year, his fibula snapped. Thus, he sauntered back onto the sidelines for another long spell.
By the fall of '18, Hatch was a new (young) man. And of course, he didn't wait for the high school season to show off his progress. On the annual autumnal US tour of Sweden, Hatch took advantage of his recovered health by drumming up a win in the dual against Team Skåne Brottning; and the following weekend, persevered through seven matches to earn silver at the massive Malar Cupen. Quite an impressive comeback.
After finishing up for Hudson High School with a third at the Division I state tournament, Hatch quickly hopped back over the Atlantic in March ahead of the 2019 Grand Prix Chomutov. More matches, more training. Most recently was the Fargo Junior Nationals and a 6-3 ledger good for All-American status in a tournament that, while grand and all-encompassing, does not play to the strengths of someone whose skill-set has been tuned more towards foreign competition.
It is all more than enough for Hatch to be considered a premier prospect for the United States program. It has been more than enough, even before his Fargo result, which while certainly admirable, would largely be dismissed due to that event's difference in style and governance. Such is why Hatch already has his future plans laid out. Next month, he is moving out west to the US Olympic and Paralympic Training Center in Colorado Springs to begin his full-time Greco-Roman career. And as you will glean from his answers, that's all he has ever really wanted.
Logan Hatch — 63 kg, OTC
5PM: Let's talk about the crazy injuries you've had to overcome. It started with messing your back up really badly, is that accurate?
Logan Hatch: Yeah, my L3 vertebrae got severed in half.
5PM: But there was something else after, wasn't there?
LH: Yes, the year following that I broke my fibula. So it was kind of back-to-back injuries.
5PM: As terrible as that was and is, do you look at it more along the lines of 'At least this is happening now while I'm young'?
LH: Exactly. At least I got those two things out of the way. They both happened during the folkstyle season and Greco is more important to me. At least it didn't affect me later on in life while I was training for something big.
5PM: When you finally got healthy entering the fall and you went over to Sweden. You took silver at Malar Cupen, a big tournament that has a lot of guys and a lot of matches. Then there is the camp thrown in and everything else. Coming back so strong, did that serve to elevate your confidence?
LH: Oh yeah, for sure. It definitely did. Overcoming two injuries like that and being able to perform the way I did, you know, it paid off. It made regain my confidence after having to take so much time off and not being able to work out for most of that time.
5PM: Once the high school season ended and you started to gear back up this spring, what was the most important part about what you wanted to accomplish this summer from a training aspect, not a competitive one?
LH: My main goal for training this summer was just to get in as much Greco-Roman in as possible. It sounds super-simple, but from where I am in Hudson, good Greco training is far and wide. It is four hours to Lucas (Steldt, of Combat Wrestling Club) or 45 minutes to an hour to one of the two other clubs near me. It is usually a struggle for me to find good partners to train regularly with, so I just try to make those drives as often as I possibly could.
5PM: You started off okay at Fargo but the tournament didn't pan out as well as you likely would have hoped. It's the kind of tournament that some build momentum in as they go, or one bad match and they fall into quicksand. What happened with you?
Logan Hatch: Just altogether, I felt that in most of my matches I did pretty well. In the matches I didn't do so great in, I got a little frustrated with just how they were officiating, and I let that get the best of me. I changed how I would normally wrestle Greco into what I guess you'd call the "US style" versus how I would normally wrestle overseas. I'd try to adapt to how he was wrestling, all bent-over, and it just didn't work out.
5PM: A lot of people I think in the Greco community figured you were going to be ticketed to Marquette and NMU because you had gone on all of those Sweden trips with the Northern kids and you've probably gotten to know a lot of them, as well. 
LH: Oh yeah.
5PM: But the OTC has really started to grow in terms of the program's goal to develop younger athletes. What was the tipping point in your decision to choose going to Colorado Springs?
LH: Like you said, they are really focusing most of their time on the younger athletes and getting them to excel early. I also really liked the appeal of going out to Springs and having a smaller group of guys to work with. NMU is great and I love it up there, but there are so many guys. There are like 50 guys. I know they are trying to slim down the roster but I really liked Springs. You are going to have a much smaller group and there is way more time for one-on-one's and to grow as much as possible.
5PM: Your lifestyle is going to change. It has to. There will be adjustments to make. You'll still be training, albeit at a higher level. But it's a new training environment, and on top of that, there is going to be a different school, different friends, and your goals are going to be ratcheted up. Is there anything here you've had to think twice about? Or are you already locked in and confident going forward?
LH: It is something that I am 100% confident in. Going to college and moving across the country is pretty new to most kids. But I am definitely excited to get started on training full-time Greco and I have been confident in my decision ever since I made it. I'm ready to get out there.
5PM: It's already July, so do you have the same competitive plans for the fall that you've had in recent years? Or are you going to focus on putting together a training block right off the bat?
Logan Hatch: It sounds like most of the tours I have done in the past I will do again. And then I will talk to Coach (Matt) Lindland once I get out there and we'll set up further training overseas and set up my schedule.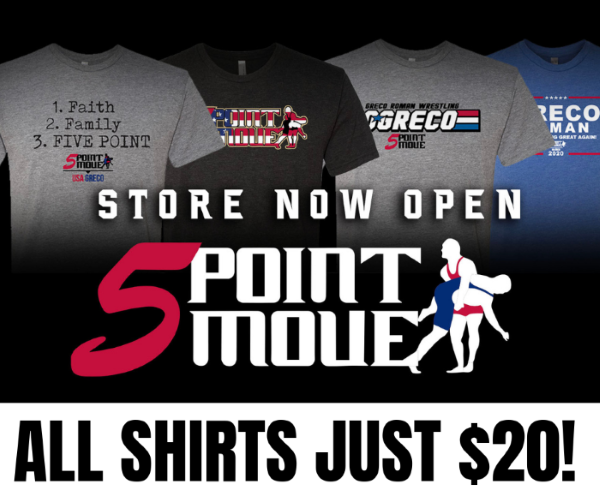 Listen to "5PM26: Princeton's Lenny Merkin and new USOTPC Greco-Roman athlete Nolan Baker" on Spreaker.
SUBSCRIBE TO THE FIVE POINT MOVE PODCAST
iTunes | Stitcher | Spreaker | Google Play Music | RSS
Notice
: Trying to get property 'term_id' of non-object in
/home/fivepointwp/webapps/fivepointwp/wp-content/themes/flex-mag/functions.php
on line
999