Wrestling was brought to its knees once the coronavirus pandemic firmly took hold, both in the United States and around the world. This has all been discussed much too much by now. Yet, there is still no avoiding the topic. Not enough has changed.
Some are tricked into pretending otherwise. After all, we have spotted signs of life. Several youth tournaments have gone off without a hitch, a few European programs have resumed full-scale practices, and a pair of American Senior cards were successfully broadcast with one (or two) more on the way semi-soon.


It is not all rosy of course. The upcoming collegiate wrestling season will not begin until early next year, assuming it even does. The same will likely become confirmed for high schoolers, certainly in most states. All of this news has either been announced or will start making the rounds eventually. And when it does, no one will act surprised. For such a supposed fluid situation, expectations remain low. Even the optimists out there who insist a corner has been turned with regards to the pandemic have stopped raising their collective eyebrows. They think they know what's coming. Chances are, they're correct.
Equally disconcerting are voices on the other side. More than a handful of those involved in wrestling, particularly in the US, appear to be rooting against the sport's return to normalcy. Difficult to decipher what drives their perspectives. Fear of COVID? The "joys" of lockdown? Politics? A seeming sense of invulnerability to the economic destruction the virus has wrought in its path? Your guess is as good as this writer's, but it's hard not to notice the relative glee present in their statements lately whenever a near-future event is crossed off the calendar.
Which is why the US Greco-Roman National program is deserving of a head nod. It has chugged forward in spite of surreal circumstances more efficiently and inclusively than any other subset. Thus far — and thanks in large part to New York Athletic Club coach Herb House — Senior Greco athletes have received two full-scale, organized training camps. Both were bound by a series of common sense guidelines and restrictions, and both were productive enough to warrant more such opportunities. In fact, the next one is already on the horizon.
Attendance has been high with plenty of World and National Team types. You know who they are: G'Angelo Hancock (97 kg, Sunkist, world #8), RaVaughn Perkins (77 kg, NYAC), Kamal Bey (77 kg, Sunkist), Ben Provisor (77 kg, NYAC/BVRTC), Joe Rau (87 kg, TMWC/IRTC), and Patrick Martinez (87 kg, NYAC) are just some of the names who have checked-in for these non-sanctioned camps. At MWC in Nebraska last month, nearly 20 athletes showed up. When the Utah Valley RTC opens its doors towards the end of August, that number is going to rise even more, with perhaps as many as 30 wrestlers grabbing mat time when all is said and done.
But when you look at the rosters for what we are referring to as Greco's "Summer Series" of training camps, a lot of names are missing. A whole lot. That is because not one wrestler from a military program is cleared to participate. While virtually every Senior wrestler has dealt with "lockdown" in one form or fashion over the past five months, service-member athletes are, still, locked out.
In 2019, the USA Greco-Roman World Team featured six military wrestlers, which is to say 60% of the roster. 12 of the 30 current US National Team members likewise represent a service branch. These are not insignificant numbers. What's more, is that 22 military wrestlers have secured spots in the 2021 US Greco-Roman Olympic Trials. A bunch more could join them following the "Last Chance Qualifier" next March.
As of now, each and every military wrestler is beholden to restrictions from the Department of Defense…their respective branches…and various state and local guidelines. This has meant — and until further notice will continue to mean — that full-contact practices are off-limits. They are not allowed to touch each other, forced instead to substitute gutwrenches and bodylocks on live partners with Suples dummies. Forced to swap the anaerobic benefits of pummeling and takedown entries with box jumps and burpees.
And due to the recent Senior camps, forced to watch many of their premier domestic opponents engage in the kind of high-caliber training that, pre-March 2020, was as much a part of their lives as falling in formation or shining their boots.
No Contact
The biggest issue military wrestlers are facing is not that they are currently unable to wrestle, it is that there are multiple layers of guidelines they must follow with no clear end in sight. That might sound familiar; most Americans are abiding by various degrees of COVID-19-influenced restrictions. The difference is that wrestlers outside of the military are under the thumb of regional policy when it comes to practice rooms and clubs. If a state, county, or township allows for contact, then it's all good. For Army and All-Marine athletes, it is a bit more complicated than that.
"We can't ever do less than what is mandated and there can always be more stuff added to the line to what you need as a requirement," explained Marine John Stefanowicz, one of six Armed Forces wrestlers who appeared on the 2019 US World Team. "That's how it is with us in Nassau County, in the state of North Carolina, in the country of the USA, under the Department of Defense. If the DOD says to just have a facemask on you, but North Carolina says that you have to wear a facemask whenever you walk into any public place, we have to follow North Carolina's rule because it is more stringent. It doesn't matter where you are or what it is, whichever data has more rules tied to it, that's the one you have to follow. Plain and simple. If the DOD says that you have to do X, Y, and Z, but North Carolina says you have to do X, then you have to follow the one with more rules. Either way, you are abiding by the most rules possible."
This isn't new to the Armed Forces wrestlers. It has become well-understood over the course of the past five months. Communication has been key amid stops and starts. North Carolina, the home of Camp Lejuene and the All-Marine Team, has wavered on their re-opening plans and are at the moment considered "paused". Colorado, which hosts both Fort Carson for Army as well as the US Olympic & Paralympic Training Center, has recently reversed their easing of restrictions after a spike in COVID cases. At the federal level, the Department of Defense's job is to observe case numbers relative to military installations and determine blanket approaches that make the most sense.  It is and has been one step forward, two steps back for all in uniform.
"The way I think of it is, for any of us to wrestle, it has to go to a three-star general," said National Team representative Michael Hooker (67 kg, Army/WCAP). "That is pretty high up there, and when I think of a three-star general, I don't think of someone who necessarily cares about wrestling or is willing to stick their necks out there for wrestling. I know that if I were a three-star general and have put in 30-plus years the military, I am not about to go let a bunch of wrestlers potentially get sick and deal with that kind of bad publicity. I wouldn't want my career to be taken down by wrestlers."
Once the summer fully settled in around the US, military wrestlers from Army/WCAP (World Class Athletes Program) and the Marines began to meet on their respective bases for physically-distanced training sessions. You may have seen photos. They've all shared 'em. Guys slinging Bulgarian Bags six feet apart, running sprints, and bombing dummies. Marines have had the luxury of being availed a football field. The setting makes for nice visuals, though it is not a long-term solution.
Finding motivation in the absence of contact has not presented a grand problem. Athletes have dug into their own competitive and emotional wells for maintaining an appropriate attitude. Xavier Johnson (Marines), who was the World Team Trials runner-up in '19 and came away with his first Armed Forces Championships gold in February, has adapted to his temporary "new normal" in a rather pleasant manner. "We just found out recently that we are going to have a third child," relayed Johnson, already a father of two. "That is really big for me, so I took the time to focus on family, and then when I found I'd have a significant amount of time with that, I started focusing on areas (of wrestling) I feel I've lacked in."
For those who have watched Johnson in action, it is likely very difficult to pinpoint areas in which he lacks. Sinewy muscle contracts and rotates beneath his skin with every exertion, and sharp wrestling instincts along with a boomer of a side lift stand as his calling card. What Johnson is concerned with primarily, at least in concert with refining technique, has to do with his weight. Originally a standout at 63 kilograms, he had climbed to 67 in advance of the Olympic Year. The way he sees it, this allotment of extra time is allowing him to add more power to his frame.
"I always said I should be stronger," Johnson reminded. "I said, I'm going up to 67, so I am going to be stronger. I am still growing, still trying to fill out this bill. So this time away from the mat is being used to tighten up those screws that people might not see, and even I cannot see when I look at film."
Max Nowry (Army/WCAP, world #3) would seem to understand Johnson's perspective better than most. Nowry placed fifth at the '19 World Championships at 55 kilograms and also holds three Pan-Am Championship golds in that weight class. But since 55 is a non-Olympic category, he was to bump up to 60 for the Olympic Trials. Like Johnson, he is superimposing the idea of gaining size as the glimmer to his lockdown silver lining.
"When everything was shutting down I looked at it like, I'm already small for 60 kilos, so this gives me more time to get bigger," Nowry said. "After everything got postponed and we stopped trying to find ways into a tournament, I was at peace with it."
The contact-less workouts may not sound impressive when discussing a collection of full-time wrestlers but they represent a step in the right direction for which most are grateful. After their programs were initially shut down in March, it took several months for military wrestlers just to graduate to organized practices. Despite that most of the Army and Marine athletes are close to their teammates, text messages and Zoom calls fail to live up to the bonds they have with one another, especially within the context of training. Being brought together again, even if it means keeping six feet of distance, has lifted their spirits. They had missed the fellowship.
"Being part of a team in a sport that is individualistic, you need that camaraderie," affirmed National Teamer Jamel Johnson (67 kg, Marines). "You need the push that comes from joking with each other, like, Hey, I beat you in that 400 meter, I beat you on that three-mile test we had. It gets easier. It's not just weights and running, you compete with one another. That camaraderie is just so important."
Multi-time National Team member and Trials finalist Toby Erickson (130 kg, Army/WCAP) agreed. "It makes all the difference in the world, really. When the lockdown first started we had about a month-and-a-half where we didn't see each other. Then we moved into two Zoom calls a week to check in with everyone. I was also doing my own stuff. I was running and I have my own weights here that I can work out with. But once we started opening up and training at WCAP? You can only push yourself so hard. You always need that extra motivation, and I tried like hell to motivate myself that much harder. But once we began training with everyone else, now I am able to truly push myself harder. Just being in the capacity where I'm around my teammates is a breath of fresh air."
Not that Stefanowicz veers in a totally different direction. He's as loyal to the cause as anyone and counts his Marine brethren among his closest friends. But to be sure, there is an edginess in his voice when the makeshift practices are introduced into the conversation. "We're not getting our full workouts in and we're still having to make up for a bunch of areas without opportunities we normally have," said Stefanowicz, allowing himself a second as though to ensure his point got across. Whatever the topic happens to be, Stefanowicz's answers are always devoid of nonsense. Before another moment could pass by, there is a need to hammer it all home from a more personal perspective. "For all intents and purposes, what I need to do is just get back on the damn mat," he snapped.
What About the Others?
The subject of their Senior colleagues enjoying the fruits which come with the "Summer Series" training camps is not met with disinterest. Each military wrestler who spoke on the record is aware of the recent goings-on and have paid attention to camp rosters just like everyone else.
It is altogether strange. Thus far, most of the Greco-Roman athletes who have attended the joint training camps are considered elite contenders for the '21 Olympic Trials — as are most of the top representatives from Army/WCAP and the All-Marine Team, whose exclusion has naturally not gone unnoticed. They are quite the collective missing piece.
When House provided this platform with the first two camp rosters, he acknowledged the chasm created by the removal of military wrestlers both times. Coming out of the week-long camp in Nebraska last month, Perkins did not mention any of the Army or Marine athletes by name but intimated a sense of compassion when overviewing their circumstances. "I mean, I can't say I feel bad for them, but I feel some type of way about it because I know what it's like to jump on that mat after not having been able to for a long time," he said. "Just because they are doing it in the grass, it is not the same as being on a mat."
No one disputes that.
Army assistant coach Spenser Mango never had to endure such a prolonged forced hiatus from practice or competition due to a pandemic throughout his illustrious career, nor has any other retired athlete. However, it is easy for Mango to put himself in the shoes of his charges. He stepped away from competition a mere four years ago; plus, he has a front-row seat to the ebbs and flows of younger brother Ryan Mango (60 kg), one of the country's most celebrated lightweights.
Mango, the retired six-time World Teamer and two-time Olympian, relates to the itch his athletes are experiencing. Mango, the coach, also understands that there has to be a balance when measuring what the missed opportunities should mean to all those who populate the vaunted wrestling room on-base at Fort Carson.
"Obviously, I think that our guys feel like they are falling behind a little bit because they are seeing all of their competitors getting to go to camps and better their careers while we have to stay at home," conceded Mango. "But at the same time, it has been kind of good for us because we've been dealing with injuries, so it has allowed our guys to build up and refresh their minds and bodies for when we can get back on the mat."
"I'm a mix between envious and indifferent," sighed Erickson. "I'm envious because they get to go out and wrestle and sharpen their tools with other Senior-level athletes. But I'm indifferent because I know the plan I have within WCAP. Yeah, we're not cleared to wrestle; but I'm building on other aspects of my wrestling abilities right now. I'm putting all of my trust in the coaches that what I'm doing right now is the best that I can do with what I've got. If I'm going to sit around and be jealous that they get to practice, then I am going to drive myself crazy. So I just focus on what I can do and what I can control. If they're wrestling, good for them. I want to do that, too, but I'm not allowed to."
Using a variety of verbiage, most of the military wrestlers to whom we reached out for this article expressed sentiments similar to those of Erickson. Would they jump at the chance to go to a Senior National Team-level camp, especially with the upcoming season presenting the Olympic Trials? Safe bet. That is not to say they permit themselves to obsess over it. They can't. They won't. Like Erickson, the most common stance is to let go of items outside the scope of their control, making for an unsurprising if not milquetoast set of responses. You almost anticipate a resistance on their part to bemoan the uncontrollable because demonstrating flexibility in the throes of adversity is a universal military characteristic.
But there was one outlier in the group summoned for this piece — Jamel Johnson, who felt comfortable with adopting a more defiant tone. Johnson wants to wrestle again as soon as possible. What he does not want is to submit to the idea that he and his lightweight Marine teammates are somehow behind an imaginary curve simply because the competition has attended a few camps while they're still stuck on the shelf.
"I don't feel like I'm missing out, and this isn't meant as anything against anyone, but typically in the Greco world, at our camps a lot of guys don't like wrestling other people," Johnson informed, his voice slightly rising. "In our room with Xavier and (Ray) Bunker, we have a relationship that says I am going to come in here and try to beat on you every single day. Whoever wins, wins. We have the accountability of making sure that we are training in such a way that no matter which one of us goes, we get us a doggone medal. Seeing the other guys train at these camps and stuff, it's just like (they are at) a regular practice."
The Nationals Problem
All of this would have been okay. Not exactly fine and definitely not ideal, but doable. Maybe even reasonable. The plan for military wrestlers as recently as July was basic in its construct. They were to bide their time until regular practices resumed, and from there, start putting pieces back together for a training block prior to the winter.
That all changed inside of a compressed time frame over the past month. First, United World Wrestling announced a Senior World Championships scheduled for December in Serbia. The very moment that news was confirmed, it resulted in a succession of questions. Would USA Wrestling hold a Trials tournament? If so, where? When? Would there be a selection process?
Shortly thereafter, USA Wrestling came out with a release trumpeting a Senior Nationals, currently slated for October 9-11 in Coralville, Iowa. And it is the October date that is the sticking point.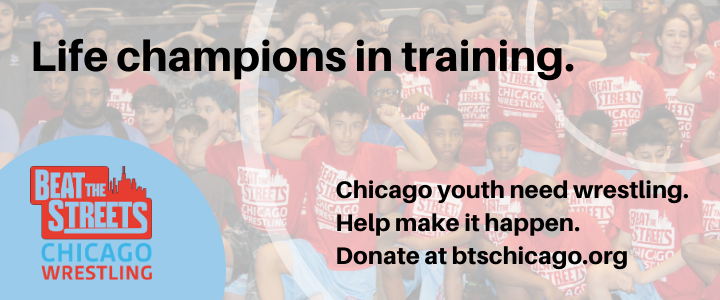 It would appear common knowledge around the nation that military wrestlers, mainly in the Greco-Roman discipline, are not in position to prepare for a major tournament. There are no secrets in the National program. Coaches, athletes, and administrators are in touch with one another on a weekly, if not daily basis. Updates — though by now repetitive and as of yet unchanging — are provided constantly. Those involved should be on the same page; but if you ask around WCAP, they're unsure if the national governing body is even reading the same book.
"I was surprised by the timing based off of knowing who is actually incorporated inside the organization among Seniors, such as Army and the Marines," admitted Hooker. "The Marines are one of the main sponsors of USA Wrestling events, and USA Wrestling knows that they aren't even allowed to wrestle yet. Plus, the Army has won a lot of National events. So it's like, How are you scheduling a tournament when the team that sponsors you isn't there, and the team that wins the tournament isn't even on the mat yet? We don't even know when we'll be on the mat, so how can you schedule this without your two major players, especially when people cannot even practice at the Olympic Training Center yet? How are you scheduling a Senior National tournament with all of this going on?
"And it's not like they don't know these things. They are in contact with people everyday."
Mango is right there with his athlete's assessment. He also pointed out that it's not just the military who are shut out of practice rooms. And it's true. The majority of full-time US Seniors are without clearance to practice and compelled to fill in the gaps by relying on strength-and-conditioning workouts. A fortunate fraction of these athletes are eligible for one of the aforementioned camps.
"We have pockets here and there where guys can get on the mat on a limited capacity, but for the most part, a lot of them aren't on the mat right now," said Mango. "At first I thought it was just going to be a tournament in October and I was like, Okay, there is going to be a tournament. But then I found it would be the Nationals and I was like, That sucks a little bit. I don't even know if our guys are going to be able to participate in it as of now. With no one having been training and we're seven weeks out now and still haven't been on the mat, at this point it is getting pretty close to crunch time where even if we can participate, do we? Guys haven't been on the mat and some of their competitors have. Do we put our guys at risk for injury when they've been off the mat for the longest period of time in most of their lives?"
What Mango alluded to is something that has become a widely-accepted potential consequence of USA Wrestling choosing an October date. Registration is likely to bring in disappointing numbers. Unless COVID cases magically drop off a cliff and 90% of the United States is open enough for wrestlers to practice sans restrictions, the 2020 Senior Nationals in all probability will not come close to approaching participation from December of '19, when 460 competitors suited up for the three Olympic styles. "I just don't see it being a really deep tournament and I think it is all a little rushed," Mango concluded.
Adding to the consternation for athletes is the lack of a financial reward. Reportedly, there will be no prize money allocated. World-level wrestlers don't make it a habit to chase dollar signs but denying reality isn't going to move things along, either. Top performers look forward to being paid for top performances. It is what prompts some high-profile athletes to enter when they otherwise wouldn't.
But that's not the dealbreaker. Jamel Johnson sees it more as a combination of factors. "There is nothing with this tournament that says to the best guys, Hey, we need you here," he opined, this time with a much more subdued inflection. "It is like they are seeing if they can make it work with COVID, and if something goes bad, no loss. At the same time, no one who is a contender or a National Team-type guy is going to go if there is nothing to be gained from it.  No monetary value, nothing. Everything about it says you probably shouldn't go."
Unless this: there is a chance that the Nationals will act as the World Team Trials, provided the '20 World Championships are cemented in place and the US sends a delegation. That news, one way or the other, is expected to arrive early next month.
"Now you would have an incentive, now you have something worth fighting for," commanded Johnson. "If not, it is just a regular tournament. There is nothing saying that you should definitely go to it. But if it winds up being a Trials, that is going to make people want to go to the tournament. Now the tournament would have weight."
Mango, sounding almost exasperated by the thought, begrudged that labeling the October event a Trials would indeed alter his perception, as well. "If that is a World Team Trials, then I see a lot more of our guys participating in that event as opposed to if it is just a Nationals. If it's a Trials, I guess some guys are going to have to suck it up and do the best they can with the limited amount of training they might have."
For his part, Xavier Johnson stands out as the optimist of the group.
"It was definitely good to hear (about the Nationals) because it makes you think, We're starting to get there, we're starting to move, regardless of the fact that the military can't wrestle. At the end of the day, it gives everyone hope. Whether we're there participating in that tournament or not, I love wrestling and I would love to see it. I would also love to be in that tournament, but if we can't, I am just happy that our sport is getting over this pandemic."
Until Then, Until When?
Not enough has changed these past few months but for COVID numbers. And people from various parts of the country interpret that data differently. The same can be said of state leaders, many of whom have been accused of either over-correcting or not doing enough to somehow protect their constituents from a virus that, by any reasonable measure, presumes to have a mind of its own. Then there is the blame amplified towards the federal government, and in particular, the executive branch, resulting in an ever-growing political divide that accomplishes little other than producing a cavalcade of social media hot takes.
Across the United States, rational behavior is increasingly harder to find. Folks are at each other's throats. They are frustrated, scared, and wearisome. There are more excuses to argue than at any other point in, well, modern history. Few are thinking clearly, unsure of what to believe. Lockdown fatigue and virtual schooling for children only pile onto the madness.
Wrestlers in the military are not immune to these plights. There is more than enough life and societal disruption to go around. Whatever it is you're dealing with at home, know that it's bereft of uniqueness. Marine and Army grapplers have kids, too. They have spouses who work, bills to pay, and far less runway to accomplish the myriad daily tasks once taken for granted, and far more stress under which to accomplish them.
And now picture navigating all of the above while having your eyes on making an Olympic Team in a sport that is about as forgiving of extended breaks from regular practices as a traffic court judge is when staring down a notorious speeder.
Not easy. Not awesome.
Unlike vast swaths of the citizenry, however, military wrestlers are united. They are operating on common ground, together staring down an unprecedented scenario and doing all they can to not blink first. Just like most of us. To a man, the Greco service-members are contending with many of the same struggles you are. This whole deal is a shared experience. So, they don't want your sympathy. But what they would appreciate is your understanding.
"I'd just like people to be aware, because we're not really going through anything much different than what everyone else has gone through," said Erickson. "The only real difference is that our timeline is being extended. I think it's widely understood across the Greco family that we have all had to become creative with our workouts during quarantine. It's just that we have to continue to be creative going forward until we get the green light to wrestle again."
"To wrestle again". That is all they want. At this stage, it is no longer about hardening up to make the Olympic Team, gaining weight, cutting down, or feeling pushed into getting in shape for a National tournament that may deserve an asterisk attached to its name. The desire to enter a matted room and throw down with each other — hopefully imminently, and not for any reason other than because it is right, it is pure, and an important component in how they serve this country — has for the moment trumped competitive aspirations. The physical act of wrestling itself for Armed Forces athletes is not a means to an end. It is a way of life they can't wait to to re-embrace.
"I don't need matches. I think I've proven that I don't need matches to beat everyone else and be just fine," declared Stefanowicz. "I just need to be allowed to do what I have to do and have some freedom in our training."
Odd how freedom always manages to remain a priority with these guys, right?
If they're willing to defend it, here's hoping they actually receive some.
Soon.


Listen to "5PM38: MWC Wrestling Academy's Zac Dominguez" on Spreaker.
SUBSCRIBE TO THE FIVE POINT MOVE PODCAST
iTunes | Stitcher | Spreaker | Google Play Music
Notice
: Trying to get property 'term_id' of non-object in
/home/fivepointwp/webapps/fivepointwp/wp-content/themes/flex-mag/functions.php
on line
999