All the talk has been about how this version of the US Nationals is a little strange, but any lingering feelings of weirdness were washed away soon after action began this morning inside of the Xtream Arena. Wrestlers started wrestling, throws were being executed, and the level of competition rose appropriately with each passing round. Now that the finals are set for each weight class, everything actually feels…normal.
The US Senior Greco-Roman Nationals began at 10:00am local time in Coralville, Iowa and can be viewed live on FLOWrestling.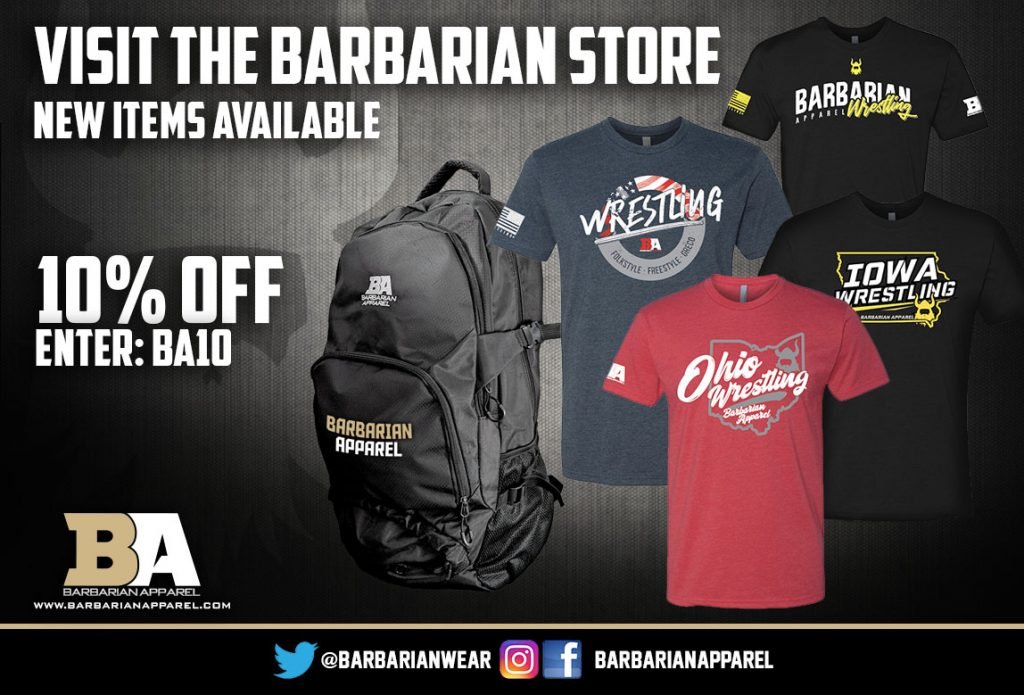 Two Minnesota Storm athletes will face off in the 77-kilogram finals — "The Gunslinger" Alec Ortiz and two-time Division III champ Ryan Epps. Ortiz advanced by downing '20 U23 National champ Nate Grimes (USOPTC) and Fritz Schierl (TMWC/Ohio RTC) in the quarters and semis, respectively. He has looked extremely tough thus far. Ortiz is still Ortiz, still opening up aggressively; but with Schierl, he simply capitalized on a couple of can't-miss opportunities without going haywire. Such has been the blueprint throughout the season for the popular Storm rep.
Epps dominated Tony Raupp (Minot MatRats) to kick off Friday's slate of action. In the semis was an interesting opponent, Chance Marsteller (TMWC), the gifted freestyle star and younger sibling of Olympic Team member John Stefanowicz (Marines). Marstellar was impressive in the early going, as well. After VSU'ing Braxton Doebel (IA), he caught #2 seed Britton Holmes (All-Army) via pin. Holmes had par terre top, locked a lift, and Marsteller reached around and floated Holmes' lock for a land-on-top that gave way to the surprise ending.
Against Epps, Marsteller got behind for a takedown in the first period, and he carried the 2-0 lead into the break. Shortly into the second, Marsteller swam into a body attack; he looked to throw, but Epps adjusted and landed on top of the hold for two. Towards the bout's conclusion, Marsteller zipped an arm spin try that saw Epps scramble and essentially reverse position to tack on two more for a 4-2 decision.
Roberts, Koontz Twins, & Tuma
'18 World Team member Dalton Roberts (60 kg, Army/WCAP) will be gunning for his second Senior National crown on the heels of two lopsided victories. First, Roberts got past Thomas Hicks (TN) 12-1, with a nasty high-gut lift responsible for that match's conclusion. The semifinal provided Roberts with former age-group stud King Sandoval (Bandits), and again, zeal was not a problem. Roberts racked up an 11-2 tech and has already totaled a combined 23 points.
Roberts' opponent is none other than Dylan Koontz (TMWC/Ohio RTC), who defeated the returning Nelson Baker (NIRTC) to get the gears churning. One bout later, it was reigning National champ Alex Thomsen (Nebraska Wrestling TC), and gutwrenches provided the difference. Up 1-0 in the second, Koontz received the passivity/par terre chance and went elbow-to-elbow as he rolled Thomsen out 8-0.
Twin brother Brady Koontz (TMWC/Ohio RTC) is back down at 55 kilos and will also be involved in this evening's finals. Koontz tech'ed Gabriel Gray (TX Panhandle) before engaging in a fun but contentious affair with '18 U23 World Team member Dalton Duffield (Army/WCAP) that ended via fall after Koontz achieved double under's and deposited Duffield to his back. Neither Koontz brother has appeared in a Senior National final before, though Brady did win the '19 World Team Trials Challenge Tournament in Raleigh, NC.
Standing across from Brady Koontz tonight is reigning two-time champ Max Nowry (Army/WCAP), who superior'ed Elijah Varona (Vikings WC) and Jacob Cochrane (NMU/NTS), and has yet to surrender a point.
Tuma Is Back to His Old Self
'16 National Champion Hayden Tuma (Suples) — long heralded as perhaps the most explosive lightweight in the country — has rediscovered his form in Corlaville. And once he gets going, he's hard to stop. Tuma is 3-0 on the day heading into the final, with all three bouts ending via stoppage (one pin and two tech's). The stage was set for a tantalizing battle with top-seed Nolan Baker (NYAC), and no time was wasted when it came to point distribution. Tuma countered a Baker headlock attempt with a lift that yielded exposure plus two from a turn. Another attempt followed, as did a scramble; when the dust settled, Tuma was credited with 6-2 lead. A reset, and then Baker reached for his second headlock of the period, which Tuma defended for a takedown/gut combo to put this one away.
Tuma, he has had a lights-out kind of day. The same is true of '19 Junior World bronze Alston Nutter (Sunkist/NTS). Like Tuma, Nutter has collected three runaway victories, with one marked deviation — all three of the Northern Michigan student's wins posted on Friday were done deals before the first minute had expired.
All Marines
At 72 kilos, two Marine 67's are on the docket — Jamel Johnson and Xavier Johnson. Xavier, or "X", was tested nicely by Griffin Parriott (Minnesota Storm); Jamel, he had another fight on his hands with Michael Hooker (Army/WCAP), but it was one through which he persevered to come away with a 5-0 decision.
Peyton Walsh's (82 kg, Marines) run to the Olympic Trials final earlier this month all began with a stunning defeat of two-time Olympian Ben Provisor (NYAC). They are now in place for a rematch, as Walsh — the #1 seed today — has blasted his way to the championship round after back-to-back technical falls. Provisor required more match time this morning, but has logged similar results. When he takes the mat Friday night, "Big Ben" will be looking to nail down his fourth Senior title.
The finals of the US Senior Greco-Roman Nationals are scheduled to begin at 8:00pm ET on FLOWrestling. 
2021 US Nationals
April 30 — Coralville, IA
FINALS PAIRINGS
55 kg: Max Nowry (Army/WCAP) vs. Brady Koontz (TMWC/Ohio RTC)
60 kg: Dalton Roberts (Army/WCAP) vs. Dylan Koontz (TMWC/Ohio RTC)
63 kg: Randon Miranda (NYAC) vs. David Stepanyan (NYAC/NTS)
67 kg: Hayden Tuma (Suples) vs. Alston Nutter (Sunkist/NTS)
72 kg: Xavier Johnson (Marines) vs. Jamel Johnson (Marines)
77 kg: Alec Ortiz (Minnesota Storm) vs. Ryan Epps (Minnesota Storm)
82 kg: Peyton Walsh (Marines) vs. Ben Provisor (NYAC)
87 kg: Spencer Woods (Army/WCAP) vs. Tommy Brackett (USOPTC)
97 kg: Nick Boykin (Sunkist/Ohio RTC) vs. JD Souza (Army/WCAP)
130 kg: Malcolm Allen (LOG) vs. Daniel Miller (Marines)



Listen to "5PM47: Nate Engel and Xavier Johnson" on Spreaker.
Listen to "5PM46: Taylor LaMont and Jessy Williams" on Spreaker.
Listen to "5PM45: Chatting with Dennis Hall and Max Nowry" on Spreaker.
SUBSCRIBE TO THE FIVE POINT MOVE PODCAST
iTunes | Stitcher | Spreaker | Google Play Music
Notice
: Trying to get property 'term_id' of non-object in
/home/fivepointwp/webapps/fivepointwp/wp-content/themes/flex-mag/functions.php
on line
999