The whole narrative surrounding this year's National tournament was one of uniqueness. Between its place on the schedule after the just-wrapped Olympic Team Trials and what had generally been a barren year competitively due to pandemic restrictions, the lead-up heading into Coralville, Iowa this week just did not feel the same as it usually does. Which, makes sense.
Except once the matches actually started, thoughts regarding the extraneous were washed away. Everything became about the sport again, even more so than during the mega show in Fort Worth. Recognizable athletes competed on Friday with recognizable passion and sharpness. This was an important step in the World Team selection process, after all, as well as the latest and best opportunity for dedicated Seniors to ply their trade. No controversies. No disputes, no sense of uneasiness with regard to the future.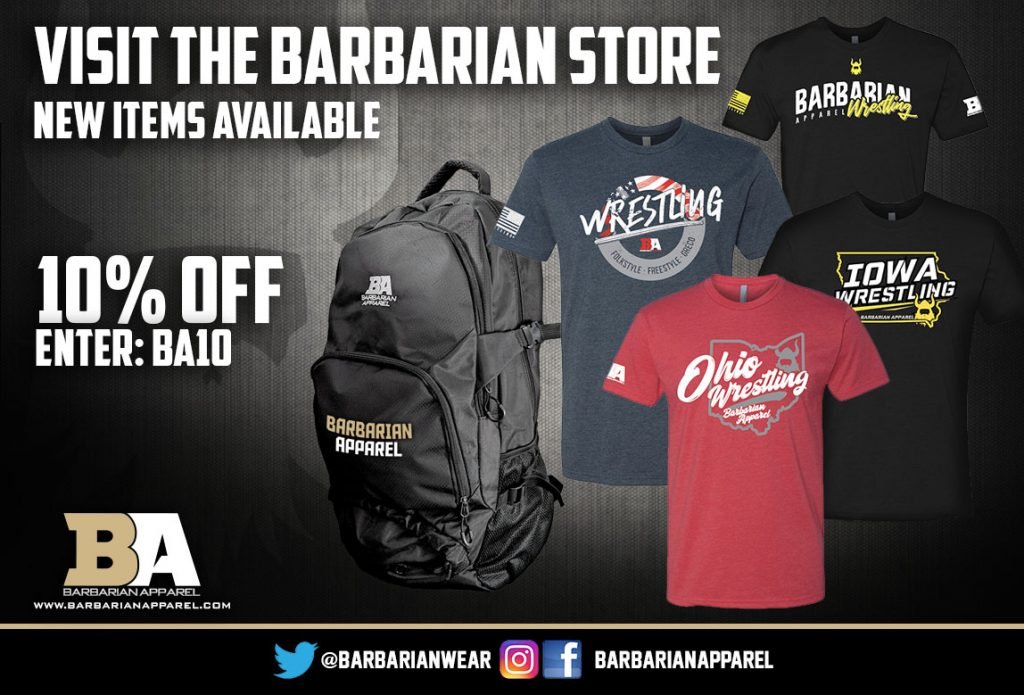 We all got what we wanted: top-level domestic competition featuring the country's most skilled performers taking centerstage — but making just enough room to share it with those on the rise. And it doesn't get any more normal than that.
The final round of the 2021 US Nationals began at 8:00pm ET and aired live on FLOWrestling
D-Rob
'18 World Team member Dalton Roberts (60 kg, Army/WCAP) knocked 'em stiff on his march to his second Senior title. The WCAP'er's antagonist in the final, Dylan Koontz (TMWC/Ohio RTC), had a very impressive showing in his own right, including a blitzing win at the expense of returning champ Alex Thomsen (Nebraska Wrestling TC) in the semis. But something had to give come the evening's festivities — and it happened in short order.
After achieving a left underhook, Roberts lowered in and bull-rushed Koontz down and out for four. The sequence was startling in its explosivity, but Koontz recovered and dug back inside following the reset. A little more jousting on the part of Roberts compelled Koontz to proceed with more motion than perhaps he is accustomed. Traps were being set, with Roberts the only party wise to the plan. Eventually, Koontz stepped, and Roberts pounced — again — but this time it was an arm throw responsible for the haul. Four more points were added to the board, making the score 8-0 to cap Roberts' dominant day in Coralville.
To Roberts, Friday's triumph was significant. It was also just a precursor to what is sure to be a very busy next few months in the Army room. "I've got a long summer of training ahead to prep Ildar (Hafizov) and (Alex) Sancho for the Olympics," Roberts said afterwards. "I'm looking forward to improving further and this is just a step in the right direction."
Tuma & Max
At his apex, Hayden Tuma (67 kg, Suples) has the potential to stand atop the domestic pecking order and present a serious threat on the World level. Some have forgotten that. In Coralville, he was happy to jog the collective memory of the fanbase.
Tuma had cruised to the final round in breathtaking fashion. So too did '19 Junior World bronze Alston Nutter (Sunkist/NTS). And it was Nutter who had worked to the first passivity/par terre chance. From top, he came close to a turn, but Tuma swiveled his hips and avoided exposure. They reset, and soon Nutter was in on an arm spin. Tuma defended, and then covered for two. In the process, he had also snared a trap-arm gut. It was the beginning of the end for Nutter. Tuma rotated once, titled his lock twice, and rolled once more for the 10-1 tech. The former Army/WCAP wrestler and longtime student of Ivan Ivanov is now a two-time Senior champ after earning his first title in December of '16.
For '19 World Team member Max Nowry (Army/WCAP), the US Nationals provided a return to 55 kilograms, the weight class in which he is one of the sport's best. Brady Koontz (TMWC/Ohio RTC) isn't too far behind, however, and had suitably tested Nowry in '19 when the pair met with the World Team spot on the line at Final X. They had also faced off at 60 kilograms previously, but only once. Even that match, a 3-2 decision for Nowry, demonstrated how narrow the margin renders between the two.
Friday night it was even narrower.
Koontz received the first-period passive and went to work on cranking Nowry. The elbow-to-elbow attempt nearly paid off but Nowry managed to defend. Back standing, and Nowry was digging and angling in the tie-ups, ardently minding movement that forced Koontz to rethink positions. The tactics were riveting, and demonstrative of Koontz's progression. But there were also no scores, which didn't change in the second period. The passives flipped. Nowry got his lock but nothing was doing. By the time they returned to the feet, it became apparent that an upright score would not be availed. The officials agreed, and gifted Koontz with the third par terre of the contest. The last-ditch effort for a gut came up empty with Nowry holding on to grab his third-straight National title.
Since 55 kilograms was brought back into Senior curriculum for the 2017-18 season, Nowry is 21-2 in domestic competition and internationally has earned two Pan-Am titles along with having placed fifth at the '19 Nur-Sultan Worlds. This is where he is most comfortable — and intimated as such when the dust settled Friday night in Coralville.
"It felt really good to be back down at 55 and compete at a weight that's suitable to me," Nowry offered. "The Olympic Trials was a frustrating time for me, so I was very grateful to be able to turn around within the month and compete at a lower weight class."
As for Koontz and their series of bouts, in addition to their occasional times training together outside of events, familiarity would have seemed to at least be partially responsible for how closely Friday's final was contested. But not so fast, says Nowry.
"I wouldn't say that there's a large role or anything special in terms of familiarity between Brady and I," he countered. "I think that at this level of competition, and as small of a community US Greco-Roman is, anyone who has been on the scene has trained and competed against each other at some point in their careers. So when it comes to competition time, it all depends on who is better at their craft on that day."
Ben Has Four; Boykin Now Has Two
In one of the night's most gripping match-ups, Ben Provisor (82 kg, NYAC) defeated recent Olympic Trials runner-up Peyton Walsh (Marines) 6-3. "Big Ben" was in fact a little bigger than when they first met in the 77 kg Trial quarterfinals. That bout went to Walsh in a runaway manner, sending shockwaves through the bracket and helping propel Walsh to the best-of-three. Provisor — a two-time Olympian and soon-to-be college folkstyler — crashed Walsh off the line in the early going for one point. The action was telling insofar that it was clear Provisor had more pop in his movement compared to how he looked in Fort Worth.
Then again, Walsh was plenty viable, too, and he turned the tables on a solid front headlock from his opponent. Provisor had lassoed the hold in an effort to push Walsh out after the restart, but the Marine fought it off and swung the step-out in his favor. Another reset. Coming off an exchange, Provisor pounced for a takedown and quickly transitioned into a gut; but after the roll, Walsh reversed.
The score was 5-2 in the first period, with more points seemingly on the horizon. Just not many more. Provisor netted another step-out in the second, and Walsh received the passivity chance but his lock did not prove successful. 6-3 was the decision for Provisor, who now owns four US National tournament plaques.
Adrenaline. Shock. Heartbreak for one, jubilance for the other. The final at 97 kilograms had all of it inside of only two minutes. JD Souza (Army/WCAP) came out like bolt of lightning against reigning champ Nick Boykin (Sunkist) and proceeded to dish out three startlingly-explosive scores. It began with a mad-dash step-out right after the opening whistle… And continued with Souza throwing Boykin twice with potent bodylocks, the second one hauling in a four-spot. On Souza's third try, Boykin landed directly on top. His 7-0 deficit would not matter. Boykin held position for just a few ticks of the clock before the fall arrived.
First-Timer's Club
Miranda & Xavier
Three laser-show wins in the books escorted Randon Miranda (Rise) to the top spot at 63 kilograms. He was on fire all day long, and '20 Junior runner-up David Stepanian (NYAC/NTS) found out why shortly into the first period. Miranda zipped a four-point arm throw and followed with two more for a 6-0 cushion. The second period saw Stepanian, undaunted and energetic, punch forward on what looked to be a solid body attack towards the boundary. But at the last available instant, Miranda whipped Stepanian over for four. Stepanian challenged the ruling but the call was upheld, resulting in one more point being added to Miranda's total.
"I saw this as another opportunity coming up after the Olympic Trials, and I don't want to miss any opportunities," Miranda responded when asked about the turnaround between the Trials and Friday's tournament. "These are out there for you to compete, and that's how I feel I get my best training, by competing and wrestling on the mat. After the Trials, it wasn't just time to relax and chill. It was, Okay, the US Open is coming up this month, so let's get ready for that. I took three or four days off and got back to training."
Prior to Friday, the dynamic Marine duo of Xavier Johnson and Jamel Johnson had only faced off against one another twice, not counting whatever goes on in the practice room. A small sample size but those two prior matches were entertaining. Their National final did deliver some dynamics, though it was all over shockingly quick. Jamel Johnson initiated over/under's and had the position, but his overhooking left arm was a touch too high. Still, he had the confidence to arch — and did so. Xavier adjusted in a flash for the land on top and took advantage with a follow-up four, and then another. The stoppage came at just :45 into the first period to give Xavier Johnson one the the more memorable wins of his Senior career thus far.
"It could have been me on the other end of that, and I fully believe that," Xavier conceded from his hotel room once the evening drew to a close. "It could have easily been me. I could have been the one who pulled first and then just gets countered. But it's just the way the cards played out. I just kept it in my mind that if I do get the chance to finish, then I have to because we do know each other so well. There's nothing to hide because we don't believe in that stuff in the room."
Ortiz & Woods
Fan-favorite Alec "The Gunslinger" Ortiz (Minnesota Storm) is now a National Champion, a feat he had to accomplish by standing in the trenches against teammate/uber-prospect Ryan Epps. There were only two ways their final could have gone: either a points-piling shootout, a methodology oft favored by Ortiz; or a grind-it-out fight waged largely on the feet, in which case both would be suitably-equipped. The 77-kg championship round was of the latter description decided largely by an Ortiz action in the second period.
Epps garnered the first-period passive but could not gather a turn. They brushed and weaved in the pummel throughout, with neither wrestler able to negotiate amendable windows. In the second, Ortiz took advantage of a fleeting lane to the body and locked around Epps — who immediately tightened and readied to defend. Ortiz still managed to take the hold to the mat for two points and a narrow advantage. The Storm pair kept it up, punishing each other in the ties until the whistle sounded. When it did, Ortiz joined a long list of greats from the US program's most storied club team — yet also kept his mind on other pressing matters set to transpire in just over four months from now.
"This means I get to wrestle in the World Team Trials and that I still have a chance to make the dream of becoming a World Champion a possibility," Ortiz said. "I will need to look at the film and see what else needs to be shored up on the technique front and then go to work from there."
Ortiz also took time to acknowledge Epps' effort and noted his stablemate's improvement. "Epps held position and attacked very well. I know what it's like to have 'folkstyle instincts' that can hinder you in Greco. He is cleaning those up and is just going to become more dangerous as he continues to go forward," explained Ortiz.
Spencer Woods (87 kg, Army/WCAP) was the runner-up in '19 one weight class lower. He's still somewhat new to 87 kilograms, but the higher division suits him well. Woods encountered former NMU teammate and '20 U23 National champ Tommy Brackett (USOPTC) in the gold-medal match and, after a dicey opening period, started to put the full picture together. Brackett got on the board first with a nice correct-throw arm-throw, and added one more via passivity/par terre. Woods answered back with a step-out to make the score 3-1 heading into the second.
More step-outs were coming.
Woods nudged Brackett off the line three more times to take a temporary 4-3 lead. Another Brackett arm throw try was soon stymied, with Woods scooting around back for a takedown. A reset, and after some plodding, Brackett was forced off the edge again — only Woods was right there with continuation and two additional points. Brackett pushed forth in the race to the finish, battering and pummeling for positions which might yield a meaningful score. Unfortunately for him, the proceedings were disrupted by a head clash. Brackett had been warned earlier and two caution points were quickly distributed to Woods. It was a tighter match than the scoreboard indicated, and quite the bruising affair. Ultimately, victory belonged to Woods, whose sentiments following the tournament echoed those of teammate Roberts'.
"I'm still knocking the rust off from my break at boot camp," Woods began. "This is a significant milestone for me, but not surprising. There is still so much more to come. WCAP and I are working on something special for September."
 Allen Over Miller
The resurgence of Malcolm Allen (LOG) continued in Coralville with a grand performance opposite two-time Senior winner Daniel Miller (Marines), who was tossing his hat into the heavyweight ring for the first time since February of last year, when he won the 130-kg crown at Armed Forces. The Marine Captain was a tough out in the final round. He has the strength and push-power for these sporadic dalliances north of 97. That doesn't mean he is without vulnerability to the type of force everyday heavies bring to bear.
Allen scored four by executing a nice throw from double under's. After the reset, he bullied Miller off the line for another point. It was 5-0 for Allen late in the second when Miller was the recipient of two caution points, as Allen had been penalized for fingers. Miller was the fresher fighter with time becoming a factor. Scores from the feet were just unavailable. Allen stayed firm till the end for a 5-2 decision that brought with it his first Senior breakthrough.
Notes:
Athletes who placed in the top-5 qualified for the 2021 US World Team Trials scheduled for September (provided they had not secured berths previously).
Four technical falls and one pin were recorded in the finals.
The Marines won the team race with 70 points over Army/WCAP (64 pts) and the New York Athletic Club (48 pts).
US Senior Greco-Roman Nationals
April 30 — Coralville, IA
FINALS RESULTS
55 kg: Max Nowry (Army/WCAP) dec. Brady Koontz (TMWC/Ohio RTC) 1-1 (criteria)
60 kg: Dalton Roberts (Army/WCAP) def. Dylan Koontz (TMWC/Ohio RTC) 8-0, TF
63 kg: Randon Miranda (NYAC) def. David Stepanyan (NYAC/NTS) 9-0, TF
67 kg: Hayden Tuma (Suples) def. Alston Nutter (Sunkist/NTS) 10-1, TF
72 kg: Xavier Johnson (Marines) def. Jamel Johnson (Marines) 8-0, TF
77 kg: Alec Ortiz (Minnesota Storm) def. Ryan Epps (Minnesota Storm) 2-1
82 kg: Ben Provisor (NYAC) def. Peyton Walsh (Marines) 6-3
87 kg: Spencer Woods (Army/WCAP) def. Tommy Brackett (USOPTC) 9-3
97 kg: Nick Boykin (Sunkist/Ohio RTC) def. JD Souza (Army/WCAP) via fall
130 kg: Malcolm Allen (LOG) def. Daniel Miller (Marines) 5-2
THIRD PLACE RESULTS
55 kg: Jacob Cochran (NMU/NTS) def. Dalton Duffield (Army/WCAP) 12-4, TF
60 kg: Alex Thomsen (Nebraska Wrestling TC) def. King Sandoval (Bandits) 8-0, TF
63 kg: We Rachal (IRTC) def. Corbin Nirschl (MWC) 6-5
67 kg: Nolan Baker (NYAC) def. Jessy Williams (NYAC) via forfeit
72 kg: Michael Hooker (Army/WCAP) def. Griffin Parriott (Minnesota Storm) via forfeit
77 kg: Chance Marsteller (TMWC) def. Fritz Schierl (TMWC/Ohio RTC) 8-0, TF
82 kg: George Sikes (NYAC/NTS) def. John Hagey (505 WC) 3-1
87 kg: Terrence Zaleski (Marines) def. Joel Nivar (Marines) 9-0, TF
97 kg: Vaughn Monreal-Berner (Marines) def. Chad Porter (Sunkist) via forfeit
130 kg: Brandon Metz (Bison WC) def. Tommy Helton (Southern Illinois RTC) 6-0
FIFTH PLACE RESULTS
55 kg: Gabriel Gray (TX Panhandle WC) def. Cole Smith (Army/WCAP) 10-0, TF
60 kg: KeVon Powell (LA) def. Thomas Hicks (TN) 8-0, TF
63 kg: Mason Lewis (PA) def. Lilashawn Coleman (Army/WCAP) via forfeit
67 kg: Morgan Flaharty (NYAC) def. Colton Rasche (Marines) 7-2
72 kg: Justin Koethe (Ubasa Wrestling Academy) def. Hunter Murphy (Olivet) 8-0, TF
77 kg: Britton Holmes (Army/WCAP) def. Nate Grimes (USOPTC) via forfeit
82 kg: Kyle Briggs (IA) def. John Kent (LA) 11-8
87 kg: Dan Olsen (Combat School of Wrestling) def. Nick Reenan (TMWC/Wolfpack) via fall
97 kg: Diante Cooper (Air Force) def. Michael Rogers (TMWC/NLWC) 10-0, TF
130 kg: Kaleb Reeves (IA) def. Courtney Freeman (Marines) via fall
Listen to "5PM47: Nate Engel and Xavier Johnson" on Spreaker.
Listen to "5PM46: Taylor LaMont and Jessy Williams" on Spreaker.
Listen to "5PM45: Chatting with Dennis Hall and Max Nowry" on Spreaker.
SUBSCRIBE TO THE FIVE POINT MOVE PODCAST
iTunes | Stitcher | Spreaker | Google Play Music
Notice
: Trying to get property 'term_id' of non-object in
/home/fivepointwp/webapps/fivepointwp/wp-content/themes/flex-mag/functions.php
on line
999