He was at it again, adding further to a sample size that is now beginning to take on a life of its own.
On Friday at the 2019 Bill Farrell Memorial in New York, 21-year-old Nolan Baker (67 kg) emerged from an overcrowded field of high-ticket athletes to earn his first international bronze. But the result, while impressive, is barely equal to his methodology.
Baker picked up four wins in the tournament. All four came via fall, and all four opponents were extremely skilled, tough competitors. To a man, they all understood with whom they were sharing mat space. The book has long been out. But like all literature, no one knows the material better than the author.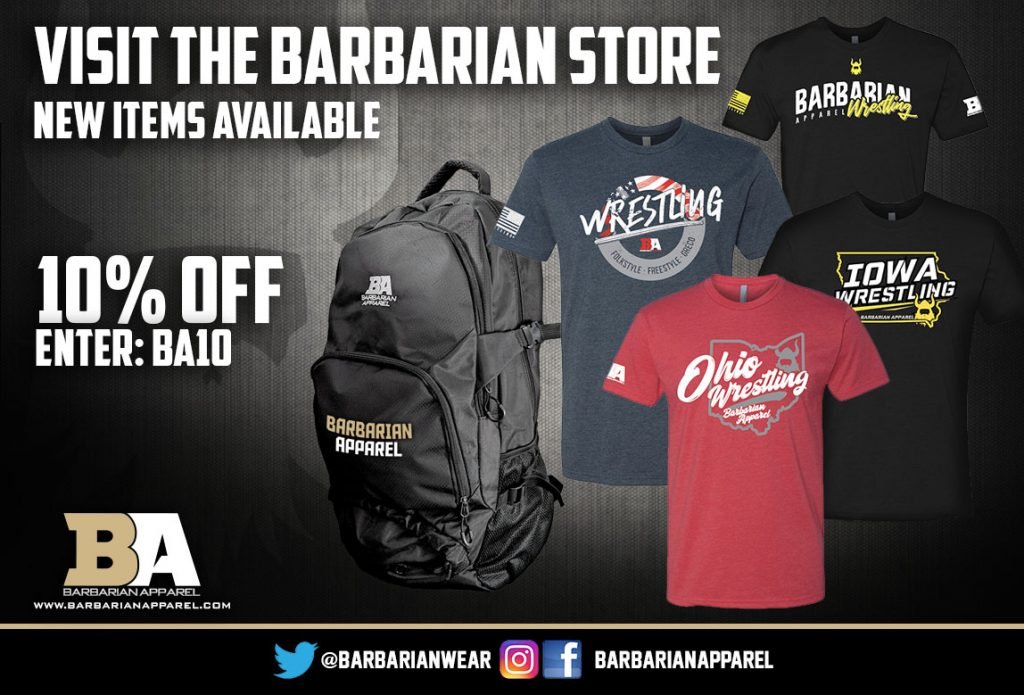 It is a body of work that dates back to early June of last year. The '18 U23 World Team Trials in Akron is when Baker first announced his presence, coming virtually out of nowhere to do so. There was no warning. He collected a pin and a tech fall on his way to a best-of-three finals series opposite superbly-talented Dom Demas (OKRTC) where he was immediately considered an immense underdog. The series went all three bouts; however, Baker scored a late tech in Match 1, and closed it out with a quick pin in Match 3.
After a winless but scoring-happy appearance in the U23 Worlds, Baker resumed his collegiate career, though through the winter months most couldn't help but remember what he had pulled off the previous spring. Sure enough, he returned this past May for the Senior Trials Challenge Tournament, his first time on the top level, and it was, mostly, the same thing all over again. Baker won by fall in his first bout, lost to '16 National champ Hayden Tuma (Army/WCAP), and then strung together four more victories, including three pins, to wind up with bronze.
At the U23 Trials two weeks later, the primary outlier was that en-route to the finals series, Baker's three wins were all superiors. His only pin of the tournament came against '19 Junior World bronze Peyton Omania (MSU/CYC) in Match 2, a series in which Omania was forced to dig as deep as possible in order to prevail.
When you tally up the datasets, Baker's domestic record since June of '18 is 17-5 with 11 pins, five tech's, and one decision. Morgan Flaharty (NYAC) is the outlier, the only one of the vanquished to have lasted six minutes. The flipside to this coin are Baker's losses. It's a short list: Demas (Match 2, '18 U23 Trials); Tuma; Omania (Matches 1 and 3, '19 U23 Trials); and multi-time Senior Trials runner-up Alex Sancho (Army/WCAP).
Oh, but he'd never remind you of any of this stuff. Though he's a confident sort, Baker doesn't point to all of the above as much more than a byproduct of his desire to compete. If you ask, he is always game to break down the nuances of the headlock position, deconstruct setups, and explain how his go-to isn't centered around a singular starting point. Because, in Baker's mind, it's not even his go-to that matters most. Rather, it is his ever-growing capability to threaten in other areas and lose himself — while smiling, of course — in the fight.
Currently, Baker is in Tbilisi, Georgia along with the expansive delegation of US Seniors for a two-week training camp before back-to-back tournaments in Sweden and Finland put him on the doorstep to the US Nationals/Olympic Trials Qualifier next month. Despite the distance, he was around to answer some questions regarding his performance on Friday, and how becoming a resident athlete at the US Olympic and Paralympic Training Center has improved his arsenal.
Nolan Baker — 67 kg
5PM: On Twitter, you called your Bill Farrell bronze the "biggest accomplishment" of your career. Why?
Nolan Baker: Technically, third at the World Team Trials Challenge is probably the more prestigious honor, but the quality of opponents I beat during the Farrell makes it the toughest tournament I've ever medaled at. For example, I faced Benji (Peak) for third at the Trials, but I had him in the very first round at the Farrell, and it only got tougher from there. Plus, the Farrell was in an Olympic Year, which made three weight classes come crashing together and stacking the field. This year's Farrell is in my top-five for best wrestling experiences, but for sure the highlight of my career in terms of overcoming adversity. Never would I have thought that I would someday medal at an international tournament, which makes it all the more surreal. It also got that first time out of the way, which opens the door for future success at that level.
5PM: How has your confidence grown since the Senior Trials in May?
Baker: In a lot of ways, my confidence is the same. I get anxious like everyone else before tournaments and matches, but over the last few years my approach to wrestling has improved a lot. From a realistic standpoint, I know I am going to try my best to win. That will either happen or it won't, but if I try my hardest there's nothing else I could do. So as long as I'm in good condition and have trained hard, I know that I have the potential to pin anybody.
The biggest growth in my confidence has come from the fact that I am usually performing well in competition. After the Trials last year, I sort of had imposter syndrome where I felt like although I medaled, I didn't really belong on that stage. A lot of people call my wins "flukes", but this sustained success I've had over the past two years makes me feel like I belong here and that I am truly earning my wins.
5PM: How has training at the OTC changed your approach given the coaches and partners available?
Baker: Training at the OTC has been amazing so far. Mohammed (Abdelfatah), (Matt) Lindland, and (Gary) Mayabb have done a great job of  balancing my funk with a solid core of Greco fundamentals. I don't always do what they want me to do when the whistle blows, but I at least know what I'm supposed to be doing. I have a lot more appreciation for Greco now that I've been exposed to its intricacies.
With that said, I still make sure that I don't let all of the wildness out of my wrestling style. Training at the OTC also makes winning on the World stage seem way more reachable. There are so many quality wrestlers in coaches in there, and the way they speak, it is as if winning a world medal is a common occurrence. Like it's not something that only .0000001% of people will ever accomplish. That's the type of environment that breeds success. Whatever comes of my career, I'm in the right place to give myself a shot.
5PM: What are you aiming to glean from this camp in Tbilisi and how has it been going so far early in the week?
Nolan Baker: More than anything, I'm just looking to have fun on this trip. Not in the sense that I'm viewing this as a vacation, but I'm looking to have fun — while wrestling. I wrestle my best when I'm in a good mental space, and I think this trip will give me a really positive mentality going into the qualification process. The thought of seeing the world, learning from foreigners, and bonding with my teammates is very appealing to me and will help give me a fresh reset from the months of routined training I've just put in at the OTC.
The language barrier has been substantial so far, which has been funny and forced us all to go with the flow. This morning at practice, I didn't know what we were supposed to be doing, but when my partner threw me, I threw him back; and when he wouldn't let me score, I wouldn't let him score. It was a really fun environment and I truly have no idea what the next day will bring, which is exciting. It's my first international camp so I have nothing to compare it to, but I am definitely having fun and got a good scrap in this morning.
Obviously, the primary goal of the trip is to get better at Greco, but I'm not putting pressure on myself to get substantially better over just a couple of weeks. Just looking to absorb as much as I can and enjoy it along the way.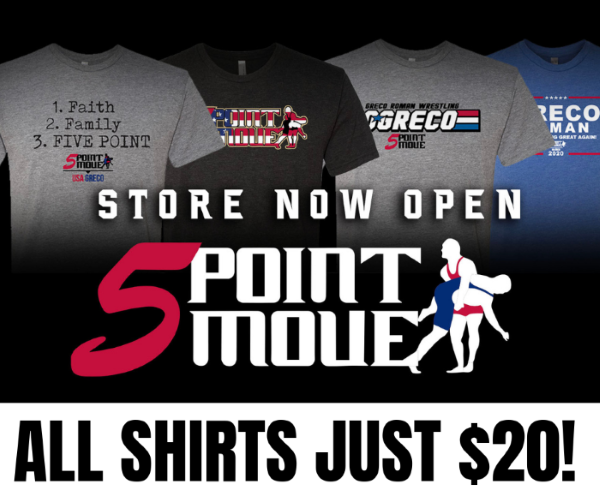 Listen to "5PM30: Jon Anderson returns at the Bill Farrell and Dennis Hall's always fiery position on U.S. Greco-Roman" on Spreaker.
SUBSCRIBE TO THE FIVE POINT MOVE PODCAST
iTunes | Stitcher | Spreaker | Google Play Music | RSS
Notice
: Trying to get property 'term_id' of non-object in
/home/fivepointwp/webapps/fivepointwp/wp-content/themes/flex-mag/functions.php
on line
999