FORT WORTH, TX — The finals of the Olympic Team Trials are observed as the main attraction, but there is also a lot of importance to be found when it comes to third place, or "true second", or whichever terminology you prefer for the matches that decide the back-end of the US National Team. These bouts are as hotly-contested as a gold-medal round from any other tournament. National Team distinction for all wrestlers means funding. Health insurance. And often, the chance to attend marquee trips across the Atlantic only availed to this special group.
The consolation finals of the 2020 Olympic Team Trials began at 2:30pm CT live from the Dickies Arena in Fort Worth, Texas.
60 kg
After "Wildman Sam" Sammy Jones (NYAC/UVRTC) downed '19 World Team member Max Nowry (Army/WCAP) in the conventional third-place match, he still had one more to go, and an opponent with whom he was well-familiar — two-time National champ Mike Fuenffinger (Army/WCAP), who had earned the top seed at this tournament largely based on his defeat of Jones in December of '19.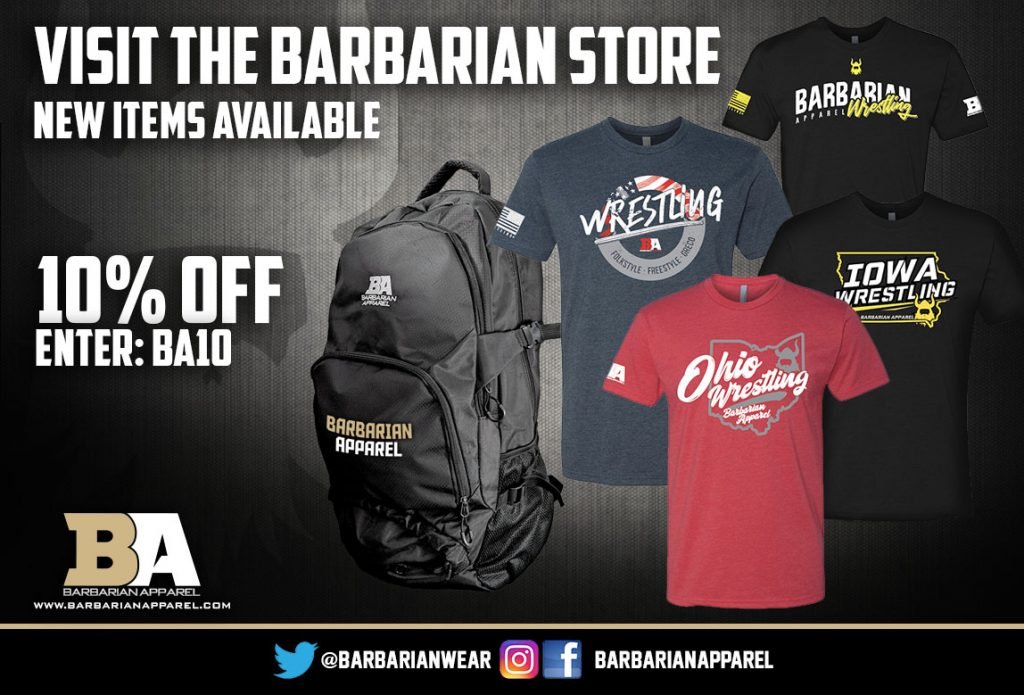 It was Jones who got off to a fast start via a front headlock. They went at it in the ties through the remainder of the first, although Fuenffinger's degree of urgency had scaled upwards before then. But down by a healthy margin, points were imperative, and quickly.
Behind 5-2 in the second, Fuenffinger forced a step-out that didn't alter the complexion of the bout, for Jones was still pressing forward. But a major turnaround transpired shortly. Fuenffinger counter around the body and whipped Jones to his back. It was four immediately. Jones was in big trouble as Fuenffinger adjusted to secure the fall — which he did. Jones' corner threw in the brick but it was done deal. The mega screen hanging from the rafters told the story, a story that ended with Fuenffinger making his second-straight National Team as well as a WCAP sweep of the weight class.
67 kg
Xavier Johnson (Marines) deserves acknowledgement. In his first Olympic Trials, he acquitted himself admirably. Johnson fell to finalist Ellis Coleman (Army/WCAP) last night, and this afternoon used a succession of lifts to pacify the always-dangerous Nolan Baker (NYAC). That put him in the "National Team match opposite an interesting opponent, and perhaps the hottest name in the entire tournament — Benji Peak (Sunkist/NTS).
What was anticipated to offer a back-and-forth shootout did not turn out in such a manner, though it felt like it could go in that direction early in the first. They traded meaningful exchanges, until they weren't necessary any longer. That is because it all changed in an instant. Peak had engineered a 3-1 lead but broke out with a throw and gut sequence to call a stunning halt to the bout at 9-1 in the opening frame. The Wisconsin native gestured, playing to the crowd. Similar to his run to the National title in October, Peak walked off the mat as the talk of the tournament.
77 kg
If they are in the same weight category at a major event, fans are practically guaranteed that, at some point, Patrick Smith (Minnesota Storm) and RaVaughn Perkins (NYAC) are going to meet. It's what they do. From even before their series at the '16 Trials, to the in-between years during this quad, and including a couple of battles overseas against one another, they just can't stay out of each other's way.
In their latest go-round, Perkins assumed an early 1-0 lead via step-out. Both kept pattern. Smith bruised inside as Perkins worked the hands and divvied to angles. Passivity rang on Smith. From top, Perkins worked his lock but nothing was doing.
The conclusive three minutes brought more of the same. Naturally. It is always tactical between these two, various checks and balances negotiated through the pummel. As they peppered inside, Smith began a pressure charge, urging Perkins through the zone. In one fell swoop, the tables turned. Perkins broke out one of his premier strengths, a shucking throw-by, and ambled behind for two. Smith was in it till the whistle but was unable to generate a last-gasp rush of points, and Perkins moved into yet one more National Team spot in what has been a remarkable career.
87 kg
For high-profile, successful athletes, a Trials loss on the championship side of the bracket is as crushing as it gets in this sport. Especially for those who aren't 19-years-old, like a Braxton Amos (97 kg, Wisconsin RTC), who takes the mat this evening. Heart is required to keep plowing ahead.
Heart is what three-time World Team member Patrick Martinez (NYAC) showed by preparing himself for another chance to wrestle today for "true second". His opponent, an up-and-comer of the highest order. Spencer Woods (Army/WCAP) himself demonstrated the type of competitiveness that could one day, soon perhaps, make him a star. He proved that the move up to 87 was a smart one, as well.
"P-Mart" had to set the tempo and sort of walk Woods down at the onset. The two wrestlers share similarities in terms of pressuring, with the one deviation being that Woods is a touch unconventional in his entries. Still, they weaved in the pummel, with Martinez's righty underhook clamping down on motion coming from the other direction. There was little wiggle room to avail wide open lanes, and Martinez benefited from the first passive. He achieved his lock and went to crank, though the official didn't give him a lot of time to roll his gut that had become tangled at the legs.
Woods was not deterred heading into the second. He was having a big issue clearing Martinez's clutches, however. So, Martinez was compelled to dictate where the battle took place by brandishing quick hips in re-pummels and going back to that underhook. Again, Woods was dinged, but no follow-up. The fight raged on with Woods stymied in the ties and his adversary wasn't slowing down. The 2-0 nod went to Martinez, whom although will not compete for a ticket to Tokyo, managed to make an impact in Fort Worth nonetheless.
97 kg
No one will forget that Luke Sheridan (Army/WCAP) recovered from his loss to Amos by coming back today and headlock-pinning chief domestic rival Daniel Miller (Marines). As was the case with several bouts where the outcome is usually decided through tense violence, this one veered off the path. Sheridan had headlocked Miller for a fall once before, but few expected that to happen in this tournament.
Sheridan's opposition for National Team status this afternoon was Nick Boykin (Sunkist), the '19 Junior World Teamer who soared to gold at the Senior event in October. Boykin wrestled well in Fort Worth, but his ride did not end how he would have preferred. Holding a 3-0 advantage, Sheridan took top par terre and pulled the cord on a trip of guts, and that was that. For the third season in a row, Sheridan is a National Team member.
130 kg
He doesn't get a lot of publicity, or at least not of the positive variety, but Jacob Mitchell's (Army/WCAP) consistency has become too hard to ignore. Against Donny Longendyke (Minnesota Storm), Mitchell persevered during — and through — a physical, battering-ram type of affair to come away victorious.
Mitchell kept Longendyke honest in the tie-ups and checked his way inside with that overhook. Dirty is often the hold, hence Mitchell's reputation. But he wasn't concerned with inflicting damage this time, certainly not as much as he was with turning Longendyke's feet around. By the latter stages of the second period, both heavyweights seemed near-spent, but Mitchell determinedly plowed ahead for the 3-1 decision. It should be noted that Mitchell, who was a National titlist in '19, had zero matches under his belt this season prior to arriving in Fort Worth.
2020 Olympic Team Trials
April 2-3 — Fort Worth, TX
NATIONAL TEAM MATCHES
60 kg: Mike Fuenffinger (Army/WCAP) def. Sammy Jones (NYAC/UVRTC) via fall
67 kg: Benji Peak (Sunkist/NTS) def. Xavier Johnson (Marines) 9-1, TF
87 kg: Patrick Martinez (NYAC) def. Spencer Woods (Army/WCAP) 2-0
97 kg: Luke Sheridan (Army/WCAP) def. Nick Boykin (Sunkist/Ohio RTC) 9-0, TF
THIRD-PLACE RESULTS
60 kg: Sammy Jones (NYAC/UVRTC) def. Max Nowry (Army/WCAP) 6-3
67 kg: Xavier Johnson (Marines) def. Nolan Baker (NYAC) 8-0, TF
77 kg: RaVaughn Perkins (NYAC) def. Patrick Smith (Minnesota Storm) 4-0
87 kg: Spencer Woods (Army/WCAP) def. Barrett Stanghill (Minnesota Storm) via inj. default
97 kg: Luke Sheridan (Army/WCAP) def. Daniel Miller (Marines) via fall
130 kg: Jacob Mitchell (Army/WCAP) def. Donny Longendyke (Minnesota Storm) 3-1




Listen to "5PM47: Nate Engel and Xavier Johnson" on Spreaker.
Listen to "5PM46: Taylor LaMont and Jessy Williams" on Spreaker.
Listen to "5PM45: Chatting with Dennis Hall and Max Nowry" on Spreaker.