FORT WORTH, TX — Sometimes, hearts get filled. Other times, they break. It happens to everyone. Often. Unavoidable. Just an aspect of the human condition.
For a special lot, this carousel of glory and pain does not reveal itself only in the shadowy confines of their thoughts. Instead, they put it all on display in front of the eyes of strangers. Interested yet mostly anonymous faces who are pleased and eager enough to bear witness to their high's and low's.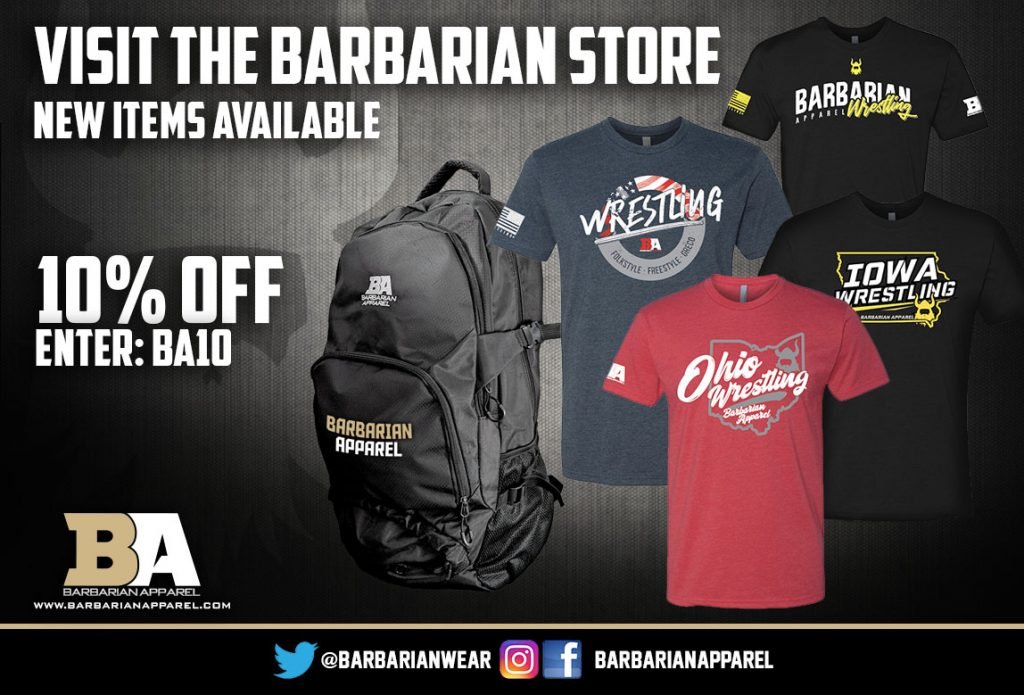 The final round of the 2020 US Olympic Team Trials for Greco-Roman began at 6:30pm live from the Dickies Arena in Fort Worth, TX and aired around the country on NBC Sports Universal.
On Saturday night, six Greco-Roman athletes became first-time United States Olympic Team members before a socially-distanced-but-enthusiastic crowd who whooped, cheered, and booed during every match. Alas, you cannot call each of the evening's tournament champs "Olympians, for the victors at 77 and 130 kilograms have one more step to take until they can boast that distinction.
For wrestlers like Ildar Hafizov (60 kg, Army/WCAP) — who was an Olympian in '08 for Uzbekistan — and '18 World silver Adam Coon (130 kg, NYAC/Cliff Keen), their coronations involved plenty of lead-up due to recent World Team appearances and other glistening achievements.
For someone like Alex Sancho (67 kg, Army/WCAP), the achievement brings to mind his string of runner-up finishes at Trials previous. That he had to get through a generational competitor and his primary rival only added to an event replete with drama.
Then there was '19 World Teamer John Stefanowicz (Marines), who had moved up in weight rather than down to the surprise of many following Nur-Sultan. His entrance in the tournament's meatiest bracket arrived with zero declaration, yet he still managed to usurp the two top wrestlers in the division.
How about Jesse Porter (NYAC/NTS)? Porter had mostly trained himself throughout the past year due to pandemic concerns, and he was not pegged by most as a serious threat compared to the other monsters at 77 kilograms. All he did was knock off a two-time World Team member he had never beaten before, and then did the same thing to his adversary in the finals.
Of course, no one will forget about three-time World Team member G'Angelo Hancock (97 kg, Sunkist), the most dominant force from the night's card. Hancock has already defeated a who's who of global powerhouses, thus rendering his showing far from a jolt to the system. The same cannot be said of his counterpart, Braxton Amos (Wisconsin RTC). Though he was vanquished, the 19-year-old captured the attention, and imagination, of the mainstream wrestling populous.
We begin in order of weight category. 
60 kg
Ildar Hafizov (Army/WCAP) vs. Ryan Mango (Army/WCAP)
Match 1
They knew each other well, but it didn't show quite as much as one might suspect. They were after it, on charge. A machine gun rhythm unfolded as they chipped in the tie-ups. Hafizov had a run on a barring two-on-one that would have had some promise had Mango not deflected and countered over the top. This is how they wanted to do business, by trading positions without expressing glaring vulnerabilities. It was only a matter of time before the points would appear in bunches, you just didn't know from where, or by whom, they would arrive.
Passivity on Mango meant a chance for Hafizov, who could not square his clasp for a lift. Everything swung back around for him in the second period. A takedown/exposure combo gave way to a 7-0 lead he would not relinquish, and put him in the driver's seat for round #2.
Match 2
Mango's steely, keyed-in demeanor accompanied him to the stage for the second round. All it would take was one sequence for momentum, or at least the perception of it, to veer back in his direction. But that did not happen.
Hafizov cleared and re-engaged, and zipped an arm-drag for a takedown. He was not keen on wasting this par terre shot. Maybe he saw something from the first match. Maybe from practice. Whatever it was, Hafizov grabbed short elevation on his initial try, and then four from a side lift. Eight points, just like that, and series was over.
Hafizov, 33, is now set to return to the Olympic Games for the first time since '08 Beijing. Because the weight is one of four that is qualified for the United States (along with 67, 87, and 97), he will not have to do anything else but begin formulating his plan for Tokyo under the guidance of the Army coaching staff.
67 kg
Alex Sancho (Army/WCAP) vs. Ellis Coleman (Army/WCAP)
Match 1
No pretense necessary, as from the whistle, Coleman reeled a left underhook and away they went. Sancho then checked back and uncorked an arm spin attempt; as he popped his head around, Coleman looked to cartwheel over in an effort to defend. Sancho still converted for a 2-0 advantage. They were both speedy — but patient. It was easy to discern their mutual knowledge of each other's methodologies, and the scoreless action was indicative of how tightly this was to unfold.
The second period did not offer much in the way of change. If anything, the playback was even tighter. Curiously, a passivity/par terre was not called, which left it up to the combatants to figure it out on their terms. Coleman did not wait until the last minute to pick up the action on his end, as he spent most of the second period in hot pursuit. Not an easy task, for Sancho was equally adept at finagling tie-ups favoring his positional mechanics, as well. Ultimately, there was no further scoring in the second and Sancho emerged with the 2-0 decision.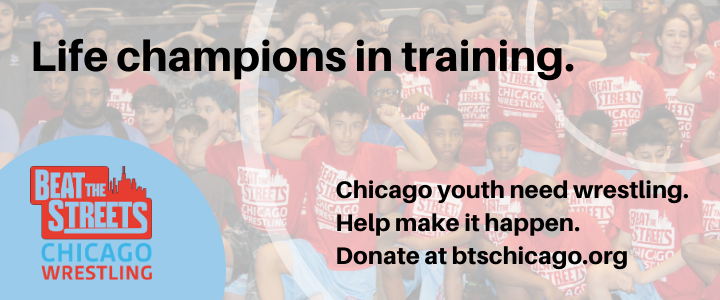 Match 2
From the whistle, Coleman decided that he was going to be more athletic, more energetic, and he demonstrated this by keeping a low level before popping into the tie-ups. When they finally attained some static, Sancho slipped on an arm throw. Back standing, and Coleman worked with an underhook as they both wedged inside. The passivity knock went to Sancho. Coleman looked gut, but couldn't quite coax a turn. A reset. Fleeting ties were exchanged until Coleman slid an arm drag that caused Sancho to briefly switch stances. No further scoring, with Coleman heading into intermission up 1-0.
Just :41 into the second, Coleman was dinged. And then, a quick time-out for Sancho to get looked at by the trainer for apparent ketchup. From top, Sancho struggled to achieve his clasp for a lift as Coleman deftly moved to avoid elevation. But, Sancho did get a hoist and arched Coleman off the line for two.
There was no other choice. The proverbial race to the finish. Coleman darted in for looks, even going to his patented leap. Sancho was immovable. This moment was his, via 3-1 decision. He had waited, paid his dues in salty tears of frustration. But, more tears were to come, and for a different reason.
Shortly after the end-of-match rituals, Coleman collected himself before unlacing his shoes. Soon, they resided center-mat. Quite the scene. Sancho's jubilation represented a new chapter for both wrestlers. Coleman, the 30-year-old married father of three, retires as a '12 Olympian, four-time World Team member, and five-time National Champion.
77 kg
Peyton Walsh (Marines) vs. Jesse Porter (NYAC/NTS)
Match 1
Prior to Saturday's final round, Walsh had three critical wins over Porter: '18 US Open semis, '19 World Team Trials quarterfinals, and the '19 WTT "National Team" match. Unfortunately for Walsh, that winning streak became a memory on the biggest day of both athletes' respective careers.
One reason why Walsh had success against Porter in the past was because it was as though he understood how to deal with Porter's unconventional mechanics. The native New Yorker doesn't keep one speed. Rather, he paws and angles, gradually setting targets, and then explodes. Walsh had been just raw enough to not know exactly how to navigate the uneasy style of Porter's, so he would just throw the kitchen sink — and it worked. Now markedly improved since then, Walsh's own Greco maturation was almost a hindrance Saturday. He threw out the playbook scribbled on napkins and replaced it with one holding glossy hardcopy sheets.
Porter expressed a burst of forward movement before backing off. Atypical but also typical. For him. Walsh answered with a plunging underhook as if to back his opposition away. Shortly, passivity. From top, Walsh locked high-gut before switching mid-range for a potential lift. Porter kept moving, and points from par terre weren't coming down the pike. A reset. Neither athlete kept with a more classical stance, as is custom. Walsh did straighten out a deep two-on-one for a few moments, but Porter freed himself right ahead of the break.
Porter gambled on a throw, his hip-action seemed on-the money; but Walsh was ready for the land-on-top. At a glance, two for the Marine was the call. But after a long challenge, Walsh's points were wiped away. The restart? That was something else. Porter exploded with a four-spot plus another pair, and then a turn. In a blink, it was 8-1 for Porter, and he cruised to the whistle having finally logged a "W" at Walsh's expense.
Match 2
A much more intentful feeling-out process greeted both the next round. Porter was awarded the first passivity chance. A side lift that was scored for five in a flash energized the audience. More was coming, or so everyone thought. Porter followed with another lift, and another. The referees gave Porter two and two, but the Marines challenged and got the succession trimmed. When wrestling continued, Porter's lead was 7-0, and that did not change entering the break.
The second period was chaos, and not completely the good kind. Walsh's passive/PT brought forth a caution-and-two on Porter. With a slight gash in Porter's lead now in tow, Walsh made good on a four-point lift that tallied four. The issue? Why the chaos? Neither athlete realized whose lead it was. With time running out, Porter was dipping and darting with more than a hint of desperation while Walsh was cooly fending off Porter's advances. It was, to say, counterintuitive given the circumstances.
When the whistle blew, Porter's expression was one of defeat, and Walsh appeared confident and ready to move on for Match 3. Then Porter's hand was raised. For some reason, this came off as a shock. Both Walsh and the audience were incredulous. Porter? Understated as ever, he gladly accepted his series-clinching win and soon made his way off the mat as a 23-year-old Olympic Team member. Up next for Porter will be the World Olympic Games Qualifier on May 8-9, international wrestling's version of the "Last Chance Qualifier".
87 kg
Match 1
No time wasted yet. It wasn't necessary. As soon as Rau was set, they collided. Quickly, Rau hawked over with a locktight front headlock that he pulled over the top for four. Then suddenly, a subsequent execution was stopped by the official for under the throat. The crowed booed, people chirped, but eventually action resumed with Rau ahead 4-0. Size difference, there was one. For although "STEF" has muscled up for 87, Rau's height and frame aided in his ability to control the dynamics of the pummel in the early stages.
So, Stefanowicz turned up the heat. Bulling forward, he wanted to force Rau to set and reset his feet. One such go at this resulted in another front headlock for Rau. He again appeared to have it secured. He did have it secured. They were balled up near the edge, still within the circle. But again, a stoppage. The official also didn't take kindly to Rau yanking the maneuver and a caution was doled out with Stefanowicz netting two more points.
Now the match had really changed. The fans were firmly behind Rau and the officials were the object of their derision. Things cooled down when Rau was given a passive chance. Down 6-5, he locked gut, only to have Stefanowicz impressively defend. Rau, maybe it was a gamble, but he went for one more front headlock, and Stefanowicz held strong for that one, too. An odd, disjointed match that was marred by questionable officiating ended in the Marine's favor 6-5.
Match 2
Stefanowicz wanted to win at all costs, but he wanted it to occur because of his offense, his action. So he took matters into his own hands by unfurling an arm spin that brought forth a pair of points. They returned standing with Rau prowling for the head. He was in on a snap — and close to coming around the back — but Stefanowicz hurriedly scrambled to safety.
It was not a full-blown slugfest by the time the second period began to unfold with Stefanowicz clinging to a 2-0 advantage. Things were physical because they had to be. But no one wanted to lose their minds with the stakes so high. Inch by inch the intensity progressed. Par terre didn't do it for Rau, which only served to increase the tension. Nor did the next one. Rau stole occasional glances at the clock to check how much time remained for a potential comeback. Against another opponent on another day? Likely plenty. It was only a couple of points. Just not Stefanowicz. Not on Saturday. The day itself, as well as the entire tournament, had his fingerprints all over it. Once the scoreboard clock was full of zeroes, he pointed to his supporters and celebrated accordingly.
But while Stefanowicz was basking in the glow of triumph, Rau was off to the side despondent. He then began a task. It took a few moments for the scene to absorb. The left shoe came off quickly. The right one, not so much. Eventually, Rau was able to undo the dressing on his other sneaker and carry both to the logo in the center of the mat.
He was saying goodbye.
Rau retires following a career that included two World Team appearances, an Olympic Trials victory from '16, two Senior National titles, and over a dozen international medals.
97 kg
G'Angelo Hancock (Sunkist) vs. Braxton Amos (Wisconsin RTC)
If there is one thing the nation has learned about Amos, it is that he doesn't much care who someone is or what they have done previously. He's going to attack, and that is good enough for him. Which is why there was no surprise that he dared test Hancock with an arm throw attempt. But Hancock was on it from jump, and countered with a yank-back for four. Aggression was still Amos' baseline. He churned forward at Hancock, who responded with a front headlock. A cascading finish it wasn't, yet Hancock also did not struggle to leverage the hold in order to coax Amos off the boundary for another point.
Just as they settled into a groove, Amos picked up the pace once again. A smart strategy, to not stay a sitting duck in the ties against Hancock. Their intriguing back-and-forth was appropriate considering their abilities, but the score was decidedly one-sided.
Up 5-0 early in the second, Hancock acquired a passive/PT opportunity. It was one of which he took full advantage. All he needed was two, which he received via gut, and the three-time World Teamer had Match 1 in the books 8-0.
Match 2
Hancock, an 18-year-old National Team member five years ago in Iowa City, had one clear objective in mind: close the show as soon as possible. And he did that. Amos' insistence on not being gun shy helped.
A throw for Hancock soon into the first was a mere prelude to the unraveling. After the reset, the multi-time World Teamer landed a takedown and back-end gut to ice the proceedings at 8-0. It was not an unexpected outcome. Hancock is and has firmly been in the mix worldwide at 97 kilograms, making his selection to the Olympic Team the furthest thing from an unforeseen twist. Yet, the achievement remains representative of his talents. And the best part for him? Hancock will be able to focus on training for Tokyo on a much more reasonable and appropriate scale going forward, something he hasn't had in well over a year.
130 kg
Match 1
Both had the same plan for first contact: clash. The pressure was in-sync. Coon slid in an underhook, but Schultz's dug a little deeper. There weren't going to be any escape routes in the ties unless an out-of-nowhere scramble was generated off of an attempt. No such attempts were on the way. But passivity is always the equalizer. Schultz was the one knocked, and Coon rotated a pair of gutwrenches for a 5-0 lead. Schultz's corner challenged the sequence, thinking their guy might not have exposed. Following a review, the points were upheld plus one, giving Coon a sizable 6-0 advantage moving into the second period.
Passivity on Coon in the second provided an opportunity for Schultz's front headlock. The All-American from Arizona State circled around to the head and cranked. Nothing was doing, so Schultz scooted back behind for a gut attempt. Again, Coon defended. Back standing, and Coon was there to bump Schultz off the boundary. He wasn't done yet. Next, Coon got behind for a takedown, thus ending the bout early at 10-1.
Match 2
A more in-tune version of Schultz strutted out to the circle for Match 2. His strength on the feet, well-known as it is, comes in the form of underhook control and a bullying posture. More of that was available this time around. The officials got involved and Coon was put down. Schultz with an exposure — and then Coon reversed for his own point.
Coon improved his pressure game for the second and poured inside from the whistle. The legs were now playing a role. An interesting exchange saw the former Michigan star try to bury and bully in his own right, that is until Schultz shrugged him away. A response: a quick reset for Coon,  who immediately maneuvered for a takedown and commandeered a criteria lead. That would indeed be it. Coon, a wrestler whom despite his success has never lacked a desire to constantly make adjustments, will be back in the elite mix when he takes the mat at Bulgaria's World Olympic Games Qualifier in early-May.
An overview with additional notes, information, and analysis will be available in the Monday Roundup with numerous athlete insights to follow. 
2020 US Olympic Team Trials
April 2-3 — Fort Worth, TX
BEST OF THREE FINALS
60 kg
Ildar Hafizov (Army/WCAP) def. Ryan Mango (Army/WCAP) 2 matches to 0
Match 1
Hafizov def. Mango 7-0
Match 2
Hafizov def. Mango 8-0, TF
67 kg
Alex Sancho (Army/WCAP) def. Ellis Coleman (Army/WCAP) 2 matches to 0
Match 1
Sancho def. Coleman 2-0
Match 2
Sancho def. Coleman 3-1
77 kg
Jesse Porter (NYAC/NTS) def. Peyton Walsh (Marines) 2 matches to 0
Match 1
Porter def. Walsh 8-1
Match 2
Porter def. Walsh 7-7 (criteria)
87 kg
John Stefanowicz (Marines) def. Joe Rau (NYAC/IRTC) 2 matches to 0
Match 1
Stefanowicz def. Rau 6-5
Match 2
Stefanowicz def. Rau 2-1
97 kg
G'Angelo Hancock (Sunkist) def. Braxton Amos (Wisconsin RTC) 2 matches to 0
Match 1
Hancock def. Amos 8-0, TF
Match 2
Hancock def. Amos 8-0, TF
130 kg
Adam Coon (NYAC/Cliff Keen) def. Cohlton Schultz (Sunkist) 2 matches to 0
Match 1
Coon def. Schultz 10-1, TF
Match 2
Coon def. Schultz 3-1




Listen to "5PM47: Nate Engel and Xavier Johnson" on Spreaker.
Listen to "5PM46: Taylor LaMont and Jessy Williams" on Spreaker.
Listen to "5PM45: Chatting with Dennis Hall and Max Nowry" on Spreaker.