The United States has its third semifinalist at the 2019 Junior World Championships.
Action began at 10:30am live from Tallinn, Estonia (3:30am ET) and was broadcast in the US on Trackwrestling.
Peyton Omania (67 kg, MSU/CYC), on the strength of four adrenalizing victories, stands one win away from the World final following this morning's slate that saw five other Americans take the mat, including Cameron Caffey (87 kg, MSU), who battled it out in the repechage.
Omania didn't just win his first three bouts of the day. He dominated. He opened with a 13-5 technical fall over Lee Jaewon (KOR) and added another 13-point showing in the round-of-32 at the expense of Ignazio Sanfilippo (ITA). That put the Californian in the round-of-16 opposite Saurabh Saurabh (IND). Saurabh didn't do much other than keep frustrating (yet solid) position through much of the first frame and held a 1-0 lead entering the :30 respite. But once the second period kicked into gear, so did Omania. After popping up from a duck-under, Omania wrapped Saurabh and threw him for four. That was just the start. On the next exchange, Omania, sensing an opening, dashed towards Saurabh and blitzed him again, collecting four more. He then stepped up and collapsed back to the tarp for a gutwrench to walk away the winner 10-1.


Next was the quarterfinal and a showdown with Iranian Mohammad Mokhtari. Mokhtari kept his elbows and hands in close, inviting Omania to a bogging hand-fight. Omania instead chose to focus on the arm, which he did by unfurling a clean four-point arm throw. Back standing, and Omania briefly hit a moment of peril, as Mokhtari caught him coming in with a chin whip. However, Omania reversed and got a point back. The US challenged this sequence, questionably. The result was a pause in the action and a denied challenge that closed Mokhtari's deficit to 5-3.
Fortunately, that didn't matter.
Omania, absolutely needing to score again in the second, level-changed for a duck-under near the line. Once again on the pop-up, he scampered around back for a takedown. The two points put Omania's lead at 7-3 and he would hold onto it the rest of the way.
In the semifinal (scheduled for 5:15pm local time, 10:15am ET), Omania will square off against '19 European Championships gold/'16 Cadet World Champion Giorgi Shotadze of Georgia.
Caffey Goes 1-1 in Repechage
Cameron Caffey (87 kg, MSU) had his shot to come back for bronze this morning, and although he was not successful, demonstrated the talent and potential that make him such a prized prospect. First on the docket was Kumar Sunil (IND). Caffey, with what could almost be described as a standing barrel roll at the edge, went up 4-0 early in the first. India challenged — and lost– giving Caffey another point. Back on the feet and Sunil managed to get around back and return Caffey to the tarp. Later in the period, the pair were locked in a 50/50 at the hip near the line with Caffey grabbing a step-out point.
He wanted more scoring. So he made it happen.
Caffey inched towards the boundary once again and Sunil responded by pressing inside. Caffey then resolved his overhook and arched for a beautifully slick headwrap. Sunil was done as soon as they landed, and Caffey was a victory away from the bronze round.
Caffey's willingness to engineer creative scores was still evident against Jacob Logaard (SWE). Sweden received the first passive but Caffey didn't become buoyant; what he did, was reverse and transition immediately to a front headlock that netted two — only to have Logaard re-reverse and roll a gutwrench. Later, Caffey held over/under's with his back right at the line and, again, he impressively arched his hold for four. Initially, the sequence wasn't scored, so it took a US challenge to figure it out.
The second period saw Logaard ease around back for a takedown — but like the US, required a challenge brick to get the call right. The result was an 8-6 turnaround for Logaard. Caffey stayed in the fight and eventually forced a step-out, but it was Logaard's match 8-7.
Hartshorn, Eischens, Braunagel, & Boykin
Hartshorn Not Done Any Favors; Eischens Alive at Press Time
Against '18 Junior Asian Championships gold Mukjammadkodir Yusupov (UZB), Hartshorn dug right in and began urging forward to employ his offense. Yusupov caught an angle and flicked an arm throw for two. The tempo was about even, but it was going to be about whether or not Hartshorn could create his own openings given his opponent's positioning, which appeared foundationally solid. They jousted back and forth with neither able to score again in the period, thus giving Yusupov a 2-0 lead at the break. In the second, Hartshorn appropriately up the workrate in spaces, but the officials weren't there with a reward. With time racing off the clock, Hartshorn pressed and Yusupov bailed. Feeling that UZB was fleeing, the US wanted a call, so they challenged. It was denied, giving Yusupov one more point for a 3-0 decision. In the proceeding round, Yusupov was downed by Georgii Tibilov (RUS), officially eliminating Hartshorn from the tournament.
There's a secret to the much talked-about "Minnesota gut" that has to be felt in order to be learned. Such was Deividas Subotkevic's (LTU) cruel education in the round-of-32 opposite Tyler Eischens (CARTC).
Eischens chipped away from the whistle in search of a tie-up with which he could work. Subotkevic remained steady, just not overly active. Eischens was then the recipient of the bout's first passivity/par terre chance, and he didn't let it go to waste. He clamped high and hard around Subotkevic and let him have it, rotating twice in a row for four points. On the back-end, Eischens popped up for a lift and there were four more. It was over, Eischens had netted his first World-level win in dominant fashion 9-0 over a very solid opponent.
Another tough foe was available in the round-of-16, Igor Bychkov (UKR), a wrestler who has just as much experience on the Senior level as he does Junior. This was a battle. Bychkov and Eischens clashed with neither willing to yield position. The balance and instincts were there for the American, but the windows were not. Eventually, passivity rang in with Bychkov getting his shot. He went to lock and score, and Eischens defended. On the reset, Eischens darted inside to take Bychkov down and surge ahead 2-1. The lead was still his when the whistle for the break arrived.
But Bychkov wasn't done. Soon into the second, he nudged Eischens out for a point. The Minnesota native regrouped and began evermore looking for angles to exploit. Bychkov, he was both ceding exchanges while at the same observing a consistent pace. He just didn't fade, even though Eischens was the fresher athlete on the mat. Time was becoming a factor. Eischens wanted to make a break for it. He poured inside, but then it was Bychkov who scored on a step-out. There was no further scoring and it was onto the repechage waiting game.
Bychkov was victorious over Erik Loeser (GER) and is in line to face Sergei Stepanov (RUS) in the semis,. Should he prevail, Eischens will return for tomorrow morning's repechage.
Braunagel Tough, But Is Edged; Boykin Overcome by Austria
2018 Fargo Junior champ Zac Braunagel (82 kg, IRTC) sure made a memorable entrance onto the World stage. In his first bout, standing across was Toyly Orazov (TKM), who wasn't all that long for this bout. Braunagel pushed in the ties, trying to use his squat frame to wedge for underhooks. The strength advantage was all his. Passivity went to Orazov, giving Braunagel a point — and a clearing to end the match. He achieved his lock, got it nice and tight, and then proceeded to gut Orazov to pieces en-route to a snappy 9-0 first-period tech.
Next up was a seasoned competitor, Satoki Mukai, who is currently third on Japan's Senior ladder. And Braunagel made him work. Hard. He wanted to generate pressure, to make Mukai come a little loose in his guard. There wasn't much space available, and Mukai was doing just enough with his feet to gain favor from the officials for the first passivity. From top, he was then able to gut Braunagel over once for two more points, though a reversal on the back-end immediately trimmed the deficit to 3-1.
Braunagel had to assert himself more. Mukai had no plans on making it easy. A front headlock seemed like a good idea. Braunagel clamped and torqued, and simply bullied Mukai off the edge. Now down 3-2, there was a different feeling. Because, Braunagel hadn't yet received his passive. If it were to come, he'd still trail on criteria, but there would also be a chance to race ahead just in time to take over the match.
The passivity did come. But Mukai held firm on bottom. He never stopped working, Braunagel. He kept attempting to burrow inside and knock Mukai off his feet or grab a handle. Alas, no scores were available, rendering the verdict 3-3 for Mukai.
Mukai was later defeated in the quarterfinal, which disqualified Braunagel from a second chance in repechage.
"Big" Nick Boykin (97 kg, Sunkist) had a tough assignment for his first Worlds match — returning Junior silver, two-time Cadet World silver, and young Austrian star Markus Ragginger. Boykin tried his best to hang in there, but he just didn't have an answer for Ragginger on Saturday.
Ragginger first scored two on a takedown. Back on the feet and Boykin postured in the ties. The opening passivity went to Ragginger, who capitalized with a turn to make it 3-0. However, Boykin defended from bottom. They returned standing with Boykin scanning for workable positions. They were hard to come by. Instead, Ragginger hustled a step-out point and closed out the period with another takedown to jump ahead even further to 6-0. In the second, Boykin was nailed for passivity once again, extending Ragginger's lead to 7-0. One gutwrench later and that was it. Unfortunately, the Austrian was turned back in the quarters by Abolfazl Seyedmahdavi (IRI), eliminating Boykin from the tournament.
Get ready
As indicated above, there is more to come this morning.
First up will be Omania in the semis opposed by Shotadze, with that session expected to begin at 5:15pm local time/10:15am ET. After that are the medal matches. Alston Nutter (Sunkist) will be vying for bronze against Kamil Czarnecki (POL) — and Young Mr. Cohlton Schultz (130 kg, Sunkist) will be going for gold against '18 U23 World bronze Aliakbar Yousofiahmadchali (IRI). The finals/medal matches are slated to begin at 6:00pm in Estonia (11:00am ET) and can be viewed live in the US on Trackwrestling.
2019 Junior World Championships
August 16-18 — Tallinn, Estonia
TEAM USA DAY 2 RESULTS
60 kg — Mason Hartshorn (NMU/OTS)
LOSS Mukjammadkodir Yusupov (UZB) 3-0
67 kg — Peyton Omania (MSU/CYC)
WON Lee Jaewon (KOR) 13-5, TF
WON Ignazio Sanfilippo (ITA) 13-3, TF
WON Saurabh Saurabh (IND) 10-1, TF
WON Mohammad Mokhtari (IRI) 7-3
vs. Giorgi Shotadze (GEO)
72 kg — Tyler Eischens (CARTC)
WON Deividas Subotkevic (LTU) 9-0, TF
LOSS Igor Bychkov (UKR) 5-2
82 kg — Zach Braunagel (IRTC)
WON Toyly Orazov (TKM) 9-0, TF
LOSS Satoki Mukai (JPN) 3-3 (criteria)
87 kg — Cameron Caffey (MSU)
WON Kumar Sunil (IND) via fall
LOSS Jacob Logaard (SWE) 8-7
97 kg — Nick Boykin (Sunkist)
LOSS Markus Ragginger (AUT) 9-0, TF
130 kg — Cohlton Schultz (Sunkist)
vs. Aliakbar Yousofiahmadchali (IRI)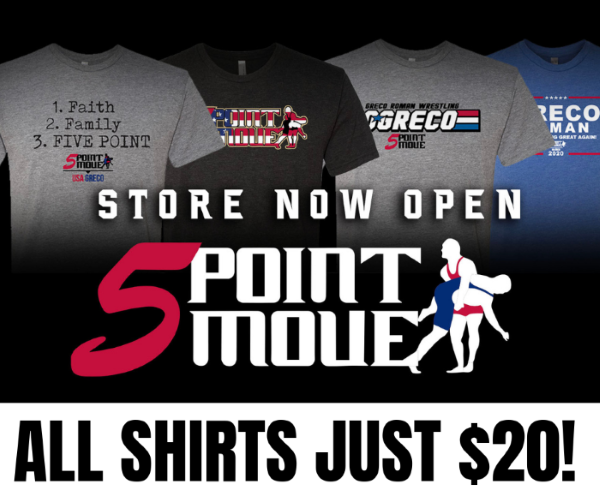 Listen to "5PM26: Princeton's Lenny Merkin and new USOTPC Greco-Roman athlete Nolan Baker" on Spreaker.
SUBSCRIBE TO THE FIVE POINT MOVE PODCAST
iTunes | Stitcher | Spreaker | Google Play Music | RSS
Notice
: Trying to get property 'term_id' of non-object in
/home/fivepointwp/webapps/fivepointwp/wp-content/themes/flex-mag/functions.php
on line
999