Cohlton Schultz (130 kg, Sunkist) is now a World silver medalist and the owner of all three medal colors at the age-group level following his bout in the final round earlier today. But before Schultz took the mat, Alston Nutter (Sunkist) delivered an electrifying ending to his 63-kilogram bronze match by storming back from a six-point deficit to come away with a dramatic fall.
Day 2's medal round at the 2019 Junior World Championships began at 6:00pm from Tallinn, Estonia (11:00am ET) and aired live in the US on Trackwrestling.


Battling 2018 U23 World bronze Aliakbar Yousofiahmadchali of Iran, Schultz relied on his feet to get into a rhythm and plunge into the tie-ups. That was not easy to do, for Yousofiahmadchali insisted on constantly locking up Schultz's wrists, which would become a theme in this bout. Schultz still looked to gain advantage in the tie-ups as he tried to crease his right arm inside for underhooks. Yousofiahmadchali didn't want to participate, though Schultz was there with a short club to remind his foe business was being done. Passivity entered into the equation soon enough for Schultz, who circled around for a front headlock. He found what appeared to be the requisite grip and leverage, but Yousofiahmadchali defended and slipped away.
Schultz still held that same 1-0 lead in the second, so he was going to need to score, since there was little doubt that passivity would be lofted in his direction. And that's what happened, despite Yousofiahmadchali failing to advance position or engage in meaningful tie-ups. Schultz couldn't be budged by Yousofiahmadchali's gut attempt and they were back on the feet. Now trailing via criteria, Schultz had to get to work. And again and again, he was stymied by Yousofiahmadchali's refusal to let go of the wrists. To make matters even more frustrating, the officials knocked Schultz once more for passivity, ultimately providing Yousofiahmadchali with a 2-1 margin he would not relinquish.
As mentioned at the top, Schultz still enjoys rarified air. He was a Cadet World Champion in '17, a Junior World bronze last year, and now adds a Junior World silver to go in concert with winning the Senior World Team Trials Challenge Tournament this past May. An utterly remarkable season.
Nutter Unleashes for Bronze
Things couldn't have gotten off to a much worse start for Nutter. Shortly after the whistle, Kamil Czarnecki (POL) used one of Nutter's go-to techniques, an arm spin. Nutter tried bottoming out and then bounding away, but he still exposed and Czarnecki remained on top. The Polish wrestler then had a trap-arm gutwrench, which he cranked over twice to jump on top 6-0. Back on the feet, and Nutter knew he had to get moving. He was two points away from a tech loss.
After a little jockeying in the ties, Czarnecki whiffed on a headlock ,and Nutter swept behind and executed a lift. By itself, the move put him within reach points-wise. But he got more than that. Much more.  Because once Czarnecki's back made contact with the surface, he did not return to safety. Nutter adjusted his position, roped Czarnecki's head-and-arm, and the pin followed in short succession. Nutter let out a roar — and for good reason — he had just earned World bronze in perhaps the most adrenalizing manner imaginable.
Omania Going for Bronze on Sunday
Peyton Omania (67 kg, MSU/CYC) put together a memorable run in the first session, winning four matches by a combined score of 43-12. Those four victories meant a berth in the semifinal against an experienced, decorated opponent who had been there before.
Squaring off with 2016 Cadet World/'19 European Championships gold Giorgi Shotdaze (GEO), Omania wanted to get back to the kind of approach he was responsible for all morning long, namely jutting in for scoring attempts and converting them. His biggest issue was Shotadze's body type and insistence on preserving stout position. That made it difficult for Omania to exploit angles, not that he didn't try.
The first points for Shotadze came off of an Omania headlock attempt. The try went south and the Georgian covered for two, though it looked questionable. Almost like a slip, but it wasn't. So, Omania dug back in. He just needed to penetrate Shotadze's defenses, speed up in the exchanges. Again, Shotadze held firm and worked himself to the first passivity/par terre. From top, he gutted Omania once for two more and a 5-0 lead that he carried into the break.
The second period gave way to a similar, but no less damaging sequence. Omania had went for another headlock, with this one appearing even more like a slip than the previous attempt. But still, Shotadze covered and netted two more points. Omania did not relent upon the reset. He circled, snapped, ducked, and pressed for any and every available opportunity. Shotadze had by and large shut down by then, and Omania was unable to latch onto a technique that might turn the tide all the way back around. In the end, it was a 7-0 decision for Shotadze that now ushers Omania into the bronze round tomorrow.
The schedule for Sunday: the medal round is scheduled to begin at 6:00pm local time (11:00am ET) and can be viewed live on Trackwrestling (subscription required).
Notes:
Schultz's performance between Cadet and Junior dating back to 2017 (when he won the Cadet Worlds) is astounding. His overall record at World events since '17 stands at 11-3 with five pins and two tech falls. All three of his losses have been by a single point.
Nutter, who went 0-2 at the '18 Junior World Championships, finishes this year's event with two pins. And a bronze medal.
Entering Day 3, which will see Omania compete for bronze, the US has already earned seven tech falls and five pins among the World Team's 14 victories.
The US is currently 5th in the team standings with 41 points, one behind Turkey. Russia leads with 97 and Iran follows with 90.
2019 Junior World Championships
August 16-18 — Tallinn, Estonia
TEAM USA MEDAL MATCHES
63 kg — Alston Nutter (Sunkist/OTS) — bronze
WIN Kamil Czarnecki (POL) via fall
130 kg — Cohlton Schultz (Sunkist) — silver
LOSS Aliakbar Yousofiahmadchali (IRI) 1-1 (criteria)
TEAM USA DAY 2 RESULTS
60 kg — Mason Hartshorn (NMU/OTS)
LOSS Mukjammadkodir Yusupov (UZB) 3-0
67 kg — Peyton Omania (MSU/CYC)
WON Lee Jaewon (KOR) 13-5, TF
WON Ignazio Sanfilippo (ITA) 13-3, TF
WON Saurabh Saurabh (IND) 10-1, TF
WON Mohammad Mokhtari (IRI) 7-3
LOSS Giorgi Shotadze (GEO) 7-0
72 kg — Tyler Eischens (CARTC)
WON Deividas Subotkevic (LTU) 9-0, TF
LOSS Igor Bychkov (UKR) 5-2
82 kg — Zac Braunagel (IRTC)
WON Toyly Orazov (TKM) 9-0, TF
LOSS Satoki Mukai (JPN) 3-3 (criteria)
87 kg — Cameron Caffey (MSU)
WON Kumar Sunil (IND) via fall
LOSS Jacob Logaard (SWE) 8-7
97 kg — Nick Boykin (Sunkist)
LOSS Markus Ragginger (AUT) 9-0, TF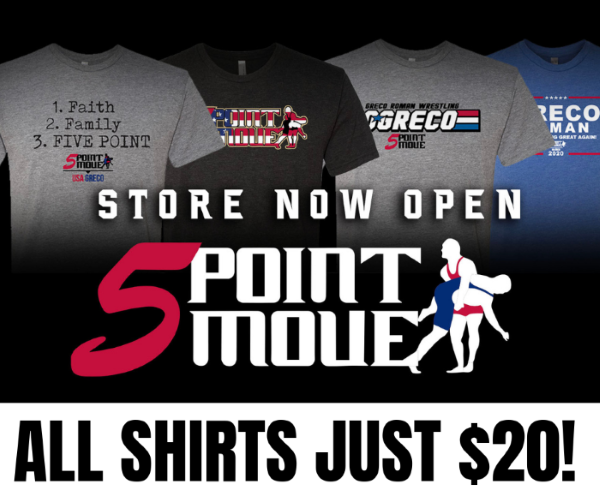 Listen to "5PM26: Princeton's Lenny Merkin and new USOTPC Greco-Roman athlete Nolan Baker" on Spreaker.
SUBSCRIBE TO THE FIVE POINT MOVE PODCAST
iTunes | Stitcher | Spreaker | Google Play Music | RSS
Notice
: Trying to get property 'term_id' of non-object in
/home/fivepointwp/webapps/fivepointwp/wp-content/themes/flex-mag/functions.php
on line
999