Since the summer of 2019, Ben Provisor (NYAC) has maintained that 77 kilograms will be his landing spot for the US Olympic Trials. He insists that is still the plan. If it indeed is, the 30-year-old might prove even more formidable at the lower Olympic weight than previously realized.
Border War Bash began at 6:00pm EST from Fairfield, NJ and streamed live on Takedown Sports.
Facing off against 5PM #1 Alan Vera (87 kg, NYAC) in what was deemed an 89-kilogram match-up, Provisor looked the part — though his initial approach included a little more speed and a higher number of feints and level changes than has been the norm. Vera, who clocks in at approximately 5″ taller than Provisor, set sail with a righty underhook through much of the preamble. "Big Ben" eventually cleared and pawed at the head before returning to the trenches. Vera slung another right-side underhook but lost the position, as his opponent once again broke free in search of a more amenable entry.
Following an informal reset, Provisor re-engaged and Vera dug inside once more, this time patrolling for a step-out. Provisor circled back in to avoid surrendering the point — but a point was coming nonetheless in the form of passivity. From top, Vera struggled to achieve a clasp and :10 later they returned to the feet. There was still more to go in the first period. Vera went back to the well with his underhook only for the tie-up to become thwarted by Provisor, who was now beginning to pick up the tempo. The response from Vera was to weave across and control Provisor's far wrist, even if the tie was fleeting. A solid opening frame for both that was replete with tension, even if the scoreboard didn't ignite with crooked numbers.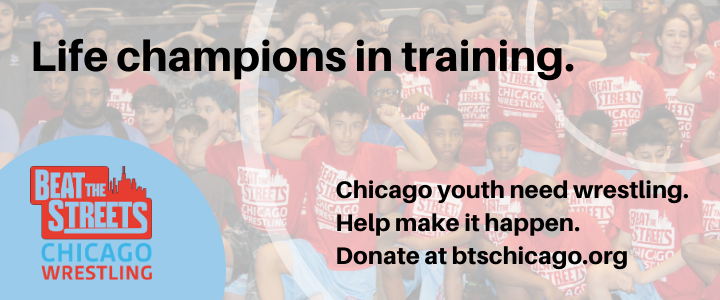 The second period told a slightly different tale. At the first opportunity, Provisor crashed his own right-side underhook — while Vera reached across with his left hand inside to take custody of Provisor's left wrist. They prodded from a distance for a couple of exchanges. The pace wasn't diminishing. Vera shook himself loose off of another overhook, causing an inadvertent off-balance for Provisor. Passivity soon made its second appearance and the script flipped. At the whistle, Provisor worked his lock and found success; but as he stepped to lift, the referee blew the whistle.
Now ahead via criteria 1-1 with a little over a minute remaining, Provisor didn't relent, and Vera continued stalking for openings. The clashing wasn't consistent by this stage but the physicality was much more prevalent on Provisor's side of the fence. He exploded with occasional uppercutting underhooks and snaps to keep the footwork battle in his favor. It mattered. Vera, rightfully lauded as the most polished upper-weight technician in the country, had no choice but to follow Provisor's lead, and it was the native Wisconsinite who walked away the victor of a suspenseful criteria decision.
Back in his Jersey City hotel room after the Border War Bash card, Provisor said this was the "highest-level Greco match in the US" in which he had ever participated and proceeded to dissect the technical trimmings surrounding the showdown.
"In the beginning of the match, because Alan is so tall and I'm so short, I wanted to bring him down to me," explained Provisor. "I don't want to go up to him, because if I do, I'm losing that battle every time. I wanted to make him wrestle my style and come to me. In the first period, you saw that I didn't really focus on any moves but I pressured really hard and made him take big steps by pulling him hard. That is a lot of what I am going to do."
Which is an important note to explore. Vera is not only long and strong, but also patient and exceedingly skilled at leveraging underhooks to compel advantageous positions. When successful, those positions can result in bountiful scoring opportunities. To combat Vera's expertise in that arena, Provisor made sure to maneuver out of tie-ups he didn't create whilst using motion to keep the metronome clicking according to his pace.
"You just can't sit in any ties with Vera," Provisor continued. "Dennis (Hall) taught me a long time ago that you can't sit in a tie for any more than three seconds. If I sit in a tie for more than two seconds it is, Get rid of it. Alan is American now, but he's from Cuba and foreigners just have a better feel for throws and have been practicing longer. They have better technique and more technical people who have been teaching them. I win those matches by constantly changing my ties because it makes them unable to sit, and it makes them tired.
"That is an approach that I have to have against foreigners, but not against Americans. Usually I can get away with pushing an American real hard and not have to worry about a throw, because most Americans can't throw very well. Well, with him (Vera), I was very worried about that. I couldn't let him get his hands locked around me where he is below me in any type of way. I could never let that happen. I've been thrown by him in practice many, many times, so I knew going into the match that I could not sit in a tie."
The tide turned in the second period when Provisor started finding a home for his own underhooks. As he gained ground positionally on an increasing basis, he also started to gain confidence in how efficiently his tactical queues were being employed.
"I think that when I can dig my underhook in there, which I got quite a few times in the second period, I started opening up more and it felt like he wasn't defending the same way as he did in the first," Provisor said. "He was always grabbing my wrist and his control of my wrist was actually something that I realized towards the end of the first period, so I started trying to keep him off of my wrist. Just little things that you notice with high-level guys and positions you can't be in."
This was it. Provisor has now competed in five Greco-Roman events since the fall (four streaming cards and the Matteo Pellicone Memorial in Rome last week). The next time he steps on a mat against an opponent will be in Fort Worth, Texas on April 2. The US Olympic Trials has been the primary item on his mind for over 18 months. With this bout versus Vera now in the books, Provisor is focused only on completing the rest of the mission.
"When you are getting towards the Olympic Trials, everything needs to be dialed in. I am just going to make people wrestle my style. I know that I am in really good shape. I am faster than I have ever been and improving the best I have ever been. I'm just going to keep this going to the Trials. And then, boom."
Border War Bash Notes:
Provisor is thus far undefeated in Greco-Roman streaming card bouts at 4-0 with his wins coming against RaVaughn Perkins (NYAC, 5PM #4), Fritz Schierl (TMWC/Ohio RTC), Tyler Dow (Wisconsin RTC), and Vera.
Vera's exhibition record is now 0-2. In the fall, he was also defeated by three-time World Team member G'Angelo Hancock (97 kg, Sunkist, 5PM #1) in a catchweight bout on FLOWrestling's Burroughs vs. Valencia card.
The lineup on Friday night pitted the New York Regional Training Center against the New Jersey Regional Training Center.
Border Wall Bash
March 12 — Fairfield, NJ
89 kg: Ben Provisor (NYAC, 5PM #3 at 77 kg) def. Alan Vera (87 kg, NYAC, 5PM #1) 1-1 (criteria)




Listen to "5PM46: Taylor LaMont and Jessy Williams" on Spreaker.
Listen to "5PM45: Chatting with Dennis Hall and Max Nowry" on Spreaker.
Listen to "5PM44: Michael Hooker and Toby Erickson join the show" on Spreaker.
SUBSCRIBE TO THE FIVE POINT MOVE PODCAST
iTunes | Stitcher | Spreaker | Google Play Music
Notice
: Trying to get property 'term_id' of non-object in
/home/fivepointwp/webapps/fivepointwp/wp-content/themes/flex-mag/functions.php
on line
999