It went off without a hitch, there was plenty of solid action, and the enthusiastic albeit limited crowd in attendance seemed to enjoy the show. So, how about another one?
The Ringers Greco Showcase took place on Friday night in Menomonee Falls, Wisconsin and streamed on Facebook Live.
Round 2 is already in the planning stages following a slate of matches that constantly delivered when it came to throws, scoring flurries, and flashes of impressive technique. 14 bouts were featured: 11 for Greco-Roman, three for girls' freestyle. All but one contest made it to the final whistle, the card's main event pitting Cael Kahle (51 kg, Ringers) against Alaskan rising star Jeremy Bockert (IGA). Other than that, each dust-up began and ended with a flourish in the opening period.
The aforementioned Kahle was one of three athletes who received two matches and won them both. He rushed out of the gate to put away a very game Janar Matos (City Kids) before enjoying a prolonged break until the end of the card. That is when he and Bockert were called upon to wrap up the proceedings. It was back-and-forth all the way through, with Bockert hanging onto a 4-4 criteria edge as time became a factor. He wanted to score again, did Bockert; but as he dipped for an arm spin, Kahle countered for two and rotated a pair of guts to go up 10-6, which represented the final score.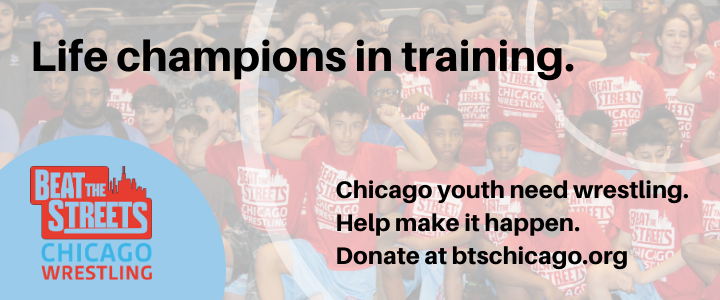 Cole Halverson (63 kg, Combat WC) faced a tough test in Jeremy Ingram (City Kids), but still managed to pile on the scores en-route to an 8-0 tech. He got the nod again four matches later, taking on Hector Razo (City Kids). Same result, different methodology. Razo — like his City Kids teammates, was engaged and ready for a fight. The issue, in this bout and others, was schooling. Halverson was simply too composed and confident as he stalked for windows, as he ultimately closed this one out with a bodylock.
Sean Michel (72 kg, IGA) was a revelation in his own right. Powerful with a seeming staunch observance of proper positioning, he outgunned both Carl Dotson (City Kids) and John James (City Kids), the former via fall. Brandishing slick arm drags complemented by a bruising pummel game, Michel compelled looks to the body on nearly each exchange.
City Kids, headquartered in Milwaukee and comprised mostly of Greco neophytes, did log a couple of victories. Matos got another chance to compete and capitalized with a tech over Julian Slaastad (Ringers). Ingram's second match occurred against Aiden Nutter (Combat WC), younger brother of '19 Junior World bronze Alston Nutter (Sunkist/NTS), and prevailed in eye-opening fashion. A bomb of a headwrap was responsible for the major haul on the last sequence and was aided by a two-point caution on Nutter, which ended the match at 10-1.
The wins and losses mattered to the competitors, though they were not the primary objective. Rather, it was the opportunity for age-groupers to "go Greco" during the month of February. There were disparities in skill among most of the athletes — but even in defeat, every wrestler on the card fought with zeal. If anything, that's what made Ringers Greco Showcase a success. Each and every match offered intensity, regardless of the outcome or how it was achieved. Combine that with a throng of supporters in the house, and it's easy to see why Ringers coach Bill Kahle was pleased with this maiden voyage.
"We just wanted good match-ups," Kahle said on Saturday. "Few want to see ticky-tack adjustments in a lineup and strategical forfeits, which can happen with team duals. The format we used kept fans engaged the whole time, while the mat-side seating elevated the fan experience. The dual and team concept format is fun for the participants and coaches, but fans just want to see great battles."
The question thus becomes, Will we see another? Combat WC founder and two-time Cadet World Team coach Lucas Steldt offers a definitive "yes", especially since competitive venues for Greco and girls' freestyle tend to take a backseat to scholastic wrestling on these shores.
"I can speak for Bill that this was 'Greco Showcase #1', meaning subsequent Showcases will follow," confirmed Steldt. "We're focused on Cadet-on up and dedicated Greco-Roman athletes. We will also showcase women's freestyle to dedicated women's freestyle athletes. There will be a criteria required, at least for my athletes. Choices have to be made."
Ringers Greco Showcase 1
February 5 — Menomonee Falls, WI
Greco-Roman
51 kg: Cael Kahle (Ringers) def. Janar Matos (City Kids) 11-0, TF
63 kg: Cole Halverson (Combat WC) def. Jeremy Ingram (City Kids) 8-0, TF
72 kg: Sean Michel (IGA) def. Carl Dotson (City Kids) via fall
63 kg: Eli Francisco (IGA) def. Sully Ramos (Ringers) 9-0, TF
57 kg: Janar Matos (City Kids) def. Julian Slaastad (Ringers) 8-0, TF
63 kg: Cole Halverson (Combat WC) def. Hector Razo (City Kids) 8-0, TF
71 kg: Jeremy Ingram (City Kids) def. Aiden Nutter (Combat WC) 10-1, TF
72 kg: Sean Michel (IGA) def. John James (City Kids) 11-0, TF
82 kg: Noah Curtis (IGA) def. Pete Macchione (IGA) 12-4, TF
63 kg: Sully Ramos (Ringers) def. Ethan Xiong (City Kids) 8-0, TF
51 kg: Cael Kahle (Ringers) def. Jeremy Bockert (IGA) 10-6
Girls' Freestyle
53 kg: Kylie Rule (Combat WC) def. Kierstyn Bockert (IGA) 13-2, TF
53 kg: Avery Steldt (Combat WC) def. Alysa Stigall (IGA) 10-0, TF
53 kg: Carly Keshker (Ringers) def. Autumn Poland (IGA) 11-0, TF


Listen to "5PM43: Christmas Time with Millersville's Kerry Regner" on Spreaker.
SUBSCRIBE TO THE FIVE POINT MOVE PODCAST
iTunes | Stitcher | Spreaker | Google Play Music
Notice
: Trying to get property 'term_id' of non-object in
/home/fivepointwp/webapps/fivepointwp/wp-content/themes/flex-mag/functions.php
on line
999