Last winter, four-time World/'16 Olympic Team member Robby Smith (130 kg, NYAC/Chicago RTC) was just trying to get some meaningful mat time overseas when his right shoulder nearly tore itself in half. There's never a good time for an injury, but for Smith, it was especially inconvenient. He was hard at work trying come back from his series loss to then-eventual World silver Adam Coon (NYAC/Cliff Keen, world #13) at the 2018 World Team Trials.
No one had really threatened Smith on US shores before Coon's best-of-three victory in Tulsa, at least not since the beginning of the '16 quad. Smith hadn't even surrendered an offensive point throughout his reign at the top until Coon walked away with the ticket to Budapest. It was a lot to absorb. Smith wasn't used to defeat, nor particularly ready to reconcile what it might mean during this, the twilight of his career. Which is why he entered the calendar year 2019 intent on trying his best to earn a do-over and reassert his standing as one of America's cornerstone Greco-Roman athletes.
The injury to his shoulder, severe enough to where surgery was immediately recommended last spring, is not something Smith is willing to acknowledge as the catalyst for what came next, which were a pair of defeats to youthful star Cohlton Schultz (Sunkist) and one more to Jacob Mitchell (Army/WCAP) at the '19 Trials Challenge Tournament. Nearly a year removed from the inability to weave in a proper underhook or even post on the mat without intense discomfort, Smith still cannot force the words out of his mouth. And maybe he shouldn't. After all, bum shoulder or not, he expected to win every match last May just ahead of dislodging Coon from the #1 spot at Final X.


Smith underwent surgery in the latter part of the summer and is now preparing to make the walk this week at the Granma Cup in Havana, Cuba. You'd say there'll be a lot of eyes on him, but that's not true — the tournament is not available to stream live. Nevertheless, his result in Cuba will be scrutinized sans video evidence just the same; and will likewise provide a decent amount of conversation fodder for Greco hardcores leading up to the Trials. The one thing most concede is that Smith is no longer seen as a favorite. He is not being picked to make his second Olympic Team, and depending on who you talk to, is either the third or even fourth best heavyweight in the country.
Of course, he doesn't see it this way. Smith shrugs and laughs when considering outside perspectives. He's healthy, so he's confident. And while not isolated from peripheral wrestling chatter, it doesn't do much to move his mercury. Smith will have a chance to prove his point. He has had to do it before, though under different circumstances. It's all different now, actually, when it comes to Smith and the picture of heavyweight Greco in America. That's why if he is to prove anything — be it this week in Havana or in State College, PA seven weeks from now — it's that he is still the same.
5PM Interview with Robby Smith
5PM: How has your shoulder been since being cleared to return to full wrestling activity last month?
Robby Smith: It has been holding up great, the shoulder, with everything I got done with it. You know, it was a little a little scary, to be honest. To be like, Alright, let's go, but I had all the trust in the world in the team in Colorado Springs and my team up here in Chicago. I knew I was going to be just fine getting on that mat. I didn't dive in full force. I dipped my my toe in to test the water at first. Then I did a cannonball, so (laughs).
But no, it feels great. I wrestled at a camp down in Colorado Springs. I got some good work in there and it held up really well, and then the last couple weeks I've been focused on my training cycle and it's doing wonderful. I'm really happy with my progress. I do get sore and and I'm using muscles that I haven't used in six months, but I'm really happy with the progress I've made and it's moving in the right direction.
5PM: You refused to talk publicly about an injury everyone basically knew about behind the scenes. I get why, you didn't want it to be seen as an excuse. At the same time, you kind of made it a big deal not to mention it. Is that because of when it took place related to last season, as well as the phase of your career?
RS: Yeah, kind of.  Whenever I go out on the mat, I give 100% of myself, and that means whoever wrestles me is getting 100% of Robby. And again, like you said, I don't want to use that excuse. I always go out there knowing I can win. And if I knew I couldn't win, then I would not go out there, you know?
But there is another reason why I also had to put myself in that position in thinking I was a good enough to wrestle, and that is we don't keep the (health) benefits if we don't win. My health insurance for my wife and I was a big factor in my mind to go out there and compete. I was injured, but if I didn't go out there and compete, I was going to lose my health insurance. So I put myself out there for that, and you know, okay, maybe I didn't go out there at 100%. But again, when I say I am going out there, my mindset is at 100%. There are other reasons behind that and that's kind of why I didn't want to talk about it, because I didn't want to think about it.
Look, it was still attached to my body. It was still going to be there, and I was just going to give 100% of me, of everything I had, to go out there and win. It's sad that we have to be put in these predicaments, and that's why I'm kind of talking about it because I want to bring that out. I want people to know that I think the system does have to change a little bit, but I didn't want to talk about it before because of what what was going on.
With a torn rotator cuff, torn biceps tendon, labrum, and a messed up AC joint, I should not have been on the mat. But in my mind, since there was no pain, it was, Warm it up, go out and wrestle. When I step on the mat and do my whole routine, then I'm out there and whatever happens, happens. I do always predict that my hand will be raised after every match, and it wasn't last year. But that's why I didn't really want to talk about it. I didn't want to. I didn't want to give myself an excuse. I don't want people thinking that if I lose, then I have excuses. I don't want that because I'm not that type of wrestler.
Now I'm healthy. I'm fixed, I have two good shoulders. I'm ready to wrestle and I think this was a blessing in disguise because it wasn't just six months to heal my shoulder up, it was six months to heal my whole body. I'm an older athlete now. I just turned 33, and you know, I have to take care of my body the right way and I can't be doing seven wrestling practices a week and three lifts a week, and all the stuff that we did before. I'm recognizing that. I feel great now and I'm ready for this push. I'm ready for this push towards greatness again and and beyond that.
5PM: Does it bother you knowing that your name isn't the first one brought up when it comes to the Olympic Team this time around?
RS: No, no. I mean, I've been in this position before. I know who I am. I know what I can do. I know the people in my community and the people who support me, what I call my "village". They know what I can do. I was on top for five years straight, and in five years not a point was scored on me in this country.
Everyone was gunning for me. Everyone had my name in their mouths. I know how it felt having the target on my back, but it didn't just happen overnight. I was the guy back when I was at 96 kilos trying to beat that top guy. I didn't have the target, I was trying to beat that target, and it's kind of nice to have that again. Not to give me any extra motivation, but it is, because you have got to be hungry. It's like, Let's see what you got, kid. You ain't the top dog no more in people's minds, and you have to prove people wrong. I like proving people wrong.
People are saying I can't do it. I like showing people that I can, and I'm going to go out there and give 100% of me. My mindset is 100% ready. You know, every week after surgery, or every couple of weeks, they give you a piece of paper to see how your progress is going as a way to check your mentality. Mine was always a ten. I couldn't even move it. My mentality each week was a ten. It always was, always has been, and always will be a ten because that's just who I am down inside.
I like being overlooked. I like people not thinking I can do it. I like people not liking me and thinking I'm too old, or I'm too slow, too fat, or whatever. That's how it has been my whole life. I've always been that short, chubby kid. No one sees the extra shit I do. No one sees anything. I'm happy. I'm happy. I don't post on Instagram to show people how I'm lifting weights or wrestling today, or any of that shit. I do it in peace and quiet, and then I call my wife. I'm excited for this year and whatever happens. I'm going to lay it all on the line come April and see what goes down.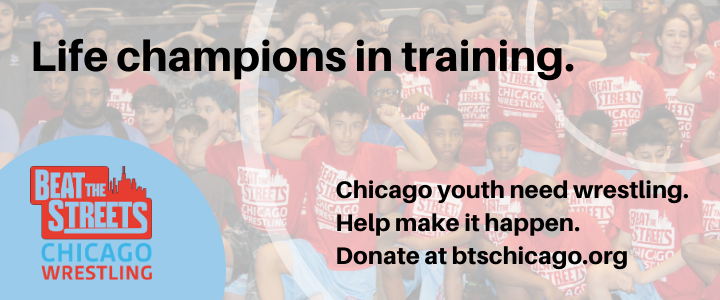 5PM: You've been lauded by others, including Adam (Coon), for being so inclusive and sharing regarding training opportunities. Do you think it would have been this way when you were younger?
RS: No. No. I don't know. I mean, not at my weight class. Not at my weight class. Do you mean when I was just younger at 96 kilos, or are we talking younger but at heavyweight? Even then, no, at least not when I first started. I didn't have partners because no one wanted to wrestle me. Everyone had kind of just left. It was really just me for the most part. I did have Toby Erickson, he was around. I had Toby, but not the older generation. You know what I'm saying? I've had guys come back to me, like Adam Wheeler. He was like, Hey, let me help you out. And Corey Farkas. But that was kind of it. We were all fighting each other, the younger guys and the older generation.
When I was going at 96 kilos, Garrett Lowney was the guy who retired. Now, I've never met Garrett, I hear he's a great guy, but he was already done so he wasn't giving back. Justin Ruiz was then the guy going for it and I still had him, but after 2012, those guys just disappeared. Brad Vering after '08? Gone. I mean, he was still in my life as my friend, don't get me wrong. They were still friends and acquaintances. But when it came to like, giving back, there wasn't much of it it. That is what's so difficult for us in our system. We don't give guys enough chances to give back because we don't have enough positions for guys to give back. When it's time for you to raise a family,  are you going to take a job that could possibly pay you $100,00 per year, or more? Or take a job that is volunteer pretty much and try to make as much as possible doing that while having another job on the side, all just so you can barely get paid?
So, I don't really blame them for not coming in or not giving back. But I'm still in it and I know what this means. I know what these opportunities mean. And when I got the opportunity, I was very blessed to be five years in a row on top and I did it largely by myself. Don't get me wrong, I did have some partners, but I didn't do it with the partners in my weight class. Guys would show up for camp and stuff like that, but it wasn't a camaraderie.
When I lost (to Coon), I was like, I'm going to help this guy do as much as possible. Because, it reflects on me, this is my weight class. This is my weight class, I'm still here, and this is what I am going to do because it's the person I am. If you need help, I'll help you out. I will help you out. I'm going back down to Colorado to help out Adam on the 16th so he can get ready for the Pan Ams because Adam and I are on the same team. We are the same, we're pretty much the same person because we need to get that weight class qualified, and I am going to help him as much as possible to do it. But once April rolls around, you better be damn sure I want to choke his ass out. I want to hit arm throws, I want to hit my bodylocks, I want to score points on everyone. But right now, we have to get this weight qualified. Everyone in Greco, everyone, should be thinking the same way. And if you're not thinking the same way, you are selfish. You don't deserve it.
I came to those terms after I lost. I'm not a petty loser. I'm a gracious winner, and I am gracious in defeat, and really want to help people out because that's just who I am and how I was raised. I was raised by two amazing people. My parents taught me values in life, but I've also had coaches who touched me and blessed me and and helped guide me through this journey I'm on. So for me to be selfish and petty and be like, Now I'm not going to help you out? No, I'm going to help.
Adam had a great run in '18 and got that silver medal. I tried to help as much as possible last year but I had to have shoulder surgery. Cohlton, I've been with Cohlton since he was a high school freshman. Helping those kids out and doing what I had to do, that's just me. If you ask me a question, I'll help you. We are competitors, so I'm not going to show you all my tricks; you always keep something in the back pocket. But anything else, I'll help you out since that is who I was raised to be.
5PM: Why did you pick Cuba? Was it the timing? 
Robby Smith:  Timing, pretty much. I got cleared on January 1st to start wrestling live. It was kind of a shitty time of year because everyone was on vacation or coming back from stuff, so nothing was really going on until January 5th, which is when camp started. My first week back wrestling live was with Adam at camp in Colorado Springs. I just threw myself into it. I said "dip my toe", but we really didn't go crazy hard. Adam was super awesome. We didn't push too hard. He was always asking me, Hey, am I doing too much?, but by the time the end of camp rolled around we were battling. That was great, but there is nothing else going on from now until the Trials, so this trip was pretty much the last chance to feel a match pace given the timing.
I'm excited. I love Cuba, love Cuba. I was hoping they were going to have a camp down here, but they're not. I do get to wrestle. I get to spend five days in Havana and just really enjoy it. It's going to be a great time to get out of Chicago because I believe it's 22 degrees there, and 85 down in Cuba. My wife's not so happy because she's stuck in 22 degrees, while for me it'll be 85 and I'll be in shorts and flip-flops for five days.
But then I get to have a great camp for two weeks from the 16th to 29th in Colorado wrestling with Adam and Yasmani (Acosta Fernandez), and I think we have maybe one or two more international guys. I get another great international camp even though I didn't get to have one down here in Cuba.  I get to have it down in Colorado, plus I get altitude training, which is always great for my lungs. I get to use utilize the facilities down there and and just make myself even more healthier and I'm just excited about it.
5PM: Are you nervous about seeing what your body might feel like in a live match for the first time since all this? Do you like, I don't know, take notes the day after or something to see how you feel so there's a way to account for it?
RS: Oh, yeah, yeah, yeah. I'll take account. We get two kilos, too, and if I'm reading this right, we get another two kilos on the second day. I get to be 132 and then we'll find out once I get down there if I have to make 134, but if it's 132 again, that's fine. I haven't wrestled a match in eight months, so that's something that I'm looking forward to, seeing how my body bounces back from that.
And then also me going out there and wrestling. I'm just focusing on the basics, that's what this tournament is for me. Positioning — head position, leg position, elbows in, stuff like that. And then just seeing how my body reacts to somebody who wants to tear my head off. I just had my shoulder repaired but I'm going to go out there, wrestle smart, wrestle with my head screwed on right, and see how it rolls. There's no time for nerves, only action.
5PM: Do you have to watch your volume between February camp and State College? 
RS: For February camp, I'm going to ramp it up. I really want to utilize the altitude training and expand my lungs. As for the volume of wrestling, I probably will adjust by seeing how the camp is. I haven't seen the camp plan yet but I'll definitely be smart about it since I just had shoulder surgery. I'm also 33, so you know, if they're going try to crush my soul I'll back off a little bit. It's not about training harder anymore, it's about training smarter.
But I've been feeling good. I've been in the room at Northwestern with the young guys and it's brutal in there. Some days we have three-hour practices, but I get through it and come out better and stronger on the other side.
I'm just going to keep pushing. I've been lifting, doing my conditioning, and all that stuff. It's not like I've been peaking for this (Cuba). The goal right now is April and the tournament we have in Pennsylvania. After that, hopefully it's the tournament in Tokyo. Those are the end goals. This tournament in Cuba is by no means that kind of goal. This is just to get the feel of pace from someone trying to rip my head off so I don't go to Pennsylvania just thinking, I'm okay. I'm just excited to go back out there and feel that pace again.
5PM: I wrote the intro for this interview already, about how you'll have the chance to prove a point in April and you alluded to some of this earlier. But do you see it that way? Or do you see it as though you have nothing left to prove at this point?
Robby Smith: Hmmm. Before, I talked about the doubters and how I like being doubted and proving people wrong, right? Well, I think there's a difference between proving a point, and proving people wrong. Because, when you're proving people wrong, you are specifying it as "people".
Look, I've had a great career. I might not have my medal yet, but I've had an amazing amazing career. I went four years with not a single offensive point scored on me in the United States. I wrestled entire National tournaments in four matches that totaled six minutes, when other guys who won would wrestle their matches in 24 minutes. I didn't go more than two matches for the longest time in a World Team Trials. You know, just stuff like that. My career in the United States has been great, but then I look at my career at the World level and I've taken fifth twice. I've given every ounce of me at every World Championships to go out and represent my country in my weight class as best as possible, and that's nothing to hang my head over.
So, I have nothing to prove outside to anyone, which I know sounds weird because I also just said I like proving doubters wrong. It might sound like I'm contradicting myself. But that's only because I do love when people doubt me. It's like saying Fuck you to them, but at the same time, I'm happy with whatever happens. Whatever happens, I'm okay. I'm okay. I'm good. So if I win, I'm good. If I lose, I'm good. My career has been amazing. I've been to 43 different countries. I've had a chance to go to places no one can even fathom going to. I'm on my way to Cuba right now for the fourth time in my career. I've been to Iran, I've been to Moscow, just so many places throughout my life that I have no problem with whatever happens. It's not in my hands, it's in God's hands. I just go out and perform to the best of my ability and leave every ounce of myself out there on the mat. That is all I can do.
Do I still strive to prove a point, or prove people wrong? Yes. But ultimately, that's where I'm at with it. I just love it. I appreciate the people who support me, I appreciate the Wildcat Wrestling Club for giving me this opportunity the past two years because seeing this different world and being a part of it has opened my eyes. I wish I could have produced a better result for them in that time thus far, but they understood what was going on, and that I went out there and gave everything I could. I also got to coach at the World level for Joe Rau, and he put his faith in me. And then there is the group at the OTC (Olympic and Paralympic Training Center), the group who built me up from when I was young and just figuring all this out. That allowed me to work with guys who came in when they were young and I've been able to watch them accomplish things with me.
But it all comes down to my parents, my family, and my wife Kelly who has been absolutely amazing this last quad and the quad before that. She has been my "ride or die", with me every step of the way the past eight years. These are people who I like to say Thank you to, and I love you. These are really the only people who care about you. And I don't really care what anyone else thinks because I've had a great career. I like proving people wrong, but I like making people proud even more. I hope I have done that. I think I have done that. I established myself in this weight class in the United States and people remember my name.


Listen to "5PM33: The Marine Corps' Jamel Johnson" on Spreaker.
SUBSCRIBE TO THE FIVE POINT MOVE PODCAST
iTunes | Stitcher | Spreaker | Google Play Music | RSS
Notice
: Trying to get property 'term_id' of non-object in
/home/fivepointwp/webapps/fivepointwp/wp-content/themes/flex-mag/functions.php
on line
999