These are strange times. Days still go by as quickly as before. The Earth has continued spinning on its axis. That part hasn't changed. Difficult to believe, but Christmas, at least in the United States, is almost here. Isn't that something? Seems like the last one was only a week ago.
But this year, city sidewalks are no longer busy sidewalks and not as many are dressed in holiday style; though the hope is that somewhere, and despite the confusion, children are in fact laughing — even if for most adults, smiles aren't yet as plentiful as they used to be.
Conversations within the wrestling world have taken on a similarly tenuous tone. We've all felt this. Stress tightens the vocal cords, leading to utterances of pained sentences should a topic pertain to the future. It's well-intentioned role play. Or an innocent brand of dishonesty, if such a thing even exists.
When someone lies, their heart rate increases, which, in turn, results in shallow breaths. The same thing tends to happen when hypothesizing sans credible evidence or baseline confidence. No one knows anything right now, not with any reasonable certainty or clarity. Thus when they speak, an exertion usually becomes detectable. If you pay close attention, it is easy to tell. Responses are either very long or very short. Casuality is barren, regardless if the context is in and of itself informal.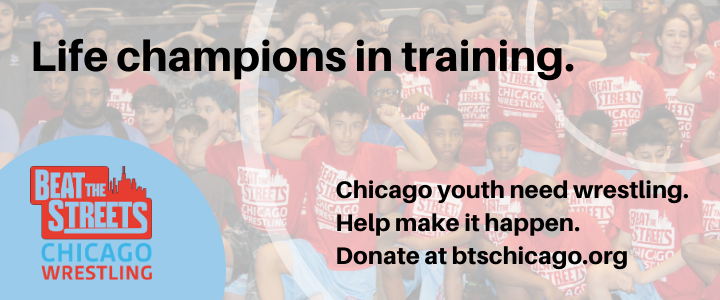 And if you hear a sigh prior to receiving a response, that's good. The other party is reflexively relieving stress before they answer, ballooning the chance that you will be graced with a dose of candor in return.
No, to be sure, there haven't been many easygoing, forthright conversations in 2020, but when Tanner Farmer's (130 kg, IRTC, 5PM #10) name has come up, all involved seem to be telling the truth.
Refreshing, it has been.
It began months ago, just prior to the "Summer Series" Greco National camp that touched down in Utah. Word was some former Division I lineman from Nebraska wanted to start learning the proper style and perhaps get to work on fabricating a new trajectory. That Farmer, 24, had been an NAIA National finalist for Concordia University last winter wasn't even a footnote. Once that bit of news was realized, particularly by this writer, the hype then made more sense. What might a super-athletic big man be capable of if pulled in the right direction? When might we find this out?
The reviews following that initial training collective were unanimously positive. The consensus was that he simply needed matches, or "match time". A prevailing belief was, is, that Farmer — who did win a pair of state titles in high school — has more than the requisite amount of total wrestling ability in reserve to stay head above water until his Greco-Roman skill-set is vast enough to make a definitive impact on the Senior level. What most weren't banking on was that said impact would arrive less than three months into his emerging full-time career.
At the US Nationals in October, Farmer finished fourth with a record of 3-2. Two of his victories were recorded at the expense of Olympic Trials-qualified Donny Longendyke (Minnesota Storm, 5PM #8) and '17 Dave Schultz Memorial gold Malcolm Allen (LOG), respectively. His two losses? One was a 4-3 decision to Cohlton Schultz (Sunkist, 5PM #2); and the other was a 3-1 drop-off to Longendyke in the third-place bout.
The Coralville Nationals did not include the likes of '18 World silver Adam Coon (NYAC/Cliff Keen, world #6, 5PM #1) — or the Army/WCAP tandem of Jacob Mitchell (5PM #4) and Toby Erickson (5PM #5), both of whom have Open titles on their resumes. That is enough ammo for critics to suggest slowing down on the post-Coralville Farmer train, one might assume. But after seeing what you have seen, and knowing what you now know, the question is: would it have made a difference?
Farmer's result from his first Senior Open wasn't encouraging because of where he placed. It was emboldening due to how he performed. He admits to having felt uncomfortable during that tournament; yet, he still pushed, smashed, battered, and bruised his way into the argument against athletes beholden to much more experience and significantly-higher profiles. What do you think is going to happen when he enters a tournament with triple the amount of work hours logged?
There needn't be any rise in heartrate when ruminating on Farmer's projected pathway. He himself is calm like a bomb if asked about where he sees all of this going. That's enough for now. Because, it is easy to believe him. Even easier to believe those around him. The conversations surrounding his potential are entirely stress-free. They are like that for a reason.
Tanner Farmer — 130 kg, IRTC
5PM: Your footwork and nose for position seem very natural, and presumably some of that is from football. With the upper-weights a lot of times, we use the term "plodding", where guys are basically leaning on each other in the hand-fight, or barely moving their legs and hips when trying to pummel and adjust position. What was encouraging about October was that you seemed to be mindful of where your knees were above your feet, and you tried to keep your legs moving. You had very solid positional integrity, nevermind the fact it was your first Senior tournament. 
Tanner Farmer: Well, thank you. I think that does kind of stem from football. I had to make sure that I had certain knee, ankle, and hip angles. I had to make sure that I maximized my drive, that I was able to get to certain points on defensive linemen and stuff like that. I had tight reaches, wide reaches… I had jab and pop, top of the pad lift… These are all techniques where my feet were doing very specific things. And, they had to move very specifically. If one was three inches, the other had to move three inches. They had to be very precise, they had to be exactly the same, and I had to be able to adjust on the fly depending on where the defensive lineman was lined up against me given his body type.
Being able to get used to that and having that type of foot control I think is what you are seeing. I think that is where it translates over.
5PM: You made it to the National final for Concordia last winter. When did you decide that you were going to commit to try to become an Olympic champ in Greco-Roman wrestling?
TF: The idea was first put in my head at the Missouri Valley tournament. Coach Gary Mayabb's wife (Dorothy) was the announcer, and Coach Levi Calhoun, my college coach, goes, "You know who that is, right?" And I'm like, No, I have no clue because I don't know anyone in wrestling. Because, I was a football player — which is something I always got made fun of for. I would ask, Well, who is that over there? And someone might say, That's a three-time World Champion. How do you not know who that is?
So Coach Calhoun says, "That's Gary Mayabb's wife. He is a Greco coach, I know him well. I think you'd be good at it, you should maybe give it a try." That was when I first started thinking about it. And then after that season, I had thought about it. I want to try this. I was in a relationship at the time, and that relationship started to sour. So it was like, I need a fresh start. I thought, I really want to do this Greco thing, because I had always wanted to be an OIympic Champion. When I was in high school — I was a pretty decent football player and a pretty decent wrestler —  my dream was, I want to play in the NFL AND I want to go to the Olympics. I wanted to do it all. Well, the NFL didn't work out, but maybe there is a chance I can do the Olympics.
It seems impossible if someone says "I'm going to try to go the Olympics" with less than a year of training in that specific sport. People might say, That's unrealistic. Why would you make a goal like that? Well, I have high expectations of my myself. I expect the best from myself. I try to set goals that people perceive as very unrealistic, but what is the point of a goal if it is really easy to attain? I want it to be a goal where I have to really push my limits beyond what I think I'm capable of doing to achieve it. And this is it right here.
I remember Coach (Matt) Lindland called me up when I was first starting. I think it was July. He goes, "What do you want to do, Tanner?" I said, "I want to win a gold medal." When? "This next year." He said, "I like to hear that. That's what I wanted to hear. I don't want to hear a guy say, I just want to make a Team." He then goes, "I want someone who wants to win gold, and wants to win it now." Right when I heard that on the phone call, I was first starting, and it was like, I'm in. Let's fricking get this. I was trying to find some spots near St. Louis to train, and then I was lucky enough to find the Illinois Regional Training Center and get with Bryan Medlin.
5PM: The camp in Utah was your first training camp, and it was one that had a few other really good heavyweight/upper-weight types. How quickly did it take you to gain a sense of confidence and comfort given your skill-set along with the fact that you are obviously new to this whole scene?
TF: I will tell you that I didn't start to feel comfortable until this last camp that I had in Omaha. The Utah camp, I had been training Greco for maybe a week or two. I had done it in high school, but I didn't really know what I was doing back then. When I got there (to Utah), it's like I was in over my head. They are showing me these techniques that are different from what I know in folkstyle. Oh, you have to lead with your hips. Everything was up, so I didn't feel comfortable with that.
So it wasn't natural for quite a while. Even going into that National tournament, the US Open, I wasn't very confident in myself. I knew that I was a big, strong guy, and I knew that I had the potential to win it. But as far as how good I felt in Greco, it wasn't really there yet. Now, after this last camp, I got to wrestle Donny again, I got to wrestle West (Cathcart), and I got to wrestle Adam Coon. He was there. And after getting a ten-day camp with two-a-days and such — and it was a terrifically-run camp by (Zac) Dominguez, that guy is fricking awesome, I love Dominguez — I feel very confident in myself.
5PM: You say you weren't comfortable even at the Nationals, but you competed against experienced guys really well. In the aftermath of that tournament, you didn't feel any satisfaction with how you performed?
Tanner Fanner: No satisfaction at all. I'm not satisfied unless I win it all. That's my attitude. I don't mean that in a negative way towards another person. I look at it as though I am competing against myself. I want to be the best that I can be. I don't really need to worry about being better than the person to my left or to my right. If I can focus on being the best that I can be, I'll do just fine. And my expectations are that I am going to win at everything. I don't want to sound big-headed or full of myself, I just think it's a very positive way to look at yourself. Because, when you start comparing yourself to others, you can easily become very cocky and go, Well, I'm better than them, so I don't really need to work that hard. Or, you might break yourself down and go, Oh, he's really good. I don't think I can compete with him, maybe I should just give up. I feel like when you compare yourself to others, those thoughts wind up creeping into your mind.
But when you compare yourself to yourself, your biggest competition is beating yourself. Then the only thing to find is drive. You can always get better. You know you can always get better. You're never going to be too strong for yourself, you're never going to be too fast for yourself. I guess you can become too weak for yourself depending on where you're at, but there is always the drive to get better.
So, no, I was not happy at all. I cut away all of the distractions and said, Okay, now I am just going to focus on this, because I knew. I felt like I was on the cusp. I was like, I'm right there with these guys and I don't yet feel comfortable with this. Imagine if I buckle down right now where I will be when it is actually important that I shine?
5PM: I'm not sure how much you knew about the way Greco is structured in this country and how athletes are spread out a little bit in different facilities in different regions. But then you start Greco, and wind up, somehow, at the Illinois RTC, which when you look now has become the best training center for heavyweights. You realize this, right, how there is no better place for you to be?
TF: I would definitely agree. I had a history with Medlin. He coached me when I was in high school very briefly, but I had a good history with him. I think it was just a situation that worked out for the best for all of us. Like you said, there is not a heavyweight room like this in the country. We have people who want to come and wrestle in our room who are heavyweights because they can't find anything like this.
I am very blessed to have this opportunity. These are great guys who I am wrestling with, (Luke) Luffman and West. Both are great wrestlers and great guys. I'm excited for their futures as well as mine. I feel like we're going to be making something very special. I feel like we're making the University of Illinois the place to be for heavyweights here pretty soon.
5PM: Given where you are developmentally as well as travel restrictions and everything else, do you have a strong desire to get in another competition before the Last Chance Olympic Trials Qualifier? Or are you okay with potentially having to just focus solely on this last training block prior to when that tournament takes place?
Tanner Farmer: I am two hours and 15 minutes, 150 miles, from Champaign to where I live. So I spend about five hours a day traveling. I'm about to move up there next week, actually, and it would be really nice for me to be able to focus eight hours a day on getting up, lifting, practice, yoga, film — just everything wrestling. To just be able to settle down and really immerse myself into this completely. I really like that idea. I kind of thrive in those areas. But right now, I have been bouncing back-and-forth from up there so I feel like that would probably be good for me. However, competition is always great, too. I mean, I need more matches under my belt. If I'm going to be a gold medalist, I need as much experience as I can get before this next Olympics.


Listen to "5PM42: A Dennis Hall Thanksgiving" on Spreaker.
SUBSCRIBE TO THE FIVE POINT MOVE PODCAST
iTunes | Stitcher | Spreaker | Google Play Music
Notice
: Trying to get property 'term_id' of non-object in
/home/fivepointwp/webapps/fivepointwp/wp-content/themes/flex-mag/functions.php
on line
999