The athletes who usually wind up on US World Teams are, for the most part, not surprises. Just how it is. Once a certain degree of experience and consistency have been attained, wrestlers deemed to reside on the top tier have a habit of seeing it through at the most important event each year.
Even should a situation arise that sees a fresh face surge all the way to the final, there is still the little matter of locking down two more wins. Whether you love or hate the best-of-three format, the one thing it does is impart a roadblock that renders flukes nearly impossible. That's the idea, that's the whole point of it being called a "Trial". The US program wants to know that its Team selection process is the result of survival as much as athletic excellence.


And here's what is really interesting for 2019: the ten Greco wrestlers who manage to emerge from this weekend's World Team Trials Challenge Tournament have to pull double duty in order to achieve their objective. Finalists on Saturday afternoon have to overcome a best-of-three and then do it again at their respective Final X dates early next month. It's quite the long road to Nur Sultan, Kazakhstan if you're an athlete who was unable to stamp down a Final X bye last month at the Open.
But advancing to Saturday's final round is the first order of business, for to do so not only provides the chance to accomplish the mission, it also guarantees a coveted spot on the US National Team. Among the most cynical and disappointed of the lot, National Team placement is still a high honor and even more so for athletes on the come-up.
So who can do it? Who are the Greco-Roman warriors most are looking past but might be in position to make something big happen out in Raleigh? We think we've got an idea.
Ten Sleepers to Watch at the 2019 Trials Challenge Tournament
55 kg — Jemone Carter (Marines)
Carter really sprang to life at the Schultz, going 2-2 in what was a messy round-robin weight class. The performance got him third — but more importantly, he showed off a pretty good lift and an eagerness to find ways to fight to his positions. The National tournament was kind of a letdown. Carter was first ousted by Dalton Duffield (NYAC/OTS), which was not a shocker by any means, but he then fell in close fashion to another name to keep an eye on, Ibrahim Bunduka (INWWTC), before getting rolled out by Britain Longmire (NV). Vegas couldn't have went down smoothly for Carter, and that's all the more reason he should find himself extra motivated in Raleigh. A talent that can't be ignored.
63 kg — Travis Rice (IRTC, world no. 15)
Every article on this platform nowadays seems to include the word "consistency", but how else do you compartmentalize what Rice has done over the past year? He has been in high-leverage matches at every domestic tournament dating back to April of 2018, and in that time, won the U23 Trials and came in second at the Schultz. A tight loss to eventual champ Ryan Mango (Army/WCAP, world no. 17) in the Open semis gave way to a third-place showing, which would come off as a disappointment if it wasn't his best finish at the event. The point is, he's climbing, and consistently demonstrating that he is closer to the top than maybe most realize.
67 kg — Jamel Johnson (Marines)
The best and worst thing about Greco is that it only takes one or two moves, one or two seconds, or one or two positions to win and lose matches. That is what's going on with this dude. A University World bronze back in 2012, Johnson is on the same level (or at least really, really close) as Final X entrant Ellis Coleman (Army/WCAP, world no. 14) and Open runner-up Hayden Tuma (Army/WCAP). The problem for him has come in the form of giving up big scores off of weird exchanges or getting gutted from par terre. He's had some time here to digest and adjust. Johnson just needs two solid wins to put everything right and the momentum could be his.
67 kg — Austin Morrow (NYAC/OTS)
The same is true for Morrow. If he is behind the top two or three guys here, it's not by very much. So, what's it going to take? We don't know exactly where the seeds are going to fall, but anything other than the #3 spot in the bracket would be ridiculous. The reason why Morrow could hit his breakthrough this week is partly because the matches he has been winning leave no doubt. Teammate Jordan Auen hung in there to the final bell in Vegas, but he was the only one of Morrow's victories to have done so. If you go back to the Schultz, after Morrow lost to Mostafa Mohamed (EGY), he went on a tear that ended with a tech over Jesse Thielke (NYAC/LOG). He's going to have to solve the Johnson riddle this week to make good on all of this, and that'll be a huge match — obviously — for both guys.
72 kg — Michael Hooker (Army/WCAP)
When Hooker went down to 72 kilos for the Armed Forces (though it came with a 2 kg allowance), it was easy to right away peg him as a big contender in this tournament. And two losses to Ray Bunker (Marines), who put the country on its head by defeating RaVaughn Perkins (NYAC, and the presumed top seed this week) last month, doesn't change that. He likely won't have the easiest go of it regardless of how the seeding shakes out; arguments can also be made for Colin Schubert (NYAC/OTS) and Nick Tarpley (NYAC), among others. But if going by skill, ability, and at this juncture, relevant experience, there is no reason why Hooker shouldn't make his way into the conversation sometime Friday afternoon.
72 kg — Lenny Merkin (NJRTC)
The "Greco-ish" stuff that Merkin does well, he does really well. An all-style athlete, Merkin is not someone who runs into too much trouble when trying to get to the body. It is part-learned, part-intuition. Opponents who'd prefer to lock onto control ties and then sway around the circle are almost sitting ducks if Merkin misdirects and level-changes. His compact build is an asset in that regard, which we've seen now for a couple of years. Par terre is a little bit of a work in progress, though he's hardly alone on that front. The stakes are raised here, this is not the Open. Since his greatest gift is scoring, all you're hoping for is that the size of the stage doesn't result in hesitation. If Merkin is primed, you'll know it early.
77 kg — Corey Hope (NYAC)
Here's what you have to know about Hope, and really, the most important thing for now: the US Open was his first tournament in over 16 months — and his first domestic tournament in over three years. He won his first two matches in Vegas via tech, lost on a wonky passivity versus Patrick Smith (Minnesota Storm) in the semis, ran past Brandon Mueller (Air Force), edged Peyton Walsh (Marines), and was narrowly defeated by Mason Manville (NLWC) for third place. All fresh, competitively sharper athletes, and Hope showed up. So you project a little bit: what is this guy going to be like now that he is fully back in the saddle? The sample size from late-April suggests pretty damn dangerous.
82 kg — Carter Nielsen (Minnesota Storm/OTS)
Nielsen shouldn't be considered because he made the U23 Team last year, or that he took second at the Schultz, or is just generally an exciting addition to the sport as a full-timer. It has a lot more to do with the fact that he did not have a great showing in Vegas. It was all so strange. Nielsen got decked twice coming loose off of front headlocks. Before that second defeat via fall, he outscored Junior World silver Andrew Berreyesa (NYAC/FLWC) in a rematch of the '18 U23 Trials. His last match of the tournament brought with it a win over former World Teamer Jake Fisher (Curby 3-Style), so there were some positives. Where Nielsen winds up in the seeding will be interesting since this bracket is a minefield. It really shouldn't matter, just because it's hard to picture him slipping on a banana peel at this thing.
87 kg — Jon Anderson (Army/WCAP)
Labeling Anderson a "sleeper" is perhaps a bit misleading. He is a multi-time Trials finalist along with clearly being one of the best in his weight class. But when you factor in that his last Trials appearance was over two years ago, and that he had to work himself back in competitive shape this winter after returning from deployment in Afghanistan, he's entering this week as kind of a question mark. With an athlete like this one, you have to make assumptions. You're called upon to assume that Anderson's endless motor and breakneck pace will both check in at optimal levels, and that the motion he began using to open up scoring chances on the feet in '17 has been refined. So, assuming that's what you'll see on Friday, he's a terrific candidate to make a run.
87 kg — Barrett Stanghill (Minnesota Storm/OTS)
Figure that the seeding is going to put Stanghill in a precarious position before he even has the chance to tie his shoes. That will undoubtedly be the case, particularly because his defaulting out of the Nationals netted him sixth. Stacking the deck further is that Stanghill has yet to come away with a win over any of the perceived top competitors in this weight class. You put this all together and he profiles at best as someone who maybe sniffs National Team via the consolation bracket. However, that completely ignores what Stanghill has become increasingly able to do, which is generate offense on the feet, a skill not brandished by many at 87. Similar to Anderson, he realizes that his clearest path to victory has to involve clearing ties and forcing the issue. And because Stanghill's par terre top game has improved, he's a threatening presence on the cusp of a potential breakthrough.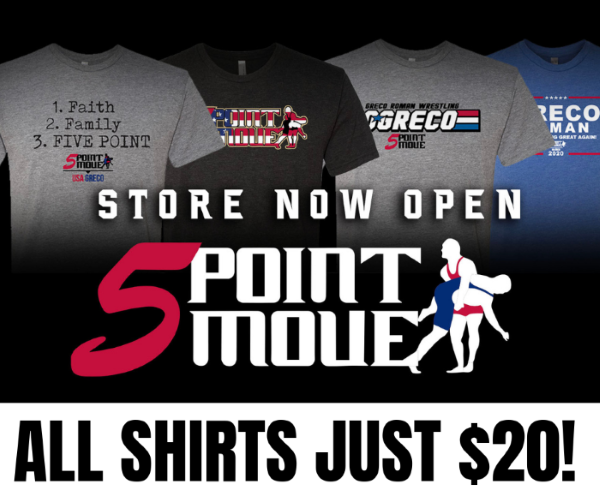 Listen to "5PM22: Sammy Jones guest co-hosts as Five Point Move visits with Lucas Sheridan and Sam Hazewinkel" on Spreaker.
SUBSCRIBE TO THE FIVE POINT MOVE PODCAST
iTunes | Stitcher | Spreaker | Google Play Music | RSS
Notice
: Trying to get property 'term_id' of non-object in
/home/fivepointwp/webapps/fivepointwp/wp-content/themes/flex-mag/functions.php
on line
999