The first day of action at Thor Masters 2020 brought mixed results for the US program, as one of its top stars has already been eliminated from the tournament and a couple of others have struggled out of the gate. However, there is still plenty of wrestling to be had this weekend and adequate time is available to recapture momentum.
Wrestling at Thor Masters 2020 began at 4:00pm from Nykobing Falster, Denmark and streamed live on MyCujooTV.
Two-time National champ Mike Fuenffinger (60 kg, Army/WCAP) was the first US athlete to nail down a victory on Friday, which he did by defeating Helary Mägisalu (EST) 8-3. The bout played out according to the overseas script. Fuenffinger was put down first and defended Mägisalu's gut attempt; in the second period, Mägisalu assumed the position and Fuenffinger capitalized with a pair of gutwrenches. Two more points went to Fuenffinger after a skirmish near the edge, which capped the scoring. Tomorrow, Fuenffinger will open with Viktor Petryk of Ukraine.
'19 US Open runner-up Spencer Woods (NYAC/NMU), back up at 82 kilos for Thor Masters, demonstrated that hyper-competitive spirit that has helped elevated his profile. Woods was down 2-1 to Ali Osman Erbay (TUR) when late in the first period, he forced a scoring sequence that changed the complexion of the match. Woods was near the zone but circled back in, threw by Erbay, locked, lifted, and delivered on a two-point throw off the edge. Erbay went for a last-ditch throw attempt with time running out, a maneuver on which Woods easily covered for two more points in the 6-2 victory. When wrestling picks back up tomorrow morning, Woods will lock up with Croatia's Filip Sacic.
Thor Masters a year ago hosted Cohlton Schultz's (130 kg, Sunkist) Senior debut, and he went 0-2. In 2020, Schultz is already 1-0 after defeating Poland's Rafal Krajewski 6-4. Krajewski might be a familiar name for US fans. He was Adam Coon's (NYAC/Cliff Keen) first victim at the '18 World Championships. Schultz's next opponent would appear to be up in the air of press time. He is slated to face off with Suleyman Erbay (TUR); but Erbay had defaulted in his first match. On a side note, G'Angelo Hancock (97 kg, Sunkist) wrestled Erbay in the '17 Junior World Championships and was leg-fouled, though the infraction would wind up not being penalized.


Multi-time National Team member and '19 National champ Alex Sancho (67 kg, Army/WCAP) didn't have the easiest morning. First-round opponent Denis Bolunov (EST), '18 Junior Nordic gold, owned a 1-0 passive lead entering the second when the American got his chance from top. Sancho worked hard for a lift and hoisted up Bolunov but had to settle for two, not four. When they returned standing, Bolunov dragged behind, forcing Sancho to buck his hips forward near the edge and pivot inwards. Nearly immediately, he was penalized caution-and-two for fleeing. Sancho and Army coach Bruce Robinson asked for a review, the call was upheld, and Sancho now trailed 4-3. A step-out point from an over/under went to Sancho later in the period, but that would be it and Bolunov got the nod via criteria.
In the proceeding round, Sancho was defeated by 2017 World silver Mateusz Bernatek (POL), putting a very early end to his second Thor Masters appearance.
Another Alex, that is Alex 'the Rib Cruncher" Mossing (77 kg, Air Force), had to wait around quite a while for his first match. That's because his first-round opponent, Rio Olympian Bozo Starcevik (CRO), defaulted. Estonian Rajet Kalijola then became the National Teamer's dance partner, and in a wild affair, prevailed over Mossing 14-9. Mossing is still in it — Saturday morning sees him matched up with Edgar Babayan.
The opening exchanges between Carter Nielsen (87 kg, Minnesota Storm/NMU) and Arkadiusz Kulynycz (POL) lit up the scoreboard in a hurry, as Kulynycz threw Nielsen over the top — but, Nielsen quickly reversed and ran a succession of guts to surge all the way in front 6-4. It stayed competitive throughout, and Nielsen breathlessly worked to continue his chain-scoring ways. But Kulynycz picked up three points in the second period to walk away the winner 7-6. Nielsen will continue on tomorrow when he takes the mat against August Eriksson (SWE).
It was a frustrating day for National Teamer Lucas Sheridan (97 kg, Army/WCAP), who dropped both of his matches. First against Kalle Persson (SWE), Sheridan tried cranking a headlock early on but didn't have the position, and next had to break free from a Persson bodylock. Later in the frame, Persson took the first passive point but Sheridan defended. A takedown was scored by the WCAP rep soon after, but a Persson step-out point followed closely behind. The only real discernible offensive posture from Persson came in the form of his pressing Sheridan to the zone for much of the second period. It was more than enough for the officials to call Sheridan passive once more, which factored mightily in the 3-2 decision loss.
Next up for Sheridan was well-decorated Felix Baldauf (NOR), who earned silver on Wednesday in Rome. Baldauf used the first passive chance to score on a correct hold. Following a prolonged pummel battle in the second, Baldauf was awarded a passive/par terre chance yet again, and he took advantage. Baldauf stepped up and landed a correct throw before finishing the bout with a gut that unfortunately, like Sancho, ended Sheridan's tournament prematurely.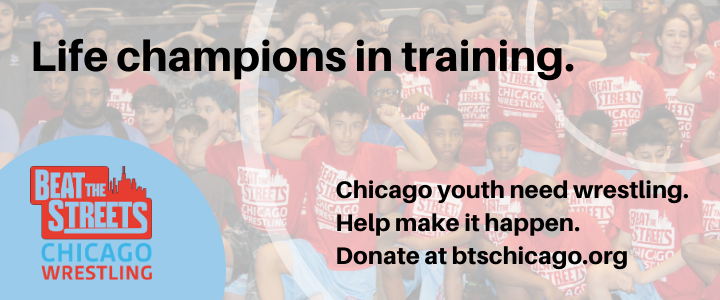 Still to come on Saturday is '19 U23 World Team member Brady Koontz (TMWC/Ohio RTC), who did not compete on Friday due to 55 kilos' status as three-man round robin. The first day of action at Thor Masters in its new two-day format is to simply plow through early-round matches in order to make room for the huge amount of matches that will be available the next day.
Wrestling resumes at 10:30am local time from Nykobing Falster, Denmark (4:30am ET) and can be streamed live at this link.
Thor Masters 2020
January 17-18 — Nykobing Falster, Denmark
TEAM USA DAY 1 RESULTS
55 kg
Brady Koontz (TMWC/Ohio RTC)
vs. Sergis Gevorgizyan (AUT)
60 kg
Mike Fuenffinger (Army/WCAP)
WON Helary Mägisalu (EST) 8-3
vs. Viktor Petryk (UKR)
67 kg
Lenny Merkin (NJRTC)
LOSS Kadir Kamal (TUR) 11-2
LOSS Oleksandr Hrushyn (UKR) 9-1, TF
Alex Sancho (Army/WCAP)
LOSS Denis Bolunov (EST) 4-4 (criteria)
LOSS Mateusz Bernatek (POL) 9-0, TF
77 kg
Alex Mossing (Air Force OTS)
WON Bozo Starcevik (CRO) via default
LOSS Rajet Kalijola (EST) 13-9
vs. Edgar Babayan (POL)
82 kg
Tommy Brackett (NMU)
LOSS Arminas Lygnugaris (LTU) 13-5
vs. Rajbek Bisultanov (DEN)
Spencer Woods (NYAC/NMU)
WON Ali Osman Erbay (TUR) 6-2
vs. Filip Sacic (CRO)
87 kg
Carter Nielsen (Minnesota Storm/NMU)
LOSS Arkadiusz Kulynycz (POL) 7-6
vs. August Eriksson (SWE)
97 kg
Lucas Sheridan (Army/WCAP)
LOSS Kalle Persson (SWE) 3-2
LOSS Felix Baldauf (NOR) 8-0, TF
130 kg
Colhton Schultz (Sunkist)
WON Rafal Krajewski (POL) 6-4
vs. Suleyman Erbay (TUR)


Listen to "5PM33: The Marine Corps' Jamel Johnson" on Spreaker.
SUBSCRIBE TO THE FIVE POINT MOVE PODCAST
iTunes | Stitcher | Spreaker | Google Play Music | RSS
Notice
: Trying to get property 'term_id' of non-object in
/home/fivepointwp/webapps/fivepointwp/wp-content/themes/flex-mag/functions.php
on line
999