The United States is exiting Thor Masters 2020 with only one medalist for the second year in a row, but two other athletes on Saturday delivered strong performances in their own right.
2019 U23/'18 Junior World Team member Brady Koontz (TMWC/Ohio RTC) earned his first Senior overseas medal today, a silver, after using that punishing elbow-deep gutwrench to secure a victory against a tough opening-round opponent; meanwhile, neither Carter Nielsen (87 kg, Minnesota Storm/NMU) and Cohlton Schultz (130 kg, Sunkist) will come from Denmark with hardware, but both athletes furthered the narrative surrounding the potency of the nation's youth movement.
Day 2 of Thor Masters 2020 began at 10:30am from Nykobing Falster, Denmark (4:30am ET) and aired live on the streaming service My Cujoo.


Sergis Gevorgizyan (55 kg, AUT) wasn't necessarily supposed to represent light work for Koontz, but it sure turned out that way. After snuffing out an arm spin attempt, Koontz covered and gutted Gevorgizyan across the mat for the quick 8-0 tech. It was as wall-to-wall dominant inside of a minute as it really gets.
In what was essentially the final round given that 55 kilos was a three-man round-robin, Koontz faced Koryun Sahradyan (UKR). He pressed from the outset, did Koontz, and Sahradyan intently dug inside. Koontz was there to adjust to his shorter foe and the battle raged on. Sahradyan received the first passive/par terre opportunity of the contest — and made it count. He locked a gut and ran it twice for a 5-0 lead. Koontz tried pouring it on as best he could; and in the second period, appeared very much to deserve his own passive chance in terms of tempo. But Sahradyan also did his part in stymying Koontz from generating viable offensive attempts. In the end, it was a 5-0 decision for Sahradyan, which all but assured Koontz his silver.
Brady Koontz's gut keeps ruining people's lives. He is now 1-0 at Thor Masters. Cohlton Schultz just picked up a forfeit and is 2-0. Things are starting to move in a better direction for the US on Day 2. pic.twitter.com/xGCT2YHHGQ

— 5PointMove (@5PtMove) January 18, 2020
Schultz
As reported yesterday, Schultz was not going to wrestle Suleyman Erbay (TUR) this morning, since Erbay had defaulted in his previous match. But they still went through the formality of Schultz and Erbay walking onto the mat, with Schultz having his hand raised. The circumstances guaranteed Schultz's advancement, and in the proceeding Pool B matchup, he met up with Nikola Milatovic (NOR). Milatovic earned gold at the Herman Kare event last week in Finland — and in '18, was tech'ed by former NMU prospect Tyler Curd at the Malar Cupen.
Schultz immediately worked to wedge in his right arm as a pry to achieve double underhooks. Milatovic, clearly improved and the taller of the two, did his letter-best to press forward inside of Schultz's clutches but was met with resistance too stiff to make much of a dent. That didn't mean he wasn't going to try to win. Milatovic took a gamble and dipped down for a corkscrew arm spin. Schultz saw it coming, and quickly (and tightly) clamped around Milatovic's head-and-arm, walking Milatovic straight to his back. It was a guaranteed pin, but the referee stopped the action and gestured that Schultz had went around the throat. Nevertheless, the sequence was good for four points and the US was up and running.

Back on the feet and Schultz kept pressuring with his left-side underhook. He had no problem bullying Milatovic out for another point and a 5-0 lead. Entering the second, Milatovic wore a look on his face that suggested he was done for. That wasn't actually the case. He soon defended an overextended attempt from Schultz and converted a spin-behind takedown. However, that would be it. Schultz spent the remainder of the match dominating position whilst moving Milatovic consistently towards the zone with little return fire being hurled in his direction.
The main reason why Schultz would compete in a tournament like Thor Masters is for the high-level Senior competition. But if an opponent is of a similar age and sports a similarly decorated ledger, then that's just fine, as well. It was that sort of situation for Schultz against Muhammad Hamza Bakir (TUR). Bakir won the Cadet Worlds in '18, the year after Schultz; and took bronze this year at Junior, though they didn't cross paths in that tournament. Thor Masters, as it were, is a fine venue to create new relationships.
Control was the name of the game early on, as Schultz worked the pummel to weave in that left underhook. A pair of level-changes were next, perhaps due to Bakir's height. Schultz diligently pressed forward, compelling Bakir to have to work back inside. Soon enough, the American grabbed the first passive chance and circled for a front headlock. It took some negotiating, but Schultz was eventually able to torque the hold over for an additional two points.
Down 3-0 in the second, Bakir was going by the playbook, upping his output for a potential passive chance. Not even a full minute went by before the call arrived. From top, he latched around for a gut but Schultz hardly even moved. Back on the feet, and Schultz became off-balanced, allowing Bakir to move swiftly behind and net four from a dump-over. With under a minute left, Schultz kept the heat on. He was creating enough pressure for Bakir to simply bail out of the ties and force another off-balance. Schultz recovered in a blink, but would not make up ground from that four-pointer as Bakir held on for the 5-3 decision.
If Bakir was supposed to present a stiff test, then two-time Olympian Alin Alexuc-Ciurariu (ROU) even more so. Considered one of the better heavies in the world, Alexuc-Ciurariu is long, strong, and beholden to a devastating top game.
And Schultz almost had him.
An early arm spin attempt by Alexuc-Ciurariu was instantly defended by Schultz, who hung back and then covered for two. A proceeding gutwrench attempt near the line didn't convert, so back up they were. Schultz again kept the pressure steady. Aside from occasional warnings to keep his head up, there was no arguing with his position. Midway through the first period, Alexuc-Ciurariu was hit for passive. Schultz circled around for a front headlock but was couldn't push off and rotate. Alexuc-Ciurariu found his feet and the pummel resumed with neither wrestler gaining much of an advantage.
Predictably, Alexuc-Ciurariu came out harder in the second period. That didn't seem to bother Schultz. He was finding success chopping underneath in the ties and slipping hooks in whenever they availed themselves. Even still, Alexuc-Ciurariu was going to get his passive chance in the absence of an offensive score, and when it did in fact arrive, it changed the match. From top, Alexuc-Ciurariu rolled a gutwrench. Schultz went hand-to-hand looking for a step-over just in case the lock was loose enough. It wasn't. From then on, the onus was on Schultz. He level-changed and bullied forward, doing whatever he could to penetrate the defenses of Alexuc-Ciurariu's, who was merely trying to remain upright in hopes of avoiding a late collapse. A last-second duck-under missed for Schultz, who fell on criteria to one of his bracket's most notable athletes.
Nielsen  & Fuenffinger
Carter Nielsen (87 kg, Minnesota Storm/NMU) couldn't have been more commanding in his first bout on Saturday. From the whistle, he moved in on August Eriksson (SWE), forced a two-on-one, and used the position to wrap an over/under bodylock. He knew what to do once he got it. Nielsen squeezed and cut an angle, immediately depositing Eriksson to his back for the fall.
THAT KID: Carter Nielsen (87 kg) moves from station to station to plant and pin Eriksson (SWE) and advance further in his pool at Thor Masters. pic.twitter.com/GFizDec3D5

— 5PointMove (@5PtMove) January 18, 2020

Each win at Thor Masters is a stepping stone through pool competition and Nielsen maintained his stride in the next round opposite Andreas Välis (EST). Nielsen, observing stout position, worked to create and angle off of a two-on-one that he eventually applied in an effort to bully a step-out. After the reset, it was a near repeat. Another two-on-one from Nielsen gave him a clean lane towards Välis at the boundary, and Nielsen hustled him right off the line. Instead of a step-out, the score was upgraded to a fleeing call, giving the American a 3-0 advantage.
Välis naturally came out for the second period demonstrating more zeal. But then again, Nielsen's own output wasn't waning. An attempt to the body led to a quick flurry but Nielsen was unphased. He still controlled the tempo and looked to get around back anytime he momentarily isolated an arm and created an angle. No passives were coming down the pike, which meant that Välis was going to have to negotiate a score organically. It wasn't going to happen. Nielsen stayed ready and in Välis' face the entire time en-route to victory.
There was no question that leading into the tournament, Mike Fuenffinger (60 kg, Army/WCAP) — the now-two-time National champ and last year's Final X runner-up to teammate Ildar Hafizov (Army/WCAP) — was seen as someone who could have a big weekend. Talented in every phase, he is the type of wrestler who can give opponents problems they never knew they had. But struggles were abound on Saturday for Fuenffinger. In his first bout, he was on the wrong side of a tech loss to Viktor Petryk (UKR). The proceeding match was a must-have to stay alive in the pool, and Przemyslaw Piatek (POL) stood in the way. Piatek scored three points in the first via passive/gutwrench, and then got credit for a correct hold in the second period to move on 5-1, thus eliminating Fuenffinger from the bracket.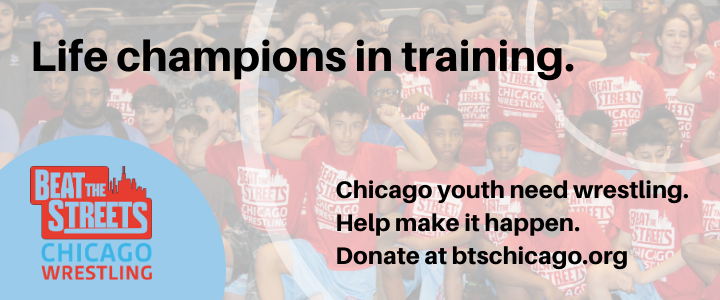 Woods, Mossing, & Brackett
Spencer Woods (82 kg, NYAC/NMU) was one of the US athletes who started strong on Friday, grinding to a 6-2 decision over Ali Osman Erbay (TUR). Unfortunately, Saturday wasn't as kind to the US Open runner-up. Woods was the victim of consecutive tech falls at the hands of Filip Sacic (CRO) and returning Thor Masters bronze Bogdan Kourinnoi (SWE), respectively. Kourinnoi is not an unknown commodity. In November at Klippan, the Swedish wrestled defeated both Tommy Brackett (82 kg, NMU) and Tommy Dantzler (Front Range Twisters) via tech, as well.
Alex "The Rib Cruncher" Mossing (77 kg, Air Force) had himself another tough opponent Saturday morning. Standing across was well-traveled Edgar Babayan (POL). Originally of Armenia, Babayan has been a fixture on the Senior level for over a decade and has been Poland's World representative in this weight throughout this quad. And he scored right away on Mossing with a beautiful headlock, though Mossing did also quickly find a way to amble out of further danger. A subsequent attempt from Babayan saw Mossing land on top for a point off the edge. After a reset, the Airman began to dictate the pace a little more, though Babayan was able to swoop to the body for a takedown and convert a gutwrench, bumping his lead to 8-1.
In the second period, Mossing scattered several arm throw attempts, all of which were ruled slips. He was in the fight, just looking to generate a chain score to close the gap. That opportunity never arrived, and with :90 remaining, Babayan closed it out with a takedown.
Tommy Brackett (82 kg, NMU) — the skilled and passionate prospect who has logged a lot of overseas experience over the past few years — had a very tough draw. In his first bout on Friday, Brackett hastily built a 5-0 lead against Arminas Lygnugaris (LTU) and seemed to be clicking at full capacity. Then it started to slip away as Lygnugaris began converting. By midway through the second, Lygnugaris had scored 13 unanswered points to put a halt to the bout. This morning, the opponent wasn't any easier. '18 U23 World silver and hometown hero Rajbek Bisultanov (DEN) cruised past Brackett with an 8-0 tech.
Notes:
Team USA finished in third place behind Poland and Ukraine, respectively. Germany placed fourth, and Norway, fifth.
Koontz's victory over Gevorgizyan was the only bout this weekend in which a US wrestler won by tech fall.
The overall US record at Thor Masters stands at 9-19.
Of the ten US athletes this weekend at Thor Masters, six are Olympic Trials qualifiers: Fuenffinger, Alex Sancho (67 kg, Army/WCAP), Woods, Nielsen, Lucas Sheridan (97 kg, Army/WCAP), and Schultz.
Thor Masters 2020
January 17-18 — Nykobing Falster, Denmark
TEAM USA DAY 2 RESULTS
55 kg
Brady Koontz (TMWC/Ohio RTC) — silver
WON Sergis Gevorgizyan (AUT) 8-0, TF
LOSS Koryun Sahradyan (UKR) 5-0
60 kg
Mike Fuenffinger (Army/WCAP) — 7th
WON Helary Mägisalu (EST) 8-3
LOSS Viktor Petryk (UKR) 9-0, TF
LOSS Przemyslaw Piatek (POL) 5-1
67 kg
Lenny Merkin (NJRTC) — 16th
LOSS Kadir Kamal (TUR) 11-2
LOSS Oleksandr Hrushyn (UKR) 9-1, TF
Alex Sancho (Army/WCAP) — 18th
LOSS Denis Bolunov (EST) 4-4 (criteria)
LOSS Mateusz Bernatek (POL) 9-0, TF
77 kg
Alex Mossing (Air Force OTS) — 12th
WON Bozo Starcevik (CRO) via default
LOSS Rajet Kalijola (EST) 13-9
LOSS Edgar Babayan (POL) 10-1
82 kg
Tommy Brackett (NMU) — 14th
LOSS Arminas Lygnugaris (LTU) 13-5
LOSS Rajbek Bisultanov (DEN) 8-0, TF
Spencer Woods (NYAC/NMU) — 11th
WON Ali Osman Erbay (TUR) 6-2
LOSS Filip Sacic (CRO) 8-0, TF
LOSS Bogdan Kourinnoi (SWE) 10-0, TF
87 kg
Carter Nielsen (Minnesota Storm/NMU) — 5th
LOSS Arkadiusz Kulynycz (POL) 7-6
WON August Eriksson (SWE) via fall
WON Andreas Välis (EST) 3-0
LOSS Zakarias Berg (SWE) 9-0, TF
97 kg
Lucas Sheridan (Army/WCAP) — 17th
LOSS Kalle Persson (SWE) 3-2
LOSS Felix Baldauf (NOR) 8-0, TF
130 kg
Cohlton Schultz (Sunkist) — 5th
WON Rafal Krajewski (POL) 6-4
WON Suleyman Erbay (TUR) via forfeit
WON Nikola Milatovic (NOR) 5-2
LOSS Muhammad Hamza Bakir (TUR) 5-3
LOSS Alin Alexuc-Ciurariu (ROU) 3-3 (criteria)


Listen to "5PM33: The Marine Corps' Jamel Johnson" on Spreaker.
SUBSCRIBE TO THE FIVE POINT MOVE PODCAST
iTunes | Stitcher | Spreaker | Google Play Music | RSS