The 2020 US Olympic Team Trials was too large, too important of a tournament to receive a "wrapped" designation as is typically the case for a Monday Roundup. Therefore, in an effort to not overwhelm one space with post-event material, various notes, statistics, and the critical "Undercover Stars" section will all be disseminated separately throughout the week in a more consumable format along with athlete insights that are already in the harvesting process.
The first part in our series of follow-ups are Top 10 stories that stood out over the weekend in Fort Worth. If you're looking for full finals recaps, or perspectives on the three stars who left their shoes on the mat, this piece is not it. Rather, what you have here is a compilation of individual moments and/or canvassed performances that differ in what they meant or had to offer.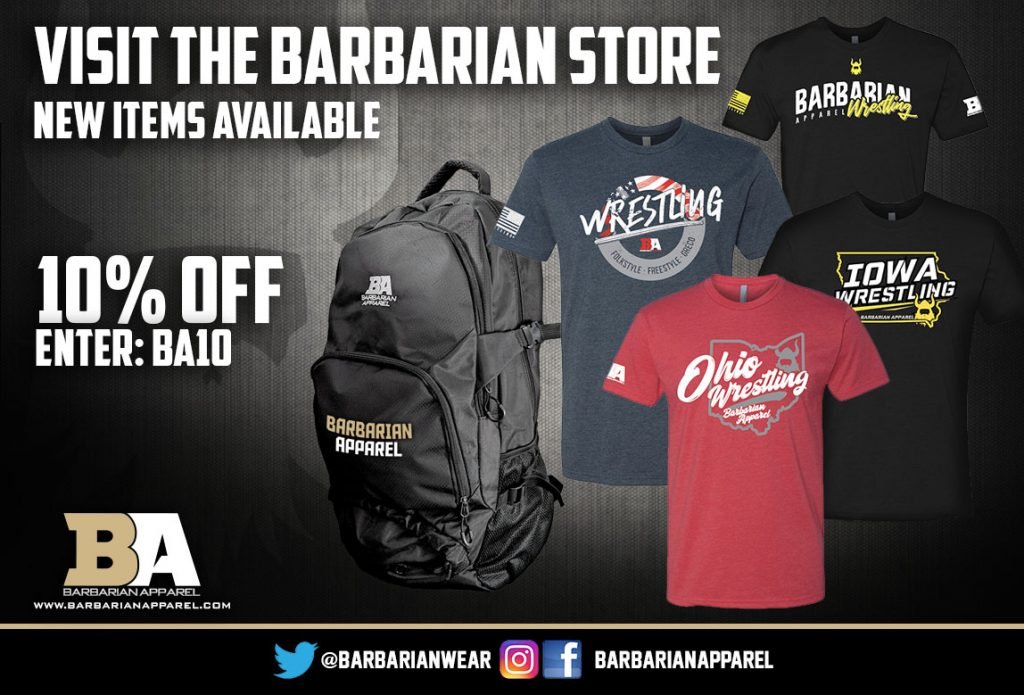 10. Stanghill Said Hello
Every single wrestler in the arena was affected by the pandemic athletically, personally, or both. For Barrett Stanghill (87 kg, Minnesota Storm), it meant a complete lifestyle change. He had left Northern Michigan and returned home to his native Montana where he began working long, long hours for his dad, whose roster of employees had considerably shrunk. In doing so, Stanghill disappeared off the radar. Eventually, he moved to Georgia — not exactly a Greco hotbed — and got engaged. Hardly anyone had a clue what was going with the guy. Was he done? How would he even train for the Trials if he's not?
It turned out after all that Stanghill indeed was not done. By the looks of things, he has a whole lot left. '20 Olympian John Stefanowicz (Marines) decisioned Stanghill in the quarterfinal; but as everyone now knows, "STEF" was not going to be stopped by anyone in Fort Worth. After that, Stanghill powered through Christian DuLaney (Minnesota Storm) and was the man on the opposite side when Jon Anderson took off his shoes. He missed out on National Team Saturday, but that in no way diminished what was an awfully impressive performance in an extremely difficult bracket.
9. Amos' Strong Start
It's not that Braxton Amos (97 kg, Wisconsin RTC) wound up defeating Luke Sheridan (Army/WCAP) and Nick Boykin (Sunkist/Ohio RTC), which was one of the two most sizzling runs by a first-timer along with Benji Peak (67 kg, Sunkist/NTS). No one — no reasonable individuals outside of Madison, WI or Mineral Wells, WV, at least — expected Amos to even hang all that tight with Sheridan, let alone collect a win. And if honesty is at all still a virtue, Amos probably wasn't seen as a "could-happen" proposition against Eric Twohey (Minnesota Storm) in the quarters.
So, anyway…
Amos' hustle-friendly, never-stop forwardness availed an appropriately aggressive sequence that spotlighted his "total wrestling ability". He popped, covered, and pinned Twohey, and then the whole picture of the bracket rightfully changed. A confidence-builder it was, though of course the victory was more than that. It was a signal. Sheridan, Daniel Miller (Marines), Boykin… They have all been looking up at Olympian G'Angelo Hancock (Sunkist). Adding Amos to this mix makes 97 appear considerably deeper than it did as recently as three weeks ago.
 8. Fuenffinger Fights for National Team
Top-seed and reigning two-time US National Champion Mike Fuenffinger (60 kg, Army/WCAP) — one of many, many who hadn't had a match in a very long time — wrestled well. Really well, falling only to tournament runner-up Ryan Mango (Army/WCAP) in the Challenge final. A wrestler with the exceptional-gifts Fuenffinger brings to bear deserves to be appreciated in full, and he not always is. For some weird reason, he is actually underrated, likely because he is just not as "out there" publicly as most of his "Ninja Squad" brethren.
But there was nothing underrated about how Fuenffinger earned a spot on the National Team again. "Wildman Sam" Sammy Jones (NYAC/UVRTC) was just as remarkable in Fort Worth, and was also cruising along against Fuenffinger in the "true second" bout heading into the second period. Jones, offensively-minded as ever, seemed like he was a locked-hands exchange away from ending the deal each time they made contact — until Fuenffinger struck back. And when he did, he made it count. Fuenffinger's startling throwy-scrambly ways put Jones on the deck, with the pin coming shortly thereafter.
7. Mitchell takes third over Longendyke
One page in Jacob Mitchell's (130 kg) file is that there are fellow WCAP reps who believe he hasn't gotten the most out of his ability. Whether that is true of Mitchell or not, only he could know. There is enough evidence to suggest that he is certainly a talented overall athlete, lest anyone forget that he is also a US Open champ and multi-time runner-up. Not bad.
Another is that Mitchell fades, or becomes frustrated, and uses overhooks to injure opponents by locking around the elbow, essentially mashing the joint and connective tissues. There is evidence of that, too. On purpose? Or an unfortunate byproduct of a legal maneuver that concludes with illegal application? Again, only he could really know for sure.
What Mitchell deserves today, above all else, is respect. Forgetting the fact that he derailed Tanner Farmer's (NYAC/IRTC) Trials debut and outpushed the former football star en-route to victory, Mitchell hung in there well with Cohlton Schultz (Sunkist) — and had to dig deep in order to overcome Donny Longendyke (Minnesota Storm) for third place.
Both heavies were tired, and not just in the way heavyweights are usually tired. Their match was an intense and well-fought, physical contest that required ignoring exhaustion if winning was the priority. Longendyke, he had a good tournament. But the manner in which Mitchell kept plowing along showed that he is much more than a bullying bruiser. There's heart to be found. If he taps into that more often it will become the first thing about him people notice above everything else.
6. 67 kg Is in Really, Really Good Shape
As of today, it is no longer Ellis Coleman, Alex Sancho (67 kg, Army/WCAP), Jamel Johnson (Marines), and everybody else. Instead it is Sancho, followed by Greco's "Brat Pack" at 67. We're talking about a rather long list. You know who they are, or should. But in case you don't…
Benji Peak (Sunkist/NTS)
Xavier Johnson (Marines)
Nolan Baker (NYAC)
Calvin Germinaro (Minnesota Storm)
Alston Nutter (Sunkist/NTS)
Peyton Omania (NYAC/CYC)
Lenny Merkin (NYAC/NJRTC)
Peak stole the show, and we'll get to that. But any of those seven wrestlers listed above could press for the Paris spot in three years so long as they remain on schedule from a, lack of a better word, developmental aspect. Which is key, because in the US, Seniors oft require plenty of development.
67 kg OTT quick stats:
Total of 21 matches (counting best-of-three final).
14 bouts ended via technical fall.
1 bout ended via pin.
Peak, Johnson, Germinaro, and Nutter all earned wins via tech. So did Baker, plus he was responsible for the bracket's only pin. This young group of seven is the most offensively-minded of any weight category in the nation because they are aggressive, opportunistic, skilled, and not afraid of taking risks. Coaches everywhere should be running back their matches from the Trials on a loop so they can better translate what winning in this sport actually takes.
5. RaVaughn & Mango the Entire Tournament
It's not easy to be RaVaughn Perkins (77 kg, NYAC) sometimes.
Perkins-the-human is unfailingly gracious, kind, and has overcome on and off the mat struggles about which most wouldn't bother pondering. He's also a good-looking guy, hard-working… Naturally selfless, purportedly superb at Call of Duty. But putting all of that to the side, Perkins is, when healthy, also a World-class Greco-Roman wrestler with medal-capable skills.
Though of course, he is rarely actually healthy.
Yet everyone is in the dark when he's suffering, except for those closest to him. Even they have to prod for answers. Shortly before the Trials, Perkins tore his groin. How bad was it? Bad enough to where it distracted him from his back problems, of which there are several and of varying severity.
In short, he was physically-compromised entering the tournament with an injury that is difficult to manage in a sport where pushing, pulling, stretching, and lifting with the legs is kind of a big deal.
Ryan Mango (60 kg, Army/WCAP), runner-up, had his own stuff going on inside Dickies Arena. No big deal or anything, except that his ankle was basically being held together by two strands of twine and the sock that covered its flesh. And similar to Perkins, whenever Mango has been dented throughout his career, the inner circle beholden to such knowledge is impressively small.
Perkins was jolted by new Olympic Team member Jesse Porter (NYAC/NTS) right out of the gate — but later downed Brandon Mueller (505 WC), Mason Manville (TMWC/NLWC), and old pal Patrick Smith (Minnesota Storm) for third, aka National Team. Mango's run to the best-of-three final was accompanied by three victories — Travis Rice (NYAC/IRTC), Jones, and Fuenffinger. Quite a very tough road when one of your wheels is falling off the axle.
To do what both did — especially during a time when the wrestling public is still celebrating a dominant collegian from Iowa — is nothing short of remarkable. Greco-Roman wrestling is more of a leg sport than an upper-body sport. To compete, and compete well, with the type of injuries Perkins and Mango have is a testament to their respective toughness, and how important the Olympic Trials are and will always be. If we're going to agree that a college star exemplifies perseverance, then Mango and Perkins must be included in the conversation.
4. Steve Harvey, Jesse Porter, & Peyton Walsh
In the first period of their Match 2 final, Porter waffled a lift that was scored for five as he built up a hefty 7-0 lead on Peyton Walsh (Marines). Then in the second period, Walsh received a passive point plus another two from a Porter caution. They went back to par terre, Walsh executed a nice side lift for four, and they were tied at 7. Well, no, they weren't really tied, because there are no ties in this game. Porter held the lead via criteria because his 7 included a fiver, which wouldn't you know it, is more than four, and that is what Walsh's lift yielded.
Somehow, there was confusion about all of this. Despite the wealth of experience shared by both athletes — and both corners — it appeared, even from the Section 110 press area, that no one involved in the match sans officials had any idea who was actually winning. Jason Bryant was seated around 80 yards from the mat at the announcers' table and he reminded the audience through the PA. Still, the message was apparently lost.
In the bout's waning moments, Porter — to whom the lead belonged — was dipping and darting for entries to the body while Walsh was busy fending off the advances. The entire scene was backwards city. When the clock had ticked down to all zeroes, the two combatants walked to the center with Walsh thinking he had forced a Match 3, and with his opponent figuring the same. Alas, Porter's arm was raised and Walsh instantly became confused and upset.
Thus, the perception of an Olympic Team-clinching match.
Chalk up the misunderstanding to the scene, the stakes, the stage, the lights, the sounds… A fog of war kind of thing. People have found humor in how the outcome was realized, and that is understandable from the outside. But the lack of proper communication could have needlessly cost Porter, as it might have the chance for Walsh to grab a potentially series-changing point. There is nothing funny about either.
3. Stefanowicz's Will in the Challenge Semis
'20 Olympian John Stefanowicz (87 kg, Marines) was not the only wrestler in the Challenge Tournament who could have found a way to defeat the technical monster known as Alan Vera (NYAC). Third-seed and three-time World Team member Patrick Martinez (NYAC) also occupied a seat at that table, and Jon Anderson had already drawn Vera's blood one time before back in '15.
It was never hard to imagine Stefanowicz's advancement into the latter stages of the event, or his eventual overall triumph. But the reason why his defeat of Vera was such a big headline had to do with how he got the job done, not that he went ahead and did it.
Vera pieced up Stefanowicz in the first period with a passive gut that delivered a 3-0 margin. That Stefanowicz only gave up a two-spot was, in its own way, telling. Vera is the most polished upper-weight in the country from par terre. Not letting him run more than one gut or pop for a lift meant that Stefanowicz would remain firmly in the match. And the longer the match lasted, the more Stefanowicz would grow emboldened and push Vera's lung capacity to its limit. What also helped was patience. No rushing. Stefanowicz's pressure is not erratic, but constant. He doesn't need to ramp it up like a madman because his pre-set pace is high enough, and his superior conditioning wears down foes who are not prepared for that type of heat for six minutes.
And Stefanowicz required almost all of those six minutes to keep his Olympic dream alive.
A caution-and-two on Vera put Stefanowicz's deficit at 3-2. There were under :30 to go. That was it. The only item on Stefanowicz's side was that he still had the steam to make something happen. So when he clutched Vera around the body and squeezed the living daylights out of him, it really did seem as though there was only one way that sequence was going to end: with a Stefanowicz score. A lone point would have provided criteria, because the two from the caution weighed more than Vera's gutwrench. But Stefanowicz didn't get just one point.
No, it was his action that brought forth an increased haul. When Vera tried in vain to re-throw and Stefanowicz landed on top, the result was the biggest four in Stefanowicz's career thus far. Not an everyday athlete, that guy.
2. Peak Takes Over the Arena
Benji Peak (67 kg, Sunkist/NTS) will never again have to offer a response to naysayers regarding his '20 National title. There were some in the cheap seats of our sport who wanted to diminish those who had the temerity to enter the October Coralville tournament by saying, Well, not everyone was there. Which, was true. Many, many wrestlers either couldn't attend or chose not to travel. But the Peak who won in Coralville was not much different than the iteration on display in Fort Worth, with maybe a few minor exceptions.
How did Peak become the banner-waver for the Greco program without having actually made the Team? It wasn't just because all four of his wins were tech falls, or that he blasted through Ray Bunker (Marines) and was bombing heads left and right. It was his approach. His attitude.
Peak enjoyed hyping up both himself and the crowd before, during, and after his matches. His only loss of the tournament was to Coleman, hardly any shame in that. His methodology was simple, as well. Peak chopped to his positions and was the no-doubt aggressor in each one of his matches, with the Challenge final against Coleman the only bout of his that went the distance.
Saturday night was about the new Olympic Team. But the tournament itself on the Greco side was all about Peak.
1. Sancho's Elevation Against Ellis
It was Alex Sancho (67 kg, Army/WCAP) who had earned the bye to the best-of-three finals by virtue of having qualified the weight last year. In that sense, he was the one every other wrestler in the bracket was chasing.
But back here in reality-ville, Coleman was the one Sancho was chasing. Coleman, not Sancho, was the three-time reigning World Team member. And it was Coleman who owned a slight edge in their now-defunct long-running series against one another, with four of those five wins against Sancho this quad occurring in two Trials finals ('17 and '18).
Couldn't have drawn it up any better.
Their first bout on Saturday night stayed within the pattern of their prior contests. Very quick tempo, very sharp movement, and fierce pummeling whenever it became obvious that neither felt entirely comfortable going for broke. Sancho grabbed Match 1 thanks to an arm-spin he used to cut the backdoor for a takedown — a sequence that still highlighted Coleman's uncanny body awareness for he had nearly cartwheeled over the attempt.
The second, and ultimately last, match of the series (as well as Coleman's stellar, inspirational career) brought the best out of Sancho yet again. "Extra effort" is not a tagline. Wrestlers who achieve anything worthwhile are only able to do so because they feel, they know, there is ample capital accruing interest within their hearts and they should bloody well spend it.
For Sancho, that transaction was a lift from par terre. He was behind Coleman 1-0 early in the second period when passivity was called. A laser show, it wasn't. Sancho clamped around Coleman and stepped, and it soon became clear that there wouldn't be a huge impact. The adjustments happen so fast, but Sancho refined his position just a touch. Without another score, he would have held criteria… But, come on. That's dicey. It would have been more of a gamble for Sancho to bypass making a serious attempt to score. If he halfwayed his par terre, he would have been giving Coleman most of the second period to figure something else out — and he had seen that too many times before. Letting the foot off the gas for even a few clock ticks was not an option.
Sancho was not willing to take the risk of not taking a risk.
A tremendous and confident lifter, he wrinkled his lock one more time, gritted and exerted, and exposed Coleman for two. Not exactly a lift, not exactly a gutwrench. The points were all that mattered. Two of them. Two points in Match 1, two points in Match 2, and two Greco-Roman athletes who pushed each other in ways those outside of their little bubble can't hope to reconcile. One of them went to the Olympics. And now the other one is going, too.
More 2020 US Olympic Team Trials follow-up coverage will be available later in the week. 




Listen to "5PM47: Nate Engel and Xavier Johnson" on Spreaker.
Listen to "5PM46: Taylor LaMont and Jessy Williams" on Spreaker.
Listen to "5PM45: Chatting with Dennis Hall and Max Nowry" on Spreaker.
Notice
: Trying to get property 'term_id' of non-object in
/home/fivepointwp/webapps/fivepointwp/wp-content/themes/flex-mag/functions.php
on line
999