Who's in the mood for a nice debate?
Determining the Top 10 USA Greco-Roman Matches of 2018 is no easy task. There are a few layups — it is pretty difficult to argue against bouts holding World-level implications. But sifting through hundreds of matches held over the course of the year and whittling down a list to only ten means excluding plenty of excellent candidates. Tis the nature of such an undertaking.
Matches that made the cut did so according to any or all of the following parameters:
Excitement/adrenaline.
Perceived significance related to the athlete, the event, or both.
Match videos are not obstructed by a paywall, and are therefore able to be viewed by the audience.
Unlike in previous years, 2018's list of Top 10 Matches will be split up into two parts.
Top 10 USA Greco-Roman Matches of 2018 (10-6)
10. Ryan Mango (63 kg, Army/WCAP) vs. German Diaz (PUR/Marines)
Setting:
Pan Am Championships quarterfinal (PER)
Compelling for two reasons — 1) this win wound up clinching Mango's first Pan Ams gold; and 2) Diaz more than held his own for the majority of the match before it all unraveled. Plus, this bout is a lot of fun to just sit back and check out for no reason at all simply because you get a little taste of everything.
Diaz, who represents Puerto Rico internationally while serving in the US Marine Corps, fell behind 1-0 in the first on a passivity. When Mango went to lift, Diaz whirled and scrambled, reversing position before rolling Mango over via gut.


It was 4-1 in Diaz's favor well into the second period when Mango picked up a takedown. Shortly thereafter, a point went Mango's way due to a Diaz step-out, though the WCAP wrestler still trailed on criteria. One more step-out gave Mango the lead and the floodgates were about to open. A twisting bodylock with a high-leg finish tacked on four, and then a bow was tied neatly around the proceedings with just :15 remaining on the clock.
9. Xavier Johnson (60 kg, Marines) over Ildar Hafizov (Army/WCAP)
Setting:
Armed Forces Championships (NC, USA)
Hafizov, regarded by many as the best overall Greco-Roman combatant in the nation, likely did not expect to be added to Johnson's highlight reel in 2018. But when you take stock of how impressive Johnson's season was as a whole, looking back at this match, particularly its beginning, helps put things in perspective.
Hafizov made the first actionable attempt, a quick look at a high dive that caused Johnson to back up. A little prodding, a little movement. Nothing major, just two athletes in different stages of their respective careers feeling one another out. And then… Johnson broke free off of an exchange, took a slight pause, and lasered in around Hafizov to collect a bodylock. He cinched it tight and proceeded to bomb Hafizov to his back. Hafizov fought to his stomach, and there was Johnson again, trying to load up for another throw that his counterpart managed to stymie. Even still, the follow-up brought with it a step-out point and sudden 5-0 advantage for the surging Marine.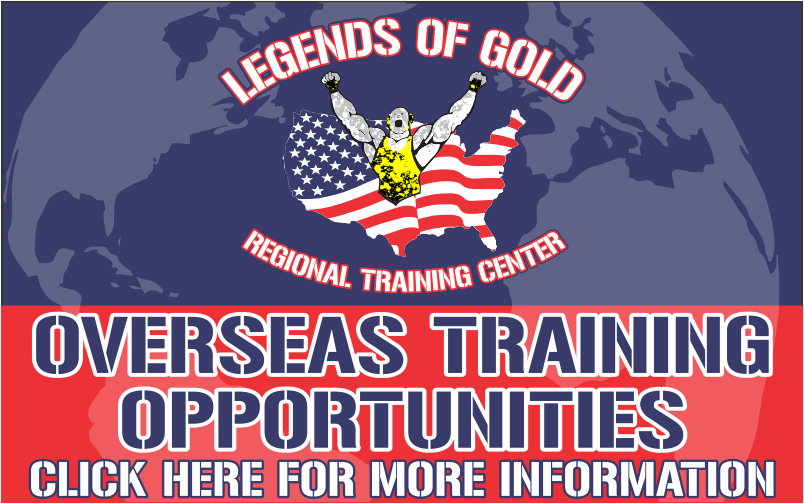 But despite Johnson's explosive beginning, it wasn't he who put in the most work. Hafizov pushed and pushed, and came close to seizing the momentum in the second when a takedown was wiped off the board due to legs. Eventually, passivity rang in on Johnson, and that's when the real craziness started. The official on the mat, for some reason, called Hafizov for two false starts, awarded Johnson a point, and brought the athletes back up to the feet. With little time remaining, Johnson was cautioned himself — giving Hafizov one last shot to steal the win. He came close with a correct hold and furiously pursued Johnson to the whistle in what turned out to be one of the year's most thrilling finishes.
8. Alex Sancho (72 kg, NYAC) over Chris Gonzalez (NYAC)
Setting:
Bill Farrell Memorial finals (NY, USA)
So the story between these two is simple to sum up. Both originally began to come of age at NMU, had some matches with each other, including a three-round dustup in the 2016 World Team Trials finals that saw Gonzalez emerge victorious. Their paths seemed bound to intersect once more, and they did. Seemed natural. In fact, it all went down in the very same place where the pair left off in the fall of '16, the New York Athletic Club.
Meeting in the revamped non-Olympic weight class of 72 kilograms, the 2018 version of Sancho vs. Gonzalez delivered the familiar brand of tension that defined their previous match-ups. Scoring was hard to come by, but only because both knew each other's strengths, weaknesses, and tendencies to where the prospect of making a mistake brought with it palpable hesitance. So they were content to play the game. Gonzalez received a passive point in the first; Sancho, in the second; and Gonzalez benefitted from one more passivity call with :14 left on the clock, putting him on the cusp of a tournament win.
When the penultimate whistle blew, Sancho went after Gonzalez hard. It was obvious desperation, but his forward aggression was such that Gonzalez had to respect it. That said, Gonzalez stayed upright throughout the chaotic storm Sancho was bringing, but that did not save him at the literal last second. No question, one of the more bizarre yet exciting endings to any match on this list.
7. Cohlton Schultz (130 kg, Sunkist) over Lingshe Meng (CHN)
Setting:
Junior World Championships round-of-16 (SVK)
When the draws were announced for the Junior Worlds, Schultz's being paired with Meng was seen as a dicey proposition. American fans tend to ask a lot of the high schooler, and in this tournament he was facing off against a third-year Junior who has actually been more successful on the Senior circuit — especially this past season, as Meng was a runner-up at the Hungarian Grand Prix. You don't wrestle these things on paper, we know this. But a dude who finishes second in the Hungarian Grand Prix should probably be expected to handle a young US athlete who grabs legs during his downtime, even if said US athlete was a Cadet World champ the year before.
So much for that.
It was a fun match to watch. Schultz got the first passivity/par terre, rolled Meng with a front headlock, and jutted out to an early 3-1 lead in the first. In the second period, Meng nabbed a step-out and soon collected another two on a correct hold. With time starting to become a factor, Meng wanted to capitalize on his throw, and he hoisted Schultz up for a lift attempt. This would prove to be the reckoning. Schultz twisted inside and hipped over, as if on instinct. Meng was trapped almost immediately. Schultz adjusted his grip and coerced Meng's right shoulder blade to the tarp — and just like that, it was all over with :70 still available on the clock.
6. Travis Rice (63 kg, IRTC) over Xavier Johnson (Marines)
Setting:
U23 World Team Trials finals, Match 2 (OH, USA)
It pays to brush up on some quick history here. Johnson had previously defeated Rice in the Bill Farrell Memorial, and their first bout of the U23 World Team Trials final series was not completely dissimilar to this match. Rice won, but Johnson flashed his bounty of skills that are so difficult to overlook and enjoyed a sizable lead before the Illinois product went on a tear.
Match 2 saw Johnson take advantage of the first passivity and gut Rice over twice in a row. That's 5-0. Driver's seat. Again. Rice thought he had closed the gap with a three-spot later on in the opening period, but Marine coach Jason Loukides — who is maybe the most successful cornerman in the sport when it comes to successfully challenging calls — got those points expunged, and his man entered the second frame boasting a very healthy 6-0 cushion.
Rice fired back a minute into the conclusive period, using an arm drag to get behind, and then in front of Johnson, wrangling a bodylock that at first was scored for two before an upheld challenge confirmed the sequence for four. With under a minute to go, Rice swarmed in on Johnson for a takedown and snared the lead via criteria. But — since Johnson had kind-of-sort-of went to his back at the end of that takedown, Rice's coach, the great Bryan Medlin, decided to challenge, believing two more should have been awarded. Risky, risky. And sure enough, that challenge was denied and Johnson reclaimed the lead by a point.
So now, Rice — who had mere moments prior taken tenuous control of the match — needed to get on his horse. 50 seconds…40 seconds…30 seconds…20 seconds… With just 15 ticks available, Rice skidded behind Johnson and wailed an arching four-pointer. In the process, he had also managed to pinch Johnson's right arm to his side and proceeded to trap-arm gut his way to a jaw-dropping tech-fall victory and a place on the U23 World Team.
CLICK HERE TO DONATE TO THE USA GRECO-ROMAN PROGRAM
SUBSCRIBE TO THE FIVE POINT MOVE PODCAST
iTunes | Stitcher | Spreaker | Google Play Music | RSS
Notice
: Trying to get property 'term_id' of non-object in
/home/fivepointwp/webapps/fivepointwp/wp-content/themes/flex-mag/functions.php
on line
999