It is not an easy endeavor. It is not a particularly quick one, either. Selecting the Top 10 USA Greco Matches of the Year is an equally enjoyable and painstaking process that is also time-consuming and cumbersome.
One variable that helped move things along for 2019's Top 10 was compartmentalization. There were several no-doubt-it storylines, and with those tales behind the athletes were matches that blew our minds. In a few cases, even restored our faith in the sport.
A curious trend with this year's list is also that they were all US victories. That is not required. It just worked out that way. As long as bouts check the appropriate boxes, they are considered (see below).


There were, certainly, plenty of exciting, drama-filled bouts that did not make it into our Top 10. For those who would like to chime in or debate the topic, we'd love to hear what you have to say.
Matches that made the cut did so according to any or all of the following parameters:
Excitement/adrenaline.
Perceived significance related to the athlete, the event, or both.
Match videos are not obstructed by a paywall, and are therefore able to be viewed by the audience.
Top 10 USA Greco-Roman Matches of 2019
10. John Stefanowicz (Marines) over Davyd Shadt (UKR) 6-2
Setting:
87 kg — Final
Haparanda Cup (Sweden)
November 30
John Stefanowicz (Marines) did not have to go up in weight at the Haparanda Cup last month. He had been training in the region (Norway) prior to the tournament, so it wasn't as if he was out of shape or unusually rusty. Plus, the Haparanda Cup observed a two-kilogram allowance. 77 kilograms became 79, which one would think is easy territory for an athlete who detests the idea of making weight for making weight's sake.
But Stefanowicz's weight category in Haparanda is just a footnote. More important was his degree of effort against Davyd Shadt (UKR).
Shadt spent most of the first period on his heels, yet still enjoyed a 2-0 lead — one point from a phantom passive, the other from a Stefanowicz step-out. Therefore, the Marine had to make his money in the second period. A high gut lift is how it happened. Stefanowicz locked directly under Shadt's arms from par terre and pulled the Ukrainian straight over the top for two points.
Still, Shadt wasn't out of the picture. After a restart, he tried hurling a throw that forced Stefanowicz to scramble for all he was worth. Despite the flurry, no points were scored. Another scramble ensued and Shadt was off-balanced. Stefanowicz breathlessly pounced and spun around for a takedown. Shadt challenged the sequence and lost to increase Stefanowicz's lead to 6-2. And that would be it. In his first tournament of the Olympic Year, Stefanowicz had also managed to earn his first Senior international gold by staying true to his calling-card relentless approach.
9. Ellis Coleman (Army/WCAP) over Merizan Shermakhanbet (KAZ) 10-2, TF
Setting:
67 kg — Round-of-32
World Championships (Kazakhstan)
September 15
There is no such thing as an easy draw at a World or Olympic event. But given certain external factors, real or imagined, some draws are construed as to offer more difficulty than others.
Take Ellis Coleman's (Army/WCAP, world no. 14) first-round draw at the 2019 Worlds. If one is to agree that Coleman may very well hold a place among the best athletes in his weight class on the World stage, then his draw might lose some significance. However, in Nur-Sultan, Coleman was paired with Meirzan Shermakhanbet, a returning medalist, explosive scorer, and most of all, a hometowner. The Worlds were held in Kazakhstan; and at the very least, the longstanding perception is that wrestlers competing on their home turf receive a little help from officials on occasion.
Even if true, no official could come to Shermakhanbet's aid against Coleman. The whole thing was a blur, a lopsided beating that dropped jaws from start to early finish. Shermakhanbet started off by getting to Coleman's body towards the edge — and Coleman responded by walloping a four-point headlock. Another throw attempt from Kazakhstan fell short with Coleman landing on top for another two, though Shermakhanbet did reverse position and grab two points of his own.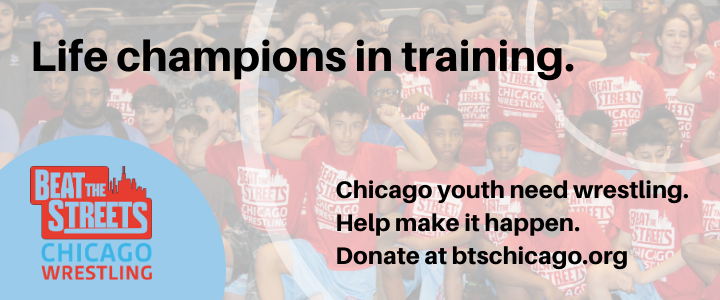 Coleman, up 8-2, still had to find a way to effectively end the threat. Six points is not an enormous cushion with someone like Shermakhanbet. Scores pile up quickly. In this match, they sure did for Coleman. All he required was a little throw-by as Shermakhanbet held over/under. It was tidy, merciful. As soon as Coleman cleared the arm, he was already behind Shermakhanbet. Two points, match over.
Although Coleman would be ousted in the proceeding round by Deyvid Dmitrov (BUL) thanks to hilariously-inept officiating, his victory over Shermakhanbet represented one of the better moments of the season for USA Greco-Roman Seniors.
8. Kamal Bey (Sunkist) over Patrick Smith (Minnesota Storm) 7-5
Setting: 
77 kg — Final
US Open (Las Vegas, NV)
April 27
The first meeting between Kamal Bey (Sunkist) and Patrick Smith (Minnesota Storm) did not carry much in the way of consequence. US Open champs received a bye to the Final X Series, allowing them to bypass the World Team Trials. Rest and the ability to focus a training block on a three-match series six weeks later, plus a little money, are, without a doubt, nice enough incentives. But unlike their series in Jersey, Bey and Smith's first dance was just a fun match-up that served to answer some pressing questions.
One of those questions had already been answered: Smith's viability at 77 kilograms after coming up in weight to start the season. By the time he greeted Bey in April, Smith had earned a trio of overseas medals and defeated fellow '17 World Team member Mason Manville (Army/WCAP) twice (including in the Schultz final). The jump from 72 kilos had clearly agreed with Smith physically, so all that was really left was to see how he would fare opposite the most dynamic wrestler in the country, if not on the entire planet.
For his part, Bey did not disappoint in this match, nor did he so much as stutter in the lead-up. He dominated en-route to the final, looking sharp and in fearsome command.
In April, USA Wrestling (as they did for the Nationals last week) positioned 77 kilos as the "main event". The idea worked considering the players. And this was, make no mistake, a great match. But it was also a big, sloppy mess.
Bey not only scored first, he had built a 5-0 lead that was helped by a caution-and-two on Smith's second step out in consecutive resets. But deep into the second period — really deep, with only a minute left in the match — Smith was gaining steam and hurried Bey out of bounds. There was some micigoss about singlet grabbing that led to Bey opting for the challenge brick. After a lengthy review (and not the only one), Smith picked up another point and trailed by only two. He then scored a takedown off of a Bey throw attempt and the whole thing became even more interesting than it already was.
Men in corners of the mat hollered but there was still a match to be decided. Bey went for a throw when action resumed and there was another instance of an inadvertent singlet grab. Again, this required a conference. With little time remaining, Smith bounded towards Bey, who countered with a throw that yielded a step-out point. And at last, everyone was able to breathe out a little.
This bout set the table for June's Final X, which saw Smith come back after a Match 1 loss via tech to hammer out two compelling victories and a spot on the '19 World Team. It was also chaotic, confusing, and although on domestic shores, unquestionably one of the most important matches of the year.
7. Daniel Miller (Marines) over Lucas Sheridan (Army/WCAP) 7-5
Setting:
97 kg — Final, Match 1
World Team Trials Challenge Tournament (Raleigh, NC)
May 19
If you have been keeping track recently, then you are likely aware of the static between Lucas Sheridan (Army.WCAP) and Daniel Miller (Marines). They clashed five times last year and have done so twice thus far this season.
Three of their bouts from 2019 took place in the finals of the World Team Trials Challenge Tournament. Sheridan won the series and eventually fell to G'Angelo Hancock (Sunkist, world no. 2) at Final X. As far as individual bouts go, however, Miller's victory in the opener of their best-of-three in May stands out the most.
Sheridan kicked this one off with his headlock, only to have Miller reverse and earn exposure points. The Marine Captain locked and lifted next, but couldn't quite execute, and Sheridan reversed position for a point. The score when the dust settled was 5-2 in favor of Sheridan, and it stayed that way until almost the end of the match.
With :02 left on the clock, Miller dumped Sheridan to his back from over/under's. At :01, the sequence was scored four points. Sheridan challenged, simply because you have to when faced with such circumstances. A formality. The rest of the series might not have went Miller's way, but he did produce the most thrilling last-second comeback of the entire year.
6. Peyton Omania (MSU/CYC) over Xin Huang (CHN) 6-5
Setting:
67 kg — Bronze medal match
Junior World Championships (Estonia)
August 18
When people in the US think of Peyton Omania's (MSU/CYC) performance at the Junior Worlds, their minds pivot to the bronze medal-clinching victory. Naturally. But that bout is not on here just because a medal was involved. It is also featured due to Omania's competitive maturity.
Aggression and confidence were the keys for the American against Xin Huang (CHN). As had been the case throughout the tournament, Omania pressed the issue early. He hit a duck-under, submarine'd up in a flash, and headlocked Huang at the line for four. Whatever preconceptions Huang might have had beforehand, or strategies for slowing Omania down, were right away put to the test and he wilted.
As impressive as that four-pointer in the first? Omania's headlock in the second. After an exchange near the line, Omania dumped Huang again, this time for two points. Huang reversed and exposed Omania, whose lead had been reduced to 6-5. It was almost a non-issue. Huang was not going to score again, but even if he had, Omania likely would have, as well. That was the type of tournament he had in Estonia. Up by four with a medal on the line, and still going after it? How can anyone not find inspiration in that type of effort?
5. Cohlton Schultz (Sunkist) over Jacob Mitchell (Army/WCAP) via fall
Setting:
130 kg — Final
World Team Trials Challenge Tournament (Raleigh, NC)
May 18
Cohlton Schultz (Sunkist) — Cadet World champ in 2017 and a Junior World medalist the past two years — has now beaten '19 US Open winner Jacob Mitchell (Army/WCAP) twice in a row, but that first time out this past May was a real eye-opener.
It was a unique situation for the 130 kilogram bracket at the Trials Challenge Tournament. Robby Smith (NYAC/Chicago RTC) had earned himself a bye to what was essentially a best-of-three wrestle-off to determine who would face then-reigning World silver Adam Coon (NYAC/Cliff Keen) at Final X. Therefore, the winner of the heavyweight bracket (in a single bout final) would still have to get through Smith to setup a showdown with Coon. And, Schultz did that. Right after decking Mitchell.
Mitchell is as every bit a part of this story as Schultz. An established heavy recognized more for his mean streak than he is, or should be, for his pronounced abilities, Mitchell presents a formidable obstacle for most foes, especially on the feet.
Despite his newness to the Senior level, Schultz did not struggle finding a home for his left underhook during most of the first period. Similar to their most recent match, it was the teen who dictated the tempo to which both marched. Mitchell did have a moment that counted. Right before the end of the first period, he erased Schultz's 1-0 passive lead by chucking double overhooks for a correct throw.
The pummeling was about even midway through the second when Mitchell got his passivity/par terre chance. He couldn't know it at the time, but this was the beginning of the end. He had tried to high gut Schultz before retreating to a more conventional lock. He then rushed his rotation and Schultz easily stepped over, catching Mitchell on his back. It didn't happen right away; Schultz had to adjust his position while halting Mitchell from rolling. But he stayed composed and eventually slid in a half nelson, and Mitchell was flat immediately.
4. Xavier Johnson (Marines) over Nolan Baker (NYAC) 13-13
Setting:
67 kg — Bronze medal match
US Nationals/Olympic Trials Qualifier (Fort Worth, TX)
December 21
When two wrestlers bring out the best in each other, it is a fortunate occurrence.
When two wrestlers combine for 26 points, and in the process, actively demonstrate everything that is supposed to be great about this sport, it is a special occasion that requires much closer examination.
Xavier Johnson (Marines) and Nolan Baker (NYAC) were the two biggest stories entering the 67-kilogram field at the 2019 US Nationals last week. Johnson, a two-time National Team member, was not quite committed to his weight class prior to the tournament, which gave way to plenty of banter and myriad conversations centering around the hypothetical in the weeks leading up. Baker, he has quickly become something of a folk hero. Not only has he earned a string of impressive victories, he is collecting wins via fall at a near 70% rate. Which is, you know, virtually unheard of on the Senior level.
What made this bout all the more interesting was that Baker had pinned Johnson earlier in the tournament. That they met again in the third-place bout — after both had already qualified for the Olympic Trials — was like a neat little bonus being offered to the masses as a gesture of holiday cheer.
And they traded point-scoring moves the way sluggers trade left hooks.
Baker reached for a headlock, and despite not having it all the way, still carried a desperately-defending Johnson with him to the edge. Johnson had his arms wrapped around Baker, which allowed for a re-roll and two points for both athletes (though Baker held a temporary criteria lead). They jockeyed for position for a spell, Johnson swimming in underhooks and eventually gaining a lock. He had to be patient: in their bout prior, Baker capitalized on a similar attack. Johnson loaded, and bombed Baker for five, but the impact couldn't even be celebrated too much because Baker quickly reversed for two more points, and thus trailed at the end of the sequence 7-4.
The. Entire. Match. Was. Like. This. There was never a time during their six minutes together when scoring failed to stand as the highest priority.
Johnson countered another Baker headlock to increase his advantage to 9-4 with just over a minute left in the first period. On the reset, Baker hit that trusty headlock of his, scoring two, plus two more via gutwrench. When the first period ended, Johnson was in front 9-8 and no one expected either side to shoulder their weapons in the second.
Baker chased a headlock that caused a tug-of-war near the line, and a quick pivot inside made Johnson step out. Fast-forwarding just a tick, Johnson was up 11-9 and in on Baker's body. He looked to adjust his forward momentum, and as he did, Baker latched and threw. The officials awarded Baker four, Johnson protested, the officials conferred, and the call ultimately stayed the same.
To cap all of the scoring, Johnson would later counter a Baker headlock and turn it into a takedown. He held criteria 13-13, if only because it's hard to beat a five in any match, even one involving Baker. But when it comes to who won or lost, who cares? Greco always needs matches like this, and these two young, talented, and fearless athletes gave you one.
3. Alston Nutter (Sunkist) over Kamil Czarnecki (POL) via fall
Setting:
63 kg — Bronze medal match
Junior World Championships (Estonia)
August 17
The only thing stopping Alston Nutter's (Sunkist/OTS) incredible comeback pin for bronze from occupying the top spot on this list isn't that it came at the Junior level. It is that the whole thing was over so fast, there wasn't enough time for drama to even build.
Speaking of fast, that was the speed in which Kamil Czarnecki (POL) scored. A tight arm spin is how it started. Czarnecki roped Nutter's arm in a vice grip; Nutter tried ambling away to defend, a decision that at the time seemed to present the possibility of his shoulder snapping in half at the joint.
After the arm spin was complete and had collected Czarnecki two points, he trapped said arm and raked Nutter for a pair of gutwrenches, the latter of which took them both out of bounds. The most telling part of the entire opening sequence that put Nutter in a quick 6-0 hole was that he walked back to the center expressing all of the concern of someone who had simply been bitten by a fly.
They re-engaged with zeal — Czarnecki searching for two points to end it, Nutter just waiting for the chance to make a dent. Czarnecki had the opening. He reached for a headlock and went to corkscrew. Nutter was ready, and angled behind Czrnecki to unfurl a four-point lift. And when Czarnecki's back made contact with the tarp, Nutter deftly snared Czarnecki's arm, assumed position, and held him in place for the fall.
From Czarnecki's opening salvo to Nutter's pin, the bout lasted a total of 1:16. A lot happened in that time frame, all of it unforgettable.
2. G'Angelo Hancock (Sunkist) over Fatih Baskoy (TUR) 3-3
Setting:
97 kg — Final
Hungarian Grand Prix (Hungary)
February 23
2019 was a banner year for G'Angelo Hancock (Sunkist). Though it will end without having earned a World medal, there was not another upper-weight in the entire sport who was more consistent, and by extension, consistently successful.
Hancock generated momentum right from that first tour last February. On the docket were two United World Wrestling "Ranking Series" events, the Grand Prix Zagreb Open (Croatia) and the Hungarian Grand Prix. Hancock earned bronze in Zagreb, a clutch front headlock against Adam Varga (HUN) acting as the highlight.
The next time out was the Hungarian GP, and after an obliteration of Lee Se-Yeol (KOR), Hancock grinded out a pair of tough decisions against Abudourexiti Alimujiang (CHN and Hassan Ali Aryanezhad (IRI), respectively. That put him in the finals opposite two-time University World champ Fatih Baskoy (TUR).
Hancock and Baskoy first battled in the qualification round of the '17 Worlds, a 3-0 decision for the American. Different rule-set: in '17, there was no forced par terre, so tight matches involving big men were often decided by step-outs and phantom passives. Hungary '19 included par terre, so one might have figured a Hancock/Baskoy return bout would invite a bevy of points via guts/turns — when in fact, their rematch was competed in much the same fashion as their first: tense, frustrating, and with zero par terre points.
The first period didn't offer any fireworks. Hancock was more assertive in space and constantly digging in hopes of locking his hands. His reward was a passive point, but Baskoy couldn't be budged in par terre.
As is practically custom, the guy trailing 1-0 came out with a bit more urgency, and since he didn't receive the passive chance in the first, they made sure he got it in the second. Baskoy came awfully close to securing a lift, which compelled Hancock to flail and adjust so as to avoid a big score. Hancock did become off-balanced and went down off the edge, for which Baskoy received two; but the US challenged and won, wiping that score off the board.
On the next reset, Baskoy worked himself behind Hancock and brought him down at the line for a 3-1 lead. That was an issue. The second period was more than halfway through, and Baskoy could just sit on the two-point advantage. The odds of being called for passive again were, of course considering all of the variables, extremely low. For Hancock to do anything meant an impetus to force the action at all costs.
Which is precisely what happened. The whistle blew for the restart, and Hancock latched onto Baskoy and willed a takedown to retake the lead via criteria. It wasn't officially over just yet. Baskoy still had time to present a threat. But Hancock also wasn't going to be challenged again for the duration of the bout.
The 3-3 victory over Baskoy provided Hancock with his first Hungarian Grand Prix gold along with the #3 spot in UWW's rankings, as well as the US with its first champ at the tournament since '15 (Jordan Holm).
1. Ray Bunker (Marines) over Ahmet Yilmaz (TUR) 7-5
Setting:
72 kg — Bronze medal match
Wladyslaw Pytlasinski Memorial (Poland)
August 3
The standard for #1 is high. Not only does the best match of the year have to meet all of the previously explained parameters to even make the list, it also has to offer a high degree or rewatchability. You have to want to watch it over again at least a few times just because you were so entertained by what transpired.
Ray Bunker (Marines) versus Ahmet Yilmaz (TUR) is that kind of match.
Bunker is always dependable when it comes to a blood-and-guts kind of effort. He also has a knack for winning matches against opponents who are much more technically polished. But to win those kinds of matches, Bunker usually just pours it on in the pressure department until the opposition starts to waver. And to be sure, that was mostly why he defeated Yilmaz. Naturally. Although, a timely attack in the first period was the game-changer. Yilmaz deserves a head nod, too. He was a willing participant who tried to stay in it till the bitter end, and his own tenacity during this bout played a role in why it became an instant classic.
The match began with Bunker stubbornly forcing his way to a left-side underhook. He wanted a handle that would allow him to move forward, and thus, move Yilmaz around the mat. It was working, as Yilmaz was compelled to posture back inside to avoid skating on his heels. They had settled into a slight groove when the Turk popped behind Bunker and scored a step-out point. After the reset, Bunker started banging forward again and was off-balanced. It was easy to see that Yilmaz was smoother and supremely confident in is ability to play matador to Bunker's raging bull.
Then a real points haul. With the official obviously itching to call a passivity, Yilmaz tossed Bunker for four on the edge. The bout was a mere :90 old and the Marine found himself in some serious trouble. Of course, that meant very little to him in the moment. Some guys need to be jabbed in the face a few times before they wake up and go to work.
Bunker chugged towards Yilmaz and they locked in a 50/50 position near the line, the first legitimate "make or break" opportunity of the proceedings. Bunker staved off potential elimination right then and there by hipping Yilmaz out of bounds for his first point. It wouldn't be the last.
Again they clashed, and again Yilmaz attacked. However, he got tangled underneath on his attempt — and Bunker pounced. Hard. He clamped a front headlock, torqued the hold, and appeared to have executed a four-pointer. On the mat, they called it a step-out for Yilmaz until the US challenged. Four points were then tallied for Bunker, who was now ahead on criteria.
The tempo in the second period waned. Yilmaz was negotiating slightly better position in the ties, while Bunker's physicality did its job insofar as keeping him upright. The refs hadn't given up on calling Bunker for passive. But just like in the first period, as soon as it looked like they were going to blow the whistle, Bunker would flurry effectively. Yilmaz had Bunker's back to the edge — but Bunker circled back in and flipped the script to coax Yilmaz out for a point.
The match itself was not over. But Yilmaz, he was cooked. Visibly fatigued and frustrated, he didn't have a whole lot left to offer. Whether or not Bunker was beginning to wear down? Much harder to discern. He just kept plowing ahead. As if to send a definitive message proving his vitality, he bumped Yilmaz off the edge for one more step-out point with :20 remaining on the clock.
Wrestling fans of every style are always attracted to examples of heart, determination, and a willingness to push the human body past its conceivable limits. In his short time on the Senior circuit, Bunker has consistently exemplified those core values, and the best evidence to that effect comes in the form of a bronze match in Poland, that at the time, didn't receive the attention it deserved. Hopefully, now it does.
Previous Top 10 Matches
2018 – Part I
2018 – Part II
2017
2016


Listen to "5PM32: Previewing Senior Nationals with Dennis Hall" on Spreaker.
SUBSCRIBE TO THE FIVE POINT MOVE PODCAST
iTunes | Stitcher | Spreaker | Google Play Music | RSS
Notice
: Trying to get property 'term_id' of non-object in
/home/fivepointwp/webapps/fivepointwp/wp-content/themes/flex-mag/functions.php
on line
999