Travis Rice (IRTC) is in a good place. A weird place, but a good place. "Good", because Rice, whenever his name happens to be mentioned, is duly recognized as a top US Senior competitor after several years of finding his rhythm while a student at Northern Michigan University; and "weird" because despite his emerging status, he is not yet locked in for the Olympic Trials.
Two seasons ago, something in Rice clicked. He had assimilated quickly in the then-new 63 kilograms weight category, advancing to the semifinal of the 2018 US Open following a captivating victory over '16 National champ (and former Junior World Teammate) Hayden Tuma (Army/WCAP). About six weeks later, he took another step. At the U23 World Team Trials, Rice stomped his way to the best-of-three final and swept Xavier Johnson (Marines) by engineering two consecutive jaw-dropping come-from-behind wins.
Everyone in the US had already become familiar with Rice's skill-set. Now they got to know his criminally-underrated tenacity.


By the time those U23 Trials had come and gone, word was out that Rice was leaving NMU in favor of joining Bryan Medlin at the Illinois Regional Training Center. It was a ticket home, and the chance to work closely with the talented coach who helped Rice's love for Greco competition blossom into a full-time career. Then the next season, though he eventually came up short at the Senior Trials, an air of consistency firmly took hold. Rice placed second at the Dave Schultz Memorial, falling in a classic to Sammy Jones (NYAC/NTS). And on the heels of a tour overseas, the taco-loving 24-year-old found himself ranked in United World Wrestling's top-20.
As the leaves began to amber and descend on the dawn of this Olympic Year, Rice was forced to come to grips with one more pivot: 60 kilos, the sport's lowest weight class. He knew this was coming. An arduous decision-making process had preceded his commitment. Contrary to what some might believe, Rice considered moving north to 67. He thought it over, and three kilos down made more sense to his frame than three kilos up. It still does.
But in his 60-kilogram debut at the Bill Farrell Memorial in November, Rice went one-and-done. NMU upstart David Stepanian notched a nail-biting decision and there was no recourse. The tournament's procedures did not allow for wrestlebacks prior to the quarterfinal — although it was a qualifying event for the Trials — and chatter about Rice's weight cut soon floated through the ether.
There was one more shot just before Christmas. Rice showed up to the US Nationals in Texas, where the top-5 placewinners (not already qualified) assured themselves of bracket spots at the Trials. The mission was not accomplished, though Rice did go 3-2 overall and appeared to be heading into '20 with solid momentum he hoped would carry him to the finals of the "Last Chance" event that, like everything else in wrestling land, was postponed due to the viral outbreak.
What separates Rice from most athletes is that he doesn't stay down very long. He feels the sting of disappointment, but give him a little while, and it's as if he had just got bitten by a fly. There is not the same degree of anguish or self-judgement that seems to plague other competitors. It is one of his best qualities. Rice has his goals. He knows what they look like. He knows how to reach them, and he knows that energy invested in the right direction tends to expedite results. That is why he is with Medlin, and why his development into a fearsome Senior was never a surprise.
Travis Rice — 60 kg, IRTC
5PM: The Bill Farrell Memorial was your first appearance at 60 kilograms. Not to discount the opposition, but was that a difficult weight cut? Seemed like it was. 
Travis Rice: Oh yeah, that was hard. For sure. You can't deny it. That was hard.
5PM: How did you approach this process knowing you were going down to 60? Did you do a test cut or anything like that?
TR: That whole part of it, I don't want to say it was "scientific", but there were some tests and stuff. You had to map it out to the day of the tournament when you were going to make weight, when to start your weight cut, when you have to be super-strict. There was planning. There were other things.
The huge thing about that I think was the biggest change was when two years ago they were doing the plus-two (kilos) on the second day. That was a big thing to think about, even the last couple of years, when they changed the weigh-in from the night before to the morning of. That was a big thing. So you have to think about it nutrition-wise. What stuff are you putting into your body that whole week before, couple days before, day before, the night before, the morning of the tournament… Your pre-match meal. That was a big thing, and one that I kind of messed up, but I definitely think my sports science degree and my nutrition classes came in handy. I had a little bit of wiggle room to get stuff together and see what worked best for me. I think that was the biggest thing I had to pay attention to.
Something like this, you can't do it the night before. It takes months of preparation right there.
5PM: We knew before the season that most from 63 kilos would wind up at 67, with only a few going from 63 to 67. You started your career at 66, then went down to 63. Now, 60. Was 67 at all a consideration for you, or did you automatically know you were going to compete at 60?
TR: Oh no, definitely not. It was not an automatic decision. I thought about it for a long time. It was a risk-versus-reward type of thing. The risks were that it was going to require a lot more work into my diet and everything else, and then health issues and making sure I do it the right way. The reward was, Why are you doing it? Are you doing it because it's the right thing to do? Are you doing it because it'll bring out the best of your ability and you want to win a medal? That's how I look at it. That's what was in my head for probably a few years, just going back-and-forth. Even when I was wrestling 66 or 67. It was just, Ah man. It kept coming back (laughs). I would be like, Man, I could beat that dude if I was still at 67. (laughs). Stuff like that was in my head for a long time.
5PM: You looked better at the Nationals than in New York and you had some very strong matches. What was the adjustment you made as far as the weigh-in went?
Travis Rice: I think I was actually worse going into the Nationals. In my opinion. I don't put it a percentage on it or anything. I'm not saying that I made weight in New York easier. I was figuring things out and I was able to follow my plan closer to what it should have been. And then in Texas, there were some other things that got in the way, just injuries and… I don't want to make an excuse about it or anything, but there were other things that made it a lot harder is what I'm saying.
5PM: After the Nationals ends and you know you have to qualify at Last Chance, did you put together, I guess with Medlin, a very structured periodization plan for March?
TR: Oh, yeah. I think going into anything, any of my wrestling stuff, there is always a plan. If it's from a competitive standpoint, a weight cut, or just general periodization, yes, there is always a plan. I think if you don't have a plan, you're going to run into some issues. There is a lot of stuff that people from a non-athletic background don't understand. There is a lot of time and commitment that goes into scheduling and making sure everything is set up.
That is a lot of the stuff Medlin does, and he does a really good job with that. But there is a lot that I have to be accountable for, as well.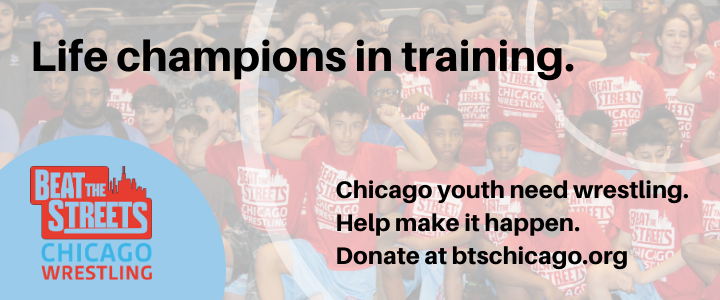 5PM: Speaking of Medlin, you two go back quite a long ways and you've been at the IRTC for just about two years. How has it been overall, being under Medlin's thumb officially as a Senior athlete?
TR: I'd say in general it has been good. It has been good to be home more. It has been good to be around positive people, not that I wasn't before. But it's just good to be around positive people who I care about and trust, and who care about and trust me. I think of all the training environments I have been in, they have been positive in that way, but I definitely enjoy this one that I am in.
5PM: Army/WCAP sort of does this, but they have a staff. So here is the question: how is Medlin able to coach both styles, and do so to the point where he's not only effective but in demand?
TR: (Laughs) Man, that's a good one, that's a really good question. I think an easy answer would be that he knows both styles really well, but I think what it comes down to is that wrestling is wrestling. And he is someone who understands how technical exchanges happen coming from two different styles. You might not always get the same reaction whether it is freestyle or Greco but I think a big thing that he does really well is watch a lot of wrestling. He watches a lot of wrestling. Like, a lot. Every time I've been over to his house, he has his Amazon Prime Fire Stick plugged into his TV with YouTube on. It could be some tournament in Russia in either Greco or freestyle. I don't know how many times this has happened, but he seems to always see something, pause it, and then watch it over.
So a big thing is observation of skills, and how he inputs that and uses it for later. He is someone who has continually over time used these technical tools to his advantage. I was talking to someone recently about this, about how this person would want to watch videos of John Smith back in the day. Now think about it: if he wanted to watch John Smith, he'd either have to have a VHS tape or actually be in the room with John Smith. Now we have articles, we have FLOWrestling, different videos on YouTube, UWW… He (Medlin) is for sure a guy who has used all that to his advantage, 100%.
5PM: You had a really good relationship with Rob (Hermann), you had a really good relationship with Andy (Bisek)…
TR: Yeah, still do. I don't talk to Coach Hermann everyday but I'll see him on Facebook or send him a text. Bisek, I definitely got to know him while I was up there. I'll send him a Snapchat or text because I'm always cooking stuff. I have a group of people I'll send that stuff to, and Bisek is one of them, for sure. Whether I'm making meatloaf or pizza, or if it's on the healthier side and I'm making a salad. Whatever I'm making, I send it to him (laughs). I know he's a big fan of hot dogs so I sent him a picture of these Chicago dogs. I was just like, Check these bad boys out (laughs). Just kind of goofing around. I have fun with it. I'm pretty laid back.
5PM: Having been coached by several prominent guys, and you go back with Bryan since you were an age-grouper, is having a bond with someone like him at this stage of your career important just because the trust factor is so vital?
TR: 100%. And I think that goes both ways between us. If you really think about it, everyone who is part of the program at the RTC right now has known Medlin or Medlin has known them for I don't know how many years. I think it goes both ways.
5PM: The IRTC is now going to have Joe (Rau), yourself, West (Cathcart), Zac Braunagel, and in a detached sense, Ellis (Coleman) and Max (Nowry). Are you surprised that the Greco side of that roster has grown this quickly since you joined just two years ago?
Travis Rice: Am I surprised? No, I definitely thought it would grow. I didn't know exactly who would fill those spots, but I am pleased with all of the guys who have joined and become part of it. It has been great.


Listen to "5PM37: The wildman Sammy Jones" on Spreaker.
SUBSCRIBE TO THE FIVE POINT MOVE PODCAST
iTunes | Stitcher | Spreaker | Google Play Music
Notice
: Trying to get property 'term_id' of non-object in
/home/fivepointwp/webapps/fivepointwp/wp-content/themes/flex-mag/functions.php
on line
999