Dating back to the dawn of U23 World competition in 2017, the United States has not struggled to select rosters indicative of both developing and established talent. The case is no different in '21, with one important exception: this year's lineup might be the US program's most well-balanced of them all.
The finals of the 2021 U23 World Team Trials began at 5:00pm ET and aired live on FLOWrestling.
Utah Valley Back-to-Back
Two high-profile series, four high-profile young stars.
Taylor LaMont (Sunkist/UVRTC), making his 55 kilogram debut, did his part in advancing to the final round — where he towed the line opposite '18 Junior/'19 U23 World Teamer Brady Koontz (TMWC/Ohio RTC), who finished second at the US Senior Nationals late last month in yet another impressive effort.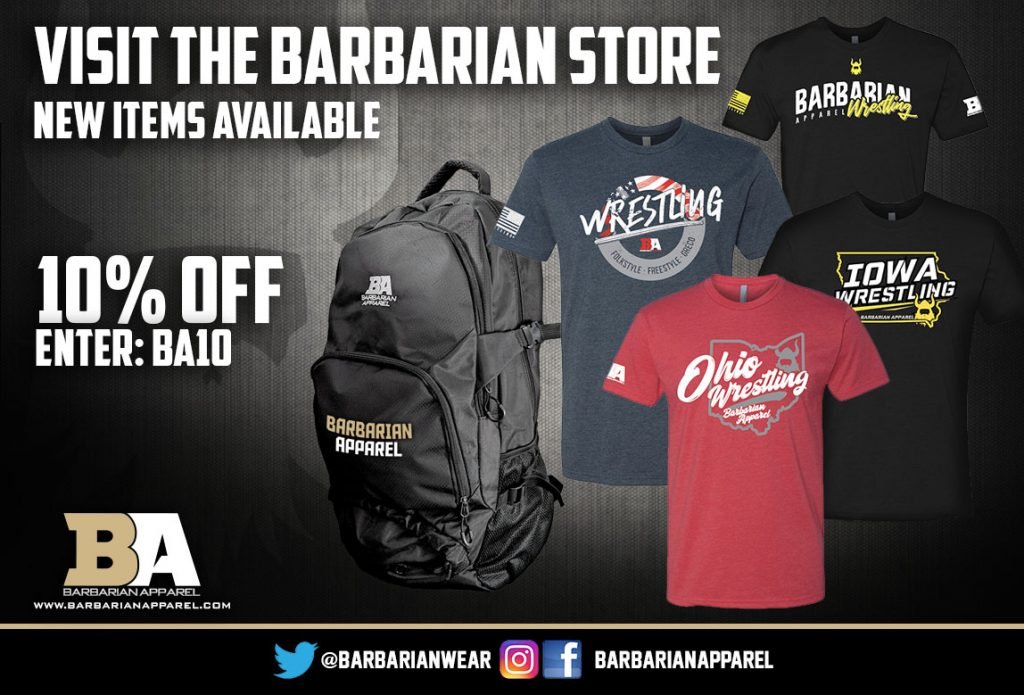 Match 1 went down to the wire. Throughout the first two thirds of the bout, minor but tactically-relevant positional exchanges were in order. Neither found a lane to score from the feet, which was expected given their respective abilities. LaMont received the second-period passive and snared a turn for two, taking the opening round via 3-1 decision.
The second contest began with LaMont finding favor with the officials in the opening period. From top, he fought for his lock and rotated one gut before a follow-up lift came up empty. Passivity went to Koontz again in the conclusive stanza, only this time LaMont was unable to garner a turn. The action remained intentful to the last whistle, but the outcome had been sealed. With the Trials victory, LaMont earns his seventh appearance at a World event.
The second to go from the Utah Valley Regional Training Center was Dylan Gregerson (60 kg), whose adversary in the best-of-three, Dylan Koontz (TMWC/Ohio RTC), has begun to increasingly assert himself on the National level.
Gregerson, however, couldn't have starter hotter if he tried. Koontz was put down, Gregerson wailed a lift and turn combo, and 7-0 read the scoreboard. The second period flipped it all around with Koontz giving Gregerson a scare. From top par terre, he had rolled two guts and climbed within a pair of points, but Gregerson held strong the rest of the way.
Points were similarly easy to come by in Match 2. Gregerson received the first passive/PT chance, went to lift, and Koontz reversed. Later in the period, Koontz yanked a sizzling throw, only to have Gregerson reverse — and quickly hustle a gut and lift. A challenge then rang in for Gregerson accompanied by a lengthy review process. When action resumed (with only :02 left in the first), the score was adjusted to 9-6 for Gregerson.
Oddly, and in bucking the trend of their first three periods together on Thursday, there was no further scoring in the second. Gregerson, who had finished second at U23 in '19 ahead of collecting his first National crown of any sort back in November, will join teammate LaMont at the Worlds in Serbia come the fall.
NMU
The longstanding Greco-Roman program at Northern Michigan University had themselves a banner day at the office thanks to the performances of three familiar standouts.
Nutter Overcomes Enriquez
'19 Junior World bronze Alston Nutter (67 kg, Sunkist/NTS) was not tested on his road to the finals. '17 Fargo winner Jaden Enriquez (MIWC) caught a nice fight against Brandon Woody (VA), but other than that kept his nose clean. They weren't sparing their energy for the sake of one another — but given the contentious, competitive nature of their two matches, it's easy to ponder otherwise.
Nutter pounded out a don't-look-back 6-0 advantage soon into Match 1, though Enriquez was — as became the theme — undeterred. He clawed back into the argument in small bites and trailed 6-2 as the first period was drawing to a close. Right before the break, Nutter scored a takedown to retain a six-point margin.
Enriquez whittled that lead back down to four in the second. Two more were doled out to the collegian late in the game, and Nutter had himself a sufficiently grueling 9-6 win.
Match 1 was tight. Match 2 was a little tighter. Nutter broke the ice with a quick lift that initially looked good for four — but was only confirmed for two. Enriquez responded with a nifty arm spin, which brought with it fleeting criteria. After the reset, Nutter again got to the body and locked. This time, there was no doubt. Four went in Nutter's direction — and then Enriquez chipped for a pair with less than a minute to go before intermission.
The tempo did not slow in the second so much as it organically gave way to more purposeful exchanges. There wasn't a great distance between them, and they knew it. Room for error was not available. Passivity entered the equation with Enrique the one dinged. Nutter did not yield a haul of points from par terre, but he didn't have to. The driver's seat was all his, along with a trip to his third World event in three seasons.
Stepanian & Peak
At 63 kilograms, David Stepanyan (NYAC/NTS) and '20 National runner-up Mosha Schwartz (UNCO) both operated with herky-jerky sensibilities, but it was the refined work of Stepanyan that factored more in the outcome. The NMU'er kept his motor running constantly through Match 1 en-route to a 5-2 victory. Match 2 unfolded in a similar manner, though Schwartz was there in the first period with a nice four-spot that almost changed the complexion of their dynamic. But Stepanyan stayed on his horse and repeatedly dug back inside to pick up the World Team-clinching decision 8-3.
It's hard to stop "Mr. Fantastic" Benji Peak (Sunkist/NTS) these days, even up a weight category. Lenny Merkin (NYAC/NJRTC) is a difficult assignment, as well, and has lately served as one of Peak's chief domestic rivals. But what was anticipated to be a drawn-out, tantalizing three-round slugfest was wrapped up in short order. Peak waffled Merkin in Match 1 after rattling off consecutive high-gut lifts, the first of which caused Merkin to bang his head into the mat. Following the second such maneuver, Peak rolled Merkin and finished him off with a half-nelson for the fall.
Match 2 lasted late into the second period but Peak was in control 6-1 until he tick-tacked via two step-outs and another deuce to end it. Peak and Nutter, close as they are off the mat, won Trials tournaments the same year ('18) once before but have yet to appear in a World Championships together. That will now change come November.
Holmes, Brackett, & Woods
Three other newly-crowned World Team members were very recently students at NMU along with those mentioned above — Britton Holmes (77 kg) and Spencer Woods (87 kg), both now with Army's World Class Athletes Program, as well as Tommy Brackett (82 kg, USOPTC). And keeping with the pattern from this year's Trials, this trio secured their roster spots without requiring a third and decisive match.
Holmes danced with Senior National runner-up Ryan Epps (Minnesota Storm), one of the country's brightest prospects at the moment. They had only a single match prior to Thursday's series, a narrow decision that went to Holmes from March's Last Chance Olympic Trials Qualifier. Their dustups in Lincoln did not deviate far from what transpired two months ago. Holmes used a beautiful arm spin to net four early in the first period of Match 1 — and that score held up all the way to the end. In Match 2, Epps was knocked for passivity in the beginning stages of the bout and Holmes nailed a lift for four.
Epps answered with two of his own, plus a passive point in the second, and he was coming on just a bit more with time a factor. Still, Holmes wasn't going away, and the technical brawler from Colorado prevailed 5-2. Holmes, who has consistently impressed his Army brethren since returning to action this past spring, was also runner-up at U23 in '19.
Northern Michigan's George Sikes is a game competitor who is recognized for commandeering positions most opponents take for granted. Brackett mirrors that approach, which resulted in some issues for Sikes. What also didn't help his cause was that Brackett showed he could score from the feet, and he also made his par terre chance count in Match 2.
Brackett put the first of the series away in the second period by drumming up a pair of step-outs. He had already held a 3-0 advantage by then, but he hungrily mined underhooks and kept his feet moving whenever the pummel seemed to bog down. Round #2 had Brackett still on the prowl from the outset. Facing a 5-0 deficit in the second, Sikes found himself stymied in the ties and without a clear window to avail reasonable offensive measures. Alas, this is what Brackett does, shut down the opposition. It is what he did all day, and will look to do even more of it in a little over six months from now.
Woods Continues to Surge
Woods entered action this week as perhaps the biggest favorite in any weight class. Considering that he went untouched and outscored his antagonists by a combined tally of 40-0, that perception would seem to have been accurate.
Not that Job Ayala (WI) was in town just for the experience. Ayala wrestled with conviction throughout the tournament and surprised many with his 8-0 takeover against Mac Kukowski (Minnesota Storm). But Woods, who is inching closer to top-tier Senior success, was simply too much with which to deal on this day. Woods bombed Ayala out in both matches by identical 10-0 scores to join Holmes as Army's first-ever members of a U23 World squad.
Boykin Wow's 'Em; Metz Perseveres
Two-time Senior National Champion Nick Boykin (97 kg, Sunkist) was not — on paper, anyway — supposed to blank contemporary and two-time age-group World Teamer Chad Porter (Sunkist) in two straight. But not only did Boykin oust his stablemate (and Nat'l runner-up from October), he did so on the strength of two superiors.
Boykin demonstrated increasing comfort in deploying his athleticism by darting into positions and setting up meaningful offensive attacks. Match 1 unveiled a four-spot before a bead of sweat had even formed, with two takedowns later added to call a halt to the festivities. Porter was definitively in the mix for Match 2 down only by a pair heading into the second period. Boykin then piled on with three more scores, thus cementing the series in eye-popping fashion.
With Cohlton Schultz (Sunkist) a late scratch, the field at heavyweight opened up considerably. It was, as they say, "up in the air" once the brackets were released. That narrative, even if it were fitting Thursday morning, slowly evaporated as Brandon Metz (Bison WC) got to work.
Metz was 2-0 strolling into his semifinal bout with Lee Herrington (Nebraska Golden Eagles), that gritty 4-1 victory serving as a primer for what was to come next. In the final stood Spencer Trenary (JWC), who had gotten past Kaleb Reevers (Eastern Iowa WC). Something had to give with the World Team spot on the line. Both bring power and high wrestling IQ's, and both can score big points and end matches in an instant.
Metz had the edge on each account. A pin inside of a minute was the tone-setter. In Match 2, Trenary played it requisitely tighter to the chest, even after Metz carved out a 4-0 first-period lead. The zeal was there for Trenary; he was waning only a hair and had seemed to find a more amenable grounding for his pummel-centric methodology. Unfortunately for him, the damage had already been done. Metz, in cruise control, collected a passivity point in the second for a 5-0 lead he would not relinquish.
Notes:
Seven of the 20 finals matches ended prematurely, six via fall.
Ten finals bouts were decided by three points or less.
This year's US U23 World Team includes one holdover from the '19 roster (LaMont); overall, three had been in other recent World-level lineups (LaMont; Nutter, '18 and '19 JR Worlds; and Boykin, '19 JR Worlds).
2021 U23 World Team Trials
May 27 — Lincoln, NE
BEST-OF-THREE FINAL RESULTS
55 kg
Taylor LaMont (Sunkist/UVRTC) def. Brady Koontz (TMWC/Ohio RTC) 2 matches to 0
Match 1 — LaMont def. Koontz 3-1
Match 2 — LaMont def. Koontz 3-0
60 kg
Dylan Gregerson (UVRTC) def. Dylan Koontz (TMWC/Ohio RTC) 2 matches to 0
Match 1 — Gregerson def. Koontz 7-5
Match 2 — Gregerson def. Koonz 9-6
63 kg
David Stepanian (NYAC/NTS) def. Mosha Schwartz (UNCO) 2 matches to 0
Match 1 — Stepanian def. Schwartz 5-2
Match 2 — Stepanian def. Schwartz 8-3
67 kg
Alston Nutter (Sunkist/NTS) def. Jaden Enriquez (MIWC) 2 matches to 0
Match 1 — Nutter def. Enriquez 9-6
Match 2 — Nutter def. Enriquez 8-5
72 kg
Benji Peak (Sunkist/NTS) def. Lenny Merkin (NYAC/NJRTC) 2 matches to 0
Match 1 — Peak def. Merkin via fall
Match 2 — Peak def. Merkin 10-1, TF
77 kg
Britton Holmes (Army/WCAP) def. Ryan Epps (Minnesota Storm) 2 matches to 0
Match 1 — Holmes def. Epps 4-0
Match 2 — Holmes def. Epps 5-2
82 kg
Tommy Brackett (USOPTC) def. George Sikes (NYAC/NTS) 2 matches to 0
Match 1 — Brackett def. Sikes 5-0
Match 2 — Brackett def. Sikes 7-0
87 kg
Spencer Woods (Army/WCAP) def. Job Ayala (WI) 2 matches to 0
Match 1 — Woods def. Ayala 10-0, TF
Match 2 — Woods def. Ayala 10-0, TF
97 kg
Nick Boykin (Sunkist/Ohio RTC) def. Chad Porter (Sunkist) 2 matches to 0
Match 1 — Boykin def. Porter 8-0, TF
Match 2 — Boykin def. Porter 8-0, TF
130 kg
Brandon Metz (Bison) def. Spencer Trenary (Jackrabbit WC) 2 matches to 0
Match 1 — Metz def. Trenary via fall
Match 2 — Metz def. Trenary 5-0




Listen to "5PM48: Austin Morrow and Gary Mayabb" on Spreaker.
Listen to "5PM47: Nate Engel and Xavier Johnson" on Spreaker.
Listen to "5PM46: Taylor LaMont and Jessy Williams" on Spreaker.
SUBSCRIBE TO THE FIVE POINT MOVE PODCAST
iTunes | Stitcher | Spreaker | Google Play Music