The United States Greco-Roman Seniors are going to come away with the team title at the Pan-Ams. It is, following a bomb-filled collective performance on Day 1, now but a formality. That was how they drew it up, and two first-time competitors who earned gold were largely responsible for the red, white, and blue shellacking.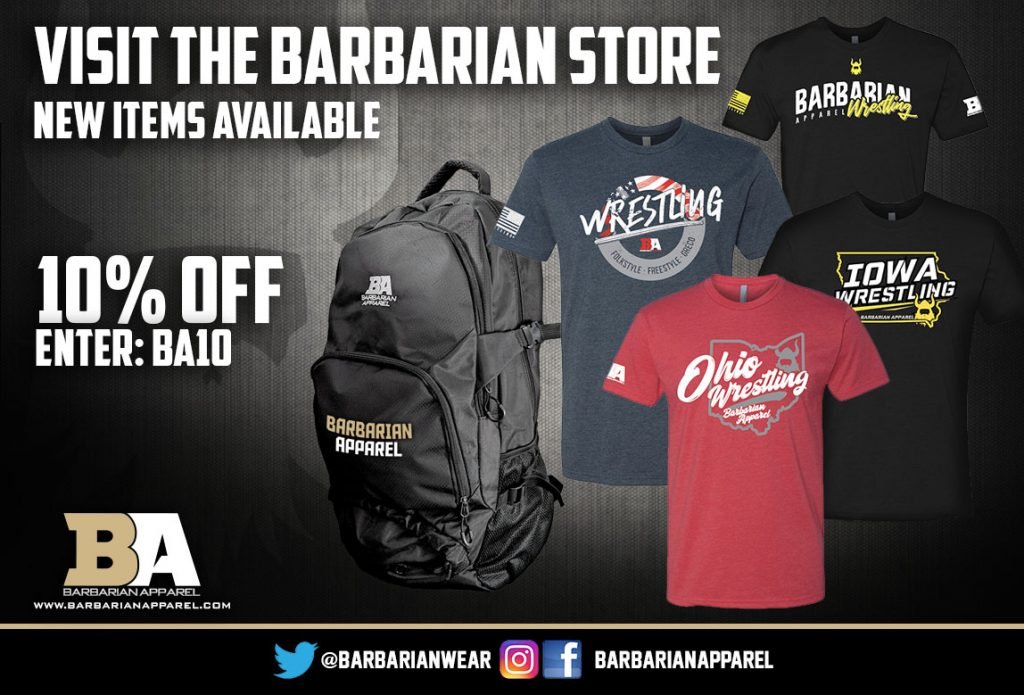 The final round on Day 1 of the 2021 Pan-American Championships began at 5:00pm local time from Guatemala City and streamed live in the US on FLOWrestling.
Two Golds
A pair of Marines went back-to-back in the gold-medal round — reigning National champ Xavier Johnson (67 kg) and Jamel Johnson (72 kg). Xavier, or "X" — as he had previously demonstrated during the tournament's first session — was not interested in the preamble. Against Enyer Feliciano (DOM), Johnson swam through the ties and reached the body for a correct hold; because one of his gifts is lock consistency, Johnson wasted no time in the follow-up by lifting for four and re-gripping for a booming five that forced a first-period stoppage via 11-0 VSU.
Teammate Jamel Johnson's status was briefly in question after his Round 2 victory over Carlos Fuentes Peralta (GUA). In the first period of that contest, Johnson tweaked his left knee and wore an expression of intense discomfort as the training staff attended to him. Although the match resumed, the health of his appendage was an area of concern. Johnson survived with a 7-3 decision and, apparently, the multi-hour break between tournament sessions allowed for a semblance of recovery.
And that is because Johnson had no problem finagling his way into meaningful scoring positions with a gold medal hanging in the balance. To his credit, Gerardo Oliva Montes (PER) was a willing participant and had actually took advantage of the bout's first passivity/PT chance. From top, Montes secured a lift and torqued Johnson over to net four. Back standing, and Johnson began chipping inside a little more, thus creating motion. The result was a scrambling exchange which saw the Marine officer take Montes over for what appeared a four-spot. However, no points were initially awarded, leaving it up to the US corner to challenge. They did — and after the review, Johnson tallied four and trailed only by a point.
The second period gave way to the bout's most critical sequence. As they jousted near the boundary, Johnson found the body once more for a no-doubt'er throw that delivered four more points. Up 8-5, all Johnson had to do was avoid the dreaded "big mistake", which he did. In the end, it was a sparkling overall showing in Guatemala from the Greco veteran, capped by a comeback that shall serve as a reminder of his uncanny explosiveness.
Four Silvers
2020 US Olympian Ildar Hafizov (60 kg, Army/WCAP) looked crisp and in command during his coupling of one-sided wins in the morning session, but the expectation was that his finals opponent might present some problems. And, he did. Dicther Toro Castaneda (COL) is a skilled, solid competitor in his own right, but does not receive a lot of attention aside from when this annual tournament arrives on the calendar.
Their match was of a conventional variety. Castaneda — who had also defeated Hafizov in the quarterfinal of the '19 Pan-Am Games — capitalized on the first-period passivity by churning two guts. The tide turned in the second frame, with Hafizov using his PT opportunity to go for a high lock. It worked, but on the sequence's back-end, Castaneda scurried and received exposure points. Down 7-3, Hafizov turned on the jets for the remainder, but ultimately could not make up the deficit and finished as the runner-up.
In Randon Miranda's (63 kg, NYAC/Rise) boxscore, it reads that he lost to Andres Montano Arroyo (ECU) twice. Which is accurate. But the adjustments Miranda made between their first match on Friday morning and their second later on this evening deserve due credit.
One of those adjustments was to generate the kind of movement with which Montano — a terrific wrestling athlete — tends to struggle. Miranda broke through an early knot of pretentious tie-ups and took Montano over for four, catching nearly the entire audience off-guard, including his adversary. Known more as a counter-wrestler, it was the American who had begun driving the pace and keeping Montano honest with fleeting but threatening positions. Early in the second, Miranda tacked on two more, and it seemed as though he might skate to gold.
But, passivity. Montano was the recipient of the second-period par terre and hastily executed a gut/lift combo that 180'ed the bout's trajectory. Miranda was also incorrectly penalized for a leg foul, though upon the challenge those two caution points for Montano were washed away. Ecuador held on for the win, but Miranda still managed to make an impact in his first Pan-Ams appearance.
The same can be said for the US Team's two upper-weights from Day 1. Olympic Trials runner-up Braxton Amos (97 kg, Sunkist/Wisconsin RTC) went 3-2 in Guatemala, good for second place. He only fell to one opponent, but did so twice — skilled gatekeeper Kevin Mejia Castillo (HON). Amos had lost to Castillo during pool competition, won his semifinal, and then Castillo was in his face again for gold. It was an outcome similar to that of the prior session: Castillo scored on a step-out and takedown, and next seized upon par terre to pile on some more. Amos, who will represent the US at the Junior Worlds, went unscored upon against his three other opponents in Guatemala.
Minnesota Storm heavyweight Donny Longendyke delivered a very strong outing himself at the Pan-Ams, finishing second to another underrated wrestler, Luis Heredia (DOM). Tactically and technically, Longendyke was the more well-rounded competitor. But it was a plodding affair, and scoring opportunities from the feet were predictably scarce. Heredia was awarded the bout's first passive but had no chance in securing a turn. In the second period, the referee held onto his whistle as Longendyke began to push the tempo just a little more. Heredia picked up an additional two for a 3-0 cushion, and Longendyke was kept off the board. Longendyke was a late addition to the American roster for the Pan-American Championships and acquitted himself quite well considering the short notice.
Wrestling on Day 2 of the 2021 Pan-American Championships begins at 10:00am MT/12:00pm ET and can be viewed live in the US on FLOWrestling.
Notes:
Entering action on Day 2, the US is in first place with 130 team points — 70 more than second-place Dominican Republic.
Cuba did not send a delegation; but even if they had, the likelihood is that they would have only competed athletes in the Olympic weight categories.
US National Team member Peyton Walsh (77 kg) will face off against All-Marine teammate Marciano Ali (PUR) in the quarterfinal. Ali lost to Olympic Trials winner Jesse Porter (NYAC/NTS) via tech earlier this month at the World OG Qualifier in Bulgaria; and Olympic Team member John Stefanowicz (87 kg) also defeated Ali at last year's Pan-Am Championships.
The brackets for both Stefanowicz and Ben Provisor (82 kg, NYAC) on Day 2 are round-robin, though you would refer to Stefanowicz's as "pooled" because the bracket funnels into a semifinal round.
2021 PAN-AMERICAN CHAMPIONSHIPS
May 27-28 — Guatemala City, GUA
DAY 1 TEAM USA RESULTS
60 kg — Ildar Hafizov (Army/WCAP) — silver
WON Josh Medina (PUR) 9-0, TF
WON Marat Garipov (BRA) 10-1, TF
LOSS Dicther Toro Castaneda (COL) 7-3
63 kg — Randon Miranda (NYAC/Rise) — silver
WON Victor Mena Vergel (COL) 8-0, TF
WON Juan Rodriguez Jovel (ESA) 10-0, TF
LOSS Andres Montano Arroyo (ECU) 5-0
WON Emerson Felipe Ordonez (GUA) 11-2, TF
LOSS Andres Montano Arroyo (ECU) 7-6
67 kg — Xavier Johnson (Marines) — gold
WON Dan Coles (CAN) 9-0, TF
WON Nilton Soto Garcia (PER) 7-3
WON Enyer Feliciano (DOM) 11-0, TF
72 kg — Jamel Johnson (Marines) — gold
WON Juan Ruiz Lugo (MEX) 9-0, TF
WON Carlos Fuentes Peralta (GUA) 7-3
WON Gerardo Oliva Montes (PER) 8-5
97 kg — Braxton Amos (Sunkist/Wisconsin RTC) — silver
WON Rafael Escamilla Sanchez (ESA) 8-0, TF
WON Santiago Echeverri Osoria (COL) 11-0, TF
LOSS Kevin Mejia Castillo (HON) 9-0, TF
WON Igor Alves De Queiroz (BRA) 3-0
LOSS Kevin Mejia Castillo (HON) 9-0, TF
130 kg — Donny Longendyke (Minnesota Storm) — silver
WON Luis Barrios (MEX) 5-2
WON Catriel Muriel (ARG) 8-4
WON Isaque Medeiros Conserva (BRA) 6-1
LOSS Leo Santana Heredia (DOM) 3-0
DAY 2 TEAM USA DRAWS
77 kg — Peyton Walsh (Marines)
vs. Marciano Ali (PUR)
82 kg — Ben Provisor (NYAC)
vs. David Choc Huoc (GUA)
vs. Alexis Martinez Sanchez (MEX)
87 kg — John Stefanowicz (Marines)
vs. Ariel Alfonso Rodriguez (HON)
vs. Jose Mosquero Murillo (COL)




Listen to "5PM48: Austin Morrow and Gary Mayabb" on Spreaker.
Listen to "5PM47: Nate Engel and Xavier Johnson" on Spreaker.
Listen to "5PM46: Taylor LaMont and Jessy Williams" on Spreaker.
SUBSCRIBE TO THE FIVE POINT MOVE PODCAST
iTunes | Stitcher | Spreaker | Google Play Music
Notice
: Trying to get property 'term_id' of non-object in
/home/fivepointwp/webapps/fivepointwp/wp-content/themes/flex-mag/functions.php
on line
999