The training camp attached to last weekend's Austrian Open is nearing completion for the US Juniors, after which they will return home and prepare for their respective Trials events later on in the spring.
However, those Juniors in Austria are not the only US athletes currently overseas. Some 800 miles east, a small delegation of Americans recently touched down in Moldova. They have the Nicolae Grehov this weekend. A Cadet tournament, the Grehov includes nations like Bulgaria, Hungary, Croatia, Belarus, Georgia, and of course, the host country.
Steldt in Austria
First we direct our attention towards Austria, where on Saturday Payton Jacobson (60 kg, Topper WC), Benji Peak (63 kg, Sunkist/NTS), and Jakob Murillo (67 kg, NMU/NTS) all earned top honors. As a whole, Team USA finished second in the Austrian Open, a pretty remarkable achievement considering they only competed seven athletes.


The coach in the corner for the event, and whom has been with the wrestlers throughout the week, is Lucas Steldt. Steldt has become a developmental fixture for United States Greco during this quad, and is a strong proponent of international training for American age-groupers. He also coached Jacobson, Peak, Logan Hatch (63 kg, EAP/OPTC), and '19 Junior World bronze Alston Nutter (67 kg, Sunkist/NTS) at his Combat WC in Wisconsin.
This is Steldt's fourth consecutive year as a coach on the US tour of Austria after originally being brought along by former NMU head coach Rob Hermann. It has been his first time as the head coach of this trip. With that in mind, Steldt answered a few questions just as camp begins to wrap up.
5PM: What about the timing of this tour works well for the US age-group athletes, especially since they are all full-timers?
Lucas Steldt: The timing of the camp works well for the full-timers. It falls traditionally on most of their spring breaks. Also about six weeks out from Vegas (Junior World Team Trials). Most of these guys had a little gap since their last competition, so this fits in nicely for their training plans. Traveling, competing, and training overseas must be part of a serious Greco athlete's training plan. I've been at the World Championships enough to see that the #1 thing our Greco athletes are deficient in is high-level, real Greco experience.
My empathy for any age-group athlete not ready to compete for a medal at their respective age class is zero. It is 100% in their control. There are zero obstacles except for perceived ones. Spending money, time, and energy on competition and training overseas is mandatory in a USA Greco-Roman athlete's training plan.
5PM: How about Payton Jacobson? He's torn it up a bunch this season in overseas events. What do you think is responsible for his success thus far?
Steldt: Simply hours in training with zero distractions. He has made the decision to invest fully in his Greco-Roman wrestling career. He has accepted that responsibility for his future. The decision to train under Bill Kahle at Catholic Central (Topper Wrestling Club) in their full-time program with zero distractions was his choice of process. The Topper WC at Catholic Central is the only Greco Roman high school in the United States of America. With the full backing of the school leadership, he is allowed to attend multiple overseas tours. His curriculum is fully adapted to allow him to train and compete as needed. They train only Greco-Roman everyday. There is no re-learning from distractions, only constant progress. Add in the international tours and it is the perfect process. The only way to make it better is to start as soon as possible to fully build the body mechanics needed to be a real Greco-Roman athlete.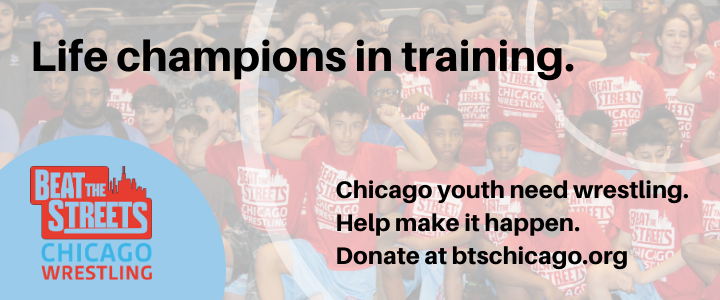 5PM: What separates the Austrian camp from others in your opinion?
Steldt: With a beautiful place to stay and train, it couldn't be any more comfortable. We train in the morning and again in the afternoon. It's easy for the guys to eat breakfast and then relax before training. The morning session is all technical. The afternoon session is mostly tactical with all kinds of foreign partners. We usually take off Wednesday afternoon to see and enjoy the area. Then hit it again for two more days.
5PM; How has it been for you in terms of this being your first year as head of the tour?
Steldt: Rob Herman did a great job of mentoring me on the annual Sweden tour we have in the fall and this Austria tour. It has been seamless. The numbers are down, but I prefer smaller contingents. I like the hyper focus you can have on a body of athletes. My club is very small, so it could just be what I'm used to, as well. My next tour is to the Czech Republic in May. It is a Cadet and Junior tour.
Kahle In MDA
As Stedlt mentioned, Jacobson is a member of the Topper Wrestling Club, which is hosted at Central Catholic High in Burlington, Wisconsin and is currently the only program of its kind in the country. Bill Kahle is Topper's head coach, and he has had his athletes involved in some overseas action this season. Along with Jacobson, Bill's son Cael Kahle (55 kg) and Henry Amborn (65 kg) have all earned international medals for the upstart Greco team in places like Denmark and Sweden.
This time it is Moldova, and with the Topper crew is Joel Adams (MWC), who last year earned bronze at the U15 World Combat Games. The Gehrov will be Adams' first Cadet-level foreign tournament.
This is yet one more opportunity for Topper — and a handful of US age-group athletes, period — to mix it up with experienced foreign counterparts when the vast majority of their contemporaries are engaged in traditional wrestling activities. That's the vision of the program, and it is also why Kahle chose Moldova as the next spot for his athletes to hone their skills.
"I found out about Moldova from friends in Sweden," Kahle said. "I followed up and found that many Eastern European countries would be there. I want my guys to wrestle in tough conditions, and against Greco athletes who wrestle Greco full-time. I want them to receive and experience the same training their World-level opponents get."
2020 Nicolae Grehov Tournament
March 6-7 — Chisinau, Moldova
TEAM USA ROSTER
55 kg
Joel Adams (MWC)
Cael Kahle (Topper WC)
65 kg
Henry Amborn (Topper WC)


Listen to "5PM33: The Marine Corps' Jamel Johnson" on Spreaker.
SUBSCRIBE TO THE FIVE POINT MOVE PODCAST
iTunes | Stitcher | Spreaker | Google Play Music | RSS
Notice
: Trying to get property 'term_id' of non-object in
/home/fivepointwp/webapps/fivepointwp/wp-content/themes/flex-mag/functions.php
on line
999