When the news was made official last month that Jonathan Drendel was stepping down as the head coach of Williams Baptist University's two-year-old Greco-Roman program, concern immediately arose. The Northern Michigan alum and former Junior National champ had done a remarkable job developing green wrestlers into solid prospects within a compressed window, and quickly ushered the fledgling program towards national relevancy. As such, his departure was met by most in the Greco community with rightful alarm.
Even more consternation followed when Todd Allen, the head coach for WBU's NAIA folkstyle team, was announced as Drendel's replacement. Allen, though certainly an experienced wrestling mind, does not carry a Greco pedigree, thus serving as the source for what was at first glance additional trepidation.


Well, Coach Allen is here to quell those concerns.
Allen, now firmly ready and motivated to lead WBU Greco-Roman into competition next season, addresses each pressing item individually: how he was approached to take over the Greco side and why he agreed; how he plans on continuing to develop WBU's roster; what Greco and folkstyle can learn from each other; and most importantly, why potential recruits should feel confident in the direction of the program.
5PM: Just to clear up the timeline, what was the extent of your knowledge related to when the position opened up after Drendel announced his departure?
Coach Todd Allen: The position was probably open close to a month before the administration brought me in to discuss taking it over. So, probably over a month and then discussions started happening regarding me taking it over.
5PM: What was your main motivation in accepting this role, especially considering that you are already Williams' NAIA coach?
Allen: My main motivation in taking over the Greco program, even considering my position with the folkstyle team, was to continue the well-known wrestling atmosphere at Williams, as well as maintaining the program and hopefully growing it so it can continue to be a benefit to the United States. Some of these guys are still trying to make World Teams, and that's the goal. I want to see guys be successful from a Greco standpoint, and if no one took this over, I didn't know what was going to happen from then on. If I didn't take it over, I didn't know if the program would exist.
5PM: It has been established that you don't come from a Greco background, that you're not coming in here as "Mr. Greco Guy" and all of that. Even still, we have seen this before in the US. There have been Greco coaches who they themselves did not have Greco careers. So, what do you feel you bring to the table as a coach related to this situation, and also, what are your greatest strengths as a coach in general now that you're overseeing two programs?
Allen: I think my biggest benefit to the Greco guys, and my biggest strength probably as a coach, is being able to get in guys' heads to be competitive. I tend to get a lot out of a little sometimes with guys. So much of our sport, be it Greco or folkstyle, is a mental game, and I think I bring a good amount of that to the table in preparing guys to be competitive and to be competitors. To have some toughness about them. We are going to be in shape and we are going to be fighters, and you can bet your behind that although I'm not a Greco guy, I am going to be a student of the sport just like I've become a student of folkstyle. I am going to watch every video I can and looking up every technique I possibly can so I can become even more of a student of the sport so I can provide some direction to these guys.
From a coaching side, you're right, there are some coaches who have coached Greco guys and these coaches were not Greco athletes. I think I can step in here and give it my best shot. The school has mentioned getting us an assistant coach. Hopefully, I can bring someone in here who is a solid technician, and who can provide even more than I can — but you better believe I am going to become a student of the sport over the next couple of months so I can get the best bang for the buck out of each one of these guys we send out on the mat.
5PM: As a wrestling coach, what do these two styles have to offer each other, especially in such close quarters? There's a lot of sharing between teams at Williams, I think everyone knows that. What can one guy from one team learn from the other?
Coach Todd Allen: It has been a unique dynamic over the past two years. It has been crazy to see even some of our folkstyle guys come in and have flat out tell me, I'm not a Greco guy, I'm not a Greco guy — but they watch a few practices, sit on the sideline, and then pull a Greco guy aside asking How'd you do that? Which is crazy to see. And then they start competing and doing the same technique, and they see the benefits from it. That is the biggest thing from a folkstyle standpoint. I see our folkstyle guys learning how to hand-fight better, learning how to stay in good position for longer periods of time.
And then from the Greco side coming from folkstylers, like we were talking about, these folkstyle guys come into Greco and they're competing. We've had guys who competed in folkstyle their first years here and they transition to Greco. They have had a year of college experience and then they are in Greco and they are competitive. They're not as worried about the position and technique as much as they are competing and looking for the win.
There is a benefit in having the Greco team and sending some of the folkstylers out there to wrestle the Greco guys. Like you mentioned, there are wrestlers who haven't done Greco in four years but they come out to the US Open and they've got an awkward stance and they're a little bit quirky. But our Greco guys see that because our folkstyle guys have been in on them. So they'll know a little more about what to expect as opposed to a guy who has been training Greco specifically for two years straight.
5PM: There are several important events we have in this country. In order, it will be the NYAC tournament, the December Nationals, Dave Schultz Memorial, the Olympic Trials, and then the string of age-group Trials. How is this going to work given the fact you also have the folkstyle team to preside over and you have to be there for them? How will guys get to events, and will you be at any of these tournaments?
Allen: Yes, our intent is to attend all of the domestic tournaments as has been the case the past two years. My intent is to make them all and be there for these guys. I'm trying to finagle the schedule to where it is not going to interfere in my getting from one place to the next so I can be there for both of them (wrestling programs).
Is it going to be difficult? Sure, sure. But my intent is to be there for these Greco guys just like I have been for the folkstyle guys, and just like Jonathan had been there for them the last two years. We have an assistant folkstyle coach (Daniel Capp) and he has been here for four years now. If need be, I don't think too crazy to think he'd be able to handle the reins for the folkstyle team if I had to take the Greco guys to one of those domestic tournaments. But that is the intent. The intent is to be there for all of the domestic tournaments just like we have been for the past two years.
5PM: You are a married man with three children and you have added on to your workload. How has this gone over at home?
Allen: (Laughs) My wife, bless her heart, she has taken on the role of a coach's wife rather well. And she is a career woman herself, she is an assistant superintendent. Our careers are important to us and she knows how important wrestling and my career is to me. And I think the same for her. But at the end of the day, we make it work out. Our three kids are a handful but we've always worked it out in the past, and my wife, she's a gem. Luckily, we'll have some family and friends to help us. But we'll make it work out. We will make it work out. I think it'll be tough but it won't be anything that is mind-blowing or life-altering in any sense. It's going to be hard, but life is about struggles and making things work out, and we're going to do that.
5PM: What would you want any prospects or recruits who are looking at Williams as an option to know about the program right now as we talk today?
Coach Todd Allen: I'd like them to know and understand that Williams Greco is here and we are trying to develop World-class athletes and guys who are going to make World Teams, and attending World Team Trials and trying to climb the ladder. We are going to train just as hard as someone at a big RTC (regional training center) or the OTC (Olympic Training Center). We are going to be doing the same or similar stuff and striving to make the World Teams, just like anyone else. Williams is here, and we are going to stay here.
Follow the Williams Baptist Greco-Roman team on Twitter and Instagram.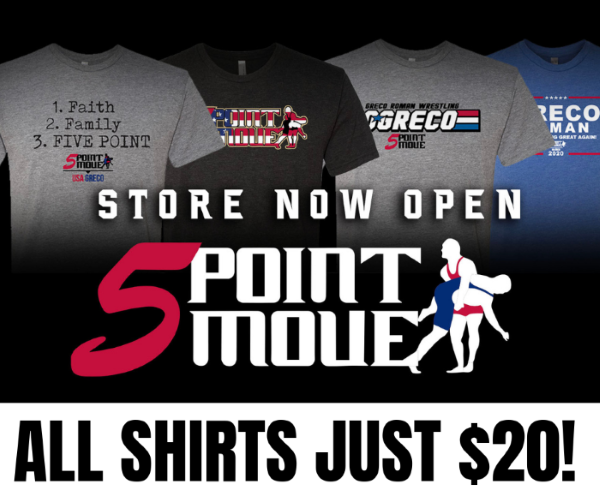 Listen to "5PM26: Princeton's Lenny Merkin and new USOTPC Greco-Roman athlete Nolan Baker" on Spreaker.
SUBSCRIBE TO THE FIVE POINT MOVE PODCAST
iTunes | Stitcher | Spreaker | Google Play Music | RSS
Notice
: Trying to get property 'term_id' of non-object in
/home/fivepointwp/webapps/fivepointwp/wp-content/themes/flex-mag/functions.php
on line
999