The primary reason why Dalton Roberts (60 kg, 5PM #7) has been one of the most-covered athletes on this platform dating back to 2016 is quite simple: he is a very active competitor, and also, a very successful one. Prior to appearing in the '18 Senior Worlds, Roberts, throughout this prolonged quadrennium, suited up for World tournaments at both Junior and U23, as well. The latter of which, twice ('17 and '19). In addition, he has a Senior National title to his name ('18) to go along with more than a handful of medals earned across the Atlantic.
This math is easy to do.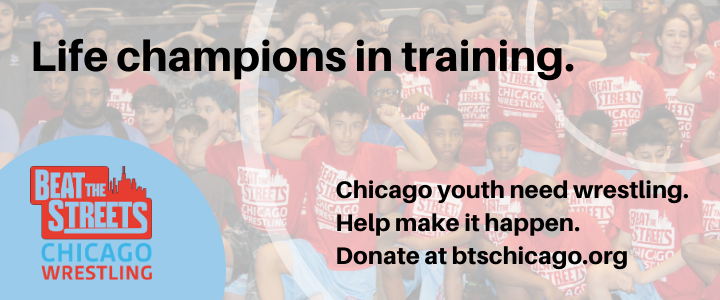 But when you run the numbers, a notable bulletpoint to observe is that each and every successful mission on Roberts' docket had been achieved as a student-athlete for Northern Michigan University. And as reported in the spring, that will no longer be the case.
Roberts, who graduated from NMU in '18 but remained on campus through last season, decided to leave Marquette and the Superior Dome behind this past spring in order to join the US Army's World Class Athletes Program headquartered at Fort Carson (Colorado Springs). He loved NMU, did Roberts. Loved it. He's originally from Michigan, anyway, but Northern's program and its coaches were largely responsible for turning him into the consistent on-the-mat terrorizing force he has become. His feelings have not changed, not even a little bit. However, Roberts couldn't be more excited to have the opportunity to continue competing (for USA Greco's version of the Yankees, no less) while serving his country. That as a Specialist (E4) he will be able to adequately support himself naturally doesn't hurt, either.
You know the rest, right? How practice schedules, at WCAP and basically everywhere else in the country, are pieced together? How competitive opportunities leading into the Olympic Trials exist mainly as a hypothetical until further notice? Those who know Roberts can already guess his attitude. He's just chugging along, refusing to complain. Keeping his mind on the objective and anticipating what will come his way next.
Aren't we all.
Dalton Roberts — 60 kg, Army/WCAP
5PM: I think a question a lot of people might have is how physically challenging was basic training for you? 
Dalton Roberts: I would say it's more mental. Physically, it is challenging but more mentally. That's all I'll say. Especially being away and being in a different environment, it is definitely mentally straining.
5PM: What was your weight when you got out? Did you lose or gain weight?
DR: I think I weighed 67 (kilograms) when I got out.
5PM: How long into basic did it take you to feel comfortable with the routine?
DR: Not long, I'd say like a week.
5PM: Did you form any relationships worth noting while you were there?
DR: Yeah, I met some good people. A kid from Minnesota who was in basic with me, he's a truck driver, as well. He is a wrestler from Minnesota and we were also in the same AIT (Advanced Individual Training). I met some other people, too. You get to have some real genuine conversations with others during a time like that. I met some really cool people.
5PM: Now that you are out of basic and AIT and in Colorado Springs close to being settled down, do you feel that this next chapter has officially begun? Does it feel different knowing that you're now fully in?
Dalton Roberts: Maybe a little bit. I don't know. That's tough to say. It's cool to see that it is a different milestone in my career, but it's not the end state. I think it is just another step forward to where I want to be. That's what I see it as.
5PM: You knew a lot of these guys on your team between competing against them and through various training opportunities. Have you gelled easily with everyone?
DR: Yeah, the environment is very conducive to an atmosphere that I like and the guys I train with everyday are very welcoming. I knew a lot of them before this just from competing against them and a lot of the history. It has been, I would say, a very smooth transition.
5PM: You are also an official resident of Colorado Springs. Do you enjoy that just because you're good with being anywhere, or is that you do really like Colorado?
DR: I love Colorado. The mountains, nature. It's different from Lake Superior, but I love it.
5PM: Thus far, from whatever you understand and whatever your coaches have talked to you about as far as piecing together training until the Trials, is there a specific plan in place as far as preparation goes leading into the spring?
DR: The plan is to just continue working on technique, conditioning, and being a better overall wrestler. And if competitions aren't in the picture, it is to be the best that we can be as a team and as individuals for when the day to compete comes. We're all just working around this crazy environment and world that we live in and doing the best that we can.
5PM: You are known, character-wise, for being dedicated and flexible, regardless of the circumstances. Your attitude I think is what draws people towards you. It was like this when you were at NMU and  working jobs for whatever money while blossoming into a top competitor; now you are in a different situation with a well-paying occupation that allows you to continue moving forward as a wrestler. What is your attitude like now?
Dalton Roberts: Well, if that was my attitude then, you can imagine what my attitude is now that I can support my dream to the fullest and provide myself with a more comfortable living while working at my full potential. It's like, Wow, if the dream was what I thought it was back then, living paycheck to paycheck, then I am really doing it now. 
The Army has provided an opportunity to support myself and take my dream to the fullest extent. I love it. I get to train with the best guys in the country everyday — and I wrestle. That's the dream to me.


Listen to "5PM42: A Dennis Hall Thanksgiving" on Spreaker.
SUBSCRIBE TO THE FIVE POINT MOVE PODCAST
iTunes | Stitcher | Spreaker | Google Play Music
Notice
: Trying to get property 'term_id' of non-object in
/home/fivepointwp/webapps/fivepointwp/wp-content/themes/flex-mag/functions.php
on line
999