2017… '18… '19… The Tokyo Olympics… For the fifth consecutive year, Army's World Class Athletes Program is responsible for the lightest members of an American World-level Team, which certainly pleases assistant coach Spenser Mango these days. 
The '21 World Team Trials happened upon the calendar just five weeks after the Tokyo Olympics — where Ildar Hafizov (60 kg) and Alex Sancho (67 kg) both fell short of their medal hopes. Hafizov and Sancho were naturally #1 seeds at the Trials, and both advanced to the final round, though neither managed to prevail. 
When it comes to 60 kilograms, the Army keeps the top spot as Dalton Roberts defeated Hafizov in a grueling, three-match series. With Max Nowry back in the fold at 55, WCAP will head to Oslo once again leading the World Team thanks to two elite lightweights. Sancho — who made his first Senior squad by winning the Olympic Trials back in April — was surprised in the 67 final by quite the surging character, '19 Junior World bronze Peyton Omania (NYAC/CYC).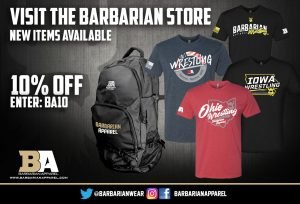 National Team implications were not part of the package in Lincoln earlier this month, yet Army still rose to the occasion with several others in the top-3. '21 National champ Spencer Woods tested two-time Olympian Ben Provisor (NYAC) in their finals series at 82 kilos; Jacob Mitchell (130 kg) did the same against Cohlton Schultz (Sunkist); and Michael Hooker (72 kg) gave it a run with a fourth-place finish. 
5PM: Once Ildar returned from Tokyo, I suppose maybe the same for Sancho, too, but did you have to pay special attention to him just considering the grind of traveling and the training for the Olympics itself? Were there any adjustments for the whole idea of coming back home and then the Trials?
Coach Spenser Mango: Yes, for the first couple of weeks we kind of let them (Hafizov and Sancho) recover a little bit and not have them go through the full practices. We knew that it was going to be a quick turnaround and that it would be a tall task, to peak for the Olympics and then soon after try and make a World Team. But these guys handled it well. Both came out and made the finals. They eventually didn't end up making the Team, but I think it is good that they now get to stay back and heal some of the injuries from the grind of being on the Olympic Team and training. 
5PM: When Dalton wrestled Ildar in 2018, he was obviously an up-and-comer. Everyone knew that. You saw how he wrestled Ildar in '18, it was the pressure factor. No one is as technically sound as Ildar in the country, and Dalton is a stronger, better version of himself compared to '18. But do you attribute any of Dalton's success this time around to him and Ildar being in the same room together?
SM: That always helps. When you get to wrestle someone everyday, you find out their tendencies because you have that firsthand experience and you know all of their go-to stuff. So yeah, of course it helps. At the same time, Dalton is a super-hard worker. He is a guy who will run through a wall if you tell him to, and he turns every match into a fight. He has a style that just goes and goes and goes. He is hard to wrestle. 
5PM: Physically he also looks bigger these days. 
SM: He is putting in extra work. Doing his push-ups, jumping rope, and all kinds of stuff (laughs). But yes, he is physically stronger than he was a couple of years ago and I think that is really helping him on the mat. He always came with that hard pace, but guys could off-balance him and throw him off a little. Now, he is much more of a problem because he is physically stronger. 
5PM: Max was expected to win, and he had an active sort of prelude to all of this after the Trials. Does a fast turnaround to the Worlds help him at all? There is less time to let anything rent space in his head, and he was close to medaling in '19. 
Coach Spenser Mango: I don't really think it matters for him. He is a professional with his preparation. He has some days when he will tell me, Coach, this or that is bugging me and I need to take it easy this morning. He knows his body well. I wasn't too worried about him after the tournaments this summer. Unfortunately, a couple of them didn't pan out, but he was still traveling with the team and going through different time zones. I wasn't ever worried about him, though. His weight is never an issue and he is always taking care of his body because it is something that he has to do. 
5PM: Sancho had the highest of highs in winning the Olympic Trials. He had finally broken through at Senior, but that is exactly why I thought the World Team Trials was a big tournament for him. Peyton (Omania) had an outstanding performance, obviously. But also, do you think 67 kilos in our country has caught up quicker than maybe most thought? Or do you think there was a comedown from the Olympics involved with Sancho?
SM: Right, well, there is nothing to take away from Peyton. Peyton wrestled one heck of a tournament and looked amazing. Both days, he came out firing on all cylinders and was going for scores. He was making it happen. But Sancho, I'm sure there was a coming down from making the Olympic Team, preparing for the Olympic Games, and then not getting a medal and having to pick it back up again with a fast turnaround. That definitely affects you. It is hard to peak twice in a month. But it is a learning experience. Go back to the room and work on some things that are more important right now. Like taking a break and getting some rest, and we'll work on all of that other stuff later. 
5PM: Hooker, who I maintain is still so talented, wound up having a solid tournament. 
SM: I know the result was really not different from the last Nationals or anything like that; but at the same time, and even though he didn't make the final, he actually looked healthier. 
5PM: Was he healthier because the gap between tournaments was longer?
SM: Yes. Plus, he is managing his body well. He definitely had plenty of time to prepare for this tournament and he knows his body really well. Hooker at 72, it is a better weight class for him. So, I think it's a combination of all of those things, and he wrestled better in this tournament than the previous one. But there is still work to do and we are always chasing the top of the podium. 
5PM: Spencer Woods, back down to 82 where he was a National runner-up two years ago, and he was just a National champ at 87. Now he just took second in the Trials to Ben Provisor, arguably the best overall upper-weight in the country. Even though he lost, he really showed his aggression against Ben and that is not easy to do. 
SM: He honestly did what I expected him to do. Spencer has a lot of fight. He is still young and is learning a lot of things, but he isn't afraid of anyone. And I think that definitely showed in how he wrestled Provisor. He didn't win, but he put up one heck of a fight in two straight matches. I guess that that is the attitude he brings. He always wants to win. He doesn't care who he's wrestling or at which weight, he is coming at you. 
5PM: On one hand you have Luke (Sheridan), the multi-time National Team member who keeps knocking on the door; on the other, his pal JD Souza, who is also excellent and was the National runner-up in April. Luke was banged up prior to Lincoln, and Souza's knee is and has been wrecked. Are both athletes just going to take some time and heal up for the spring?
SM: Yes, definitely. Most of these guys need to heal up, and you could see that from their performances. We have things they need to work on, such as both needing to make more attempts. I also think there is a little bit of a gap between what happens in the wrestling room compared to what happens in competition, and both are actively working on that. 
5PM: Then there is Jacob Mitchell, who had himself a productive outing, and was able to take a match from Cohlton in the best-of-three. I guess it should also be mentioned that heavyweight had the most entrants of any bracket, too. 
Coach Spenser Mango: Cohlton is a tremendous competitor. He had success at the Cadet and Junior levels, and now he has his chance to show what he can do at Senior. And Jacob? Jacob is right there. If Jacob puts it together, he can be a scary athlete because he's so strong and athletic. But he has to put it together through an entire series, which he has not yet been able to do. 
He did show that he can take a match (from Cohlton). Maybe some people didn't think he could, but Jacob can do that when puts his mind to it, and puts it all together. 
Follow Army/WCAP on Twitter, Facebook, and Instagram for updates on results and competitive schedules. 




Listen to "5PM50: Mr. Fantastic Benji Peak" on Spreaker.
Listen to "5PM49: Robby Smith on coaching, fatherhood and mentors" on Spreaker.
Listen to "5PM48: Austin Morrow and Gary Mayabb" on Spreaker.
SUBSCRIBE TO THE FIVE POINT MOVE PODCAST
iTunes | Stitcher | Spreaker | Google Play Music
Notice
: Trying to get property 'term_id' of non-object in
/home/fivepointwp/webapps/fivepointwp/wp-content/themes/flex-mag/functions.php
on line
999