The selection process for the 2019 US Greco-Roman World Team saw its second step completed on Saturday with the conclusion of the World Team Trials Challenge Tournament. Similar to last year, there could be some potential turnover. As outlined below, only seven of the finalists from Raleigh had prior Senior World experience entering this season. And of the 20 Final X Greco athletes, 11 have yet to make a US Senior World Team and there will be four match-ups where both guys are in the same proverbial boat.
We have a collection of follow-ups in store for this week. Look for Q&A's with…
Ildar Hafizov (60 kg, Army/WCAP)
Jamel Johnson (67 kg, Marines)
Benji Peak (67 kg, Sunkist/OTS)
Lucas Sheridan (97 kg, Army/WCAP)
Cohlton Schultz (130 kg, Sunkist)
a new Coach Lindland's Report
and more!


2019 Final X Match-Ups
FINAL X RUTGERS
June 8th
55 kg: Max Nowry (Army/WCAP) vs. Brady Koontz (Ohio RTC)
67 kg: Ellis Coleman (Army/WCAP) vs. Jamel Johnson (Marines)
77 kg: Kamal Bey (Sunkist, world no. 5) vs. Patrick Smith (Minnesota Storm)
82 kg: Kendrick Sanders (NYAC/OTS) vs. John Stefanowicz (Marines)
87 kg: Joe Rau (TMWC/Chicago RTC) vs. Ben Provisor (NYAC/NLWC)
FINAL X LINCOLN
June 15th
60 kg: Mike Fuenffinger (Army/WCAP) vs. Ildar Hafizov (Army/WCAP)
63 kg: Ryan Mango (Army/WCAP) vs. Xavier Johnson (Marines)
72 kg: Ray Bunker (Marines) vs. Alex Mossing (Air Force)
97 kg: G'Angelo Hancock (Sunkist, world no. 3) vs. Lucas Sheridan (Army/WCAP)
130 kg: Adam Coon (NYAC/Cliff Keen) vs. Cohlton Schultz (Sunkist)
2019 World Team Trials by the Numbers
Of the tournament's 171 total bouts, 50 were recorded as tech's and 29 ended via fall.
There were 94 competitors in the 2019 World Team Trials Challenge Tournament — one more than a year ago.
Seven of the Challenge Tournament finalists were under the age of 25.
Seven of the Challenge Tournament finalists have appeared at a Senior World Championships, combining for 16 US World-level Teams — Ildar Hafizov (60 kg), Mason Manville (77 kg), Patrick Smith (77 kg), Cheney Haight (82 kg), Patrick Martinez (87 kg), Ben Provisor (87 kg), and Robby Smith (130 kg). The number is 16 and not 20 because Hafizov competed in four Senior World-level events for Uzbekistan.
19 of the 20 Challenge Tournament finalists wrestled in at least one World tournament counting all age-groups and organizations. The lone outlier? Xavier Johnson.

'19 Trials Undercover Stars
When the tournament wrapped on Saturday the focus stayed with those who made the best-of-three finals. But as always following a major domestic event, they weren't the only athletes who acquitted themselves well and deserve a closer examination. Here's a look at five others who stood out for one reason or another.
Nolan Baker (67 kg, NIRTC) — Baker went 5-1 at the Trials, good for third place. Mighty impressive when you consider he hadn't wrestled a Greco match since the U23 Worlds last November. Even more impressive was that his headlock game followed him onto the Senior level. That's another thing, this was Baker's first-ever Senior tournament. He successfully executed five headlocks in Raleigh and was the most consistently exciting wrestler to watch. Check out his matches. Each one is a reminder of what Greco is supposed to look like — and what it used to look like once upon a time before red tape and timidity influenced its downfall.
Britain Longmire (55 kg, NV) — He was hyped to the tilt prior to the Open but that tournament didn't turn out as well for him as most had anticipated. Longmire made up for it this past weekend and then some. He and eventual runner-up Dalton Duffield (NYAC/OTS) combined for 29 points in the semis; and then in the consolation bracket, Longmire drummed up a big tech over Jabari Moody (NYAC) and won in the third-place match by edging another frightening talent, Ibrahim Bunduka (INWWTC). Get this guy into a top-level program immediately.
Colin Schubert (72 kg, NYAC/OTS) –– Schubert may be a "full-time athlete", but his training schedule had been pieced together throughout much of this season and it was only right around the Open when things started to settle down. Vegas was not a great showing for him. Raleigh was. Schubert's two losses at the Trials came against multi-time finalist Alex Sancho (Army/WCAP), who might not have been in prime condition due to his recent return from basic training, but remains one of the top stars in the sport. In between those defeats, Schubert ran the table in the consolation bracket, capping it off with a touch of vengeance by tech'ing Nick Tarpley (NYAC, and who was done no favors by the officials in his semifinal round versus Mossing).
Geordan Speiller (82 kg, Florida Jets) — Nothing Speiller does on a mat should come as a surprise, and it is also tough to justify putting a recent World Team member who was the #2 seed in his bracket on this list. But consider: like Sancho, Speiller hadn't competed in quite a while and still looked sharp. He raced to victory at the expense of Vlad Dombrovskiy (Army/WCAP), was blitzed by champ John Stefanowicz (Marines), and then recovered by tech'ing Terrence Zaleski (Marines) and Tommy Brackett (NMU/OTS) before earning another National Team spot at the expense of Cheney Haight (NYAC). Yes, there isn't much here that elicited a shock, but Speiller's performance certainly does not deserve to go unnoticed.
Tommy Brackett (82 kg, NMU/OTS) — Brackett is not being included simply because he and '18 Junior World silver Andrew Berreyesa (NYAC/FLWC) traded paint twice in the tournament to wind up 1-1 against each other. What is decidedly more telling is that after Brackett lost to the Cornell stud in his first match of the event, he defeated Dombrovskiy, Open bronze Chandler Rogers (CRTC), and Berreyesa in order. That is quite the run. Of course, there is much more to look forward to with the U23 Trials less than two weeks away.
Hancock in Ranking Series Tournament This Weekend
Two-time Senior World Team member G'Angelo Hancock (97 kg, Sunkist, world no. 3) will be making his third "Ranking Series" appearance this weekend at the Sassari City/Matteo Pellicone tournament in Italy. Our coverage of this event is going to include a preview and recap on FLO, as well as an immediate breakdown of the result right here. As of now, there are several top-tier competitors registered in Hancock's weight class led by 2009 World Champion/multi-time medalist Balazs Kiss (HUN, world no. 9), 2016 Olympic bronze Cenk Ildem (TUR), and Nikoloz Kakhelashvili (ITA). The American defeated Ildem in the fall of '16 at the Clubs Cup and Kakhelashvili last summer in Poland, respectively.
Questions? Concerns? Feel like reaching out? Do so on Twitter, Facebook, and Instagram!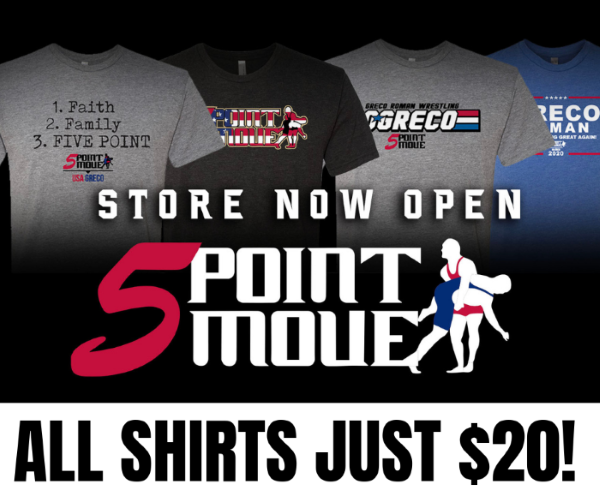 Listen to "5PM23: World Team Trials Challenge Tournament Preview" on Spreaker.
SUBSCRIBE TO THE FIVE POINT MOVE PODCAST
iTunes | Stitcher | Spreaker | Google Play Music | RSS
Notice
: Trying to get property 'term_id' of non-object in
/home/fivepointwp/webapps/fivepointwp/wp-content/themes/flex-mag/functions.php
on line
999