Editions of the Monday Roundup following events usually have the word "wrapped" in the title, but we're not totally finished with what happened in Las Vegas just yet.
Follow-ups still to come throughout the week include:
An all-new Coach Lindland's Report. 
Q&A's with 2019 National champs Kendrick Sanders (82 kg, NYAC/OTS) and Joe Rau (87 kg, TMWC/Chicago RTC).
An all-new Storm Report, First to Fight, and Fort Greco. 
The last of our US Open recaps for FLOWrestling is now live, so please check that out, as well.


US Open Undercover Stars
We celebrate the winners and point to the runner-ups, but in doing so a lot of athletes who put forth impressive performances have a tendency to get left out. In the spirit of acknowledging those who stepped up but maybe didn't receive enough attention for their efforts, here are a few Seniors deserving of a closer look.
Ibrahim Bunduka (55 kg, INWWTC) 4th place — He might have had some prior age-group experience, but Bunduka entered the 2019 Open as an unknown Greco commodity, nailed down a few dynamic wins, and gave champ Max Nowry (Army/WCAP) a tough time in their quarterfinal matchup. Whatever Bunduka was feeling inside, whether there were nerves or reluctance, it didn't show. Maybe he was caught in-between on occasion, but if you watched each of his six matches, you'd have to be silly not to think he's working with some serious potential.
Nate Cervantez (63 kg, CYC) 5th place — The "CYC" after his name should give away that Cervantez is at the very least well-coached. But excellent coaching only gets you so far on the grandest domestic stage, especially when you're a Senior newbie. Under those circumstances alone, this kid was a revelation. His fifth is a bit misleading; he would have had Xavier Johnson (Marines) in that match had the latter not defaulted from the tournament. But that's immaterial for what we're talking about. Cervantez wrestled loose and confidently aggressive, and was not shy about trying to put up points.
Jarod Verkleeren (67 kg, NLWC) 5th place — Including Verkleeren could be seen as cliche. After all, we covered the fact he was entering the Greco Open as soon as he declared his intent. The lead-up publicity didn't mean he should have been expected to perform well, and it certainly didn't come with the expectation that he would defeat the previous year's runner-up (Jessy Williams) via tech, or wind up hanging in there with Jamel Johnson (Marines). Verkleeren demonstrated natural Greco chops that are hard to teach, and were hopefully enough to convince himself that he should continue down this path.
Chandler Rogers (82 kg, CRTC) 3rd place — Rogers, even more than Verkleeren, is not an "undercover athlete" by any stretch, but when you consider that the only loss he took was to former World Team member Jake Fisher (Curby 3-Style) before eventually running the table all the way to bronze — which was sealed with a win over Terrence Zaleski (Marines) — it's hard to walk away from his performance without imagining what he might develop into later on. Even his positioning most of the time was on point. That coupled with some nifty scores really stood out.
Eric Twohey (97 kg, Minnesota Storm) 4th place — The reason why Twohey deserves props is because anything other than a top-four showing would have been a disappointment. Now that's kind of crazy to suggest given how new he still is, but that's also what happens when the bar is already high. Twohey might not be 19-years-old. That's true. He's also not 30, for crying out loud. When you watch how he operates and then combine that with what has been very good decision-making on the mat, what you've got is one of the best prospects in the country.
Haydn Maley (130 kg, CARTC) 4th place — If you stretch your brain, you could say the same thing about Maley. But that might be asking a lot. Maley, who lit up Fargo for a couple of years and was a runner-up at the '17 Junior Trials, has the makings of a big-time heavyweight contender due to well-above-average balance and obvious "total wrestling ability" (which is code for folkstyle influence). Maley hunts down scores like a shark, and seems to have a definitive understanding of what his body can actually do. Plus, who did he lose to in Vegas? 2016 National champ Toby Erickson (Army/WCAP), and twice. He certainly gets a pass for that.
Wrestlers on Social Media
Your (somewhat) regular dose of inspiring words, knuckleheaded antics, or thought-provoking questions from your favorite US (and sometimes international) Greco-Roman athletes and coaches.
Starting with the US' 'Prodigal Son'
He'll remember this birthday with vivid detail.
Still just 20-years-old. 
We just talked about this.
Tuma, tough as a brick, enjoying a well-deserved night in the desert city. 
View this post on Instagram
Second Senior title win, different weight class, different training environment.
You ever notice how the best athletes are always grateful just to be able to compete? Weird.
Unscored upon. 
The Marines were can't-miss in Vegas and it was all just the tip of the iceberg. 
Questions? Concerns? Feel like reaching out? Do so on Twitter, Facebook, and Instagram!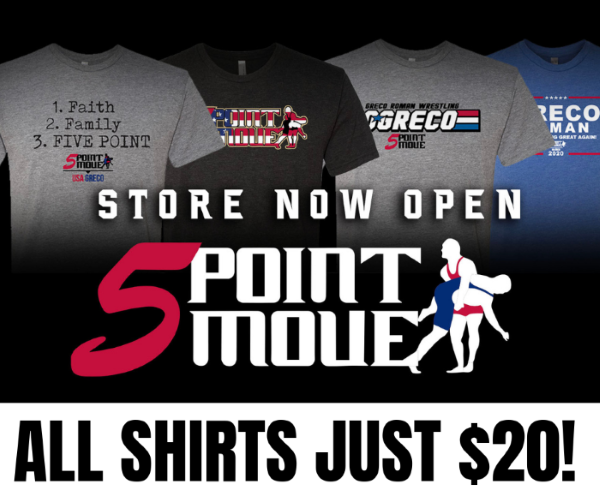 Listen to "5PM22: Sammy Jones guest co-hosts as Five Point Move visits with Lucas Sheridan and Sam Hazewinkel" on Spreaker.
SUBSCRIBE TO THE FIVE POINT MOVE PODCAST
iTunes | Stitcher | Spreaker | Google Play Music | RSS
Notice
: Trying to get property 'term_id' of non-object in
/home/fivepointwp/webapps/fivepointwp/wp-content/themes/flex-mag/functions.php
on line
999