On Friday evening, Army/WCAP put eight wrestlers in the finals of the 2019 US Greco-Roman Open and came away with five champions to cap another blitzing team run at the country's largest event.
As usual, it started with the light guys. Army swept the first four weight classes courtesy of its "Ninja Squad", the splinter cell within the program that begins at 55 kilograms and ends at 67. The trio of Max Nowry (55 kg), Ryan Mango (63 kg), and Ellis Coleman (67 kg) took top honors for the second straight year, though Coleman's triumph actually sealed his third title in a row and fifth overall. Joining the party for the first time was Mike Fuenffinger at 60 kilos. The former two-time Division III National champ for Augsburg not only got over the hump, he downed returning Open winner Dalton Roberts (NYAC/OTS) and uber-experienced teammate Ildar Hafizov in consecutive matches to do it.


Coleman, he's going to appear on the forthcoming episode of the Five Point Move Podcast (his fourth appearance), but his three lightweight title-winning teammates are featured below providing their perspectives of the tournament as well as what it all means ahead of the Final X Series coming up in early June.
Max Nowry — 55 kg, Army/WCAP
Nowry, who also won the Pan Am Championships for a second time the previous week, defeated 2018 U23 World Team member Dalton Duffield (NYAC/OTS) 5-3 in the Open finals. It was a highly-anticipated match-up. Duffield, a no-doubt-about-it talent, has taken to Senior Greco even faster than most could have hoped, and he breezed to Friday's final round in emphatic fashion. But Nowry, who contended with an eye infection in Argentina, managed to convert his second-period passive chance into a gutwrench that wound up providing the match-winning points.  
5PM: How does this win compared to your one last year?
Max Nowry: Last year was definitely more special because it was the first one. This one was more about the opportunity to wrestle at the Italy tournament so I could get foreign matches. I said that when they interviewed me afterwards, the biggest motivation for winning the Open was Italy, strictly Italy, and not having to go to Raleigh. That was pretty much my focus for the tournament, If I want to go to Italy, I've got to win this.
5PM: This was a similar situation to 2018, except the order was reversed with this tournament and the Pan Ams. Did going on back-to-back weekends play any role for you physically, positively or negatively?
Nowry: For myself I want to say no, just because I like competing more (often) and being able to get on the mat as much as possible. So for me, that week was a good amount of time between tournaments.
When I first read the Pan Am itinerary, I was scheduled to come back home for only like 12 hours. I talked to Coach Spenser (Mango) about that, because that would have sucked to just come home, do laundry, pack again, and then go to the airport. I was actually very happy to just go straight from Argentina to Vegas. It made for a longer day and it was an extra flight — but speaking for myself, I was at the location where my teammates were going to be, where the tournament is, and so then it was like, Now I'm in tournament mode. I liked going right into it without having to worry about the stress of coming home and resetting my whole competition mode back up. It just steadily stayed on that competition dial.
5PM: It's kind of a new situation in that you will await the winner of the challenge tournament, but instead of wrestling whomever that is later in the night, you'll have a few weeks in between. Whether you're in the States or not when the Trials take place, will that person have your attention?
Nowry: No. I don't like watching video of people. Even with foreigners, I know for the most part what they like to do and their styles, so for me personally, I don't like watching video and thinking about it too much. When I had done that in the past, it got me thinking about what not to do.
It's like a double-edge sword, because I focus only what I like to do, and I don't want to watch video and have it negatively affect how I train and the way I want to compete. But at the same time, last year when I wrestled (Sam) Hazewinkel I went out and wrestled the way I wanted to, but I didn't wrestle smart. I wrestled his game plan. So I focus on myself and on staying in position while wrestling smart, but aggressively, as well. I want to think about what I'm going to do to them, not what they're going to try to do to me. If I can keep my feet moving and keep pushing the pace, then I'm not reacting to someone else. I'm setting the tone and setting the pace.
5PM: Do you like how this is being spaced out with Greco's inclusion in the Final X Series, and that is ignoring the fact it might give you a chance to go overseas? 
Nowry: It brings more attention to the sport, so I like it in the sense of what it's trying to do for wrestling. But when I look at the Final X as being intended to get the best representative for each weight class to send the World Championships, then you should do it in the same format as the World Championships. To have a tournament and then have the best-of-three series… I've bounced around back-and-forth, talking about it with teammates regarding what we thought about it, and I kind of like it. But at the same time, the World Championships is one day long, you're not going to have a Final X Series at the World Championships. You're not going to wrestle the semis and then three weeks later have the finals. You don't get that time to scope each other out.
Media-wise, you can compare it to MMA, with the interviews, the pre-match stuff, the weigh-ins, the hype around it — I think that's what they're trying to do to help with wrestling. But in terms of sending the best representatives? Then again, they did it with freestyle last year, and freestyle killed it.
Mike Fuenffinger — 60 kg, Army/WCAP
Fuenffinger was 2-2 against Roberts entering action on Thursday before emerging victorious in their latest contest via tech. When the two met in the National finals last year, Roberts raced out to a big lead before Fuenffinger engineered a furious rally late to nearly steal the match. That bit of history combined with the fact Friday's win represented Fuenffinger's first Open title make his perhaps the most interesting case. Now it's about the next step. Long lauded for his natural ability and desire to improve, Fuenffinger's run might just be getting started. 
5PM: Obviously, this is an enormous achievement to win the National tournament, but was there something else added to it given how last year's final ended? It's your first title, but you also got some revenge from 2018. 
Mike Fuenffinger: Oh yeah, I had what happened in '18 on my mind and it definitely added fuel to the fire. I just took that into this weekend trying to get redemption. I've worked hard all year to try and make up for all of the things I was doing wrong. I made those changes and came out stronger.
5PM: A lot is made of the weigh-in format, same-day, and now there's not an allowance. How did you feel physically both Thursday and Friday?
Fuenffinger: With the way the rules are now, they are tailored more towards the college athlete and that's where I have experience. It was great for me, getting back to my college roots and training for the tournament physically just like I would have for the NCAA National Championships with the two-hour weigh-ins. There were a lot of good changes as far as preparing physically. It's probably better for me doing it that way, keeping my weight down and staying consistent with keeping my body healthy. That was really key this year. I think it works a lot in my favor with that. I just took it back to the college roots, man.
5PM: Last year, the Bulgaria trip had an impact not just for you, but also your teammates with the advent of the Ninja Squad. At the tournament (Nikola Petrov), you had some good matches, and then next time out, it was the Open and you advanced to the finals. What kind of difference did that trip make for you considering you made such big strides at the next event in the US? Did Bulgaria serve as a turning point for you?
Fuenffinger: It definitely did, definitely did. That was a big turning point for me. The whole Ninja Squad was going to Bulgaria already, I hadn't paid for it yet, and all my partners were going to be gone, so I made it a point to get there myself. I needed to get better and I hadn't had any international competitions or anything like that before. I was just doing anything I could to get more experience and raise my level up. I was like, I need to go on this trip.
So I went on the trip, and wrestling with those foreign guys, you see them on YouTube competing, but you don't really know where you're at until you wrestle with those guys. It was really eye-opening to see how close I was and where I needed to get to. It just put it all in perspective for me, what I could achieve. So yeah, it was a real turning point for me to get that international experience and be out there with my teammates watching top-level guys train and seeing what they're doing to win so I could raise my level. That played a really big factor, for sure.
5PM: When you walk off the mat after defeating Roberts on Thursday, knowing you now had defeated him twice in a row, is your confidence skyrocketing?
Fuenffinger: I was just like, Everything panned out the way I wanted it to. That was definitely a good confidence builder, just following my plan and what I set out to do. I did expect Ildar (Hafizov) to make the finals and watching his match, he wasn't really looking as good as I thought he would against him (Randon Miranda), and that was even more of a confidence booster. I just knew that I was in the zone and that I was going to take it into the next day.
5PM: Will you be locked into what happens at the Trials tournament, or does that not really affect your mindset or what your training plan is?
Fuenffinger: You know, I'll be watching it here and there, but I'm not too concerned about what everybody else is doing. I'm just focused on what I'm doing to prepare for it. I'm preparing for everybody, so whoever it's going to be, I'll be ready for them. I'm expecting Ildar or Dalton, but I'm preparing for both of them. It doesn't really matter to me one way or another. I've got a job to do and I'm just going to stay focused on myself to get my mind and body right. It's not going to be too much of a factor for me what happens at the Trials tournament.
5PM: Do you like the extra space that is the result of Greco's inclusion in the Final X Series? Is it an advantage that since you just won the Open, you not only have a bye, but there's also more time to prepare?
Fuenffinger: I don't know, man. I kind of like the fast pace. Throughout the tournament I get better. With the space in between, yeah, it's going to be different. It's something I'm not too used to. I also think it might add a little bit more pressure, just having the whole spotlight on you at that time with everyone focused on that one match. That aspect will be good for me, as well. I like pressure. I like to thrive off the pressure. It doesn't affect me like it might some others. The more pressure the better, I say. That'll be good but it's different, for sure.
Ryan Mango — 63 kg, Army/WCAP
It can be said now, but when Mango first injured his right arm last fall, there was a hint of doubt initially as to whether he would even compete this season. But after rehabbing and getting himself healthy, the '18 National champ returned for the Pan Ams two weeks ago and earned a silver right out of the gate. Obviously, Mango didn't miss a beat in Vegas, either, as he wound up getting past Sammy Jones (NYAC/OTS) for the second straight final. A devout work ethic and increasing competitive maturity have aided the Stanford alum throughout his rise up the Senior ranks, and he spoke to how he felt re-entering the battlefield by participating in two major events back-to-back. 
5PM: Your season just started not even two weeks ago, and then it has immediately been two big tournaments in a row, and you just came back from an injury that required some pretty significant rehab. How has your body held up?
Ryan Mango: My body held up well. My arm was good, my elbow was good. It's kind of unfortunate that during the semis I hurt my foot a little bit, and I'm getting that checked out now. But my mind was good, my body was good. Everything held up pretty well, or as well as I thought it was going to.
5PM: You've been doing this a long time, wrestling for near the sum of your life. But when you came back at the Pan Ams, were there any reservations or nerves regarding your arm before that first match back?
Mango: Not really. I mean obviously, it went through my mind, but I figured if I am going out there to wrestle then I should have no doubts about my body or my capability. That's what went through my head as I was getting ready to step out there for the first time. It was also nice to know that I went hard in practice, so it wasn't really the first time going "match speed". That was a nice fallback mentally.
5PM: Now it's two Open titles in a row. I did this with Nowry, compare this one to last year's. Last year it was special but it would seem that this year has its own story attached. 
Mango: Yeah, last year was obviously special because I got over the hump, and felt I should have been there before. This year was a lot different. Regardless of the surgeries and hurting my ankle in the semifinals, I felt like this was my place to win, no matter what. No matter that I was hurt or sat out this whole season to this point, I figured in my head that I was supposed to win regardless. It's not that this one isn't special, but it is really just another step. I'm not worried about national championships, I'm worried about the Final X Series, making the World Team, and getting a medal. Last year, I think — it's not like I let it go to my head — but I enjoyed it and kind of put it up on a pedestal. This year, it's what was expected, so I am moving onto this next step.
5PM: You say that you were expected to win, and that it didn't matter with the arm and the ankle. So then did a sense of relief enter the equation?
Mango: Hmm, not really. I think in previous years I felt pressure to win because I hadn't gotten there yet, so it used to be, Oh man, I've got to do it this time, I've got to do it this time. Now this year going in, I didn't have any pressure on myself, which I know is kind of backwards, but I felt like I was prepared for it, I had all the tools, I knew what I had to do win, and so I just had to go out and perform. And that's what happened.
I used to be, I've got to get it done this year, I have to win this time, so I felt a lot of pressure in those previous years. This year I was relaxed going out there at the tournament for each match and I think that helped me out a lot.
5PM: Speaking of the next step, do you like having this big space in between events and will this be its own specific training cycle for you?
Mango: It will be its own training cycle, but as for preparing for one person it won't be. I'll just continue to fine-tune the things I've been fine-tuning, which are the things I need to get better at and the things I need to do. As far as for training camp, that is what will be going on. We will continue to push hard with our guys in the room. We believe, and I think it shows, that we have the best guys in all four of the lighter weights — and multiple guys at those weights — in our room. If we're all pushing each other and competing with each other, everyone in the US and or in the world for that matter, will have a very tough time with us. So that's what we're going to keep doing and that's what the training cycle will look like.
Now as for if I like it? It doesn't matter. I do like this year that we're in the Final X so I don't have to sit out of a tournament, let these guys build momentum, and then wrestle them best two out of three. I'm not coming out for my first match of the tournament and they already have three matches under their belt. I like that we're both coming in and we'll both have our first match of the day, and then our second match of the day. But other than that, it's just like anything else. It's wrestling (laughs).
5PM: I kind of see you as a voice, as an athlete leader in the Greco program. You had some time away from competition this season so I want to ask you, from a fishbowl perspective, what do you like about the current state of the program and where do you think improvements still need to be made?
Mango: The biggest positive I think is that not only do we have some young guys, but everyone is starting to get more on the same page. It's slow, but I think it's happening. Everyone is getting on the same page again as far as training, overseas competitions, and all of those things that are necessary to get our program there, like where freestyle is. For example, freestyle sends pretty much whomever they want to Pan Ams — and those guys are performing. I think we're getting closer to that level. Obviously, we're not there yet, but a lot of our young guys are stepping up, training hard, and getting to go to these overseas competitions.
I think the biggest positive is that we're getting some of these young guys to push the older guys. You're not just going to sit there as a veteran and make the team every time. You're going to have to consistently get better, or else you're not going to be that guy. And that's making us better as a whole.
I think the thing that needs the most improvement is also what I just praised, which is how we are organizing traveling for some of our guys. There had been a little bit of a disconnect in the training as far as not enough collaboration. At a freestyle camp, all of the coaches are in there and all of the guys from #1 through #6 are in there receiving equal attention. In Greco, if you're not a #1, or even sometimes if you're not at least top-three, you're not even getting sniffed. You're not getting any attention, you're just a throwing dummy for the other guys at camp. That's throwing all of your eggs in one basket versus growing a program or a team, and that's one area I in which I think we need to improve on the most.
It's good we have these young guys, but we need to have them and our #1's at camp along with everybody else. Have all the coaches there giving input, and just have everyone working together collectively at these camps. You have time to train on your own, and of course we're going to compete against each other. But when you're at a camp, we need to work on things everyone needs to work on and give everyone attention. That's what we can work on the most.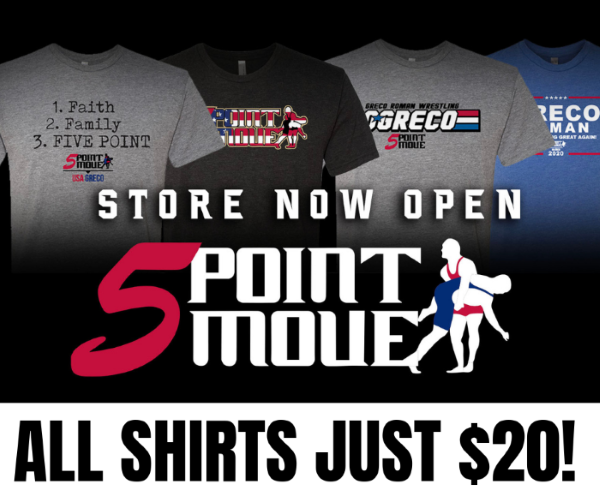 Listen to "5PM22: Sammy Jones guest co-hosts as Five Point Move visits with Lucas Sheridan and Sam Hazewinkel" on Spreaker.
SUBSCRIBE TO THE FIVE POINT MOVE PODCAST
iTunes | Stitcher | Spreaker | Google Play Music | RSS
Notice
: Trying to get property 'term_id' of non-object in
/home/fivepointwp/webapps/fivepointwp/wp-content/themes/flex-mag/functions.php
on line
999