As touched upon in the recap for the 2019 Bill Farrell Memorial, more questions than answers now hang in the air leading up to the Nationals/Olympic Trials Qualifier next month.
To a degree, that was to be expected. Although a significant percentage of the nation's top athletes competed in New York, plenty of others declined to participate for various reasons (be it already enjoying qualified status, wanting to wait until December, or because they were traveling to Tbilisi). Yet even with that, a handful of Trials-qualified wrestlers not only entered, but either won or advanced to the finals. The result was a slimmer margin for error in a tournament that, in most categories, carried all of the intensity of a US Open or Trials event and left many capable contenders on the outside looking in.


The Five Trials Qualifiers from New York
Five athletes managed to find a way to take the pressure off of their (potential) appearances in the US National Qualifier in December.
At 60 kilograms, "Wildman Sam" Sammy Jones (NYAC/OTS) wrestled brilliantly, beginning his day with runaway victories over (a very tough) Dylan Gregerson (UA) and Adam MacFayden (CAN), respectively. After falling to Max Nowry (Army/WCAP, world no. 5), Jones got back on track with tech wins at the expense of '19 Junior World Team member Mason Hartshorn and Matt Schmitt (WV).
The biggest surprise about Alex Sancho (Army/WCAP) coming away with his third Farrell gold was that he said the scratch weight cut didn't bother him too much. And it showed. Sancho, who had an abbreviated 2018-19 season due to his move over to WCAP and subsequent time away for basic training, was crisp in each of his four bouts on Friday. That is a good sign for the 25-year-old, especially considering he hadn't made 67 since June of '18.
'19 Open runner-up Spencer Woods (NYAC/OTS) defeated, in order, Alex Mossing (Air Force), Tommy Brackett (NMU/OTS), Corey Hope (NYAC), and Jesse Porter (NYAC/OTS) to ensure his place at the table in April. 77 kilograms was a weight class that also included the likes of 2017 World Teamer Mason Manville (NLWC), '18 Junior World silver Andrew Berreyesa (NYAC/FLWC), Brandon Mueller (Air Force), and of course, '14 World/'16 Olympic champ Davor Stefanek (SRB). This whole bracket was a giant dogfight, each round offered compelling match-ups. Just imagine what kind of show this weight class will put on in December.
Chandler Rogers (UA/Air Force) lost one match on Friday, to '09 World bronze and eventual silver Alexandr Kikinov (BLR/Elite). Every other bout was an exhibition of his impressive wrestling athleticism and improved Senior-ready Greco skill-set. Rogers is starting to feel positions and exploit them immediately. Plus, he looks better, stronger at 87 than he ever did 82.
Jacob Mitchell (130 kg, Army/WCAP) took second, going 3-1 and ended his day on the wrong end of an Adam Coon (NYAC/Cliff Keen, world no. 18) gutwrench. The field at 130 — though slowly beginning to strengthen — is in need of several young competitors to step up and challenge the top tier.
Who's Left?
The procedures for the 2020 Olympic Trials come with limited opportunities for athletes to qualify. New York saw five athletes get in, and come December, the top-five in each weight will advance to State College, PA. Only the Armed Forces Championships (weight class champs advance, provided they are not already qualified to begin with) and the "Last Chance" event in March (top-two) will remain once the action in Fort Worth reaches its conclusion.
What does this all mean? That unfortunately, a high likelihood of talented, dedicated Greco athletes with relevant experience will be watching the Trials unfold while wearing their street clothes. Below is a list of wrestlers you may recognize who still need to qualify for the big show in April.
Those Who Remain
*Current US National Team
**2020 weight unconfirmed
60 kg
Dalton Duffield (NYAC/OTS) — 2018 U23 World Team
*Mike Fuenffinger (Army/WCAP) — 2019 US National Champion, '19 Final X runner-up, '18 US Open runner-up
Dylan Gregerson (UA) — 2019 U23 Trials runner-up
*-** Xavier Johnson (Marines) — 2019 Final X runner-up
Brady Koontz (TMWC/Ohio RTC) — 2019 U23 World Team, '19 Final X runner-up, '18 Junior World Team
*Taylor LaMont (Sunkist) — 2016 Junior World bronze, '19 U23 World Team
Randon Miranda (NYAC) — Two-time Junior World Team, '18 U23 World Team
Travis Rice (IRTC) — 2018 U23 World Team, '15 Junior World Team
Matt Schmitt (WVRTC)
David Stepanian (NMU/OTS)
67 kg
Nolan Baker (UA) — 2018 U23 World Team
**Tyler Eischens (California RTC) — 2019 Junior World Team
Morgan Flaharty (NYAC)
Calvin Germinaro (Minnesota Storm) — 2019 Junior Trials runner-up
Michael Hooker (Army/WCAP)
*Jamel Johnson (Marines) — 2019 Final X runner-up, '12 University World bronze
Lenny Merkin (NJRTC) — 2019 U23 World Team
Austin Morrow (NYAC/OTS)
Benji Peak (Sunkist/OTS) — 2018 Junior Trials Champion
Nick Tarpley (NYAC)
*-** Hayden Tuma (Army/WCAP) — 2016 US National Champion, '17 Trials runner-up
Joe Warren (NYAC) 2006 World Champion, '07 World Cup gold
77 kg
Tommy Brackett (NMU/OTS)
Zach Braunagel (IRTC) — 2019 Junior World Team
Vlad Dombrovskiy (Army/WCAP)
Jake Fisher (Curby 3-Style) — 2010 World Team, '11 Trials Champion
Britton Holmes (NMU/OTS)
Corey Hope (NYAC)
Alex Mossing (Air Force) — 2019 Final X runner-up, '17 U23 World Team
Brandon Mueller (Air Force) — 2017 Military World Team
Jesse Porter (NYAC/OTS) — Three-time U23 World Team
Kendrick Sanders (NYAC/OTS) — Two-time US National Champion
Colin Schubert (NYAC/OTS)
*Peyton Walsh (Marines) — 2018 US Open runner-up
87 kg
Jon Anderson (Army/WCAP) — Multi-time Trials finalist, 2014 Military World silver
Rich Carlson (Minnesota Storm) — 2017 U23 Trials runner-up
Jake Clark (Minnesota Storm) — Two-time World Team
Matt Finesilver (Blue Blood WC) — 2019 U23 World Team
Barrett Hughes (CRTC) — 2018 Junior World Team
Vaughn Monreal-Berner (Marines)
Carter Nielsen (Minnesota Storm/OTS) — 2018 U23 World Team
Kevin Radford (Sunkist) — 2016 US National Champion
George Sikes (NMU/OTS) — 2018 U23 World Team
Barrett Stanghill (Minnesota Storm/OTS) — 2017 U23 World Team
Terrence Zaleski (Marines)
97 kg
Nick Boykin (Sunkist) — 2019 Junior World Team
Orry Elor (NYAC)
Keaton Fanning (NMU/OTS)
Khymba Johnson (NYAC/OTS) — 2016 US Open runner-up
*Daniel Miller (Marines) — 2018 US National Champion, two-time Military World Team
Roy Nash (NMU/OTS)
*Lucas Sheridan (Army/WCAP) — 2019 Final X runner-up
Eric Twohey (Minnesota Storm)
130 kg
West Cathcart (IRTC)
Anthony Cassioppi (UA) — Two-time Junior Trials runner-up
Toby Erickson (Army/WCAP) — 2011 Junior World bronze, '16 US National Champion, multi-time Trials finalist, '19 Military World Team
Tommy Helton (UA)
Haydn Maley (CARTC)
Sanford Meeks (UA) — 2017 U23 Trials runner-up
David Tate Orndorff (NYAC) — 2019 U23 World Team, '19 US Open runner-up
Bill Farrell Memorial Undercover Stars
Maybe they didn't win or even qualify for the Olympic Trials at NYAC, but you should have noticed their performances just the same.
Matt Schmitt (60 kg, WVRTC, 4th) — Former age-group stud Schmitt had a solid US Open this past April but was even better in New York. He is a workhorse whose lung capacity appears to be endless. Combine that with good fundamentals and a grinding killer instinct that comes from battling in a folkstyle environment, and there's a lot to like. A little "foreign feel" could make Schmitt quite the sleeper candidate in this packed weight class.
David Stepanian (60 kg, NMU/OTS, 5th) — The best part about Stepanian on Friday is that he kept the same approach against everyone he faced. It didn't always work to his benefit, but Stepanian was out there hunting down points from his positions, and when opportunities arose, he nailed them. A terrific baseline showing for a young athlete early in the season.
Nolan Baker (67 kg, UA, bronze) — It's starting to become old hat by now. Win or lose, Baker pulls in eyeballs. Thing is, he is winning the vast majority of the time and trucking some big-time names in the process. This will be examined further later in the week, Baker's searing assault on domestic competition, but consider one item until then: dating back to the '19 Trials Challenge Tournament, his record is 17-5 with 11 pins. Absolute insanity. UPDATE: a previous version of this article incorrectly listed his US record as 13-4. That has since been amended to reflect the result from the Bill Farrell Memorial. 
Jesse Porter (77 kg, NYAC/OTS, 4th) — Getting paired with a foreign World/Olympic champ first-round of any tournament is a tough assignment, particularly when there are qualifying implications involved, but Porter didn't seem to mind drawing Davor Stefanek (SRB). If anything, he embraced the opportunity, as evidenced by the bombing campaign he dished out. Whether or not Stefanek (who is expected to be at 67 this season) was in game shape or not is beside the point. Porter alpha'ed his way to a signature win he or his teammates won't soon forget.
Toby Erickson (130 kg, Army/WCAP, bronze) — Erickson, fresh off of the Military World Games last month, appeared strong and in great condition in New York, carrying two tech wins into his semifinal opposite Coon. In that bout, Erickson used his first-period passive to grab a gut and a 3-0 lead that would eventually slip away in the second. Still, it was a nice match, and Erickson went on to hammer it home on the back-side of the bracket before finishing with a decision over an underrated Bryson McGowan (UA) for bronze.
US Seniors Now Overseas
As mentioned numerous times over the past month, a delegation of US Seniors (including half of the 2019 World Team) arrived in Tbilisi, Georgia over the weekend. Most of the athletes who are training in Tbilisi will enter the Haparanda Cup in Sweden in two weeks — but before that happens, a group of US guys on a separate trip will be competing in the annual Lavrikov Memorial (Russia). We will have more details throughout the week regarding Lavrikov, as well as an update or two from Tbilisi.
Lindland in Japan
US National Team head coach Matt Lindland touched down in Tokyo this past weekend to check out the site of the 2020 Olympics. We are expecting contact from him, as well, in the form of insights and photos.
2019 World Cup Draws
We are now less than three weeks away from the start of the 2019 Greco-Roman World Cup in Tehran, Iran. Rosters for each team are not available as of yet, although Japan declared theirs last week. The event will stream on Trackwrestling in the US (subscription required), with Day 1 taking place on Thursday, November 28 (yes, Thanksgiving. You could watch football like everyone else — or instead, lock onto the highest level of competitive international Greco-Roman wrestling available in a dual meet format. Totally up to you).
All times +8:30 ET. 
Thursday, November 28
Session 1 – 10:30am 
Russia vs. Iran
Kazakhstan vs. Cuba
Uzbekistan vs. Georgia
Japan vs. Hungary
Session 2 – 5:30pm
Russia vs. Kazakhstan
Iran vs. Cuba
Uzbekistan vs. Japan
Georgia vs. Hungary
Session 3 – 8:30pm
Russia vs. Cuba
Iran vs. Kazakhstan
Uzbekistan vs. Hungary
Georgia vs. Japan
Friday, November 29
Dual for 5th/7th place – 11:30am
Dual for 3rd place – 3:30pm
World Cup final – 5:00pm
Questions? Concerns? Feel like reaching out? Do so on Twitter, Facebook, and Instagram!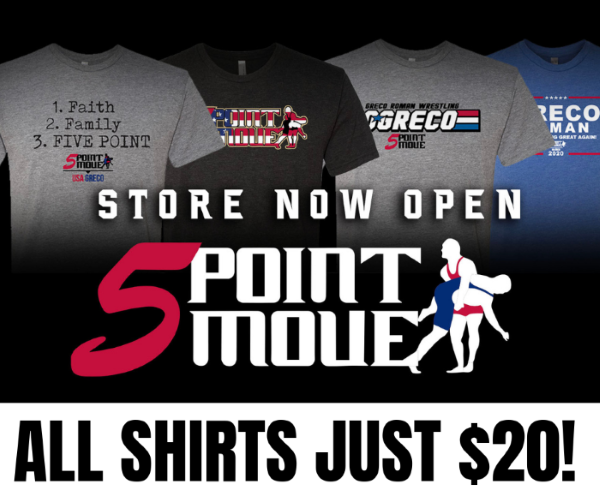 Listen to "5PM30: Jon Anderson returns at the Bill Farrell and Dennis Hall's always fiery position on U.S. Greco-Roman" on Spreaker.
SUBSCRIBE TO THE FIVE POINT MOVE PODCAST
iTunes | Stitcher | Spreaker | Google Play Music | RSS
Notice
: Trying to get property 'term_id' of non-object in
/home/fivepointwp/webapps/fivepointwp/wp-content/themes/flex-mag/functions.php
on line
999