Dominic Damon (67 kg, NMU/NTS) is not what you might describe as "wordy". He's not. Ask around. Damon is famous for his death-grip adherence to brevity. Shyness, maybe that's part of it. A tough sell, however. The tone in his voice is never, ever tense. Relaxed but purposeful would perhaps pose a more apt description of his conversational nuances.
Like his head coach Andy Bisek, Damon is a pragmatist. Knows what he sees, and understands that not everything in life is a big deal. Facts are facts, hypotheticals are imaginary, and visceral reactions should be sparse because things move pretty fast in a temporal world. Damon really loves Greco-Roman wrestling. If it really is that simple, how complex do his answers need to be?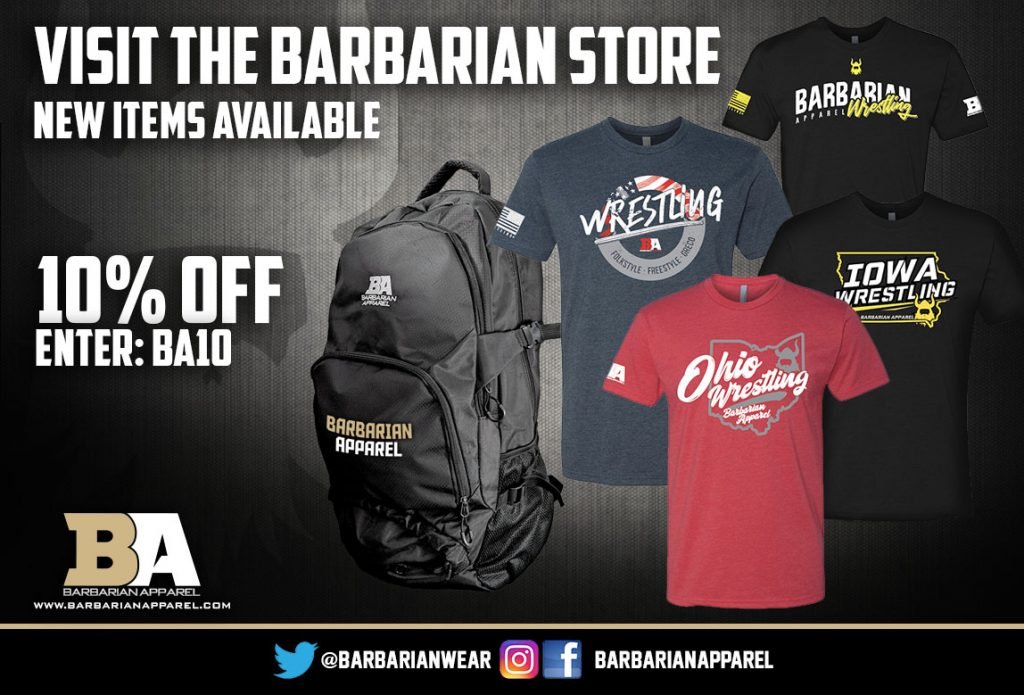 Entering last week's Junior World Team Trials in Coralville, Iowa, there indeed were several complicated thoughts surrounding Damon's bracket. The Northern Michigan student was seen as a serious contender for the title, but he wasn't alone. The recent emergences of Robert Perez III (Sunkist) and Payton Jacobson (Ringer) crowded the picture. Perez and Jacobson, two unquestionable standouts, were either on equal footing with Damon perception-wise, or in the minds of some, slightly elevated.
And Damon got past both of them. First, he decisioned Perez in the semifinals. To seal his place on the World Team, Damon clipped Jacobson in the best-of-three final round.
He has been in this spot before. Damon was also a member of the '18 US Cadet World Team, which is the case for two others on this brand new Junior squad that will head to Russia in July. But the Cadet age group, as Damon acknowledges, is different. The level of competition at Junior isn't merely one age division older, it is fiercer and requires a much higher Greco IQ, as well. The basics win, no matter which age group is the topic; but the lot at Junior are advanced in every meaningful way. Athletes who aren't prepared for that kind of heat unanimously come to that realization when it's far too late to escape it.
The manner in which Damon went about his business in Iowa told that story. He had his sights on winning the Trials — but only because doing so was the obvious and necessary first step. He was especially clutch along his travels, another byproduct of his attitude towards what were dual tasks at hand. Inside of NMU's Superior Dome throughout the winter, Damon was equally invested in training to win a World title.
They are related concepts, a "can't have one without the other" scenario. Maturation is the marked deviation. Athletes with devout, long-term designs on World competition embrace what exists outside of this nation's snug confines. To them, just climbing out of the domestic pool is not supposed to be enough. And when it isn't, the resolve required to attain other, bigger objectives naturally bears itself out in the type of matches Damon had last Friday.
So, he answered the questions, usually breathing an "ummm" while he quickly traversed the data lodged within his synapses. Damon, you can't tell whether or not he enjoys talking about himself. Probably not. It is, for sure, easy to discern that he loves talking about Greco and what it takes to win a World medal. Those topics he can keep rather simple.
Again, a pragmatist.
Dominic Damon — 67 kg, NMU/NTS
5PM: When this season began and it's the first few months at NMU, was this tournament, the Junior Trials, the clear #1 goal for you?
Dominic Damon: Yeah, pretty much. I planned on doing Last Chance and everything, mainly just to get on the mat because it had been so long since I had competed. But the main priority was Juniors.
5PM: When the main priority is Junior, did you look at competition at the other levels any differently by comparison, just in terms of gauging your performance?
Damon: It was just wrestling, so I wasn't thinking of it as anything different. Everything I needed to learn from Last Chance came in very handy when we got to Juniors. More the 'remembering how to compete aspect of it'. There wasn't anything weird, like, Oh, this isn't going to be the same, so I won't use any of the things I need to work on just because it's a different age group.
5PM: Was there ever a concern regarding Marquette and restrictions that you might not be able to adequately prepare for this tournament?
Damon: Yeah, there definitely was, just based off of how our fall semester went and how our practices were scheduled. They had us split into two groups. For me, I only had one or two guys in the room who were around the same weight. We were only going a few days a week. We had to practice with masks on. All of that stuff together did not lend itself towards being a place that was very conducive to growing. If we had kept up with that same level of practice that we had during the first semester, it wouldn't have been worth staying out here for that. But luckily, we ended up getting things back on track with a pretty normal practice schedule.
5PM: Even before you made the Cadet Team in '18, you were already looked at as a big part of the future for the National program. You've traveled and competed in Senior events overseas, became a full-time athlete immediately after high school. Does the status of being someone who is seen as a big prospect put pressure on you?
Damon: I would say not really. I don't need people telling me how good I am to know that I am. When I'm struggling in practice and there are weeks when I'm not putting stuff together, it's not like I'm thinking, Oh, I'm supposed to be all this and that. What's happening to me? Am I getting worse? I know where I'm at and I know the trajectory I'm on, so I don't think about that too much when I'm going about my day-to-day.
5PM: Besides yourself in the 67 bracket, the two athletes in your bracket who attracted the most attention were obviously Perez and Jacobson. Did you see it the same way? Or did you see it as a more wide open field than just you three?
Dominic Damon: I was confident about the bracket. Obviously, I know most who everyone is who's in the Greco world. Even though I knew they were the guys who were supposed to be the favorites, I also knew what I did two years ago and how I've been feeling in the room lately. Obviously, I did my homework and watched a decent amount of wrestling just to be prepared. But I was confident going in that I was going to take that bracket, regardless of who was in it.
5PM: The theme that I had used to describe your tournament was 'clutch'. You were that way against both Perez and Jacobson. When you say that you did your homework, did you understand potential tendencies on the part of both of them?
Damon: Yeah, I think I watched enough. I mean, I didn't go on a deep dive or anything, but I scanned a little bit of their wrestling. And I've worked out with Payton a decent amount, so I already kind of knew some of the stuff that he would be doing. With Perez, I watched a few of his matches from Last Chance and picked up on a few things that I knew would help. It wasn't anything too different from my approach in general going into the tournament. It wasn't like I had to change anything significantly for either of them, but just knowing what I needed to look out for and be ready for was helpful.
5PM: You used the word 'confident'. If you were confident, then what was the state of mind going into Match 3 against Jacobson?
Damon: That one, you know, it's always tough with a three-match series. It's hard to stay 100% confident for the third one, especially coming off of a loss in the second match. So, you waver a little bit. But I knew a couple things I had to work on. I talked to my coaches in between both of my matches. There were a few things I needed to adjust for that one that I was pretty confident would help. Also, just reminding myself that the odds were in my favor. If you win the first match, it doesn't matter if you win the second one because the odds are that you're going to win the series. Just reminding myself to keep my head up. Knowing that I was in the driver's seat regardless of how the second match went was important.
5PM: How do you compare winning this one to the Cadet Trials? 
Damon: I'd say that I was a lot happier about this one. I mean, obviously, when you make your first World Team you are going to be extremely excited about it. That was the best result I had at that point. But once I got to Juniors the year after, it was like, Okay, that's done. That doesn't matter anymore. Making that Cadet team was big and really good for me, but it didn't show tangible growth to the level this one did. Anyone can make a Cadet Team. There are a lot of brackets that are here and there at Cadets. You don't have the same level of Greco, you don't really have any full-time Greco guys. I've watched some of those matches from Cadets just to compare how I was wrestling back then to this — and it's a completely different version of me.
The Juniors is a much bigger deal. You can look at the list of whoever made a Cadet Team back to when they started it, and that's not nearly as important for future results as Juniors are. You look at a lot of the guys who've made the Junior Team and they are a lot of the top guys who we've had. (Andy) Bisek, he made his Junior Teams. Alston (Nutter) made the Junior Team a couple of years ago and he's killing it now. It's a lot bigger deal than Cadets for me. And just in general I think it's a bigger deal.
5PM: You haven't been able to get overseas in a while, and you're one of the very few age-groupers to have competed in major foreign Senior event. Altogether, you have a good-sized dossier of overseas experience. Now that you're preparing for this World tournament, how do you parse what you know about foreigners with where you are now technically, tactically, whatever?
Damon: I think, like you said, it has been a long time since I have been overseas. A lot of the knowledge you gain from a camp or tournament like that, you lose most of what you learned and only keep a small chunk of important things that you really internalize from a camp or tournament, regardless of where it is. It is tough because it has been while since I've gone overseas, so I can't remember This exact technique or approach that worked here, or, This small detail that made a difference. I think in terms of the overseas feel going into Worlds that it is going to be a lot of film. Watching the Junior European Championships, watching a lot of the Senior European Championships, just to see re-immerse myself in that style and to see where the technique trends are going right now. Just to get that running through my head everyday because I haven't had the actual feel in a while. Hopefully, I will be able to get overseas before Worlds. There are a couple of training camps that I've been hearing about. So, possibly getting overseas for a training camp, but mainly it's going to be trying to refresh myself on the technique and the way that they compete. Just watching that and internalizing that is going to be important.
5PM: You do have time for a solid training block before you leave for Russia. As far as you know, will there be a good-enough sample size of guys staying in Marquette with whom you can train during the summer?
Dominic Damon: Oh, yeah. We will pretty much have the same room we've had all semester at middleweight. Say, 63 to 72 where we always are. I think we will be able to have a fair amount of practices. It's going to be weird because I think they are going to be doing some construction in the (Superior) Dome this summer and into next semester. So, it will be a little tricky, possibly, getting in there as much as we want to. But in terms of guys to wrestle with, it will be perfect. I think we have one of the best rooms in the country in the middle weights, especially for young guys. There won't be any issues with having partners to get me ready, so that'll be good.




Listen to "5PM47: Nate Engel and Xavier Johnson" on Spreaker.
Listen to "5PM46: Taylor LaMont and Jessy Williams" on Spreaker.
Listen to "5PM45: Chatting with Dennis Hall and Max Nowry" on Spreaker.
SUBSCRIBE TO THE FIVE POINT MOVE PODCAST
iTunes | Stitcher | Spreaker | Google Play Music
Notice
: Trying to get property 'term_id' of non-object in
/home/fivepointwp/webapps/fivepointwp/wp-content/themes/flex-mag/functions.php
on line
999