It's finally here — the first-ever installment of Marquette Matters with Northern Michigan University head coach Andy Bisek, who has now officially assumed the reins of the program in the wake of Rob Hermann's retirement in June.
With the team back together after having the summer months off, the hard work has resumed in Marquette, and Coach Bisek speaks to what the training environment has been like since the start of the fall semester. But not all of the wrestlers took a hiatus. It was just last month when Alston Nutter (63 kg) won bronze at the Junior World Championships, and his presence on the roster provides NMU with an active medalist, a fact which Bisek believes should provide a glaring example for others to follow.


In addition, NMU is home to several athletes who are preparing for the U23 World Championships next month in Budapest, and how they fit into the current curriculum is also brought up. The conversation then veers towards the upcoming annual trip to Sweden that will feature a high number of Northern representatives, and closes out with the choices wrestlers have to make pertaining to the Olympic weight classes that will now become the focus throughout the season.
5PM: When guys get back after the summer, is there a reacclimation period or do things just pick up from where they left off?
Coach Andy Bisek: There is reacclimation as far as the training, but with practice, when school starts we still get back to the 6:30am practices and the afternoon practices. But as far as jumping into live wrestling, we're waiting a few weeks. We are just trying to be precautionary when it comes to injuries. We are giving the guys those weeks of training to develop before we're throwing them into live wrestling.
5PM: One of your most experienced new athletes this year is Dominic Damon, who was a Cadet World Teamer in 2018. Damon has been kind of waiting for this, he has wanted to go to NMU for quite a while. He would have went last year after his high school season was through if it were possible. How has he assimilate into the program thus far?
AB: He has done great. He has good energy, he's very positive in the room, and ready for any challenges. I can see his confidence with the lifting, school, the training… He has done well with everything.
5PM: You have a Junior World bronze medalist in the room now with Alston Nutter. NMU has had medalists in the past, including at Senior with Harry Lester back in the day. When someone has earned a medal — at any level — what is the value of something like that in the room? Does it set an example, do people pay more attention to what someone like Nutter has to offer? 
Coach Andy Bisek: I think that the value is shown in many different areas. It can build confidence for everyone in the room that what we're doing has helped Alston achieve his success, that they are in a good spot doing the right things, and they see the way Alston is wrestling, the way he is training — in everything he does — that he is able to be a leader. He is just a Junior and there are a lot of guys older than him, but they are able to see his approach.
5PM: You have Dalton Roberts and Jesse Porter on the U23 World Team. How has their training differentiated from the others so far in September, if it has at all?
AB: We started them just like everyone else. When the semester started, they were still about 12 weeks away from their Worlds. When we got back together, there were still 10 to 12 weeks. It was just like, I know you guys want to be wrestling right now, but we're going to get to wrestling in a few weeks. We are still just trying to build a base right there for those few weeks.
Now coming into next week, we are going to have a U23 camp, and that serves as a good time because we're trying to get those athletes ready for the first weekend in November — but we also have a lot of other athletes going on the Sweden tour, which will be at the same time. It has really made everyone work around those U23 guys.
5PM: The first Senior tournament comes up in November with the Bill Farrell Memorial in New York and then the December Open/Trials qualifier will be here. How does it work — or how will it work — when it comes to the discussions about the Olympic weight classes and which weights guys will chose? 
AB: A number of guys have made their decisions or are trying to figure out what they are going to do. I have talked to them individually about that. I know some guys last year maybe had an idea about what they wanted to do, but as the summer went on or after they finished up last year, they switched direction from what they thought they were going to do six to eight months ago. But I think things are looking good. Guys are making choices or making good progress on them already.
5PM: Do you provide any recommendations about which weight a guy should go?
Coach Andy Bisek: I just try to help them see positives and negatives. What I am pushing is that whatever you do, you've got to be able to wrestle, not making weight to make the Team. You might not be able to function. A weight class just might not fit you.
Follow the Northern Michigan-Olympic Training Site on Twitter and Instagram for news, photos, and updates about the program.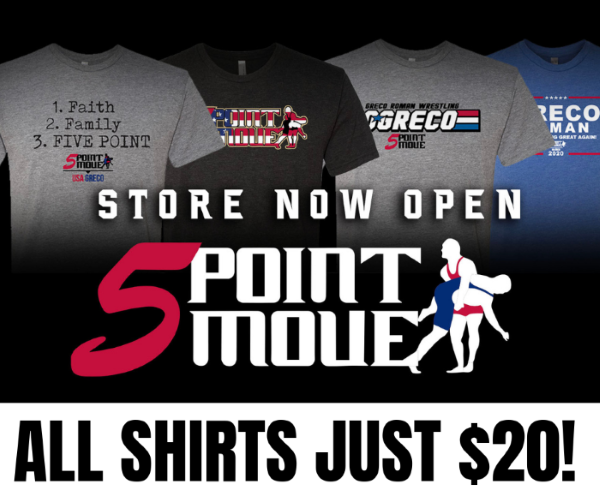 Listen to "5PM28: G'Angelo Hancock, Joe Rau and Max Nowry" on Spreaker.
SUBSCRIBE TO THE FIVE POINT MOVE PODCAST
iTunes | Stitcher | Spreaker | Google Play Music | RSS
Notice
: Trying to get property 'term_id' of non-object in
/home/fivepointwp/webapps/fivepointwp/wp-content/themes/flex-mag/functions.php
on line
999