On Monday, Northern Michigan University officially announced the addition of Jamie Segorski as the new assistant coach for the Greco-Roman program that is part of the school's National Training Site.
Segorski is an exceedingly well-known name in and around Upper Michigan. For 14 years, he served as the head coach for Escanaba High School's wrestling team, in the process capturing 11 district championships along with four Upper Peninsula titles. But it wasn't just on the mat where Segorski found success. He also led Escanaba's girls' softball to a state crown in 2018.
Segorski, 49, describes himself as having always been a coach, even whilst developing in his younger days as a grappler. Below, he says, "Even as young as a high school wrestler, I started coaching. I was always coaching on the way up as a mentor and taking care of the athletes younger than me." His devotion to others, both then and now, comes across in his words. However, that did not stop him from pursuing his own success, for he managed to attain three high school state titles. Later, he became a servicemember and joined the All-Army squad, where he trained alongside Shon Lewis, the former World Team member who is also now Army/WCAP's head coach. When NMU instituted the United States Olympic Education Center in 1999 under inaugural head coach Gordy Morgan, there was Segorski again, participating in practices as he looked to complete his degree.
Outside of wrestling, Segorski was a lawman. He retired as Captain for Escanaba Public Safety in May of 2020 — and still plenty young enough to return to his first love and guide a new generation of National-level athletes. Plus, timing is of the essence. Both Segorski and NMU/NTS head coach Andrew Bisek will soon begin focusing their attention on preparing a large number of wrestlers for the Last Chance Olympic Trials Qualifier, the Olympic Trials, and then, hopefully, the slew of age-group tournaments that will follow in the spring.
Jamie Segorski — Assistant Coach, NMU/NTS
5PM: What is the best way to get through to athletes, especially college-age wrestlers between the ages of 18-23?
Coach Jamie Segorski: In my experience, the best way to get a message across is by starting a positive relationship with the athletes. It is important as a coach or mentor to convey that positive relationship to the athlete, and that makes the teaching process a lot easier. If you have that positive relationship, they are more willing to listen to the message that you are trying to convey to them.
For me, it starts off with a baseline relationship with the athlete and then you build off of that. And then when you're building off of that and you are teaching them techniques or whatever it may be, they have to see the success or positive result behind that technique or whatever it is you're working with.
5PM: What's your favorite thing about Greco?
JS: I like it because it's a blue-collar sport to me. Throughout my coaching career, I've always ended up coaching that second-tier type sport, whether it's high school wrestling in Upper Michigan or softball. It's not football, it's not basketball, or a glamorous professional sport. It is also not freestyle wrestling or Division I college wrestling. Greco-Roman is the most blue-collar of blue-collar sports. You have the toughest, most driven athletes I've ever seen. Because, they don't get the respect and love our freestyle wrestlers get throughout our country and the entire world.
This is Greco. Most people don't even have a working knowledge of how the sport is scored or how it even works. So, for an athlete to pour themselves into this sport just shows to me how driven they can be. Otherwise, they would be looking for glamour and accolades. Instead, they just want to become champions.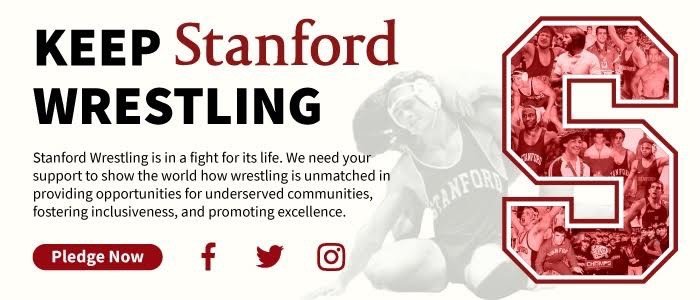 5PM: What have you noticed about the general US program in recent years, if but from a distance?
Coach Jamie Segorski: You know, it's hard. Having Northern is a huge step. Now, I know that we've had this for 20 years and I have kind of observed them the entire time while I was high school coaching in the UP (Upper Peninsula). One of the things that bothered me about the Greco program in Marquette was that it wasn't community-based enough. That is one of the things I want to help change. I want to get out in the community more and help, especially our local athletes, people understand the sport of Greco. I think that is part of the Greco culture itself. I'm talking about a small area right now but it is kind of the same thing nationwide.
When kids go wrestle Greco, at National duals and things of that nature, 99% of them do it because the coach is making them. They really just want to wrestle freestyle. I don't think the sale is being made hard enough. It hasn't really been pushed to the degree that it could be. Greco is a great sport. It is a great discipline within a great sport. The biggest thing is that it is the best sport but it's tucked back in a corner and needs people to invest in it, and I want to expose that more. I think as a wrestling community, that's where we need to go. That is what I'd like to see, but it is not what has been happening thus far.
5PM: What do you see as your greatest coaching strength?
JS: My greatest coaching strength is definitely the relationships that I am able to build with my athletes. And it's really cool, because I have been able to do it with both the male and the female athletes. Coaching softball opened my eyes a lot, and doing so on a high level. I was fortunate enough to coach our high school team in Escanaba to a state championship in 2018, and every year before that we had been to the semifinals of the state. I had that opportunity to build those relationships not just with the athletes, but also their families.
I have been able to keep them well-informed on both sides. In wrestling, I've been involved in the wrestling community my whole life. Even as young as a high school wrestler, I started coaching. I was always coaching on the way up as a mentor and taking care of the athletes younger than me. So, I think my biggest asset is that I am able to build relationships and capitalize on building them in order to get the most out of the athletes.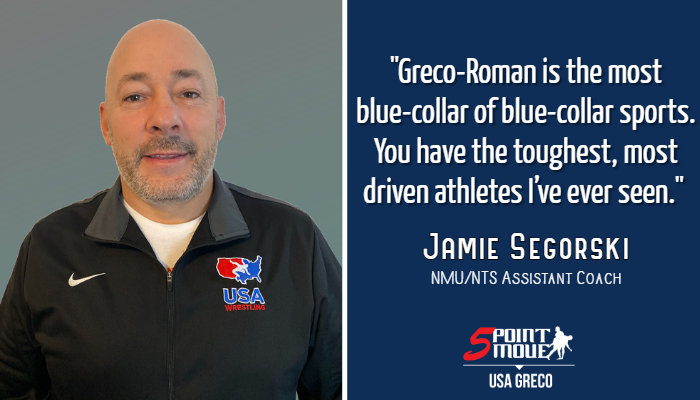 5PM: What was it about this opportunity that attracted you the most?
JS: Oh, it's a dream job for me. One, I get to walk into a room with a coach and athlete in Coach Bisek who is second to none. The guy, he is first-class, top-notch. You don't find many guys as humble. I mean, he is a World bronze medalist. He wrestled at the pinnacle of our sport, and to get the opportunity to coach with a guy like him is amazing.
Two, that room is full of great athletes. Benji Peak, Alston Nutter, wrestlers like them. There are athletes who are high up on the Olympic ladder. To have the opportunity coach and engage athletes of that caliber is a coach's dream. I don't care if you're coaching Major League Baseball, the NFL, or Greco-Roman wrestling at Northern Michigan University — the pinnacle of every sport is where you want to go, and this is as close to the pinnacle of our sport as it gets.
5PM: There may be more than one, and if there are by all means share it, but what is your immediate goal as far as once you get settled in and acclimated to this role?
Coach Jamie Segorski: It is an odd time to start a position like this, and not due to anything else but the pandemic. Not because of restrictions or anything else, but because everything was pushed back a year. So my immediate goal is that we have athletes who are looking really hard at Tokyo 2021. That's my goal. My goal is to do everything I can to help them reach their goals. And it's hard, because normally we would be coming into a quad, a normal cycle. Then you're looking at it like, Hey, we've got the World Championships coming up, and that's fine, but we're at the beginning of this quad and we have these freshmen… But that's not what we're doing right now.
I have to hit the ground running immediately to be able to do everything that Coach Bisek wants me to do, and it's not just recruiting and coaching. It is also helping these guys reach their goals, and their goals are lofty. It's going to be a little intimidating on the front-end — but it is also really exciting at the same time.


Listen to "5PM43: Christmas Time with Millersville's Kerry Regner" on Spreaker.
SUBSCRIBE TO THE FIVE POINT MOVE PODCAST
iTunes | Stitcher | Spreaker | Google Play Music
Notice
: Trying to get property 'term_id' of non-object in
/home/fivepointwp/webapps/fivepointwp/wp-content/themes/flex-mag/functions.php
on line
999