Listen to "5PM32: Previewing Senior Nationals with Dennis Hall" on Spreaker.
Episode 32 of the Five Point Move Podcast centers around the 2019 US Nationals/Olympic Trials Qualifier. Obviously with a tournament of this magnitude, not only are weight classes discussed, but a few individual storylines, as well.
Each bracket is given a broad-brush overview, but a lot of the conversation in the beginning of the program is about seeding, and whether or not it matters. Co-host Dennis Hall feels that seeding is much more important at the Olympic Trials than the Nationals, but that for athletes who still need to qualify, seeding at the Nationals does indeed matter, too.


Pertaining to athletes, Hall indicates he has heard that 2006 World Champion Joe Warren (NYAC) will be entering the tournament at 60 kilograms instead of 67, which was Warren's weight in New York last month. The saga of Lucas Sheridan (97 kg, Army/WCAP) and Daniel Miller (Marines) is also discussed, and what this event could mean for someone like Kamal Bey (77 kg, Sunkist) is also brought up. Towards the end, the subject matter switches to how athletes who fall short at the Nationals should train for the "Last Chance Qualifier" in March — and what Hall thinks about athletes who are eyeballing both the Olympic Trials and a potential spot in the non-Olympic weight World Championships.
A few highlights
Hall on Joe Warren potentially going 60 kg
"He's older, he's smarter, and he's not going to take everything and base what he's going to do off of one tournament. That (Bill Farrell Memorial) was a warm-up to get him ready for the National Championships, which is part of the Olympic qualifying process. I don't know how seriously he has been training, but the guy can wrestle on his feet. The only thing I have questions about is his defense. Is his defense going to be good? If his defense is going to be good and he fixed that problem, he is a contender. There are a lot of guys who don't want to battle as hard as he battles. He's a streetfighter."
Hall on how athletes who fall short at the Nationals should prepare for the 'Last Chance Qualifier'
"You go back and look at the film to see where you're getting beat. If it's strength, you've got to fix that problem. If it's technique, you have to address that problem. You have to get around coaches who can see where you are deficient. And then you have to do the work. It's pretty simple. For those types of guys, it's about putting yourself in a situation to ask a lot of questions to get the job done."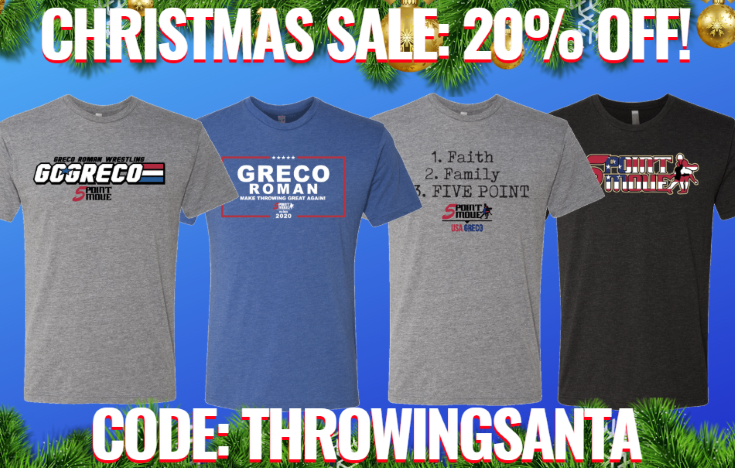 SUBSCRIBE TO THE FIVE POINT MOVE PODCAST
iTunes | Stitcher | Spreaker | Google Play Music | RSS
Notice
: Trying to get property 'term_id' of non-object in
/home/fivepointwp/webapps/fivepointwp/wp-content/themes/flex-mag/functions.php
on line
999