2018 World Champion/'16 Olympic bronze Sergey Semenov (130 kg, RUS) has spent a large portion of the past four months sequestered at home, similar to most wrestlers around the globe. The coronavirus pandemic swept through Russia and Eastern Europe a little later than it did North America, but its wide-reaching ramifications have been just as disjointing. Routines upended, confusion, anxiety, and with no clear end in sight, wrestling as a whole has taken the equivalent of a standing-eight count. Who knows when it will fully regain its footing?
Athletes like Semenov, who have devoted their entire lives to an Olympic sport, in this case Greco-Roman, have had to adjust in ways previously never contemplated. Although Russia has begun to gradually facilitate training opportunities for their National Team, that has come in drips and drabs, and a variety of practice restrictions are still in place. But even before new opportunities to move around recently arose, Semenov was hard at work. So much so that the 24-year-old (soon to be 25) heavyweight has actually trimmed down thanks to in-home training and a revamped diet.


Semenov took matters into his own hands at his house in the Moscow suburb of Odintsovo. It started with simple workouts as a means to pass the time. "I sat at home, did not go anywhere at all," Semenov told WrestRus last week. "(I did) push-ups, squats, and worked with elastic bands. But at home you cannot do the work that is on the mat. So after a while I began to go out into the fresh air, into the forest, trying to somehow diversify my training regimen."
Athleticism is a big part of the wrestler's tool-kit despite his frame. Standing 6'1 with boulders for shoulders and quads that look like tree trunks, Semenov might not have the height several of his contemporaries boast, but the overall package is nonetheless imposing. What is perhaps more disconcerting for opponents is the speed and explosiveness that have become his trademark. Even as a two-time Junior World Champion (and one-time silver), Semenov was capable of executing flowery throws most commonly reserved for lightweights. That is nothing to say of how his game has evolved on the Senior level. During his run in the '18 tournament, he waffled two-time World bronze Oscar Pino Hinds (CUB) en-route to a startling fall before arching Adam Coon (NYAC/Cliff Keen) twice in the first period to collect gold.
However, there was no repeat at the '19 Worlds in Nur-Sultan. Semenov was defeated by Amir Mohammadali Ghasemimonjezi (IRI) in the round-of-16, which not only ruined his bid for a second-straight title, it also kept him from qualifying 130 kilograms on behalf of Russia for the Tokyo Olympics. Slowed by a minor injury shortly thereafter, Semenov was held out of February's European Championships in favor of Zurabi Gedekhauri — who was ousted in the first round by tournament champ Alin Alexuc-Ciurarriu (ROU). Gedekhauri would later earn bronze.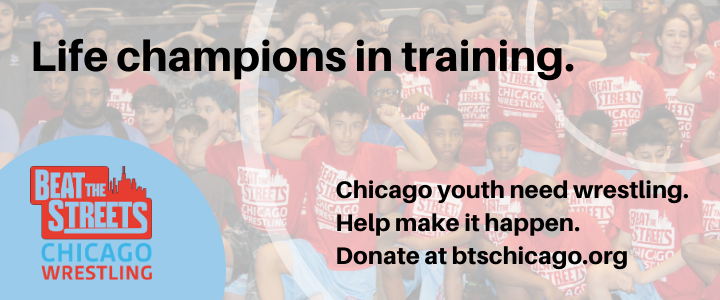 The European Olympic Qualifier was supposed to be held the following month. Semenov would have needed — and still does need — to at least place in the top-2 for Russia to secure 130. Certainly doable. And if not, the Last Chance World Qualifier awaits. But the uncertainty which came on the heels of the Olympiad's postponement didn't last too long for Semenov. Rather, he chose not to stew over items outside of his control before coming up with a plan of action. "I try not to think about it, because I still need to win an Olympic license," Semenov said. "In general, I took the postponement of the Olympics calmly. It is more time for preparation in order to win a ticket, earn a place on the Team, and go to Tokyo for a high result."
Which is where his diet figures into the equation. In the early stages of lockdown, Semenov found himself regularly indulging in sugary foods ("I became used to having a bun or Coco-Cola", he conceded). Something needed to change, primarily because the intake/expenditure ratio had been compromised in the absence of live wrestling practices. So he did away with all of it. He wiped the slate completely clean. "The main thing is that I took care of myself," Semenov explained. "I removed all junk food, sugar, white bread, and over time it became much easier."
It was an adjustment but the challenge wasn't fending off hunger. Instead, Semenov insists it was mental. "Losing weight is not difficult, it is much more difficult to rethink everything to achieve a goal. And so, you follow the recommendations of a sports doctor. You get on a diet, take vitamins. To fight better, you need to follow a regimen, to diet and eat right."
The outcome so far is easy for him to calculate. Semenov has shed ten kilograms, the lightest he has weighed since the '14 Junior World Championships. With the Russian Federation looking to host its first major camp next month (and a potential National event in October), it would appear Semenov's efforts with regards to both his diet and resourceful in-home training have set him up for what most suspect will be a monumental bounce-back season. "I'm glad I gave it up. After all, it really slows you down and has a detrimental effect on your stamina. Mobility, speed, technique — everything just got better."
That's a scary thought.
Transcript converted to English via machine translation.


Listen to "5PM38: MWC Wrestling Academy's Zac Dominguez" on Spreaker.
SUBSCRIBE TO THE FIVE POINT MOVE PODCAST
iTunes | Stitcher | Spreaker | Google Play Music
Notice
: Trying to get property 'term_id' of non-object in
/home/fivepointwp/webapps/fivepointwp/wp-content/themes/flex-mag/functions.php
on line
999