They shall not forget what they did. Even many moons from now, after their plaques have accumulated enough dust, after perhaps greater feats have been achieved. Two long days which funnel into one brief final round do not force all that which came before it into a jumbled, hazy picture. Momentous triumphs are always remembered by wrestlers with clarity. Much the same way those who summit large mountains vividly recall each treacherous step of the climb, athletes who knock seemingly crucial milestones off the list have a habit of staking claim to a vast grey-matter database.
The final round of the 2021 USA Wrestling 16U Nationals began at 2:00pm local time in Fargo, North Dakota and aired live on FLOWrestling.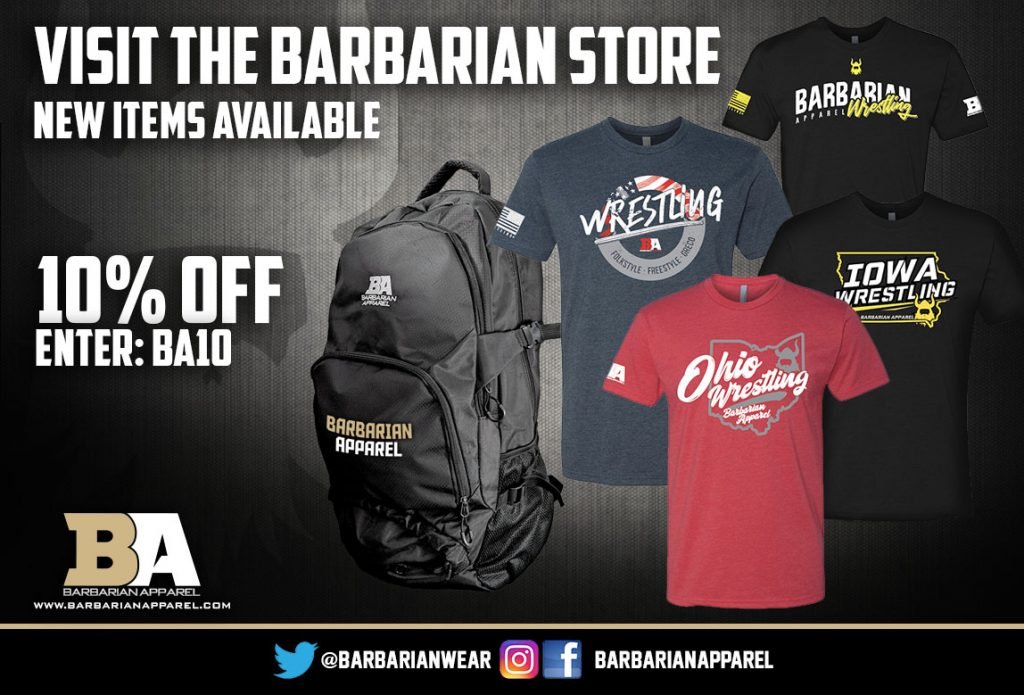 Nebraskan Joel Adams (138 lbs) was deemed the star of the tournament, which is what can happen when an athlete averages over 11 offensive points per match and wins each one via stoppage. Adams steamrolled through the field on Wednesday, and Thursday's itinerary unfolded in identical fashion. To wrap up his Cadet title, Adams used the passivity/par terre chance to lift Brady Collins (CO) for five before resetting his lock and arching for another four. Two additional points were tacked onto the score, but those were negligible. Adams — who has logged time overseas and was the Cadet World Team Trials runner-up this past spring — was named the event's Outstanding Wrestler for his efforts.
One weight class north brought to bear the great good work of Pierson Manville (PA), younger brother to prior Fargo titlists Carson and Mason, the latter of whom is one of the country's top Seniors and a recent World Team member ('17). But Pierson is already hailed as an enormous prospect and is carving out his own place in the sport. He was dominant throughout leading to the final round, notching a string of technical falls (plus an injury default and a pin). He was tested for the top spot by Wisconsinite Brett Back — one more eye-popping youngster beholden to an exceptionally-bright future — and it was Back who brandished solid pressure and positioning en-route to the bout's first passive point. From top, Back squared his lock and hoisted Manville for a lift, but the attempt unraveled in a scramble. Manville deftly adjusted and reversed; Back's corner challenged, the call was upheld, and Manville led 3-1. An additional two late in the second period sealed the deal to keep the family name at the forefront of American wrestling's consciousness.
Mauger
One of the US age group's system toughest all-around competitors is Mack Mauger (ID), who similar to Manville, has the type of bloodline and reputation to which wrestling fans pay attention. And, toughness was part of the story for Mauger well before he reached the 94 lbs final opposite Brady Phelps (IL). In the quarters, Mauger tallied four in the first period against Ryker Graff (IA) but was held scoreless in the second en-route to a gritty 4-2 decision. In order to advance to the championship round, the Idahoan had four offensive points in his column entering Period 2, but again did not drum up any more points.
The final, it was different. Mauger got his legs churning for a step-out point that broke the ice, and he delivered one more as he forced Phelps off the line before the end of the frame. The second period brought forth the bout's biggest score as well as a demonstration of Mauger's unmistakable skill. He had swarmed behind Phelps and immediately put himself in position for throw. Confidently and in nearly one full motion, he locked, adjusted, planted, and arched a side lift. A lot of moving parts, yet all fluid, and they added up to a four spot that all but capped what was — and had been — an extremely impressive run for Mauger.
Wild Endings
At 106 pounds, Illinois super-athlete Anthony Ruzic was the picture of resolve against '21 U15 National champ Matt Martino (ID) and it paid off in the most opportune manner possible. The pair traded step-outs in the first period before Martino countered an arm spin try early in the second for a 3-1 advantage. But then, Ruzic upped the pressure. First, one step-out; after the reset, another. They were purposefully jousting as time tick-tick-ticked off the board with Martino clinging to a one-point lead. Then as the clock was about to hit all zeroes, Ruzic nudged Martino off the line once more to break criteria and come away the victor.
Kamdyn Williams (126 lbs, PA) was firmly in the driver's seat. A measly point away. That was it. Until, it wasn't.
Faced with having to deal with terrific fellow Pennsylvanian Mason Gibson, Williams quickly piled on for an enormous lead thanks to the bout's first passive chance. From top, Williams' healthy wingspan allowed for a deep gut that delivered four. Back standing, and there was Williams again, ambling behind Gibson and cranking a side lift that was good for four more.
9-0. That's what the scoreboard read.
But just ahead of the intermission, Gibson came out the back of an arm spin attempt for a takedown — and followed up with a turn that trimmed his deficit to five. A hip-to-hip, scrambly step-out point that necessitated an officials' conference provided Gibson with two more points shortly into the second, which is when the match went haywire from a perspective of governance. With just under a minute remaining, Gibson returned to the arm spin and darted around for two; a subsequent lift attempt which saw Gibson come just shy of four wound up scored after a caution-and-two on Williams for legs. Thus, they reset from par terre, Gibson's high lock on a reverse lift was stymied, and Williams was called for legs a second straight time. An additional two were assigned to Gibson, and the match was over.
2021 16U Fargo Greco-Roman Nationals
July 21-22 — Fargo, ND
FINALS RESULTS
88 lbs: Haakon Peterson (OH) def. Javaan Peterson (WI) 5-2
94 lbs: Mack Mauger (ID) def. Brady Phelps (IL) 6-0
100 lbs: Layne Kleimann (UT) def. Trey Wagner (PA) 13-0, TF
106 lbs: Anthony Ruzic (IL) def. Matt Martino (ID) 4-3
113 lbs: Austin Lauderbach (MN) def. Nick Treaster (KS) 4-3
120 lbs: Kael Lauridsen (NE) def. Tanner Frothinger (ID) 11-0, TF
126 lbs: Mason Gibson (PA) def. Kamdyn Williams (PA) 12-0
132 lbs: Zach Hanson (MN) def. Dmitri Alarcon (CO) 12-1, TF
138 lbs: Joel Adams (NE) def. Brady Collins (CO) 12-0, TF
145 lbs: Pierson Manville (PA) def. Brett Back (WI) 6-1
152 lbs: Arvin Khosravy (CA) def. Nick Fox (IA) 9-6
160 lbs: Liam Scrivanich (PA) def. Jed Wester (MN) 11-4
170 lbs: Oscar Williams (OK) def. Toby Schoffstall (VA) 6-4
182 lbs: Cody Merrill (CA) def. Soren Herzog (MN) 6-0
195 lbs: Sawyer Bartelt (FL) def. William McCleary (UT) 8-2
220 lbs: Koy Hopke (WI) def. Austin Johnson (PA) 9-4
285 lbs: Navarro Schunke (SD) def. Spencer Lanosga (LA) 9-2

Placewinners
88 lbs
3rd – Griffin Rial (CO)
4th – Lawson Eller (MN)
5th – Cole Welte (NE)
6th – Revin Dickman (IN)
7th – Kole Davidheiser (PA)
8th – William Jakeway (SC)
94 lbs
3rd – Ezekiel Witt (KS)
4th – Cadyn Coyle (NE)
5th – Davis Motyka (PA)
6th – Josef Garshnick (PA)
7th – Ryker Graff (IA)
8th – Devin Bobzien (CA)
100 lbs
3rd – Aaron Seidel (PA)
4th – Jaxton Packer (ID)
5th – Gage Singleton (OR)
6th – Cole Gentsch (IL)
7th – Jared Johnston (OH)
8th – Colin Martin (VA)
106 lbs
3rd – Sloan Johannsen (SD)
4th – Carter Nogle (MD)
5th – Noah Nininger (VA)
6th – Nathan Desmond (PA)
7th – Adam Butler (OH)
8th – Sean Campbell (NY)
113 lbs
3rd – Marcello Milani (MI)
4th – Drew Gorman (GA)
5th – Logan Swensen (MN)
6th – Miles Anderson (NE)
7th – Treygen Morin (ID)
8th – Sam Herring (PA)
120 lbs
3rd – Zan Fugitt (MO)
4th – Garrett Reece (CO)
5th – Ruben Lorenzana (OH)
6th – Jax Forrest (NC)
7th – Phoenix Contos (OH)
8th – Marcos Torrez (WA)
126 lbs
3rd – Ayson Rice (SD)
4th – Aaron Lucio (MI)
5th – Daniel Zepeda (CA)
6th – Adrian Meza (AZ)
7th – Rhett Koenig (WI)
8th – Joshua Neiwert (WA)
132 lbs
3rd – Casper Stewart (NY)
4th – Gabriel Delgado (NV)
5th – Laird Root (CA)
6th – JJ McComas-Rogers (OK)
7th – Gabriel Bouyssou (RI)
8th – Alex Mentzer (SD)
138 lbs
3rd – Noah Manuel Tapia (IL)
4th – Jude Randall (OK)
5th – Brandon Cody (FL)
6th – Cade White (ID)
7th – Justin Avila (IA)
8th – Yannis Charles (SC)
145 lbs
3rd – Dylan Evans (PA)
4th – Ethan Mojena (FL)
5th – Duncan Christensen (VA)
6th – Layton Schneider (OK)
7th – Mike Baker (IA)
8th – Hudson Rogers (ID)
152 lbs
3rd – Zachary Eliszewski (WI)
4th – KJ Evans (OK)
5th – Lars Michaelson (WA)
6th – Dominic Bambinelli (GA)
7th – Gavin Fernandez (CA)
8th – Braxton Strick (MO)
160 lbs
3rd – Roman Garcia (FL)
4th – Travis Smith (MN)
5th – Talon McCollom (OK)
6th – Luis Mendoza (WA)
7th – Gavin Ricketts (KY)
8th – Tyler Martinez (IL)
170 lbs
3rd – Noah Poe-Hatten (MT)
4th – Hoke Poe Hogan (GA)
5th – Harvey Ludington (NJ)
6th – Nick Nosler (IL)
7th – Maximus Hanson (MN)
8th – David Malin (WI)
182 lbs
3rd – De'Alcapon Veazy (IN)
4th – Kingsley Menifee (VA)
5th – Ian Smith (WI)
6th – Hudson Davis (OR)
7th – Erik McCown (OK)
8th – Adrian Gacek (PA)
195 lbs
3rd – McCrae Hagarty (IA)
4th – Max Agresti (DE)
5th – Richard Thomas (OK)
6th – Dai'mont Mucker (MO)
7th – Hunter Tibodeau (WA)
8th – William Caneer (AL)
220 lbs
3rd – Erick Brothers (WV)
4th – Vaun Halstead (OR)
5th – Parker Ferrell (VA)
6th – Samuel Murphy (MO)
7th – Nicholas Sahakian (CA)
8th – Jacob Walker (IA)
285 lbs
3rd – Sebastian Lopez (KS)
4th – Aidan Fockler (OH)
5th – Aidan Trujillo (CO)
6th – Wyatt Smith (IA)
7th – Cameron Groncki (NY)
8th – Willie Cox (AL)




Listen to "5PM50: Mr. Fantastic Benji Peak" on Spreaker.
Listen to "5PM49: Robby Smith on coaching, fatherhood and mentors" on Spreaker.
Listen to "5PM48: Austin Morrow and Gary Mayabb" on Spreaker.
SUBSCRIBE TO THE FIVE POINT MOVE PODCAST
iTunes | Stitcher | Spreaker | Google Play Music
Notice
: Trying to get property 'term_id' of non-object in
/home/fivepointwp/webapps/fivepointwp/wp-content/themes/flex-mag/functions.php
on line
999