A string of one-sided victories doesn't always mean a National title is assured, but at the very least, it's a good start. That's the boat returning Junior Fargo champs Ridge Lovett (138 lbs, ID), Chayse La Joie (120 lbs, MI), and Jace Punke (220 lbs, IL) find themselves paddling in entering the semifinals.
The first day of action at the 2019 Junior National Championships began Thursday morning at 9:00am (MT) and aired live in the US on FLOWrestling.
Starting in the round-of-32, Lovett engineered consecutive first-period tech falls, scoring 12 points in both. In the quarters, Spencer Schickram (OK) hung in there to the final whistle, but it was still an 11-3 decision for Lovett, who next faces Antonio Segura (COL) in tomorrow's semifinal. A Cadet World Team member in 2017, Lovett has not attempted to enter a Trials tournament since but remains one of the country's best young Greco prospects despite committing to attend the University of Nebraska.


La Joie has had a lot on his plate thus far. When action wrapped up Thursday evening, he had already won five matches. But he accomplished the objective with an air of dominance. Other than Ashton Clark (MN) in the round-of-128, who fell 11-3, La Joie hasn't gone the distance. His next four bouts ended via tech, resulting in a combined score of 56-5. It is a similar story for Punke. His tournament kicked off in the round-of-64, and his four wins include three 10-0 tech's and a pin in the quarters over Cadet World Team Trials runner-up Daniel Striggow (MN).
Both '18 Cadet World Teamers, the Nebraskan sibling duo of Jakason (120 lbs) and James Burks (152 lbs) are also putting together collection of highlights for the family. Jakason will lock horns with La Joie while James is going to be standing across from Aaron Gandara (AZ).
Haiden Drury (132 lbs, WA) is in familiar territory, though in an older age group. A champ last year at Cadet, Drury has been lights out at Junior moving, moving into the semis on the strength of four tech falls and a winning margin of 46-1. Drury is going to lace them up opposite a very tough customer in Kellyn March (SD). March, who himself has viable overseas experience, defeated fellow prospect Brody Kemper (MI) in the quarterfinal. The bottom bracket at 132 pits two hardcore talented wrestlers against one another and they just might steal the show — 2016 Cadet World Team member and longtime age-group hero Mosha Schwartz (CO) and '19 Cadet Trials runner-up Tarrell Wallace Jr. (FL).
Both semifinal matches at 113 lbs should have your attention, as well: on the top side it will be Nate Rubino (NE), who took out top-seeded Ronan Schuelke (IL) via fall in just :22. Rubino went to his patented headlock and that was a wrap. He'll go up against blitzing talent Sheldon Seymour (PA). On the bottom side, well-traveled Billy Sullivan (NV) and Christian Decatur-Luker (NC) have the potential to break the scoreboard.
Spencer Trenary (IA) has looked unstoppable at heavyweight and is 3-0. 2018 Cadet World Team member Luke Luffman (IL) and Nash Hutmacher (SD) reside on the bottom side of the bracket, putting forth what is sure to be a can't-miss semifinal matchup one way or the other.
New Jersey stud Chris Foca (182 lbs), who won his first state title this past March as a senior and was a runner-up to Alex Cramer (IL) at last year's Junior Nationals, is once again in the mix. He enters Friday with two tech's and two decisions, and is set to square off with another Illinois rep, Joe Labarbera, an athlete in the midst of a surge in his own right.
Wrestling begins at 9:00am Friday morning (MT) and can be viewed live on FLO with the finals scheduled for 2:00pm.
2019 FARGO JUNIOR NATIONALS
July 18-19 — Fargo, North Dakota
SEMIFINAL MATCHUPS
100 lbs
Daniel Sheen (IL) vs. Christian Forbes (OK)
Brandon O'Brien (IA) vs. Kaleb Casey (WI)
106 lbs
Ryan Rowland (FL) vs. Chad Bellis (IL)
Quade Smith (UT) vs. Andre Gonzalez (CA)
113 lbs
Nate Rubino (NE) vs. Sheldon Seymour (PA)
Billy Sullivan (NV) vs. Christian Decatur-Luker (NC)
120 lbs
Chayse La Joie (MI) vs. Jakason Burks (NE)
Cooper Flynn (TN) vs. Anthony Molton (IL)
126 lbs
TJ Long (OK) vs. Cael Swensen (MN)
Camden Russell (NE) vs. Brody Norman (IL)
132 lbs
Haiden Drury (WA) vs. Kellyn March (SD)
Tarrell Wallace Jr. (FL) vs. Mosha Schwartz (CO)
138 lbs
Ridge Lovett (ID) vs. Antonio Segura (CO)
Cade Lucio (CA) vs. Josh Saunders (MO)
145 lbs
Anthony Echemendia (AZ) vs. Luke Odom (IL)
Chance McLane (MT) vs. Edward Scott (PA)
152 lbs
Cael Carlson (MN) vs. Kaden Reetz (WI)
James Burks (NE) vs. Aaron Gandara (AZ)
160 lbs
Weston Milnes (CO) vs. Cade DeVos (IA)
Adrian St. Germain (WA) vs. Ryan Cody (FL)
170 lbs
Dajun Johnson (WI) vs. Lance Runyon (IA)
Nevan Snodgrass (OH) vs. Angel Garcia (PA)
182 lbs
Chris Foca (NJ) vs. Joe Labarbera (IL)
Jackson White (MO) vs. Jacob Anderson (AK)
195 lbs
Matt Kaylor (ND) vs. Artem Loginov (CA)
Vincent Baker (GA) vs. Jonovan Smith (CA)
220 lbs
Jace Punke (IL) vs. Cody Fisher (IA)
Braxton Amos (WV) vs. Cade Lautt (KS)
285 lbs
Spenser Trenary (IA) vs. Donovan King (MI)
Nash Hutmacher (SD) vs. Luke Luffman (IL)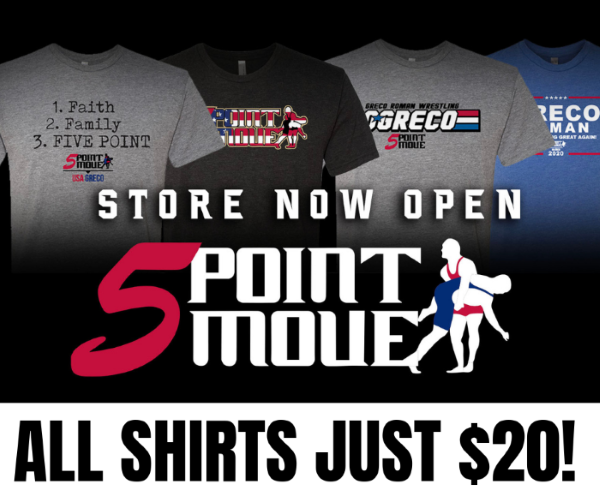 Listen to "5PM26: Princeton's Lenny Merkin and new USOTPC Greco-Roman athlete Nolan Baker" on Spreaker.
SUBSCRIBE TO THE FIVE POINT MOVE PODCAST
iTunes | Stitcher | Spreaker | Google Play Music | RSS
Notice
: Trying to get property 'term_id' of non-object in
/home/fivepointwp/webapps/fivepointwp/wp-content/themes/flex-mag/functions.php
on line
999