It was not the most adrenalizing morning for the seven United States Greco-Roman athletes competing at the 2019 Haavisto Cup. Each wrestler took a loss and the US will not end this tournament with a gold medalist. However, one is still alive for bronze later this afternoon.
Morgan Flaharty (67 kg, NYAC) rebounded from a tough loss to one of his bracket's more notable competitors to put himself one win away from a spot on the podium. At 77 kilograms, Corey Hope (NYAC) and '19 Final X runner-up Alex "The Rib Cruncher" Mossing (Air Force) both won their first bouts before experiencing defeat in the quarterfinals. However, Hope and Mossing did receive second chances in the repechage, but fell short there, as well.


Elsewhere, Nolan Baker (67 kg, USOPTC), Chris Rodgers (72 kg, USOPTC), Brandon Mueller (77 kg, Air Force), and Diante Cooper (97 kg, Air Force) were all eliminated from medal contention earlier this morning.
Flaharty
Multi-time Nordic Championships medalist Pål-Erik Gundersen (NOR) represented a suitably challenging opponent for Flaharty in the qualification round, but the hardened OTC athlete did his best to stay in the pocket. Gundersen wanted to work angles as Flaharty tactically scanned for advantageous tie-ups. An arm drag for Gundersen sent Flaharty off the line for a step-out, and that more or less opened the floodgates. Shortly thereafter, Gundersen snared a takedown and converted to a pair of gutwrenches.
Nevertheless, Flaharty remained undaunted. He sauntered back into the fight, and understanding he had to score, banged inside and wrangled Gundersen for a throw attempt. Unfortunately for Flaharty, the Norwegian countered and scampered behind for a takedown to seal the bout prematurely.
Flaharty, operating with a new lease on life in the repechage, was one step ahead of Gytis Kulevicius (LTU) from whistle to whistle. Kulevicius got a run on an arm drag early in the first but Flaharty moved swiftly. He had spun out of the attempt as they jockeyed towards the boundary. When Flaharty went to move in, Kulevicius lost his balance and stepped out first. The fun was just starting. After a reset, Kulevicius locked for a throw. As he went to arch back, Flaharty was waiting. He adjusted immediately and landed on top. Kulevicius was done for. It took a few seconds, but sure enough, the pin was signaled, moving Flaharty into the bronze medal round, where he will face Emil Ziganshin (RUS), who took silver last weekend in Haparanda.
Hope & Mossing
In his first bout, Hope took on Paulius Galkinas (LTU) and the pair proceeded to engage in a tight back-and-forth battle that wasn't decided until the latter stages of the second period. Hope received the first passivity/par terre of the contest but was unsuccessful with his lock. Not even a minute had gone by in the second when Galkinas was gifted his passive. From top par terre, he briefly looked lift only to have Hope remain plastered to the tarp.
Down on criteria, Hope needed to score. He started forcing underhooks, which in turn compelled Galkinas to play back in. A throw attempt from the Lithuanian resulted in Hope land on top — but the sequence was wiped away. Still pressing the issue, Hope resumed digging in underhooks whenever possible. In an odd but appropriate twist, Galkinas was dinged with under :40 left, giving Hope a point and a 2-1 lead. There had to be one last gasp, which came in the form of a Galkinas throw attempt. Hope easily followed from the back and Galkinas had no choice but to roll over his back. The four-points for Hope arrived just before the conclusive whistle, and he moved on with a 6-1 victory.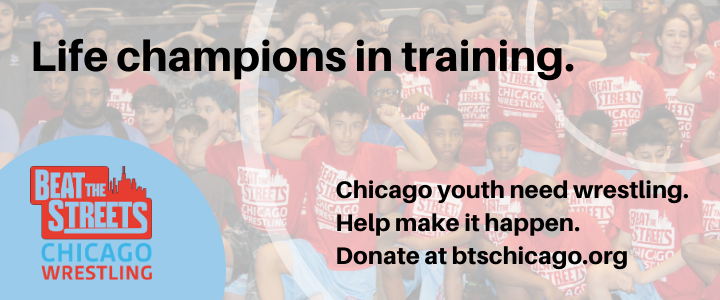 The quarterfinal round for Hope unfolded much differently. Albin Olofsson (SWE) took advantage of the first passive/PT chance and never looked back. At the whistle, he locked for a lift, causing Hope to try and contort his body so as to avoid a big score. But as Hope wrung and adjusted, Olofsson stayed with his hold and deposited Hope to his back, even re-gripping with a reverse lock. It looked for a second like Hope might break free, but he didn't, and the fall was called soon after.
Since Olofsson ran right past Ruslan Isakov (RUS) in the semis, Hope was pulled back in for the repechage round opposite Ranet Kaljola(EST). The Illinois native never even got going. Kaijola scored on a reach-around and rotated three gutwrenches to drum up a quick 8-0 tech.
For Mossing, it was one dynamic scoring attack that separated him from Mikko Lytinen (FIN) in the qualification round. The Air Force athlete relentlessly chased down Lytinen, who was keen on hanging in the pummel as Mossing tactically jousted in the tie-ups. There wasn't a lot of action to be had, initially. Even throughout the majority of the bout, Mossing had to wade through the weeds to set up attacks. But in between was a marvelous legless fireman's carry that yielded four, providing the bulk of the points in what wound up a 5-0 decision.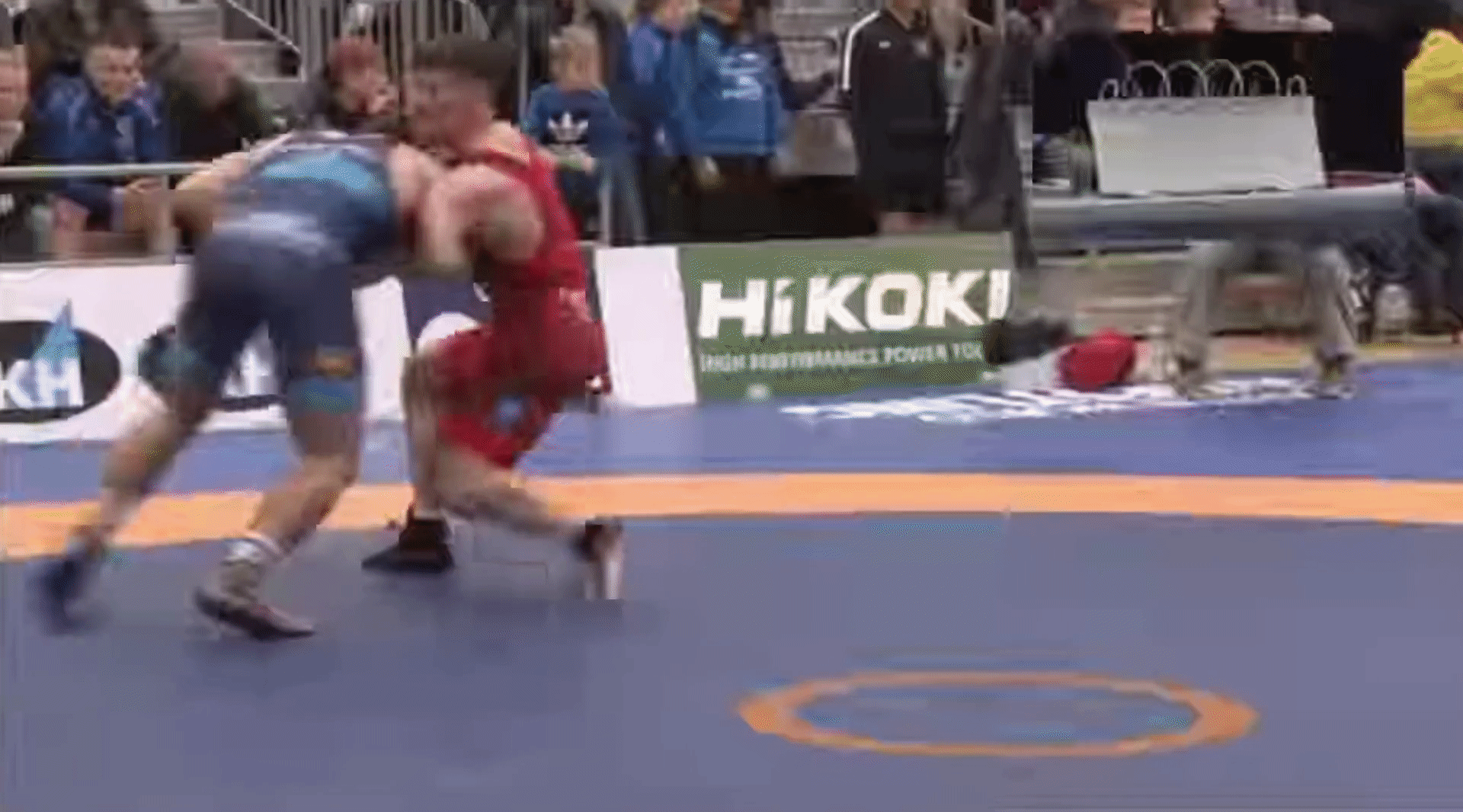 Mossing's next match was a ball of confusion from the outset. Lukas Ahlgren (SWE) — a name familiar to US Greco-Roman observers due to his numerous battles against Northern Michigan athletes, among others — walked to the mat wearing a singlet with a different surname on the back. The officials made him change to a singlet that had no name, which took around five minutes, and off they were.
Ahlgren scored on an arm spin, the technique serving to break the ice. Later in the period, Ahlgren found himself on top par terre, where he went to apply a front headlock. Mossing flung out of impending danger, and had appeared to expose Ahlgren in the process. Alas, no points were scored, though Mossing had managed to grab a step-out to trim the deficit. In the second frame, Ahlgren netted two from an over/under attempt. Mossing wanted a challenge — but the sequence stood, giving Ahlgren one more point and a messy 9-1 tech.
Ahlgren made the 77-kilogram final, allowing Mossing another opportunity. It was not the exact same result as Hope, but similar enough in its one-sidedness. Mossing and Sakke Purolainen (FIN) were neck-and-neck for much of the first until it all unraveled in the second. A takedown-gut combo in the second period put a halt to the bout in Purolainen's favor with a final score of 12-3.
The medal rounds are scheduled to begin at 6:00pm local time (11:00am EST) and can be viewed live on Ilmajoen Kisailijat Paini's YouTube channel.
2019 Haavisto Cup
December 7 — Ilmajoki, Finland
TEAM USA RESULTS
67 kg
Nolan Baker (USOPTC)
LOSS Radion Samatov (RUS) 6-1
Morgan Flaharty (NYAC)
LOSS Pål-Erik Gundersen (NOR) 9-0, TF
WON Gytis Kulevicius (LTU) via fall
vs. Emil Ziganshin (RUS)
72 kg
Chris Rodgers (USOPTC)
LOSS Tomi Eronen (FIN) 13-2, TF
77 kg
Corey Hope (NYAC)
WIN Paulius Galkinas (LTU) 6-1
LOSS Albin Olofsson (SWE) via fall
LOSS Ranet Kaljola (EST) 8-0, TF
Alex Mossing (Air Force)
WIN Mikko Lytinen (FIN) 5-0
LOSS Lukas Ahlgren (SWE) 8-1
LOSS Sakke Purolainen (FIN) 12-3, TF
Brandon Mueller (Air Force)
LOSS Nicolae Popa (ROU) 3-1
97 kg
Diante Cooper (Air Force)
LOSS Lenny Berei (ROU) 9-0, TF
LOSS Alin Alexuc-Ciurariu (ROU) 8-0, TF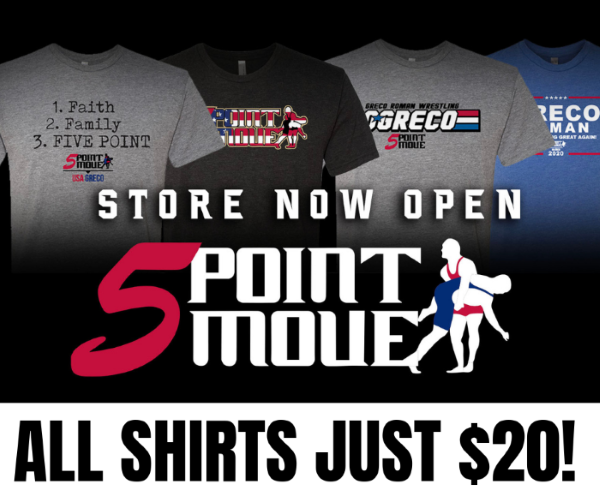 Listen to "5PM31: Happy Thanksgiving with Dennis Hall" on Spreaker.
SUBSCRIBE TO THE FIVE POINT MOVE PODCAST
iTunes | Stitcher | Spreaker | Google Play Music | RSS
Notice
: Trying to get property 'term_id' of non-object in
/home/fivepointwp/webapps/fivepointwp/wp-content/themes/flex-mag/functions.php
on line
999