The keyword is "encouragement". That's it. That's the ticket. The only incentive dangling in front of each pair of eyeballs among the participants at the 2020 US Junior Greco-Roman Nationals was a procedural wrinkle. All ten champs (including U23) will receive berths in next year's Senior Trials. Other than that, this tournament was about two things: giving wrestlers a chance to compete; and to hopefully demonstrate the promising talent waiting to emerge from the pipeline.
Wrestlers and coaches wanted to be able to walk away from a day's worth of matches feeling good about the future. After a slate of finals that saw several "Greco first" types and hardened all-style athletes come away with victories, it would seem that mission was accomplished.
The finals of the 2020 Junior Nationals took place on Friday afternoon inside of the CHI Health Center in Omaha, NE and streamed live on FLOWrestling.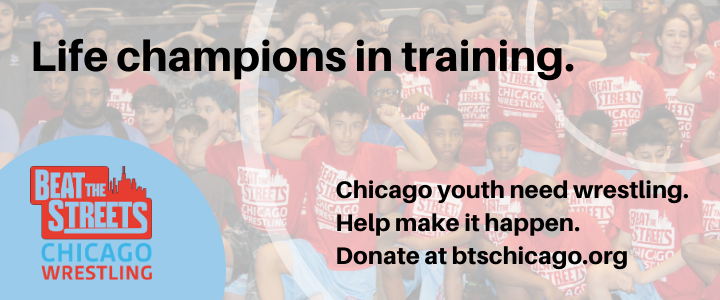 A handful of full-time age-groupers were involved in the proceedings, and it was Payton Jacobson (Ringers) who stood out the most. What's more, it took another seasoned full-timer to help make that case clear for all to see. Jacobson and Logan Hatch (EAP) — two Wisconsinites who have developed in-sync with one another — comprised the 63-kilogram final and presented a rather detailed exhibition of how and why overseas opportunities are so vital for American youths. For it was their match that most closely resembled the grinding tactics associated with international competition.
Hatch — domineering throughout the event — was crisp and engaged as he prodded in the hand-fight. It was a feeling-out process for both, but Hatch showed a touch more interest in controlling the zone. Jacobson wasn't biting because he didn't have to; instead, he minded his own position and stance integrity, flinging from one clasp to another while letting his legs do most of the work. They were more evenly-matched than any other pairing, and they knew it. The tempo and exchanges were both balanced out by responses which seemed to arrive as if dictated by a conductor.
The first-period passive point was given to Hatch. He needed this chance to create some definitive distance but his attempts fell short. Back on the feet and Jacobson was undeterred. He had only surrendered a point and there was plenty of time to work. So, he didn't rush. Patience is sometimes a virtue in Greco-Roman. Risk is exhorted by coaches and fans, but also ill-advised when an athlete can feel that such windows of opportunity are too fleeting with which to bother. Again, position became the priority. Jacobson and Hatch shared a similar strategy, their movement unfolding in a pummel-sized mirror on a mat in front of various personnel donning masks and "gaiters" on a brisk November Friday.
Jacobson hopped out of his corner for the second period with one objective: score, but without unnecessarily betraying vulnerabilities. One measly point is not a "must take risk" proposition, especially with passivity part of the equation. Sure enough, that inkling proved correct after Hatch was dinged by the officials. Jacobson quickly attained his lock and had fortuitously managed to trap Hatch's arm. One full rotation commenced until Hatch freed the appendage. Still, Jacobson rolled once more to pick up an additional two. By the time they returned standing, Hatch's 1-0 lead had been converted into a 5-1 deficit.
A warning on Jacobson for grabbing the fingers disrupted the flow. Perhaps warranted, even if such tactics are at times unavoidable. To Hatch's credit, he didn't seem to care. At all. His focus was apparent as he assuredly generated increasing motion in the ties. But then it happened again, with Jacobson penalized two caution points. Though the infraction narrowed the gap, it didn't alter the outcome. Hatch toiled in an effort to open up worthwhile attempts, and Jacobson held his ground the rest of the way. A thrilling Junior National title win for Jacobson, but a match that elevated the stock of both combatants.
Knopick/Sullivan; Milnes Over Perez III
Two superb young stars clashed in the finals at 55 kg with '19 Cadet World Teamer Conor Knopick (MWC) taking on '19 Fargo champ Billy Sullivan (LOG). This was one of those bouts identified prior to the tournament that, if it occurred, would not disappoint. And, it certainly didn't.
It was Sullivan who assumed command early in the contest via passivity. His weapon of choice from top par terre was a side lift. Knopick moved adequately at the whistle and for a moment appeared to have the defensive edge. That didn't last long, as Sullivan hoisted and launched off the edge for four. On the reset, Knopick struck back by countering and yanking a Sullivan attempt on the arm. Two points swung in his direction and more were on the way. Towards the end of the first, Knopick created a slick scoring attack when he dipped down from a short drag that resulted in a takedown/gut combo, a sequence responsible for his 6-4 advantage heading into the conclusive stanza.
The pace did not slow down in the second period. Sullivan was more keen on making attempts, while Knopick preferred to abide by stout positional fundamentals. Such was their contrast in styles. Because Knopick was intent on underhooks and bringing his feet beneath his hips, Sullivan was forced to expend a little more energy — which is not a problem for him, since his methodology is often accompanied by an enthusiasm for dynamic attacks.
But he, Sullivan, was dealing with a wrestler who is apt to counter; so when one more arm spin attempt was unfurled, Knopick was prepared, quickly dashing behind before coming through with a gutwrench. Knopick would add a slide-by takedown with :20 remaining to cap the scoring and cement his first Junior crown. A highly-entertaining bout that is sure to get plenty of re-watches.
Out of nowhere, two-time Fargo champion Robert Perez III (EAP) showed up in Omaha for 72 kilos — a full two (or three) weight categories higher than originally expected. And other than a brutal, razor-thin decision against Alaa Elkerm (Talents WC), Perez still looked like Perez, so it wasn't so much of an issue. Meanwhile, on the opposite side of the bracket Weston Milnes (EAP) was busy putting in a serious amount of work in his own right. Milnes trucked his first two opponents, including UPenn's Jacob Stefanowicz, and couldn't have been more impressive doing so.
It all seemed to set up quite the final.
A bodylock near the boundary opened up the scoring. Milnes took a four-point lead, however, Perez remained undaunted. Both did solid work in the tie-ups. Other than a double-overhook attempt from Milnes, there wasn't much in the way of action until the second period. That's when Milnes closed the show with a dazzling arm spin that doubled his score and cut short the match.
Darrah Nips Hannah
Two big-time upper-weight prospects delivered one of the most white-knuckle matches of not only the final round, but maybe the entire tournament.
Similar approaches, similar experience, similar names: Cadet World Team member/Fargo winner Tyler Hannah (Dubuque WC) and Cadet Pan-Am gold Jack Darrah (Xtreme) were evenly-matched from the outset and it all played out with a "stop sign" hanging in the balance. Hannah took a 1-0 passive lead in the first but could not capitalize from par terre. The tables turned in the second when Darrah, having received his own PT chance, was awarded two when Hannah briefly exposed after what looked to be a half-nelson attempt. Another point was added for Darrah on the heels of an upheld challenge.
An exchange that led to a crash out of bounds was white-paddled, and so was another sequence that appeared at first glance to yield a score. Hannah was growing agitated; Darrah, he remained emboldened. Time was of the essence, of course. Hannah, behind 4-1, needed to make something happen, for it wasn't going to be given to him. With :14 left to go, Hannah used an arm spin to come out the back for a takedown. He hustled to get his lock, then glanced quickly at the scoreboard to check the time. Hannah first thought lift; after, a collapse gut. Darrah appeared to be close to exposing but recovered in an eyeblink and ultimately survived. An exhilarating final that will likely transpire again sometime soon.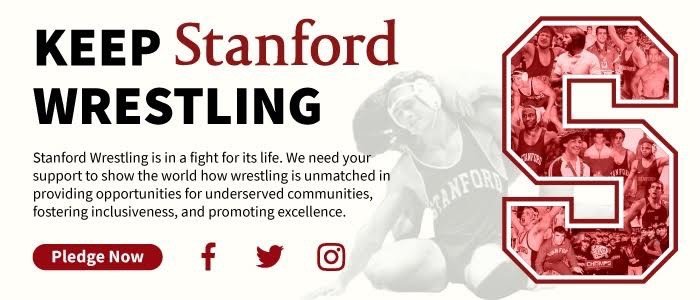 LaJoie Outlasts Stepanian; Porsch Shocks Peak
At 60 kilograms, former Fargo star Chayse LaJoie (Spartan Mat Club) collected one of the biggest wins of the tournament by defeating NMU's David Stepanian (NYAC). Entering Friday, Stepanian was viewed as the toughest obstacle to face in a weight class that featured a few other prominent competitors, such as '19 Fargo champ Camden Russell, Jordan Hamdan (UA), and LaJoie himself. To be sure, Stepanian competed well, even surviving a very tough bout against Keegan Slyter (UA). But on the the bracket's bottom side, LaJoie was all business and advanced to the final virtually unscathed.
The most glaring sign that this match could go LaJoie's way came in the first period passive chance. Stepanian, well-traveled with loads of relevant foreign experience, couldn't stop LaJoie's front headlock from par terre and fell behind 5-0. In the second period, LaJoie added to his tally with a step-out, and in short order, Stepanian answered with an arm spin attempt in which he was compelled to settle for takedown points. Time had now begun to evaporate. The onus was completely on Stepanian, who was again victimized by a front headlock. Still game, with the clock nearly out, Stepanian flashed for a high dive, but LaJoie easily defended and covered to call a halt to the bout with five ticks left on the scoreboard.
Dayton Porsch (Beaver WC) was not a common Greco name prior to Friday but that all changed in the 67 final. Reigning Senior National champ Benji Peak (Sunkist/NTS, 5PM #11), far and away the bracket favorite, saw his day end in exasperation because Porsch took a shot and ran with it. Following a brief pummel preamble, Porsch corkscrewed a headlock for a stunning pin at just :48 into the first period. The win gives Porsch his first National crown, and hopefully enough of a confidence boost to continue further in this discipline.
McCunn Ousts World Teamer; Hendricks, Trumble, & Trenary Dominate
In a positively wild affair, Justin McCunn (77 kg, Viking WC) was able to overcome '19 Junior World Team member Jack Ervien (WA) thanks to a points-happy blitz in the second period. Ervien owned a 7-3 lead after the first only to watch it disappear — quickly. McCunn strolled out of his corner and promptly banged a four on the edge to jump ahead via criteria. Following the restart, there he was again, McCunn attacked straight-on to net a takedown. He was overwhelming. Another reset, another takedown, this time followed by a succession of hard-fought guts that put the match on ice. McCunn scored 13 unanswered points en-route to victory.
'17 Cadet World Teamer Jake Hendricks (82 kg, Pennsylvania RTC) was one of several who pulled double duty on Friday. It was a good decision for the talented collegian. Hendricks came up just short to Tommy Brackett (UA) in the U23 final. A couple of hours later, he was able to put a smile on his face thanks to a win at Juniors.
Operating against a very tough Jacob Anderson (Avalanche WC), Hendricks powered a pair of two-point front headlocks early in the first. He came close to another score, too. A double-overs to headlock nearly caused havoc, but Anderson shrewdly challenged and those points were wiped off the board.
Anderson, who certainly put together an exemplary outing, as well, dug in nicely through each exchange. He was dealing with a legitimate powerhouse, but his resolve and position were enough to keep him in the fight. Unfortunately for him, it wasn't enough. Hendricks added a step-out in the second period along with having received two caution points to take a 6-3 lead he would not relinquish.
Denzel Mabry (97 kg, San Francisco WC) had defeated Isaac Trumble (Wolfpack WC) in Fargo last year. Do things like that matter, somewhat recent wins? Sometimes, they do. They just didn't yesterday, at least as far as Trumble was concerned. Mabry was game. That wasn't a factor. In fact, much of Trumble's haul was the byproduct of attempts from Maybry. Trumble diligently dug in and controlled with double underhooks. In response, Mabry wanted to weave in for his own lock. But when he went to arch, Trumble adjusted and commandeered the points and tacked on a turn. Back up, they became embroiled in another bodylock position. Trumble's instincts were sharp as he finished the maneuver for a very solid triumph and just-as-impressive tournament overall.
Heavyweight Spencer Trenary (Jackrabbit WC) was expected to do well — and he did. So well, that only one of his three bouts saw the second period while the other two ended via pin, including in the final. Joshiah Hill (Arkansas RTC) briefly had a stout lock around Trenary's body before they separated and re-engaged in more conventional in-fighting. Eventually, Trenary found his own lock, hipping and adjusting to put Hill directly on his back. The pin was observed at :56 to provide Trenary with his first Junior crown.
2020 U23 Nationals
November 13 — Omaha, NE
FINAL RESULTS
55 kg: Conor Knopick (MWC) def. Billy Sullivan (LOG) 12-5
60 kg: Chayse LaJoie (Spartan) def. David Stepanian (NYAC/NTS) 10-2, TF
63 kg: Payton Jacobson (Ringers) def. Logan Hatch (EAP) 5-3
67 kg: Dayton Porsch (Beaver WC) def. Beni Peak (Sunkist/NTS) via fall
72 kg: Weston Milnes (EAP) def. Robert Perez III (EAP) 8-0, TF
77 kg: Justin McCunn (Viking WC) def. Jack Ervien (UA) 16-7, TF
82 kg: Jake Hendricks (Pennsylvania RTC) def. Jacob Anderson (Avalanche) 7-3
87 kg: Jack Darrah (Xtreme) def. Tyler Hannah (Dubuque WC) 4-3
97 kg: Isaac Trumble (Wolfpack) def. Denzel Mabry (San Francisco WC) 8-0, TF
130 kg: Spencer Trenary (Jackrabbit WC) def. Josiah Hill (Arkansas RTC) via fall
PLACEWINNERS
55 kg
GOLD: Conor Knopick (MWC)
SILVER: Billy Sullivan (LOG)
BRONZE: Jacob Cochran (UA)
4th: Andrew Chambal (UA)
5th: Eric Barnett (Wisconsin RTC)
6th: Sam Smith (LaCrosse Area Wrestlers)
7th: Carter Stephenson (Black Fox Wrestling Academy)
60 kg
GOLD: Chayse LaJoie (Spartan Combat RTC)
SILVER: David Stepanian (NYAC/NTS)
BRONZE: Keegan Slyter (UA)
4th: Camden Russell (MWC)
5th: Jordan Hamdan (UA)
6th: Aizayah Yacapin (UA)
7th: Caleb Gross (Jackrabbit WC)
63 kg
GOLD: Payton Jacobson (Ringers)
SILVER: Logan Hatch (EAP)
BRONZE: Tarrell Wallace Jr. (NMU/NTS)
4th: Aiden Lenz (Black Fox Wrestling Academy)
5th: Jakob Murillo (UA)
6th: Austin Keal (Arkansas RTC)
7th: Evan Reid (Ford Dynasty WC)
67 kg
GOLD: Dayton Porsch (Beaver WC)
SILVER: Benji Peak (Sunkist/NTS)
BRONZE: Aaden Velez (La Gente (WC)
4th: Bobby Treshock (Curby 3-Style)
5th: Ian Sandoz (UA)
6th: John Teed (Rise)
7th: Payne Carr (Union County WC)
72 kg
GOLD: Weston Milnes (EAP)
SILVER: Robert Perez III (EAP)
BRONZE: Alaa Elkerm (Talents WC)
4th: Jacob Stefanowciz (Pennsylvania RTC)
5th: Brett McIntosh (Wyoming Wrestling RTC)
6th: Matthew Doyle (Burg TC)
7th: John Richardson (Texas Pride WC)
77 kg
GOLD: Justin McCunn (Viking WC)
SILVER: Jack Ervien (UA)
BRONZE: Guillermo Escobedo (Wyoming Wrestling RTC)
4th: George Moseley (Cougar WC)
5th: Tyler Scheurn (Mustang WC)
6th: Desmond Bowers (Choker WC)
7th: Abraham Michel (Dubuque WC)
82 kg
GOLD: Jake Hendricks (Pennsylvania RTC)
SILVER: Jacob Anderson (Avalanche WA)
BRONZE: Josh McFarland (UA)
4th: Kodiak Stephens (UA)
5th: Dane Harter (UA)
6th: Sean Michel (Interior Grappling Academy)
7th: William Smith (UA)
87 kg
GOLD: Jack Darrah (Xtreme)
SILVER: Tyler Hannah (Dubuque WC)
BRONZE: Joey Braunagel (IRTC)
4th: Callan Ivy (San Leandro Youth WC)
5th: Zane Davis (Arkansas RTC)
6th: Koby Johnson (UA)
7th: Hamzah Alsaudi (UA)
97 kg
GOLD: Isaac Trumble (Wolfpack WC)
SILVER: Denzel Mabry (San Francisco WC)
BRONZE: Sione Halo (Choker WC)
4th: Tristen Wilson (Servite High School)
5th: Victor Vargas (UA)
6th: Rylan Bonds (Spartan Mat Club)
130 kg
GOLD: Spencer Trenary (Jackrabbit WC)
SILVER: Josiah Hill (Arkansas RTC)
BRONZE: Eli Pannell (Burg TC)
4th: Juan Ramos (San Francisco WC)
5th: Apollo Gothard (Izzy Style)
6th: James Hustoles (UA)
7th: Caspian Grabowski (Arkansas RTC)


Listen to "5PM40: Sam Hazewinkel and Jesse Porter" on Spreaker.
SUBSCRIBE TO THE FIVE POINT MOVE PODCAST
iTunes | Stitcher | Spreaker | Google Play Music