On Monday morning, they got to work by drilling various technical mechanics for just over an hour. Then they broke for lunch, rested, hung out a little bit, and returned in the afternoon to hit the weights.
But not in Colorado Springs, Boise, or Tata. Instead, this latest gathering of United States Senior Greco athletes is taking place in… Arizona. 
Arizona State University is not often associated with Greco-Roman wrestling these days, but that is gradually starting to change now that 2017 Cadet World Champion/two-time Junior World medalist Cohlton Schultz (130 kg, Sunkist, 5PM #2) has fully settled into his collegiate career. Two-time age-group World Teamer Chad Porter (97 kg, 5PM #8) was already a Sun Devil before Schultz arrived on campus, and the team's 174 pounder, Trent Munoz, advanced to the semifinal of the US Open in October — in what was his first taste of Senior Greco action.
Schultz, who became a two-time Senior National champ this past October, is currently ranked #7 in college competition (depending on whichever polls to which people adhere) and undefeated with a record of 10-0 heading into the Pac-12 Championships on February 28. After the conference tournament, it will be onto the NCAA Division 1 mega show, where he could very well send shockwaves through his bracket. And when the last whistle blows in Indianapolis, the college season will quickly become a memory and Schultz will re-double his focus on the US Olympic Trials (April 2-3 in Fort Worth, TX).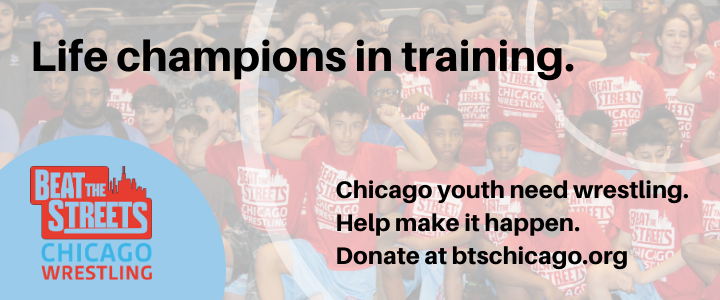 So, if it seems like an entire camp is being conducted around Schultz's upcoming schedule, that's because it is. But — it is not just for his benefit.
US National Team head coach Matt Lindland wanted to provide Schultz with a solid training experience in the space available while remaining mindful of the big picture post-Trials. In order to accommodate both Schultz and the primary goal of the US program, he involved a significant quartet of other heavies who are viable contenders in their own right, along with one out-of-towner. Also in Arizona for the duration of camp are: '18 World silver Adam Coon (NYAC/Cliff Keen world #6, 5PM #1); '20 National runner-up West Cathcart (NYAC/IRTC, 5PM #6); Tanner Farmer (NYAC/IRTC, 5PM #10); and Chilean World bronze from '17, Yasmany Acosta Fernandez.
According to Lindland, it wasn't a complicated train of thought responsible for putting this camp together.
"Essentially, Cohlton has to be on campus and Arizona is a nice place to train," Lindland began. "Sunkist has a facility and they helped sponsor taking care of Acosta's stay. They saw value in bringing him out and housing him here. Instead of hosting a camp just for Cohlton and Yasmany right before the Trials, I am the National coach, so I felt it was incumbent upon me to invite the rest of the heavyweights, because, we don't know who is going to make the (Olympic) Team. Maybe Sunkist knows better than I do, and they should think Cohlton is going to win. I respect that, but we do have a weight class to qualify and I want to have all of the heavyweights pushing one another."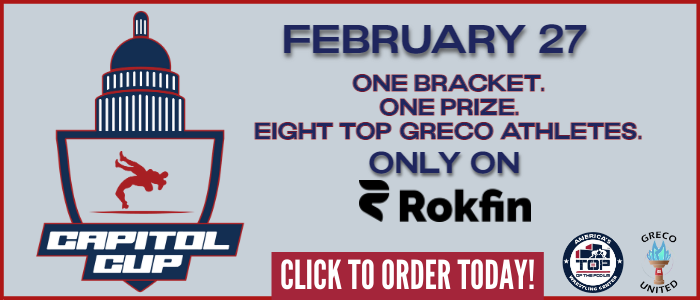 The heavyweights in attendance have formed a sort of clique thanks to the string of previous camps that have gone on since the summer. With so much time spent together, kinship would seem a natural byproduct. On the heels of Winter Camp last month, Cathcart spoke to the inadvertent bond among this handful of 130's, saying, "It is nice because, yeah, we're all competitive and we're going to be at each other's throats — but we know the real goal is internationally. We'll be in practice scrapping, but at the end of the day, if someone does something cool, we help each other out because we know the end goal is not to be the best American. It is, but we want to succeed as a country more so than it just being one US guy beating the other."
That's music to Lindland's ears, which is part of the reason why he made sure to turn Arizona into a communal endeavor.
"These guys work so well together and they are such a fun group to work with," he said. "I really like our heavyweight guys. They are great to be around and just good human beings. We added Farmer to the group and he fits in with the rest of the guys and he's a joy to be around. All of these athletes are a pleasure to be around."
As far as for the actual workload, camp in AZ is a little different when compared to similar recent ventures. The curriculum still calls for collective drill sessions and a sense of uniformity pertaining to conditioning and recovery modalities. What has been altered this time around are areas of concentration. Time is of the essence, for each athlete, which means honing in on details that suit their respective needs and availing opportunities for heavyweights to move enough iron to keep them satisfied.
"We are still adding little skills each day to certain areas that I think can be effective. Like this morning, we working on defending front headlocks and standing up from there. Par terre defense is still a huge area of focus we want to touch on everyday with movement drills and to just keep guys aware of it," explained Lindland. "I have also been able to do individual film sessions with guys. I chopped up a bunch of film from Henri Delgane and the Zagreb tournament just to give them an idea of what's scoring. Ultimately, this is about preparation. High intensity, shorter workouts, and built-in recovery. This is essentially a heavyweight camp where we added 77's to it, as well. But we're also getting a lifts in because heavyweights like to be strong and powerful."
Arizona Trials Preparation Camp
February 15-25 — Tempe, AZ
ROSTER
77 kg
Nate Grimes (OPTC)
RaVaughn Perkins (NYAC, 5PM #4)
Jesse Porter (NYAC, 5PM #14)
Spencer Woods (Army/WCAP, 5PM #10)
87 kg
Tommy Brackett (OPTC)
Alan Vera (NYAC, 5PM #1)
97 kg
Carlos Garcia Escuti (CHI)
130 kg
West Cathcart (NYAC/IRTC, 5PM #6)
Adam Coon (NYAC/Cliff Keen, world #6, 5PM #1)
Tanner Farmer (NYAC/IRTC, 5PM #10)
Yasmany Acosta Fernandez (CHI)
Cohlton Schultz (Sunkist, 5PM #2)


Listen to "5PM43: Christmas Time with Millersville's Kerry Regner" on Spreaker.
SUBSCRIBE TO THE FIVE POINT MOVE PODCAST
iTunes | Stitcher | Spreaker | Google Play Music
Notice
: Trying to get property 'term_id' of non-object in
/home/fivepointwp/webapps/fivepointwp/wp-content/themes/flex-mag/functions.php
on line
999