The whirlwind began towards the end of March. You might suppose that it started well before the winter had transformed into spring, and in a way it did, for Braxton Amos (97 kg, Sunkist) was mired in grueling practices during the latter stages of the collegiate season. But the catapult responsible for Amos' zooming ascension was not yanked until brittle brown leaves sought replacement by their lively green counterparts. A quick glance at the calendar tells the story: just under five months. Not quite 150 days later, Amos is a changed young man.
That is what happens when such a talented wrestler in America maximizes the ability everyone was already convinced they had. Amos, 20, was one of the nation's most coveted college prospects prior to landing at the University of Wisconsin. He had put West Virginia back on the map during his Parkersburg South days, with numerous Fargo title runs helping the cause. The college season last year was not a competitive one for Amos, what with COVID, redshirt concerns, and a litany of other scholastic peripherals keeping him on the sidelines. His first full season brought forth a series of adjustments. Amos was used to wrestling a lot of matches. Having to wait offered some challenges. When the door finally swung open, he was ready.
The rest of the country was not.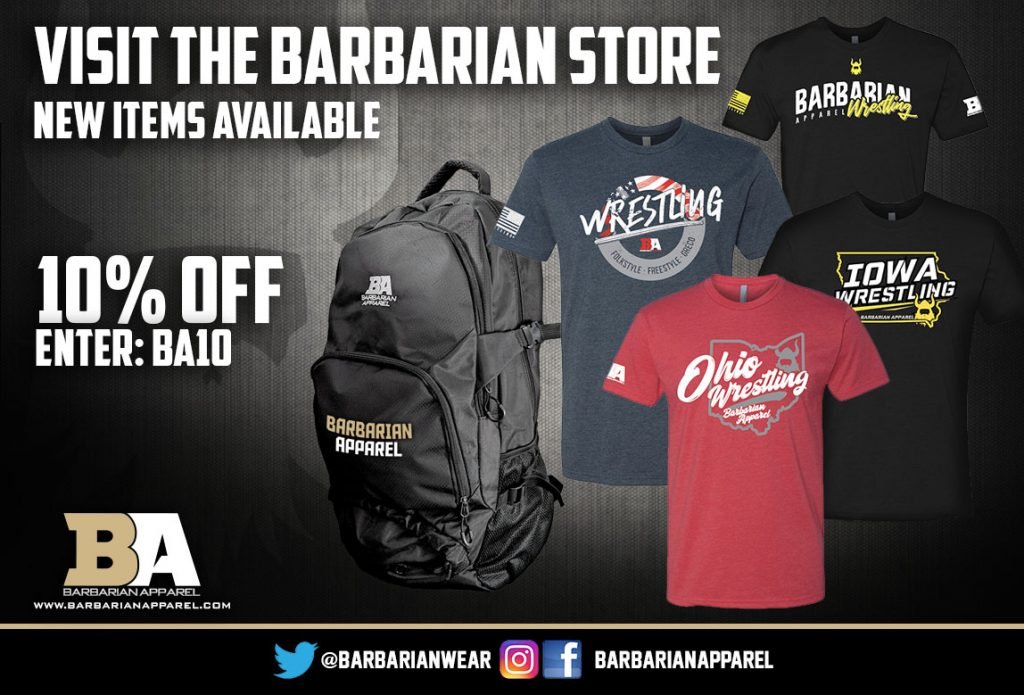 Most had assumed Amos would be in the running at the Last Chance Olympic Trials Qualifier — and were quickly proven correct after he indeed secured berths in both international disciplines. Amos finished "true second" in leg-touch but won his Greco bracket on the strength of a thrilling decision over two-time World Team member Jake Clark (Minnesota Storm, and who entered the tournament at a spry 41 years of age). Zip forward a week to the Olympic Trials, where Amos edged none other than Luke Sheridan (Army/WCAP) in the semifinal. One round later, he did the same to now-two-time National champ Nick Boykin (Sunkist/Ohio RTC), thus advancing to the Trials' best-of-three series opposite G'Angelo Hancock (Sunkist). Hancock swept Amos, though the pair of defeats could not hope to diminish the youngster's overall performance.
The selection process for the Juniors delivered to Amos an opportunity to showcase his progression against suitable contemporaries. He scrubbed the place clean in Iowa. Competing once again as a dual-style athlete, Amos soared above the field. In Greco-Roman, all of his victories were recorded via tech, and all 46 of his points scored were due to offensive actions.
More fast-math: dating back to March 26, Amos has essentially competed in six tournaments. Different styles are, technically, different tournaments. Amos doubled his workload at three events, winning three brackets whilst finishing second twice. The only bouts he lost were on the Senior level.
The Route to Russia
Amos has not participated in a live, sanctioned match since late-April. That hardly means he has slowed down, though things calmed down ahead of his departure to Russia just three days ago. Following his blitz of activity in the spring, Amos' summer has naturally centered around preparation for the Junior World Championship (freestyle starts Monday morning on FLO). But — largely because of the impact he made as a Senior competitor — training has involved more opportunities than he had previously considered, and most of it has occurred within a rather compressed period of time. There was Olympic Team camp in May, with a trip overseas shortly thereafter. Mix in a pair of other camps more recently, and one could only wonder the type of toll so much travel might take on the wunderkind.
No need to worry. He's fine.
"For a while there, it was a lot to keep up with," Amos admitted before taking a brief pause. "Even though you are getting all of these once in a lifetime opportunities, it's still stressful. You still have responsibilities to take care of stuff. That part was tough because I was jumping time zones, jumping continents, and didn't get in the room here (in Wisconsin) to train until over these past two months, to really hunker down and say, Okay, now it's time to win a World Championship. I love the camps, I love the opportunities, but I enjoy training at home a little more. Getting used to that aspect of things was rough. But ever since I've come back here, it has been great, both mentally and physically."
The key for Amos coming back down to Earth appeared in his pocket after returning to the Wisconsin Regional Training Center earlier in the summer. Simplicity, comfort, convenience, and friendly faces solidified his drive. It was as though all of the training outside of Wisconsin could be likened to isolated fact-finding missions. Once the rush of data collection was over, the space at home allowed him to settle back into a routine. "Lately, we have had people come in the morning to work freestyle, and then at night work Greco while doing live go's in both styles," he said. "It has been great working with our guys the last couple of months to get ready for the Worlds."
Not that he ignores the fortuitous set of circumstances that were, or are, the result of his newfound status as a Greco-Roman National Team member. While it isn't uncommon for age-group stars to wind up in Senior camps, they are normally left out of the picture leading to World or Olympic tournaments. Amos' immediate benefit stemming from his strong Senior showings in March and April arrived in the form of two top-ticket invitations: first the aforementioned Olympic camp that was held in Alpharetta,  Georgia in May; and then a jaunt to Croatia, which represented Amos' maiden voyage to Europe.
Croatia provided uniqueness. The Balkan country is "Greco first" on the men's side with a handful of promising upper-weights in and around Amos' size. In addition, athletes from other nations were in attendance. It was a chance for Amos to test himself not just against foreigners, but foreign Seniors, something he had never done before. The experience was educational in more ways than one. Even better for Amos, it was also emboldening.
"There were a lot of Europeans there for me to get my hands on and it was nice to know that I can stay with them, to know that I can beat them," Amos began. "Was I winning every go? No, but I was in the fight with them. It was big to have the opportunity to get my hands on them and gain the confidence to go out and compete hard. To know that I deserve to be on the mat with them."
Doorstep
Amos' schedule has been a blur for nearly half of an entire year. Dozens and dozens of practices, more time in airports than he had anticipated, more handshakes and head nods than is the norm… More general attention than he is used to, this despite having the whole of West Virginia rooting on his every move. He has done his best to take it all in stride. Amos is perpetually cognizant of what comes out of his mouth. He never wants to sound brash, so he tries not to think of wrestling or his own abilities in that light.
It is a delicate balance. Amos desires to intimate that he likes his odds at the Junior Worlds (in both styles), but wouldn't dare dream of doing so by putting down his opponents. He knows that people are watching and listening; plus, it is simply not in his nature to dismiss the danger available at what is the grandest stage available to him during this phase of his career.
Therefore, the most appropriate way Amos can express why he is feeling so confident these days is by discussing what has been noticed via scouting the potential competition.
"I've watched the Junior European medalists all the way through and my thought is, If I have to worry about the guys who didn't medal, then I'm not doing my job right," he explained. "And I don't mean that to sound cocky, but if I have to worry about the guy who took fifth at the Europeans, I'm not medaling. I'm not going to medal at the Worlds. I've watched those eight guys all the way through while taking notes on what they do. It has not been a 'fly-by-the-seat-of-your-pants sort of strategy', more like, Who cares what they do? I'm going to wrestle my way and make them adjust."
A lot of absorption has taken place. Throughout his youth, counting "offseason" endeavors outside of scholastic wrestling, Amos wrestled hundreds and hundreds of matches. He traveled across the country, became a high school star, a top Senior prospect, and is now on the doorstep of the Junior World Championships. His brain has long been sufficiently crammed with the treasure trove of life lessons and cornerstone values which separate wrestling from all other sports. This very chapter for Amos has expanded his horizons and he quickly rattles off encouraging moments during practices, revelatory conversations, and how he has done all he can to not forget a thing.
But perhaps the most critical item he has gleaned throughout this process stood as his foundation all along. The only deviation? He is about to behold quite the significant forum on which to demonstrate it.
"I am willing to do a little bit more than the other guy is to win," declared Amos. "I plan on utilizing that next week and drag guys who might be a little better than me on the mat into some uncomfortable conditioning situations. From the hard training they put us through over the past eight weeks to watching (Chris) Bono and (Jon) Reader run 100 miles… The human body can do a lot of things. It is the mind that breaks people and I am excited to mentally break everyone else in the world.
"Or, to at least see if I can. I guess we'll find out very soon."
That we will.




Listen to "5PM50: Mr. Fantastic Benji Peak" on Spreaker.
Listen to "5PM49: Robby Smith on coaching, fatherhood and mentors" on Spreaker.
Listen to "5PM48: Austin Morrow and Gary Mayabb" on Spreaker.
SUBSCRIBE TO THE FIVE POINT MOVE PODCAST
iTunes | Stitcher | Spreaker | Google Play Music
Notice
: Trying to get property 'term_id' of non-object in
/home/fivepointwp/webapps/fivepointwp/wp-content/themes/flex-mag/functions.php
on line
999